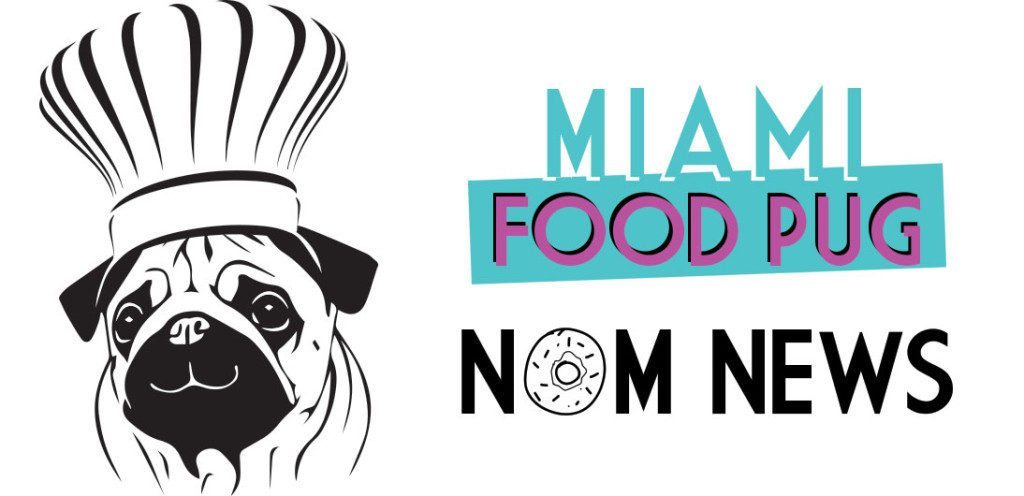 July 7, 2017
Each Friday, we compile South Florida food-related news and events that we couldn't fit on the site earlier in the week, as well as other local news that piques our interest. Want to be included in next week's roundup? Shoot us an email at bark@miamifoodpug.com.
Here's your weekly dose of nom.
Doggies and Divas at The Raleigh
Bachour Bakery + Bistro Gets a Rebrand
Tap 42 Announces Aventura Location
Juvia Introduces Sunset Menu
Rainy Day Special at SUSHISAMBA Miami Beach
New Ice Pops at OTL
Farmer's Table Launches New Comedy Series
Doggies and Divas at The Raleigh
Join Miami Model Citizens and co-host Angela Birdman for the annual Miami Model Citizens Doggies & Divas Fashion Show on Sunday, July 9 from 3-6 pm at The Raleigh Hotel in Miami Beach. This is a pet friendly event for well-behaved, leashed dogs.
Guests will receive complimentary cocktails from Tito's Vodka and water from Core Hydration, with a cash bar available for other beverages. There will be passed hors d'oeuvres as well.
Guests will also be treated to a series of fashion shows featuring Miami Model Citizens models and a Pooch pampering and water station for the dogs. Visit Eventbrite to purchase your tickets.
Bachour Bakery + Bistro Gets a Rebrand
Delighting fans since March 2016, the highly revered Bachour Bakery + Bistro announces it will officially change its name to B Bistro + Bakery, effective Sunday, July 9, 2017, after a brief six-day closure to observe Independence Day and make some exciting new restaurant advancements. Along with the name change will come the introduction of a dynamic trio who will be serving-up exciting refinements in cuisine and restaurant programming, whilst maintaining the sweet and savory delights that have secured the restaurant a prime spot on Miami's culinary map.
Although the restaurant's offerings will remain largely unaffected, Chef/Owner Henry Hané has grand plans for taking B Bistro + Bakery to soaring new heights. The talented chef has commissioned two long-time employees, Aleric Constantin and Alexis Kwakernaat to aid in achieving this goal.
Constantin, formerly of Michael's Genuine Food & Drink and founder of the widely popular Food Bike, will take the reigns as chef de cuisine and work closely with Hané on menu development and special programming. Kwakernaat, an industry veteran and close childhood friend of Hané's, will oversee all front-of-the-house and day-to-day operations. With their collective experience, passion, and forward thinking, these three homegrown Miami boys are poised to show the city something truly unique and inspiring.
In line with his promise to keep things intriguing, Hané will introduce a slew of savory pastries, a house pickling and fermenting program, Summer Sweets + Sips Happy Hour, subtle updates to décor, health-conscious grab-and-go section, and impelling nighttime programming. Local talent and friend of Hané's, Chef Valerie Chang, formerly of Jugofresh, will debut her Wildflower Elixir line of artisan vegan snacks and treats for the grab-n-go. Hané is also working on an intriguing series of special evening events that aim to showcase different facets of talent – both established and up-and-coming – with pop-ups, guest chef dinners, exhibitions of Miami's emerging art scene, and much more.
For a closer look at the changes, visit the eatery's official website.
Tap 42 Announces Aventura Location
On the heels of another successful opening in Midtown Miami, Tap 42 announces their fifth location that will be part of the 315,000 square foot Aventura Mall expansion project set to open in late 2017.
Tap 42's newest location will be their largest location yet with 6,300 square feet of indoor dining and bar space and a 1,200 square foot patio overlooking the open-air piazza that will be a unique feature to Aventura Mall. The Aventura location will boast classic Tap 42 interior trademarks such as distressed wood, rustic lighting features, and a large bar installment, while also incorporating live plant features that will complement the lushly landscaped, contemporary art-clad piazza.
"We have always thought that Aventura was the perfect market for Tap 42, and the new expansion project at the Aventura Mall presented us with an excellent opportunity to get the special site that we have been waiting for," explains VP of Development, Alex Rudolph. "We recognized a need in Aventura for a cool, affordable dining and drinking destination, and feel the Tap 42 brand fills a major gap for the entire North Miami/Aventura area. Having the opportunity to be part of the state-of-the-art expansion at one of the world's most successful and iconic malls is a dream come true, and we are extremely excited!"
The Tap 42 expansion will continue in 2017 and early 2018 as the team looks to grow to regionally throughout Florida. More details about Tap 42's new locations will be announced later this year.
Juvia Introduces Sunset Menu
Enjoy Miami's cotton candy skies from the most celebrated rooftop views this summer at Juvia Miami alongside its new sunset menu. Available daily from 6 p.m. until 8 p.m. at Juvia's cocktail table on the terrace, guests are able to indulge in classic Juvia dishes by Executive Chefs Sunny Oh and Laurent Cantineaux complemented by refreshing seasonal cocktails crafted by Beverage Director Zarko Stanvovik.
The cocktails are $11, champagne is $20 and food items range from $7-10. Food items include hamachi tacos, shrimp anticuchos and black edamame. The Ginger White Fizz and Juvia Punch are just a few of the cocktails available for the special menu.
Rainy Day Special at SUSHISAMBA Miami Beach
SUSHISAMBA Miami Beach announces the launch of its Rainy Day Beverage Campaign, a fun and interactive way for guests to enjoy serious savings on adult beverages this rainy season. Between today and August 31st, all SAMBA Cocktails, wines by the glass, and beer from around the world are 1/2 off when it's raining, from torrential downpours to sprinkles and sunshowers.
Guests must "pay as they go" – when the rain stops, the deal stops, so guests are encouraged to keep one eye on their premium beverage and the other eye out the window. This special rainy day pricing is exclusively available to guests at both bars.
Promotional drink prices range from $6-$7 for cocktail beverages, $4 for virgin drinks, $5.50-$9 for wines and bubbly, and $4- $12.50 for beer.
New Ice Pops at OTL
As South Florida's heat sizzles and breaks temperature records, locals and tourists alike scramble to find relief. Thankfully, OTL's newest handmade ice pops provide just that. In collaboration with local ice cream popsicle supplier Lady Fingrs, the refreshing treats are made with only the freshest ingredients.
OTL is currently offering unique, delicious flavors including lychee rosewater, strawberry mint, watermelon, oreo and chocolate lava, but new flavors will constantly be rotated in and out. Booze lovers rejoice; customers can also enjoy the alcohol-infused Moscow Mule and Aperol Spritz pops.
Farmer's Table Launches New Comedy Series
Farmer's Table is serving up laughs tableside for their new, bi-monthly comedy series, Lettuce Laugh, launching on Friday, July 14th at 8 p.m. Hosted by local comedian, Jen Hellman, the first installation will feature headliner and Boca Raton native Mike Vecchione, who has been on The Tonight Show Starring Jimmy Fallon and Last Comic Standing. Guests will also enjoy laughs from special guests including Chris Silio and Devon Fox. This new series will take place in The Oak Room, Farmer's Table's private event space.
Cocktails and bar bites will be available for purchase. Menu highlights include Oven Roasted Springer Mountain Chicken Wings topped with a guava glaze and a side of tzatziki; Not Your Typical Cheesesteak with sliced Gruyere, caramelized onions and peppers on a toasted herb baguette served with baked yukon gold steak fries; and Not-Yo Nachos, baked GMO-free corn chips topped with pico de gallo, vegan chili, guacamole, crispy chickpeas, vegan mozzarella and vegan sour cream.
Admission is $15 and tickets can be purchased online. To purchase tickets, click here.