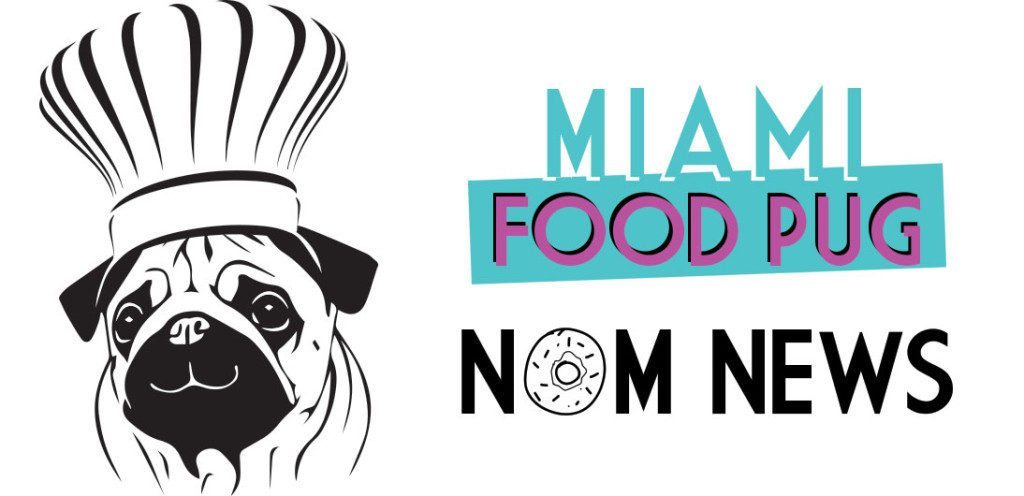 August 18, 2017
Each Friday, we compile South Florida food-related news and events that we couldn't fit on the site earlier in the week, as well as other local news that piques our interest. Want to be included in next week's roundup? Shoot us an email at bark@miamifoodpug.com.
Here's your weekly dose of nom.
Bulla Gastrobar Debuts New Menu Items
Obra Kitchen Table Pops Up at La Mar
New Drink Menu at Nancy
Hook, Catch & Cook Dinner at Books & Books
Coconut Grove Launches New Happy Hour Promotion
Natural Wines Pairing Dinner at Pinch
Lima Expands Brunch Options
Pineapples & Pizzas at Matador Bar
New Desserts at Sushi Garage
29th Annual Festival of Chef Announces Chair
Bulla Gastrobar Doral Debuts New Menu Items
Inspired by guest feedback and popularity, Bulla Gastrobar's is adding limited-time only dishes from specialty menus to its daily dinner menu. The Spanish gastrobar is staying true to its gastronomic creations with new menu items including Croquetas de Pollo and Pulpo a la Gallego while adding Venezuelan favorites Arepitas Ibéricas and Tequeños from previous limited-time menus. The dishes range from $9-$13.
Obra Kitchen Table Pops Up at La Mar
Award-winning Venezuelan gastronomist and Co-Owner and Executive Chef of Alto Restaurant in Caracas, Venezuela, Carlos Garcia, is making his Miami debut at La Mar by Gaston Acurio with a special menu for a "sneak peek" of his soon-to-launch Obra Kitchen Table.
With a combination of edible metaphors and innovative technique, Garcia's contemporary spin on traditional Venezuelan cuisine is a gastronomic feat not to be missed. On Friday, August 25 and Saturday, August 26, 2017, during dinner service, the menu — which includes items like king prawn crudo, bucatini octopus carbonara and veal ossobuco — will be available in addition to the menu offered by Executive Chef Diego Oka at La Mar by Gaston Acurio. Reservations required for the Obra "sneak peek."
A portion of the proceeds will benefit Voices for Children via Mandarin Oriental, Miami's annual FANtastic Match program. For reservations and inquiries, please contact La Mar directly at (305) 913–8358 or visit mandarinoriental.com/miami
New Drink Menu at Nancy
Nancy, Little Havana's crafty cocktail den conceptualized, built, owned and operated by a team of some of Miami's top bar professionals, announces the launch of a stellar new drink menu to carry Miami's finest imbibers through Miami's remaining muggy summer months.
The beverage program, headed by seasoned booze slingers Katherine Rajsich, Anthony Perez and Zabdi Cobon, was constructed with simplicity at heart and inspired by history and tradition. Beginning by making all they can in-house utilizing the season's best local fruit, herbs and spices for their shrubs, infusions, compotes, bitters and tonics, they combine their clever concoctions with select spirits and perfected techniques for expertly crafted, well-balanced and tasty libations.
The new rum and whiskey heavy menu ($14) dons tongue-in-cheek-named mixes that dance to the beat of Nancy's nautical melody, with everything from sassy twists on classics to exciting new concoctions. Named for the shots of gin Dutch soldiers were given to ease their nerves when they took sail, the Dutch Courage (a take on a gin fizz) could aptly double as a brunch cocktail with Bols Barrel Aged Genever, chocolate bitters, egg white, housemade lavender syrup and fresh citrus; and the Skipper's Daughter, an updated version of an Aperol spritz, combines Ketel One vodka, Aperol, fresh orange, Barrow's Ginger Liquor, and Poema Rose Cava instead of the typical prosecco
Other new additions include a flowery twist on the Moscow mule known as the Donkey Punch, which mixes Russian Standard vodka, hibiscus, ginger beer, lime and mint. Guests can also enjoy standouts like the refreshing, light but booze-forward Stem to Stern with made-in-house apricot infused Bulleit Rye, lemon juice, apricot jam and ginger ale; the Crinkum Crankum, an apple pie-meets-caipirinha with Pitu cachaca, apple compote and lime; and the innovative Scotch-based Tiki Banana Cannon with Monkey Shoulder Scotch, Cinnamon Walnut Orgeat, Giffard Banana and fresh lemon.
Hook, Catch & Cook Dinner at Books & Books
Chef Allen Susser's annual Hook, Catch & Cook sustainable seafood dinner will be held on Thursday, August 24th. The collaborative dinner will feature Chefs Jose Mendin and Paula DaSilva.
Every year Chef Allen invites two celebrated local chefs to collaborate on five unique courses featuring sustainably caught local seafood. Allen, a long-time member of the Monterey Bay Aquarium's Seafood Watch Blue Ribbon Task Force, will go on a fishing expedition the day before with Captain Mike Puller and the other chefs to "catch and hook" the seafood that will be "cooked" during this special night.
This year it will be held at The Café at Books & Books inside the Historic Carnival Tower on Thursday, August 24, 2017 at 7 p.m. It will be a ticketed dinner at $82 per person and a portion of the proceeds will benefit Captain Mike's non-profit foundation, The Fishing Experience.
Coconut Grove Launches New Happy Hour Promotion
Coconut Grove Business Improvement District launched "Wine Flight Wednesday" for locals and guests to "getaway" to new destinations through amazing wine and cuisine. Every week, attendees can feel like they're jetting off to a new exotic locale – like Thailand, Italy, France and Greece – by dining at one of Coconut Grove's gourmet restaurants.
As a nod to the 33133 area code, guests can enjoy a wine flight or bottle with an appetizer for only $33. This is a great opportunity to taste the neighborhood's wide range of culinary offerings, check out new ambiances and experience favorite local spots all summer long. Wine Flight Wednesday is just one example of how the Coconut Grove Business Improvement District continues to support the business community and bring awareness to the area's many offerings.
Participating restaurants include Jaguar, Le Bouchon Du Grove, Panther Coffee, Boho, 33 Kitchen, BICE Bistro, Spartico, Atchana's Homegrown Thai, Peacock Garden Café, The Spillover and Greenstreet Café.
Natural Wines Pairing Dinner at Pinch
On August 29th at 7pm, Pinch Kitchen will be hosting a Natural Wines Pairing Dinner. The Natural Wines Pairing Dinner Craft a four-course dinner showcasing three natural wines and a dessert collaboration by Sweet Melody Ice Cream.
All wines being featured are 100% Natural Wines from Chile. These wines are harvested and produced using traditional techniques, indigenous yeasts with biodynamic methods, and rainwater as their only source of water. The grapes are harvested by hand and processed in wood, cement and/or stainless steel vessels. They are unfiltered, unrefined, and contain only grapes.
The wines to be featured include:
*Rivera Del Notro Blanco, Roberto Henriquez, Itata Valley, 2016
*Pinot Noir, Hacienda San Juan, San Juan de Llolleo Valley, 2015
*Pais, Santa Cruz de Coya, Roberto Henriquez, Bio Bio Valley, 2016
The menu was developed to pair with the wines and includes:
1ST COURSE
Lamb Sweetbreads – baba ghanoush, teriyaki glaze, strawberry paper
2ND COURSE
House-made Mojama. focaccia, black olive vinaigrette
3RD COURSE
Coq au Vin. organic chicken, beech mushroom, pearl onion
Tickets are $89.00 per person excluding tax, fees, and gratuity. Tickets may be purchased via Eventbrite at https://winecraftcollab.eventbrite.com.
Lima Expands Brunch Options
Lima Restaurant at Atton Brickell Miami, the Peruvian inspired concept located in the hottest hotel to hit Brickell, has officially expanded its culinary options! Guests who are seeking an exciting new brunch venue have a chance to enjoy Lima every Sunday from 11am to 4pm! Enjoy traditional morning staples, bottomless mimosas, an assorted seafood ceviche & oyster raw bar, omelet station, European Charcuterie Station, Viennese Table and much more.
Enhancing the guest experience, the Peruvian-inspired restaurant also features live music, making it an afternoon suitable for every-kind of brunch goer. Live entertainment is brought by Sol Ruiz, an international artist based in Miami and Madrid and known for her blend of traditional Jazz, Blues, and Cuban music (perfect to dance to after you've had one too many mimosas). After the meal, guests are encouraged to head upstairs to Atton's rooftop bar and enjoy stunning unobstructed views of Biscayne Bay.
Price is $40 per person, $22 for children ages 6-12, free for kids 5 and under. For reservations, guests can email fpfiffer@atton.com or call 786-600-2600.
Pineapples & Pizzas at Matador Bar
Pineapples & Pizza, the delicious monthly series at Matador Bar, is returning on Thursday, August 24. The event offers a rotating off-menu pizza and boozy Pineapple cocktail to provide a unique experience every month. Guests are invited to bring a friend, share a pizza, sip a cocktail (or a few) and listen to live music by Ashley Christine from 9 p.m. until 11 p.m.
This month, guests may indulge in the Gold Bar Squash & Chorizo Pizza as they sip The Dirty Pineapple cocktail, made with Fat washed Absolut Elyx, Charred Pineapple/Yuzu puree, Olive brine, Rosemary syrup, Rosemary sprig and Pineapple Chip all for only $35.
For more information visit Matadorroom.com or call (786) 257-4600.
New Desserts at Sushi Garage
Sushi Garage's Executive Pastry Chef Gregory Gourreau is treating diners to two new creations:
Hazelnut Chocolate Tart ($9) – with salty caramel sauce and topped with gold flakes
Strawberry Tartare ($9) – hibiscus and yamamono soho sorbet with berries gazpacho
Instead of your normal fried ice cream and mochi dessert options, each dessert at Sushi Garage boasts traditional Japanese sweet varieties with a twist. The full dessert menu features a Chocolate Crepe Cake, Wasabi Pudding with Chestnut Rum Ice Cream and Green Tea Lychee Almond Bar.
29th Annual Festival Of Chefs Announces Chair
The annual event pays tribute to South Florida's culinary scene with an evening of featured signature dishes, wine & spirit tastings, silent auction and entertainment, all to benefit the Easterseals South Florida Culinary Arts High School, a vocational training program for students with autism and other disabilities. At Festival of Chefs, Easterseals culinary students showcase their abilities with a signature dish and incredible hospitality. This year Easterseals South Florida celebrates 75 years of supporting and strengthening families in our community.
Chef Mendin will be joined by a stellar lineup of chefs from more than 25 of the area's most prominent restaurants including Brad Kilgore of Alter, Brian Nasajon of Beaker & Gray, Santiago Gomez of Tacology, Dena Marino of MC Kitchen, Angel Leon of Seaspice, Sean Brasel of Meat Market, Raceni Richards of The Salty Donut and more.
To purchase event tickets, visit www.foc17.eventbrite.com. For more information, visit www.easterseals.com/southflorida.