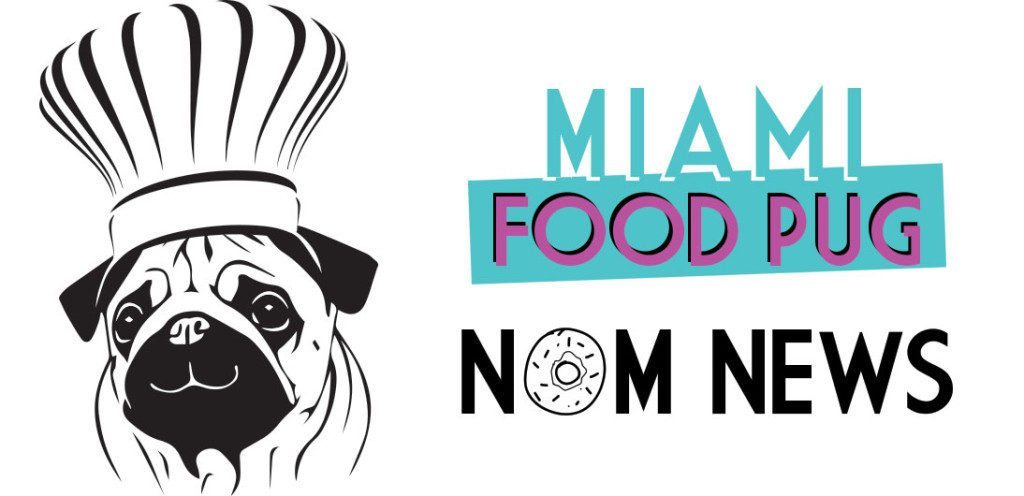 August 25, 2017
Each Friday, we compile South Florida food-related news and events that we couldn't fit on the site earlier in the week, as well as other local news that piques our interest. Want to be included in next week's roundup? Shoot us an email at bark@miamifoodpug.com.
Here's your weekly dose of nom.
National Dog Day Activities
Fight Night at Cantina La Veinte
Backyard Bash at Kimpton Surfcomber Hotel
Michael Jackson Celebration at Shelborne South Beach
Lucky Records to Open in Wynwood
Fantasy Football Specials at Farmer's Table
Mozzarella-Making Classes at Panarea
National Dog Day Activities
1 Hotel South Beach: In honor of National Dog Day (Saturday, August 26th) pet-friendly 1 Hotels is launching "Dogs Eat Free" for the entire month of August, allowing guests to dine their pooch at no cost.
At 1 Hotel South Beach, Beachcraft encourages guests to have lunch or dinner in the outdoor area with their pets, treating them to a gratis meal as diners enjoy top-notch cuisine. All dishes are paired with fresh, cold, triple-filtered tap water and delivered in eco-friendly bowls.
All American Dog: A chicken liver and bacon treat topped with a ketchup glaze appetizer
Paleo Pup: Dogs like to eat clean, too! Treat your pooch to a meal of raw beef, carrots, celery and blueberries
The Betsy:  "Everybody Loves the Underdog" – a new exhibition in the Underground Gallery, celebrating the dog portraits of artist Eric Ginsburg and curated by the hotel's own Chief Canine Officer, Katie, is now on display. Locals and hotel guests will be able to bring their pets for a special exhibition day on Saturday, August 26 from 1-5pm. The Miami Dade Animal Services HOPE Express Adoption will be on-site where families, kids and locals can stop by to say hello to the adorable, adoptable cats and dogs and maybe find their new best friend!
The hotel staff will be on-site outfitting pets with a poetry bandana courtesy of O, Miami Poetry Festival. And for an extra special dog day, pups can also enjoy a personalized experience of gentle massage, cool, fresh water and healthy nibblers alongside their owners. The Pampering Your Pooch spa treatment consists of a 50 minutes massage delivering the relaxing benefits of aromatherapy oils and 10 minutes for the furry friend, for just $99.
Haute Dogs will also be served at LT Steak & Seafood on the kids menu, where everything is homemade and delicious. Children and families can enjoy their colossal chicken fingers with a tower of hand cut fries, LT's Pasta, or even a hanger steak with a side to share.
Fight Night at Cantina La Veinte
Need plans for this Saturday's McGregor vs. Mayweather fight? At Cantina La Veinte, guests are invited to watch the action on either of the two big screen projection TVs. The screening is reservation-only and bottle service is required. For tables of four, a minimum purchase of one spirit bottle is required; for tables of 6 or more, a minimum purchase of two spirit bottles is required. General restaurant reservations will also be accepted but will be directed downstairs.
Backyard Bash at Kimpton Surfcomber Hotel
Kimpton Surfcomber Hotel's popular Backyard Beach Bash series has been extended through the fall! The concert series, taking place on the sandy backyard of the gorgeous SoBe hotel, features live performances by Grammy-nominated Afro-Funk band, PALO! and takes place from 5PM to 9PM, perfect time to catch some rays and dance into the night.
The family event showcases amazing live music, lawn games for the entire family, specially priced tiki drinks and BBQ bites by Social Club restaurant. The event is free to the public; RSVP/tickets are available on Eventbrite. Upcoming Backyard Beach Bash dates include August 26th, September 9th and 23rd, October 7th and 21st.
Michael Jackson Celebration at Shelborne South Beach
The Cabaret South Beach is set to celebrate Michael Jackson for his birthday on Saturday, August 26th, from 8 p.m. to 1 a.m. at the Shelborne South Beach. The Cabaret's talented singing servers and bartenders will transform the Cabaret into an energetic, Michael Jackson world. For this special one-night event, they will perform Michael Jackson's hits including "Billie Jean," "Man in the Mirror," "Beat It," and "Black or White."
Lite bites and dinner menu from Top Chef alums Jeff McInnis and Janine Booth's Sarsaparilla Club are available to order. Entry is free and open to the public. For more information, call 305-504-7500.
Lucky Records to Open in Wynwood
The duo responsible for bringing authentic Mexican street food to Miami with the opening of their popular taqueria, COYO TACO, are at it again with a new concept that will bring the first record and convenient store to Wynwood. Alan Drummond and Sven Vogtland, in partnership Gabi Chiriboga, are launching LUCKY Records, a boutique vinyl store that will bring classic records, exclusive releases, and all around good vibes, to the heart of Wynwood.
Slated to open this fall, LUCKY Records will play a vital role in promoting the renaissance of growth and activity in Miami's music landscape. With a music lineup curated exclusively by Tony Garcia, aka DJ YNOT, and founder of Nature Sounds record label, Devin Horwitz, Wynwood hipsters, music collectors and visitors alike will find a mix of new releases and vintage records with music ranging from old school favorites to present day beats. Necessary electronics such as turntables, headphones and DJ equipment will be available, as well.
Next to LUCKY Records will be Wynwood's first convenience store, offering everyday items such as bottled water, cigarettes, lottery tickets, assorted ethnic food, candy, and more. The convenience store will serve as the perfect Wynwood pit stop for locals in a hurry that need to grab a Red Bull to-go; for party-goers heading out for the night and need a fresh pack of cigs; for those who are heading home and need a cold bottle of water; or for those feeling extra LUCKY – a lottery ticket.
Fantasy Football Specials at Farmer's Table
Football fans can elevate their fantasy football parties this season at Farmer's Table with their new fantasy draft packages. Groups can reserve one of four private rooms for $500, which includes an all-you-can-eat buffet featuring game day grub staples like wings, sliders, chicken meatballs, and guacamole and chips. Two cash bars are available.
The rooms can accommodate 10-14 people per room. Each reservation allows the group four hours to eat, drink and draft with full A/V capabilities. Available rental dates are Saturday, August 19th; Sunday, August 20th; Saturday, August 26th; Sunday, August 27th; Saturday, September 2nd; and Sunday, September 3rd.
For more information and reservations, call Farmer's Table at 561-417-5836.
Mozzarella-Making Classes at Panarea
Legend has it that mozzarella was first made when milk curds accidentally fell into a pail of hot water in a cheese factory near Naples. Thanks to this mozzarella mishap, cheese heads have been enjoying the silky, smooth dairy delight on pizzas and pastas across the world.
Starting Wednesday, August 30th, Panarea Mediterranean Sea Grill will offer a hands-on mozzarella making experience starting at 7 p.m. on the last Wednesday of every month for $59 per person. Guest will be greeted with a complimentary glass of Prosecco.
The homemade cheese will be used to make Panarea's signature Pinsa Romana, a traditional Roman recipe for an oval-shaped, highly digestible dough that can be used for pizza at the end of the class.
Executive Chef Claudio Sandri will teach patrons how to stretch and mold curds into creamy half-pound mozzarella balls. He will share his "brine brilliance" while patrons enjoy a complimentary glass of red or white wine.
Upon completion, the Pinsa Romana pizzas made with the fresh Mozzarella will be served to guests. Participants will receive a certificate of completion, making them official "Mozzarella Makers." Space is limited and reservations are required. For reservations, please call 786-953-5120.