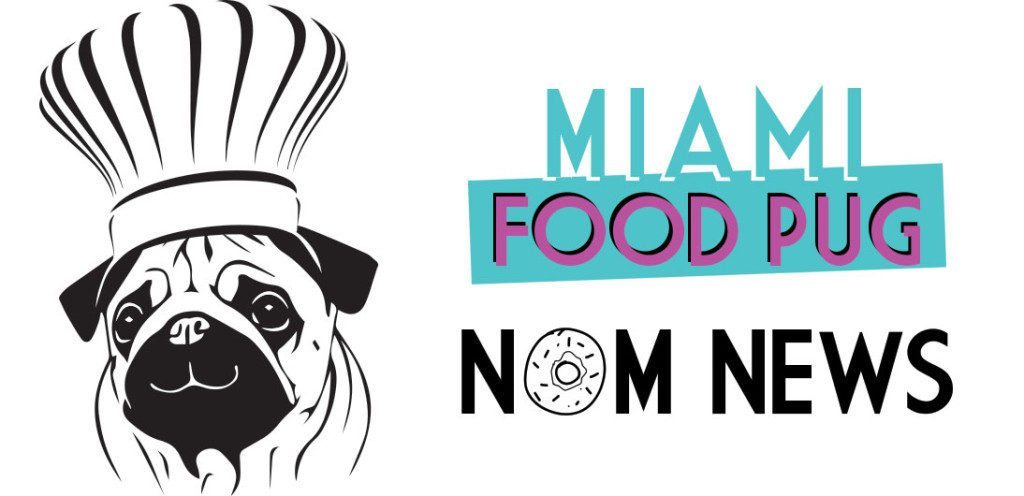 August 4, 2017
Each Friday, we compile South Florida food-related news and events that we couldn't fit on the site earlier in the week, as well as other local news that piques our interest. Want to be included in next week's roundup? Shoot us an email at bark@miamifoodpug.com.
Here's your weekly dose of nom.
Lutum Opens in Sunset Harbour
DryBar and Tacology Team Up
Upland Launches Happy Hour
Lettuce Laugh at Farmer's Table
Veza Sur Opens to the Public
Bird & Bone Debuts Brunch
Pinch Kitchen Unveils Tasting Menu
Rhythms and Remedies at Repour Bar
Bounce Back Thursdays at Whisper Cocktail Lounge
Sushi Class at Kiji Cuzco
Lutum Opens in Sunset Harbour
Lutum, the latest restaurant concept by El Grito partners Washington Charles and Antar Sosa, is coming to the Sunset Harbour neighborhood. The latin word for dirt and soil, Lutum promises to keep the food and cocktails simple and fresh.
To help execute their concept, Charles and Sosa have brought in Michael Mayta as Executive Chef. Mayta, whose background includes working with Miami's own James Beard award-winning chef, Michelle Bernstein, started as a prep cook at Michy's. In 2015, Chef Mayta opened Cena by Michy as Chef de Cuisine. Chef Michael Mayta has designed a menu that is centered around local and seasonal
ingredients.
"The inspiration behind the menu is simple: all things Miami – from local ingredients to dishes that are representative of the many cultures that live here – we're paying homage to the city we all call home," said Chef Mayta.
The cocktail program, much like the food menu, will focus on classic cocktails driven by seasonal and Florida fresh ingredients.
"Our vision was simple, make something dope," said Charles. "This is our first seated restaurant concept, so we're excited to open our doors and start serving locals and tourists alike," added Sosa.
Lutum is set to open Tuesday, August 8th for dinner service.
For more information on Lutum visit www.lutummiami.com. For questions regarding reservations or special events, please call (786) 773 – 3149 or email info@lutummiami.com.
DryBar and Tacology Team Up
Tacology has partnered with Drybar in Brickell City Centre for one night. Come enjoy a dry style at Drybar, followed by pink margaritas for ladies night on Wednesday, August 9 – what better way to spend your Wednesday?
Head to DryBar between 6 p.m. and 7 p.m. for your complimentary Braid Bar + Dry Styling and then head upstairs with your perfect 'do for Ladies Night, where you can enjoy $6 pink margaritas from 7 p.m. until close.
Upland Launches Happy Hour
Upland Chef Justin Smillie and restaurateur Stephen Starr's SoFi hit with the hottest tables in town, is now offering a daily Happy Hour with a menu of new dishes created to showcase Chef's signature California style.
Snacks range in size and price from $5 -15 with most options under $10 including wood-roasted beets with whipped feta, walnuts and chives; Grilled Asparagus with prosciutto di parma and marcona almonds and Avocado + Falafel with a sprouted bean salad.
Bigger bites such as the beloved wood-fired prawns and the Upland Cheeseburger are also available at Happy Hour rates. Drink specials include $5 draft beers including craft favorites from Sixpoint Brewery, Stone and Barrel of Monks; eight different wine options for $8 each; and $9 cocktails.
The Happy Hour at Upland is offered throughout the bar area, including the high-top tables and comfortable booths, from 4 – 7 p.m., perfect for a late afternoon snack or a quick bite before dinner reservations.
Lettuce Laugh at Farmer's Table
Farmer's Table is serving up laughs tableside for their new, bi-monthly (twice a month) comedy series, Lettuce Laugh. Hosted by local comedian, Jen Hellman, the second installation will feature headliner Dean Napolitano, as seen on "Good Morning America," "Army Wives" and "Burn Notice." Guests will also enjoy laughs from special comedian guests including Eric Rosenblum and Josh Rosen. This series will take place in The Oak Room, Farmer's Table's private event space.
Cocktails and bar bites will be available and there is a $20 minimum purchase required on food and beverage per couple. Menu highlights include Chicken Meatball Sliders with Yukon gold steak fries; Vegan Spinach and Artichoke Dip with baked GMO free corn chips; and Not-Yo Nachos, baked GMO-free corn chips topped with pico de gallo, vegan chili, guacamole, crispy chickpeas, vegan mozzarella and vegan sour cream.
Admission is $15 and tickets can be purchased online. To purchase tickets, visit https://www.eventbrite.com/e/dean-napolitano-headlines-lettuce-laugh-comedy-series-tickets-36320720252.
Veza Sur Opens to the Public
After much anticipation, dedication and rounds of sampling beer (to perfect it, of course), VEZA SUR Brewing Co. is opening on August 19. Located on Northwest 25th Street in Wynwood, Miami's most creative neighborhood, VEZA SUR is a dynamic and unexpected collaboration bringing together West Coast vibes with Latin passion.
Offering Miami locals a welcoming hangout spot where they can enjoy quality craft beers in a fun and low-key atmosphere, VEZA SUR is Miami's newest destination for beer lovers. Serving as the craft beer brainchild of founding partners Berny Silberwasser of Bogota Beer Company, and Chris and Jeremy Cox of 10 Barrel Brewing Co., VEZA SUR is locally-made and is as diverse and dynamic as its stomping grounds, Miami.
Picture This:
Walk In – A vibrant and contemporary library filled with books, native plants and South American-inspired memorabilia behind a 40-foot bar made of reclaimed drift wood. Pull up a stool and knock back a refreshing brew from one of the 18 beers on tap – don't forget to checkout the VEZA SUR swag!
Keep Walking – The inside flows to the outside – no dividers. Take a peek at the brewhouse and tanks, chat with our brewmaster, Asbjorn, and enjoy an ice-cold beer. The scent of fresh brew aromas lingering in the air underscored by groovy music playing in the background will make you think of VEZA SUR as your new home away from home.
Go Outside – Lush and chill green outdoor area made up of native plants that help save on water, plus a roof that protects you from the Miami summer sun. Graffiti on the wall reminds you that you're in Wynwood, but the Buttonwood Oak tree makes it feel like you're in a friend's backyard.
Sit Down – Hang out with friends, meet new people and order up. Choose from one of the Miami-made and flavorful beers, such as a Latin Lager, Session IPAs, Coffee Porter, and sessionable Sours, and throw back a Brazilian Chopp [schoh-pee] – an ice-cold lager with a refreshing foam that you can drink through – or surprise yourself with a beer cocktail developed in collaboration with the Bar Lab folks.
VEZA SUR Brewing Co. is located at 55 NW 25th St. and is open Sunday through Thursday from 12 p.m. until 12 a.m. and Friday and Saturday 12 p.m. until 2 a.m
Bird & Bone Debuts Brunch
Bird & Bone, the Southern-style eatery at The Confidante Miami Beach, will launch its long-awaited brunch service this Sunday, August 6, timed with the opening of its transformed dining room.
Bird & Bone brunch will be hosted every Sunday from 11 a.m. to 3 p.m. Signature brunch dishes will include a variety of options from light, healthy dishes to some of the Chef Hales' heartier options for which he is known. Guests will savor fan favorites like:
– Avocado Toast & Eggs: Two poached eggs, Benton ham bits, pink salt, olive oil, hemp seeds and sprouts
– Sweet Potato Pancake Stack: Snickerdoodle, candied walnut, maple syrup
– Eggs Benedict: two poached eggs, Broadbent's City am, green tomato, Alabama white BBQ hollandaise
– Fried Chicken & Cornbread Waffle: Chef Hales' award winning fried chicken, heirloom corn waffle, candied bacon, bourbon syrup
– Steak & Eggs: Kansas City strip steak, two eggs, waffle fries, Alabama white BBQ sauce
– Tipsy Texan: BBQ brisket, smoked sausage, cole slaw, pickles, ZTB brioche bun, waffle fries
New cocktails will also be offered with the brunch menu including a Southern Orange Creamsicle Mimosa and Blackberry Bourbon Iced Tea. Drinks specials will include bottomless Mimosas, Bellinis, and Bloody Mary's for $25, bottomless Ginger Peach Sangria for $35, and bottomless Rolling Rock Beer for $20 for the duration of brunch.
Pinch Kitchen Unveils Tasting Menu
Pinch Kitchen has launched a Pinch Tasting Menu. The prix fixe menu includes some of the Pinch classics along with rotating specials each week and will be available during dinner service, Tuesday through Sunday, during the months of August and September.
The cost of the Pinch Tasting Menu is $39 per person and includes an appetizer, entree, and a glass of house wine or draft beer.
Rhythm and Remedies at Repour Bar
Join Repour Bar on Thursday, August 10th as they host their Rhythm and Remedies Summer Series. Come and enjoy live art and local vendors including custom t-shirt cutting, vintage apparel, handmade jewelry and more beginning at 10pm.
Drink specials will also be available all night long including an $8 house punch and a $10 shot & beer special!
Bounce Back Thursdays at Whisper Cocktail Lounge
Clear your schedule: The official launch of Bounce Back Thursdays at Whisper Cocktail Lounge at W Miami,  is happening on August 10 from 6 – 11 p.m., with happy hour from 6 – 8 p.m. Located on the 50th floor overlooking Downtown Miami, Brickell and Biscayne Bay this 80's and 90's themed happy hour will feature local DJs spinning the best throwback classic hits as guests enjoy the incredible sunset views.
Fun childhood board games and nostalgic candy treats (think: Ring Pop's and Fun Dip) and yearbook photo booth moments with retro backgrounds will all be available. Plus, a free welcome cocktail for guests who RSVP to turn back the dial to relive childhood experiences. Head to Eventbrite to RSVP.
Sushi Class at Kiji Cuzco
The intrigue of sushi making will no longer be a mystery with Kiji Cuzco's Sushi With A Twist Class! Chef Christian Altamirano will teach guests the ins and outs of making three different sushi rolls – with a side of bottom-less sake and mimosas for those 21+ – on Saturday, August 12th from 2 p.m. to 4 p.m. and 4 p.m. to 6 p.m.!
The Sushi With A Twist class takes place the second Saturday of every month at Kiji Cuzco's vibrant indoor bar adorned by local art and neon lights. The pricing for an individual is $55, $100 for a couple, and $175 for a group of four. Individual guests and parties alike are sure to master their sushi skills and indulge their own creations in the colorful art district of Wynwood.