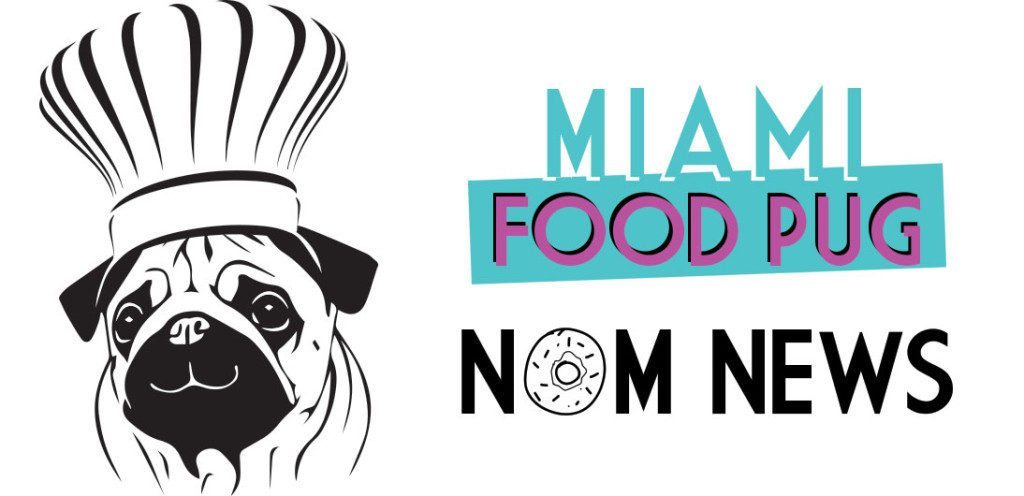 September 1, 2017
Each Friday, we compile South Florida food-related news and events that we couldn't fit on the site earlier in the week, as well as other local news that piques our interest. Want to be included in next week's roundup? Shoot us an email at bark@miamifoodpug.com.
Here's your weekly dose of nom.
Tap 42 Launches Saturday Brunch Party
The Salty Donut Debuts Babka-Stuffed Donut
New Specials at Carlos & Pepe's
Prezzo Returns to Boca
Below Deck Viewing Party at Grateful Palate
New Culinary Concept at the Frost
Celebrate National Yoga Month on South Beach
Tap 42 Launches Saturday Brunch Party
On Saturdays, Tap 42 (located in Coral Gables, and Miami Midtown) is featuring $5 Frojito's and Froze's, during brunch as well as their $20 bottomless mimosas, Bloody Mary's and Funky Buddha Floridian. A DJ will be in house spinning beats from 11am-3pm. The Summer Brunch Party will continue every Saturday from 11am-3pm.
Tap 42's twist on a Mojito, the frozen Passionfruit Frojito is made with Mint-infused Bacardi and Passionfruit puree. The tasty Frozen Rosé, Froze is infused with the flavors of organic juices & Meomi Rosé.
Summer Brunch Party goers can also enjoy Tap 42 brunch favorites such as the Green Eggs and Ham Benedict, in addition to burgers like The Prohibition Burger, The Drunken Goat, and more!
The Salty Donut Debuts Babka-Stuffed Donut
Have you ever heard of someone baking a babka, and then wrapping it inside of a donut… that's also a babka? Didn't think so. Wynwood's beloved donut shop has done it again. Introducing the first of its kind – The Salty Donut's Babka Stuffed Babka donut. The donut is made with The Salty's homemade miniature babka, soaked in simple syrup, wrapped inside their 24hr babka brioche (brioche dough that's marbled with chocolate) and then topped with chocolate & nut streusel. Hurry in — it's only available through September 17.
New Specials at Carlos and Pepe's
Earlier this week, Carlos & Pepe's kicked off its new post-work special. The new Happy Hour will feature 2-for-1 pricing on well liquor, draft beer, house wine and 2-for-1 on Sauza Blue House Margaritas made with 100 percent agave tequila. The Happy Hour will be available Monday through Friday from 5 p.m. to 7 p.m. in the bar and lounge area only.
On Sunday, September 10th, Carlos & Pepe's will introduce its new Kids Menu with a special "Crazy About our Kids" event from 5 p.m. to 7 p.m. The event will feature a special $3.00 Kids Menu that will include a drink and dessert. Kids can also enjoy fun activities including Face Painting and a Balloon Twisting artist. Following the official launch, the Kids Menu will be regularly offered for $5.95 and will include a drink.
Prezzo Returns to Boca
Coming this November to the Park Place plaza located on Military Trail between Clint Moore and Yamato Road, award-winning restaurateurs Burt Rapoport and Dennis Max will come together once again to resurrect the once-celebrated, Prezzo. Alongside them will be James Beard Award-winning chef, Mark Militello, who will lead the kitchen as executive chef.
A fixture in the 90s in Boca Raton, Aventura and South Miami, Prezzo brings back fond memories for area residents who remember the restaurant and it's approachable Italian cuisine. Together Rapoport and Max introduced the first wood-burning pizza oven to South Florida when they opened the first Prezzo in Boca Raton in 1989. After 10 years, the partners sold the three locations to another group and went their separate ways. The closing of all the locations in the early 2000s left the locals craving for their cuisine ever since.
The team plans to bring back many signature Prezzo dishes. Favorites such as the roasted garlic, focaccia bread sticks, wood-oven apple tart, the memorable fusilli and chicken dish, and a number of other house made pasta dishes, signature entrees and wood-fired pizzas. Additionally, health focused items such as oven-roasted vegetables, gluten-free pizzas and pastas, among others, will be new additions to the updated menu.
Seating will consist of 120 inside and 80 seats on the patio. Prezzo will also feature a spacious indoor/outdoor bar area, complete with a creative cocktail menu and expansive wine list. The cozy 20-seat bar will surely become a local hotspot for happy hour and after dinner drinks.
Below Deck Viewing Party at Grateful Palate
Bravo's reality hit series Below Deck and its animated cast will kick off Season 5 with a VIP viewing party at Grateful Palate Catering & Events. On Season 5 of Below Deck, Captain Lee has his hands full with a greener-than-usual crew, but fortunately he can rely on trusted veterans Kate and Nico to help him manage the rough seas ahead.
Guests will have the opportunity to engage with the cast in a live Q&A during commercial breaks. The event will take place Tuesday, September 5. For tickets and more information, visit the official event page.
New Culinary Concept at the Frost
The Phillip and Patricia Frost Museum of Science in Downtown Miami's Museum Park has announced their onsite culinary concept, Food@Science, will debut on Saturday, September 9, 2017. The café will be led by Executive Chef Tony Terho and SAVOR, the museum's exclusive food and beverage provider. SAVOR, a division of SMG, is recognized as one of the nation's leading food and beverage organizations for innovative services and will oversee the culinary team at Food@Science along with special event catering at the museum.
Food@Science will be located on the ground level of the museum's West Wing with easy access from Museum Park, allowing guests to enter the café without purchasing an admission ticket to the museum. The café will focus on fresh, sustainable and seasonal ingredients featuring a variety of salads, sandwiches, artisan flatbread pizzas, seasonal tacos and, of course, a kid's menu. Coffee@Science will serve as the grab-and-go extension featuring an assortment of pre-made meals based on the café menu.
Prices will range from $4-$20. Food@Science proudly serves Starbucks and Pepsi products, with beer and wine also available. Serving as an extension of the café, the popular Food@Science food truck will continue to operate during museum hours, offering a selection of daily tacos, pupusas and empanadas. Coffee@Science hours are 8:30 a.m. to 5:30 p.m; Food@Science hours are 10:00 a.m. to 4:00 p.m.
Executive Chef Tony Terho will oversee all aspects of the SAVOR culinary team at Frost Science, including developing the menu for Food@Science, where he will maintain a strong commitment to farm-to-table freshness that features locally grown products.
Prior to joining Frost Science, Chef Terho was the executive chef at EmKo's culinary studio Jereve in Palm Beach. Tony has led culinary teams for some of the most prestigious establishments in the area including HMF at The Breakers Resort, the posh Buccan and the historic Mar-A-Lago club.
Celebrate National Yoga Month on South Beach
National Yoga Month is quickly approaching, and Shelborne South Beach and Mondrian South Beach are bringing the 'om' to Miami with partner, RESET Yoga.
Shelborne will launch its (boozy) evening yoga series on Thursday, September 14th and continue to offer the classes once a month. After chanting their namastes, yogis are invited to a happy hour at The Drawing Room, the property's on-site bar known for cocktails that feature fresh local ingredients, herbs and botanicals. Attendees can embrace all that Miami Beach has to offer when visiting Shelborne, as it is located just steps away from the beach and in the heart of the Art Deco District.
Staying true to its chic and beautiful vibes, Mondrian will launch its monthly community-building classes on Thursday, September 26th. Guests are invited to find their zen as they relax to the amazing views of Biscayne Bay and stay for interactive wellness seminars and beauty pop-up shows. Mondrian will also offer a yoga class and massage/facial package for $99.
Entry to the monthly yoga classes and events packages is $10 at both venues and open to the public. For more information, visit https://www.shelborne.com/ or https://www.morganshotelgroup.com/mondrian/mondrian-south-beach.