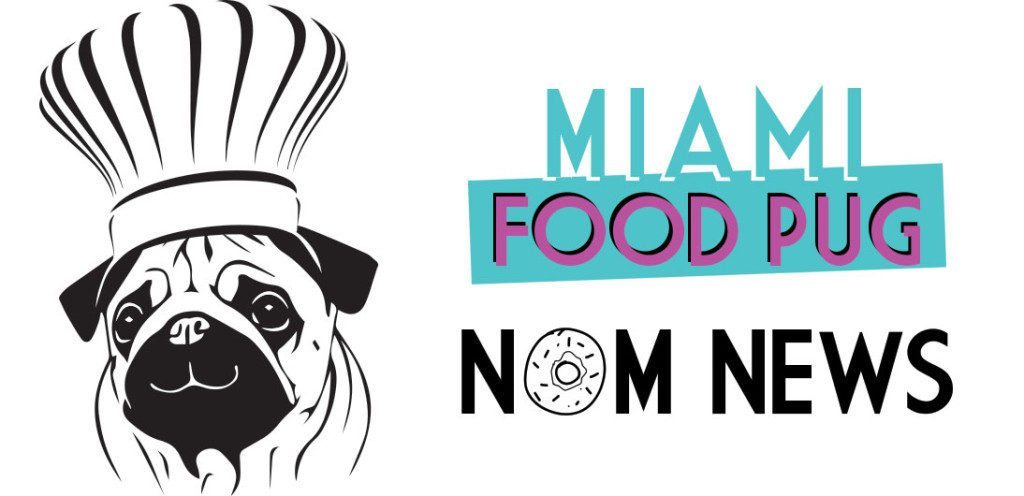 September 22, 2017
Editor's Note: After two long weeks of no internet at home, we finally have service again. We'll be back to our regular posting schedule next week. Until then, enjoy this extra-lengthy edition of Nom News.
Each Friday, we compile South Florida food-related news and events that we couldn't fit on the site earlier in the week, as well as other local news that piques our interest. Want to be included in next week's roundup? Shoot us an email at bark@miamifoodpug.com.
Here's your weekly dose of nom.
Hell's Kitchen All Stars Viewing Party at Rumors
Beaker & Gray Partners With Common Threads
KYU Launches Cocktails for the Keys
Canned Food Drive at Veza Sur
National Bourbon Month Brunch at Sweet Liberty
Sushi 101 at Dragonfly
Lolo's Surf Cantina Now Serves Breakfast
BLT Steak Opens on South Beach
Verde at PAMM Expands
The Tank Brewing Company Hosts Craft Beer 5K
Boulud Sud to Replace db Bistro Moderne
Southern Italian Popup at Ghee
Extended Oyster Hour at Point Royal
Hell's Kitchen All Stars Viewing Party at Rumors
You won't want to miss this inside look at the highly anticipated All Stars edition of Hell's Kitchen featuring South Florida chef Robyn Almodovar. At Rumors Bar & Grill on September 29, you'll get a chance to taste some of Chef Gordon Ramsay's favorite dishes from Chef Almodovar, support a community favorite, and be a part of the madness that only the unique crowd of the "gayborhood" can provide. The event, which starts at 7 p.m., will be co-hosted by Chef Robyn Almodovar, Seph Mason and Sasha Lords.
Beaker & Gray Partners With Common Threads
Wynwood's Beaker & Gray is sweetening their Happy Hour promotion. Each month, the hip eatery joins forces with a local non-profit organization and donates a percentage of its Happy Hour proceeds to benefit the cause.
The restaurant's Instant Karma promotion will occur the fourth week of every month. From that Monday through Thursday, a percentage of Happy Hour sales will benefit a different local non-profit/charitable organization. Beaker & Gray's charity partner for September is Common Threads, whose goal is to help prevent childhood obesity and reverse the trend of generations of non-cookers by providing cooking and nutrition programs and curriculum; while celebrating the cultural differences and things people all over the world have in common – food.
The September edition of the Instant Karma fundraiser will run from Monday, September 25 through Thursday, September 28. From 4PM to 7PM, Happy Hour goers can enjoy bites such as Grilled Cheese – smoked ham, Swiss cheese and pickles; Croquettes – Wagyu, Manchego cheese and jerk-aioli; savory Mochi – dill, coconut, togarashi; and a variety of cocktails, beers and wines to wash it all down. Patrons can follow Beaker & Gray on social media for details on future beneficiaries.
Local non-profit organizations interested in partnering with Beaker & Gray for Instant Karma should email: bcpr@brustmancarrinopr.com.
For more information on Common Threads, please visit http://www.commonthreads.org/index.html.
KYU Launches Cocktails for the Keys
In the wake of Hurricane Irma's destruction in the Florida Keys, KYU is launching Cocktails for the Keys. Guests are invited to bring a case of water, or five non-perishable food items, and will receive a complimentary cocktail of the day as a show of thanks. KYU's team behind the bar is constantly coming up with #NewToKYU creative cocktails and classics that will be part of the cocktail of the day rotation. The restaurant plans to donate collected items to Feeding South Florida and other local nonprofit aide organizations.
Canned Food Drive at Veza Sur
VEZA SUR Brewing Co. has partnered with Islamorada Beer Co. and the charity, GottaLuvThem (http://www.gottaluvthem.org/Floridakeysrelieffund), in collecting donations to help out the victims of Hurricane Irma in the Keys.
People who want to help raise funds can go directly to their GoFundMe page: https://www.gofundme.com/floridakeysfund.
VEZA SUR Brewing Co. will also be collecting donations of non-perishable items, toiletries, water, first aid kits, etc. at the brewery from now until September 30th. Customers who donate two items or more will receive a Chopp on the house.
A list of the items VEZA SUR is collecting:
– Canned / Non-Perishable Food
– Bottled Water or Gatorade
– Bleach
– Toiletries (e.g. soap,shampoo, toothpaste, toothbrushes, etc.)
– Toilet Paper & Paper Towels
– Baby Care (e.g. Diapers & Baby Wipes)
– Hand Sanitizer
– First Aid Kits
National Bourbon Month Brunch at Sweet Liberty
On Saturday, September 30th at noon, Sweet Liberty Drinks & Supply Co. will team up with Chat Chow for a very special bourbon-filled brunch in celebration of National Bourbon Month. Opening its doors to the public for the first-ever Saturday brunch, Sweet Liberty will offer a 4-course brunch tasting menu featuring bourbon infused dishes available one day only for $85/pp (tax + tip included).
Each course will be expertly paired with a specialty craft cocktail created by award-winning bartender and owner John Lermayer made with Jim Beam Black Label, Knob Creek and Maker's Mark.
To support those affected by Hurricane Irma, Sweet Liberty will donate a portion of the proceeds from the National Bourbon Month Brunch to Feeding South Florida, the leading domestic hunger-relief organization in South Florida. Feeding South Florida can provide 6 meals for those in need for every $1 donated.
Menu highlights include:
– First Course: Mushroom Mousse with Jim Beam Gelatin
– Second Course: Chef's Fried Tomato made of Rustic Roasted Eggplant, Sun-Dried Tomato, and Jim Beam Herb Oil
– Third Course: Brussels Egg Benedict made of Crispy Hog Jowl, Jim Beam Infused Honey, Almond, and Hollandaise Sauce
– Fourth Course: Jim Beam Caramel Brownie a La Mode
Limited tickets available. To purchase tickets, visit http://bourbonbrunch.bpt.me.
Sushi 101 at Dragonfly
On Saturday, October 14 at 3:30 p.m., enjoy a complimentary aperitif and passed hors-d'oeuvres as Dragonfly Izakaya and Fish Market's master sushi chefs teach you the history and basics of sushi! During this sushi class, you'll:
– Learn the secrets of perfect sushi rice
– How to select and prepare the perfect Salmon Nigiri
– How to make California and Crunch Rolls
– How to prepare Japanese Hand Rolls
After class wraps up, stick around for Happy Hour specials at the bar or take advantage of sushi kit and fish discounts at the market. The all-inclusive price for this Dragonfly experience is only $68 per person. Seating is limited, so confirm your space today. Get your tickets on Eventbrite.
Lolo's Surf Cantina Now Serves Breakfast
Lolo's Surf Cantina on South Beach was named after Chef/Partner Richard Ampudia's abuelita (grandmother) Dolores. To further honor his grandmother, Chef Richard has created an abuelita-inspired breakfast menu available daily at the South of Fifth Mexican eatery.
Prepared in abuelita's kitchen from 6:30 a.m. to 11 a.m., guests can enjoy breakfast favorites like the Huevos Rancheros (sunny side up eggs over tortillas, salsa, crema cheese, served with tatertots and greens), Butterscotch Pancakes (2 fluffy pancakes, caramelized banana, maple pecans, butterscotch, and whipped cream) and Melbourne Avocado Toast (pouched egg, guacamole, crispy toast, served with greens). Pair your breakfast with some of Lolo's pick-me-up cocktails like the Belinda, Bloody Maria and more!
BLT Steak Opens on South Beach
After closing in May 2016, BLT Steak is excited to announce its return to South Beach. The acclaimed steakhouse is now open in its new home at the recently refurbished Iberostar Berkeley Hotel (formerly the Berkeley Shore) at 1610 Collins Avenue. In addition to its modern steakhouse menu, the restaurant will also be offering prix fixe Miami Spice menus at lunch and dinner, now through October 31, 2017, providing an irresistible lure to those interested in checking out its new digs.
Among the new items debuting to Miami audiences on BLT Steak's menu are dishes that exemplify the brand's simple yet sophisticated fare: Steak Tartare Tacos, Snapper Crudo, Uni Toast, Heirloom Tomato and Beets Salad and Foie Gras Empanadas. These delicious dishes will share menu space with many beloved BLT staples, including the world-famous gruyere Popovers, along with the finest cuts of USDA Prime Certified Angus beef available, including the signature 28 day dry-aged New York strip, Kansas City bone-in strip and Porterhouse for two.
Also returning for highly anticipated encore performances are BLT favorites including Tuna Tartare, Dover Sole, Lobster Cobb Salad and Salt Brick Chicken as well as a selection of both classic and updated sides including the renowned Creamed Spinach and Pommes Puree. And what modern steakhouse would be worth its salt without a great raw bar menu? BLT Steak offers a daily selection of East and West Coast oysters as well as seafood platters comprised of oysters, Little Neck clams, jumbo shrimp, crab claws and lobster.
Chef de Cuisine Carlos Torres will oversee kitchen operations, making his own mark on the menu with weekly blackboard specials, showcasing fresh local ingredients. An intimate cocktail bar and hotel lobby lounge will offer a curated selection of local draft beers and wines by the glass as well as handcrafted, seasonal cocktails. A robust wine list will offer diners a wide array of Old and New World vintages consistent with BLT Steak's award-winning selections worldwide.
Effective immediately, BLT Steak is open to the public on serving breakfast, lunch, and dinner daily, in addition to in-room dining and the hotel's rooftop pool deck. Reservations suggested by calling (786) 605-0819. BLT Steak is located at The Berkeley Shore Hotel, 1610 Collins Avenue in Miami Beach.
Verde at PAMM Expands
Verde at Pérez Art Museum Miami (PAMM), the full-service restaurant operated by exclusive catering partner STARR Catering Group, will welcome guests with 40 additional outdoor bayside seats this fall.
Continuing to provide guests with unparalleled service using only the freshest ingredients, Verde will also introduce new food and cocktail menus plus an updated bar area. The additions designed by renowned Berenblum Busch Architects will elevate outdoor dining atmosphere, further enhancing the already premium museum dining option in Miami.
With 30 additional seats and new foliage on the terrace, the transformed outdoor dining space will allow guests to be fully immersed in views of Biscayne Bay and the impressive architecture of PAMM designed by Herzog & de Meuron. New wooden booths and banquets will provide additional intimacy for guests to enjoy an expanded international menu with new seasonal dishes like Chicory and Pear Salad, Shrimp Tacos "Al Pastor", Bucatini Pasta, Butternut Squash + Fig Pizza, and Roasted Winter Vegetables prepared by Executive Chef Kaytlin Dangaran.
Guests can also look forward to new decadent desserts like the Roasted Apple and Guava and Cheesecake Zeppolis. Located adjacent to PAMM Shop, Verde's new granite and stainless steel full service bar will feature a La Marzocco espresso machine and a floating, window-side wood bar that seats seven with views overlooking the outdoor terrace.
Diners are invited to spend time in the space while enjoying coffee, tea, cocktails, wine and beer without the need of a reservation. The bar at Verde now provides guests with the option to order from the full dining menu and enjoy the space without the need of a reservation.
Verde is open for lunch Thursday through Tuesday, brunch on weekends and lunch and dinner on Thursday nights to coincide with educational events, social programming and Third Thursday activities at the museum.
The Tank Brewing Company Hosts Craft Beer 5K
The Tank Brewing Company is joining forces with Frankie Ruiz, co-founder of the Miami Marathon, to bring the first ever Craft Beer 5K Run to South Florida. The race is open to everyone –including runners and beer lovers of all kinds – and will depart from The Tank Brewing Co. on Saturday, September 30 at 6:00 p.m.
The net proceeds of the Run will benefit two South Florida-based nonprofit organizations, Amigos For Kids, an organization dedicated to child abuse prevention and strengthening families, and Live Like Bella Foundation, which supports childhood cancer research.
The post-race celebrations will include a festival with local breweries offering a sampling of their brews, food by-the-bite, live music, and games. Participating breweries include The Tank Brewing Company, MIA Beer Company, Funky Buddha Brewery, J. Wakefield Brewing, Biscayne Bay Brewing Company, Concrete Beach Brewery, Wynwood Brewing, 26 Degree Brewing Company and Miami Brewing Company. Training runs will be coordinated at all participating breweries from now until race day.
Supporting sponsors and partners include Ryder, MBF Healthcare Partners, Gold Coast Distributors, Altadis U.S.A. Premium Cigar, Goya Foods, Crown Wine and Spirits, Professional Bank, Republica, and Ocean Mazda. Sponsorship opportunities are still available. For more information, please contact info@TheTankBrewing.com.
Those interested in registering for the South Florida Craft Beer Run should visit SouthFloridaCraftBeerRun.com. The $30 registration fee includes race t-shirt, medal, and one complimentary beer, along with other swag. For an additional $10 donation, participants will receive a pair of Live Like Bella commemorative socks to sport on race day.
Boulud Sud to Replace db Bistro Moderne
Chef Daniel Boulud's Mediterranean concept, Boulud Sud, will open this December in downtown Miami. Originally launched in 2011 on New York's Upper West Side, this second location of Boulud Sud will feature coastal cuisine inspired by flavors from the Côte d'Azur Spain, Italy, Greece, Morocco, Tunisia, Lebanon, Turkey and beyond.
Appealing to the influx of young professionals and creatives moving to downtown and the many avid Daniel Boulud followers, Boulud Sud will feature an energetic lounge, bar and intimate private dining spaces with a light and airy esthetic. Guests can expect to be welcomed by the soft lighting of minimalist lighting fixtures, off white linen seating, modern Moroccan-inspired tile floors and lattice wall accents, brass hardware fixtures and warm natural woods throughout, along with a mix of live plants and greenery that denote the intrinsic beauty of Miami's beaches. Designed in cooperation with CallisonRTKL, Boulud Sud will be as much a destination for its cuisine as it will for its casual ambiance.
The Boulud Sud kitchen will be helmed by Executive Chef Clark Bowen, who has been an integral part of the Daniel Boulud team for seven years. Continuing his well-established rapport with Chef Boulud, together they will develop a menu that highlights local ingredients, while building on a foundation of existing Boulud Sud favorites using spices, seasonings and cooking methods found in the Mediterranean such as Octopus à la Plancha, Arabic Lamb Flatbread, Taramasalata, Sicilian Grilled Swordfish and Moroccan Chicken Tagine.
Pastry Chef Saeko Nemoto, who has also been working with Chef Boulud for many years in NY and Miami, will present both original desserts and variations on classics from the NYC location, including the much-beloved Grapefruit Givré topped with sesame halva, rose loukoum and grapefruit sorbet.
Boulud Sud will occupy the current db Bistro Moderne space where the public will have a few more days to enjoy their favorite French bistro dishes. The final dinner service will take place on Saturday, September 30th.
Southern Italian Popup at Ghee
On Sunday, September 24, Ghee will host a Southern Italian popup with chefs Akino West and Jamila Ross. The duo will be cooking up their interpretation of Southern Italian food and South Florida. The dinner will take place at 7 pm — tickets and more details are available on the event's EatUp page.
Extended Oyster Hour at Point Royal
Point Royal, located on-site at the Diplomat Beach Resort, ​recently ​extended its Oyster Hour to now be every day from 5:30 p.m. – 7:30 p.m.
The two-hour block for enjoying aphrodisiacs and alcohol includes specials on oysters, clams, shrimp cocktail and other raw bar favorites as well as discounts on select wines by the glass, beers and $7 speciality cocktails.
Visitors can enjoy this dine-in only happy hour at the restaurant's lavish raw bar, main bar or lower terrace. The happy (oyster) hour includes complimentary valet parking as well.