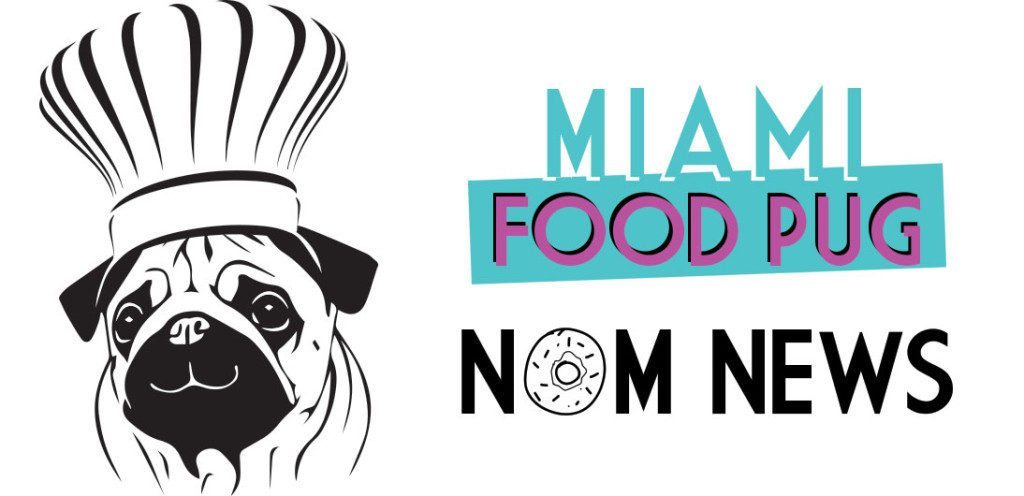 October 20, 2017
Each Friday, we compile South Florida food-related news and events that we couldn't fit on the site earlier in the week, as well as other local news that piques our interest. Want to be included in next week's roundup? Shoot us an email at bark@miamifoodpug.com.
Here's your weekly dose of nom.
Pullman Miami Hosts Halloween Happy Hour
MOB Worldwide Fashion Visits OTL
Princess Cruises Announces Culinary Cruise
Halloween Pup Parade at Española Way
New Dishes at Sushi Garage
Instant Karma at Beaker & Gray
Spoleto to Open at Dadeland Mall
Annual Stone Crab Festival at Semilla
Tanuki Debuts Weekend Brunch
Suviche Wynwood Celebrates 4 Years
Coffee Hour With Nu Deco Ensemble
Pullman Miami Hosts Halloween Happy Hour
The Pullman Miami Hotel is offering 9 to 5'ers a spooky way to kick off the Halloween season with its Pinots, Pints & Pumpkins Happy Hour on Friday, October 20th and October 27th from 5 to 8 p.m. Every Pullman patron who orders a drink at the bar will receive a mini pumpkin to participate in the adults-only decoration station.
Decorating for fall will be fun with the decoration station including a variety of crafts such as sheer fabrics, ribbons, letter stickers, paints and felts. Artistic experience is not required for this no-carve station. Pullman will provide inspirational templates to create pumpkin persona styles such as Marble Pumpkin, Glitz and Glamour, Tulle & Lace, Très-Chic, All Black Matte, or a Pink Pumpkin project to support breast cancer awareness. This may be an opportunity for guests' next best Instagrammable moment.
Happy hour specials include themed cocktails masked with eerie names such as Vampire's Weakness, Sweet Treat, I Got My Eyes On You, Morgue-A-Rita, and Bloody Sangria. Other deals include drafts starting at $3 and wines by the glass starting at $4.50. What's more, tapas are all priced at $4, and you can choose from a range of items – crispy warm tortilla chips & salsa, ciabatta sandwich with 3 cheeses and truffle mayo, roasted tomatoes and basil on a toasted baguette, creamy avocado toast, spicy Asian-style chicken wings, Cuban sandwich, and creamy hummus.
In addition to the unbeatable happy hour prices and Halloween-themed craft time, the hotel will also have a DJ spinning live beats from 5 to 9 p.m.
Attendees can also enter a social media contest to win a $50 credit to La Riviera, the hotel's restaurant. Contest rules include: posting a picture of their mini pumpkin and drink on Instagram and tag the hotel using the hashtag, #PullmanMiami. Users must be following Pullman Miami to qualify. A random winner will be selected before the end of the happy hour at 7pm on both Fridays. Post must be up by 7 p.m. to enter.
MOB Worldwide Fashion Visits OTL
Miamians get ready, the new American streetwear company, MOB Worldwide, will be coming to OTL for a one-night-only clothing pop up today (Friday, Oct. 20th). Nestled in the center of the booming fashion-forward Design District, there's no better place to get some hot wardrobe additions than at OTL. MOB, which stands for 'Money Over Boys' is a young company that went live this past Fourth of July. It launched on the holiday for two reasons: MOB encourages female independence and strength, and the company has a worldwide vision.
Stop by between 6 p.m. to 8 p.m. to get classic favorite sips like matcha and kombucha on-tap or half off cocktails. Attendees can expect 20% off the clothing on site, and one lucky winner will even receive a free clothing item of their choice.
Come as you are, and leave with a stylish new set of clothing pieces that are all wardrobe staples, manufactured from soft fabrics and can be worn day or night. Most pieces are unisex and one size fits all.
Princess Cruises Announces Culinary Cruise
Princess Cruises has officially announced its third annual Culinary Cruise Series, featuring famed Miami-based chefs Brad Kilgore and Scott Linquist. Sailing on Regal Princess out of Fort Lauderdale, Fla. from February 11 – 18, 2018 to the Western Caribbean, these two chefs will team up to offer guests a variety of curated culinary experiences and demonstrations for travelers looking for an exclusive foodie experience.
This seven-day, four-port Western Caribbean cruise will include a selection of daily activities and adventures for cruisers to participate in with the acclaimed chefs.
Guests will be able to participate in chef-led cooking demonstrations, cookbook signings, Q+A sessions, experience special menus featured throughout the ship's restaurant and bars, and learn valuable cuisine skills to bring home with them.
Guests will also be able explore parts of the Caribbean and Mexico alongside these chefs as each lead a customized excursion. Noted for his Mexican cuisine, Chef Linquist will lead the Cozumel excursion in Mexico, while Chef Kilgore will lead the Jamaican excursion. Other port stops include Princess Cays Bahamas and Grand Cayman.
Named Food & Wine's 2016 Best New Chef, Brad Kilgore launched onto Miami's culinary scene in 2015 with the opening of Alter in Miami's hottest new neighborhood – Wynwood. After winning countless awards with Alter including Restaurant of the Year by Eater, he set his sights on Downtown Miami's Adrienne Arsht Center and opened BRAVA by Brad Kilgore inside the famed cultural institution. Showing no signs of slowing down, Kilgore plans to debut two new restaurants in Miami in the next coming year. Bringing his progressive American cuisine to Regal Princess, Kilgore will showcase some of his favorites including Short Rib Wellington with Truffled Mushrooms and Free-Range Chicken, with Popcorn Hollandaise.
Joining Chef Brad Kilgore will fellow Miami-based Chef Scott Linquist. Linquist, founder of the wildly successful Coyo Taco located in Miami's buzzing Brickell Financial District, as well as famed Wynwood arts district, will bring his upscale Mexican flair to the seven-day excursion featuring some of his most unique taco creations such as Coyo's charred octopus tacos with salsa veracruzana and pickled jalapeños. Chef Linquist plans to expand the success of Coyo Taco with new locations coming in Miami Beach, West Palm Beach and Panama.
Adding a touch of sweetness to this cruise will be one of Princess Cruises culinary partners, Norman Love. Trained in France, and named the Inaugural Inductee into the Chocolatier Hall of Fame by Dessert Professional Magazine, Love's creations blend premium quality chocolate, unique flavors and artful designs that are perfect for chocolate lovers. Love will be leading several cooking demonstrations and curate chocolate tastings.
Additional information about Princess Cruises is available through a professional travel agent, by calling 1-800-PRINCESS or by visiting the company's website at princess.com.
Halloween Pup Parade at Española Way
Miami Beach's historic, pedestrian-only street Española Way is hosting a Halloween Pup Parade featuring a costume contest and trick-or-treating for the furry friends on Saturday, October 28th, from 10 a.m. to 2 p.m.
Attendees may enjoy a stroll with their costumed canine companions through Española Way's enchanting street, masked to resemble the Mediterranean villages of Spain and France. While they travel to the past throughout this quaint village, they'll encounter restaurants, art galleries, boutiques and hotels. Each merchant will have treats, no tricks, for the pooches.
In addition to the Halloween activities, all the vendors will also give back a percentage of that night's proceeds to the local animal shelters in response to Hurricane Irma.
Food and dog-loving South Florida bloggers Dianne and Geoffrey of Miami Food Pug will judge the Halloween doggie costume contest. The winner of the contest will win a $75 gift card from Dishes for Dogs, a Miami-based, gourmet canine food company, and other prizes to pamper their furry companion.
New Dishes at Sushi Garage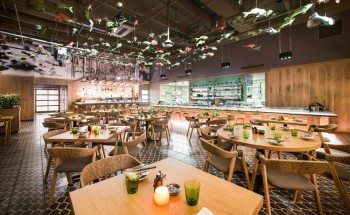 There's no traditional pumpkin spice or apple flavors in sight at Sushi Garage. Available daily for dinner, Executive Chef Sunny Oh is adding new, off-the-menu Fall dishes with a twist on Japanese classics into three new dishes. Check out the latest at the Sunset Harbour favorite Japanese spot with a succulent Pork Belly, Short Rib Gyoza Dumplings and a Uni Butter Lobster. Chef Sunny incorporated unique ingredients like nashi pear, nashi cabbage slaw and chinese broccoli to perfectly complement each dish in its own way.
The items will be available throughout the season upon request and dishes range from $16-$33.
Instant Karma at Beaker & Gray

Widely considered one of the region's foremost best restaurants and a premier watering hole, Beaker & Gray is sweetening their Happy Hour promotion. Co-owners Brian Nasajon and Ben Potts are upping the ante with Instant Karma; each month, the hip eatery will join forces with a local non-profit organization and donate a portion of their Happy Hour proceeds to benefit the cause.
The restaurant's Instant Karma promotion occurs the fourth week of every month. From that Monday through Thursday, a percentage of Happy Hour sales will benefit a different local non-profit/charitable organization. Beaker & Gray's charity partner for October is Florida International University's Chaplin School of Hospitality & Tourism Management. Its vision is to become the leading global resource for innovative talent and solutions for the hospitality and tourism industry, with competitive expertise in hospitality, real estate development, finance, and food and beverage science. The school's diverse undergraduate population includes students from more than 60 countries, many of which are the first in their families to attend college.
Since 2002, it has hosted, alongside Southern Glazer's Wine & Spirits, the Food Network & Cooking Channel South Beach Wine & Food Festival, which has raised more than $26 million to date. Appropriately time to coincide with the Festival's tickets going on sale, this month's edition of Instant Karma will run from Monday, October 23 through Thursday, October 26. From 4PM to 7PM, Happy Hour goers can enjoy bites such as the Grilled Cheese – smoked ham, Swiss cheese and pickles; Croquettes – Wagyu, Manchego cheese and jerk-aioli; savory Mochi – dill, coconut, togarashi; and a variety of cocktails, beers and wines to wash it all down. Patrons can follow Beaker & Gray on social media for details on future beneficiaries.
Spoleto to Open at Dadeland Mall
Spoleto, a fast-casual Italian restaurant that combines the sophistication of gourmet-quality food with the speed of quick service is expanding its presence in the United States with the opening of its Miami store located in the Dadeland Mall. Spoleto will bring South Florida residents fresh, delicious Italian cuisine for family and friends in a casual, modern and artsy environment. Spoleto is known for its diverse offerings, that introduce visitors to a light and fresh side of Italian culinary beyond traditional pasta.
The Miami restaurant is the first location in South Florida and makes the sixth corporate-owned location in the U.S. since its expansion two years ago. Spoleto's menu offers a variety of dishes for lunch and dinner, giving guests a plethora of Italian-inspired items that can be enjoyed anytime. Additionally, the menu includes gluten-free pastas and flatbreads, organic produce that is locally sourced, when possible and house-made protein options, such as the popular giant meatball and roasted chicken.
All ingredients and protein options can be mixed with gourmet and specialty pasta, focaccia flat breads and farm-fresh salads. The menu puts an emphasis on gourmet Italian ingredients such as truffle oil, balsamic glaze, burrata cheese, and prosciutto and offers more than 30 fresh ingredients.
The restaurant will officially open on Saturday Nov. 11 and will operate Monday through Saturday, 10 a.m. to 9:30 p.m., and Sunday 12 p.m. to 7 p.m. The restaurant and can be found in the Fashion Wing (Level 1) at the Dadeland Mall located at 7535 N. Kendall Drive, Miami, Fla., 33156.
Annual Stone Crab Festival at Semilla
It's that magical time of year again when the stone crabs come back out to play.  Everybody knows that the first few days of the season can be sprinkled with last year's frozen surplus, but rest assured that on Saturday, October 21st, the stone crabs at Semilla will fresh and bountiful.
Every year, Chef Joulin celebrates the start of the season by welcoming guests with open arms full of $4.00 crab claws. On Saturday, October 21st, come to the Stone Crab Festival at Semilla – enjoy the cooler weather on the terrace, cocktails with the local crowd, and $4.00 stone crab claws all night long.
Tanuki Debuts Off Weekend Brunch
This weekend, Tanuki is kicking off its weekend brunch service. The new menu will feature a Pan Asian twist on classic brunch dishes including a Chef's sushi tasting plate, dim sum offered via a traditional rolling cart at $6 per plate (3 pieces), and a bottomless beverage option. Here are some of the highlights:
Spicy Tuna Poke Bowl – $16
Sushi rice, avocado, daikon, beets, butter lettuce, pickled ginger, poached egg
Salmon Benedict – $16
Crispy rice, kimchee hollandaise, avocado, mixed greens
Crispy BBQ Pork Belly Benedict – $16
Spinach, shishito pepper & cabbage, kimchee hollandaise, poached eggs
Green Tea French Toast – $15
Mixed berries, whipped cream, yuzu miso caramel, hazelnuts
Bottomless Prosecco for $20 additional per person; Mimosas or Bellini's for additional $25 per person
Suviche Wynwood Celebrates 4 Years
SuViche Wynwood will host its fourth anniversary celebration on Wednesday, November 15th. The party will feature a photo booth, live DJ and complimentary gummy bear shots in a branded souvenir glass for all guests. The festivities start at 7 p.m. and will continue to 11 p.m.
Coffee Hour With Nu Deco Ensemble
On Friday, October 27, Nu Deco Ensemble is kicking off their third season with "Coffee Hour with Nu Deco Ensemble." Taking place at the Aura Lounge on the third floor of ME Miami starting at 11 a.m., this open Q+A session with founders Sam Hyken and Jacomo Barlos will give locals the opportunity to learn more about the exciting season ahead and discuss the evolving music culture in Miami.
Complimentary coffee creations for all guests will be provided by local favorite Per'La Coffee.