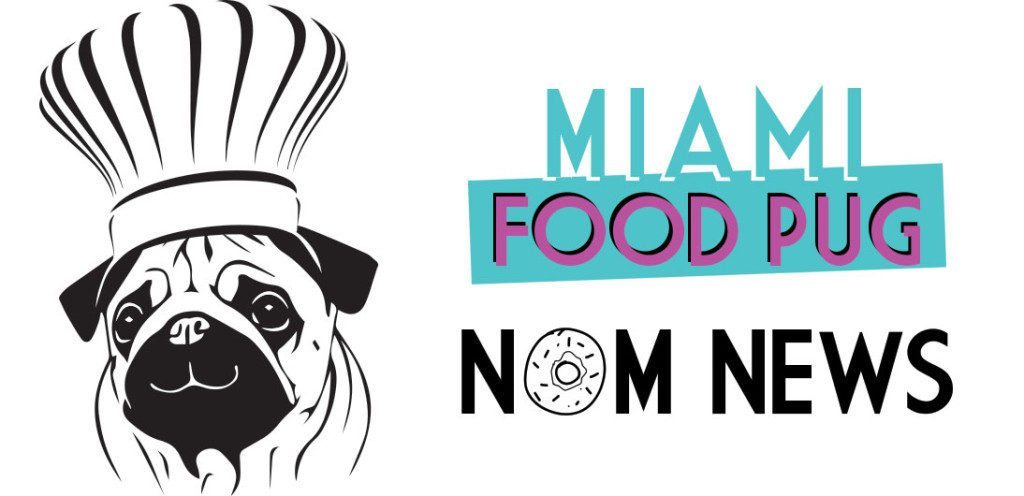 October 27, 2017
Each Friday, we compile South Florida food-related news and events that we couldn't fit on the site earlier in the week, as well as other local news that piques our interest. Want to be included in next week's roundup? Shoot us an email at bark@miamifoodpug.com.
Here's your weekly dose of nom.
Bottomless Brunch at Pinch
Champagne and Oysters at LILT
Berri Bar Opens on Miami Beach
Chef Collab Dinner at Bazaar Mar
Harry's Pizzeria Rebrands as Genuine Pizza
W Miami Hosts Halloween Party
Suviche Launches Lunch to Lush Promo
Lobster Bar Sea Grille Debuts Brunch
Repour Hosts Halloween Pool Party
New Chef at Burlock Coast
Bottomless Brunch at Pinch
In celebration of its two-year anniversary, Pinch Kitchen is kicking off a month-long celebration with a Bottomless Bubbles Brunch hosted by local Miami food bloggers, Dianne Rubin and Geoffrey Anderson of Miami Food Pug. The Bottomless Bubbles Brunch, sponsored by Zonin USA, will take place on Sunday, November 5th will include a four-course family style brunch featuring some of Pinch's classic brunch items along with two hours of unlimited bubbles. There will be three seatings available for the brunch: 10AM, 12:30PM, and 3PM.
The cost of the Bottomless Bubbles Brunch is $45 per person inclusive of tax and gratuity. A portion of proceeds from each ticket sold will benefit the Born Free Pet Shelter, a local no-kill animal shelter.
The Bottomless Bubbles Brunch is for guests 21 and over. Tickets to the event must be purchased in advance via Eventbrite at pinchbrunch.eventbrite.com.
Champagne and Oysters at LILT
This week, LILT Lounge kicked off its new Champagne & Oysters night. Every Thursday starting at 6PM, guests can enjoy $10 bubbles and $1 oysters until 10PM. The delectable bevvies and bivalves will be paired with beats by acclaimed local DJs for an amazing early start to the weekend!
Berri Bar Opens on Miami Beach
Miami's newest fast-casual eatery, Berri Bar, has officially opened at 1630 Pennsylvania Avenue, just off Lincoln Road. Founded by young entrepreneur, Gregory Bennati, Berri Bar brings the first specialty açaí shop to Lincoln Road, with a self-proclaimed motto that 'Life Should be Sweet.' The eatery offers signature açaí bowls, fresh juices, smoothies, and healthy on-the-go snacks, making it an ideal destination for locals and tourists alike.
Thanks to its exclusive, state-of-the-art açaí machine, Berri Bar takes acai-making one step further, transcending the lengthy process that typically comes along with blending the superfood. Using cutting-edge technology, each serving of açaí is dished out with a smooth consistency, without sacrificing quality or taste. The result is a true fast-casual experience, combining a consistently tasty product with the efficiency needed to maintain a nourished and fulfilled lifestyle.
Berri Bar uses the most wholesome form of açaí, harvested from the north of Brazil, boasting an organic, non-GMO, vegan and gluten free product. On the menu, guests can expect signature bowls such as the Berri Original, featuring blended açaí, Berri Bar™ Granola, strawberries, blueberries, and honey, and the Choco Nut, with blended açaí, Berri Bar™ Granola, cacao nibs, banana, and Nutella. In addition to the signature bowls, guests can add a personal touch by creating custom concoctions, adding toppings such as goji berries, vitamin gummies or Berri Bar's signature homemade granola.
To quench the thirst, Berri Bar offers juices such as the Love Potion, made with pineapple, apple, and coconut water, and the Green Warrior, featuring pear, kale, and ginger. Freshly made smoothies are also seen on the menu, and include the Rocket Fuel, made with peanut butter, banana, vanilla, protein, and almond milk, and The Matcha, featuring pineapple, matcha, honey, and an almond milk or coconut water option.
Berri Bar is located at 1630 Pennsylvania Ave, Miami Beach, FL 33139. Hours of operation are Monday through Thursday, from 9am to 9pm; Friday through Saturday, from 9am to 11pm; and Sunday, from 12pm to 6pm.
Chef Collab Dinner at Bazaar Mar
Michelin-starred chef José Andrés welcomes his friend and fellow two-Michelin-star Spanish chef Dani García to collaborate on a multi-course dinner featuring dishes from both chefs on November 15, 2017 at Andrés' Bazaar Mar restaurant, located in Miami's SLS Brickell. Andrés and García will both be contributing dishes to the menu for this exclusive dining experience.
García is internationally known for his Spanish restaurants Bibo in Marbella (a Bib Gourmand) and Madrid, Lobito de Mar, and the two-Michelin starred Restaurante Dani García in the Marbella Hotel Puete Romano Beach Resort & Spa. For the second year in a row, Andrés has maintained two Michelin stars for his minibar by José Andrés in Washington, DC, as well as four Bib Gourmands for his DC restaurants Zaytinya, Oyamel, China Chilcano and Jaleo.
This exclusive reservations-only tasting menu will be priced at $395, inclusive of wine pairing, tax and gratuity. Reservations are limited, with one seating available at 7:30 p.m. Tickets are now on sale at https://nvite.com/BazaarMar/AndresandGarcia.

Harry's Pizzeria Rebrands as Genuine Pizza
Harry's Holdings, LLC. has secured a $2.5MM investment from the Florida Opportunity Fund to support the expansion of the Genuine Pizza concept, James Beard Award winner Michael Schwartz's casual pizzeria (formerly known as Harry's Pizzeria). The company will unveil the evolved concept's first location at the Aventura Mall in November, featuring new restaurant design, branding and signage, while maintaining the popular and familiar current menu. Existing Harry's Pizzeria locations will stay as Harry's, but will eventually transition to the new brand name and design.
The Florida Opportunity Fund investment will back Genuine Pizza's rollout to 18 locations over the next few years, including Aventura (November), Atlanta (December), Cleveland and Miami Beach (2018), and Sunrise (2019). The new restaurant interior by Miami-based craft and construction firm McKenzie features light woods and simple accents like custom yellow and grey Cuban tile, orange chairs, and the yellow-tiled Marra Forni oven.
The new restaurant interior by Miami-based craft and construction firm McKenzie features light woods and simple accents like custom yellow and grey Cuban tile, orange chairs, and the yellow-tiled Marra Forni oven. The environment invites guests to experience the attention to detail first hand, at a pizza bar fronting the open kitchen and a glass-faced dough room at the entrance where the recipe is mixed, kneaded and proofed daily. The new logo design incorporates the word Genuine in script typeface with an ear of wheat at the end, to emphasize a main ingredient in the daily handmade dough.
For more information, please visit genuinepizza.com.
W Miami Hosts Halloween Party
W Miami will be hosting Whisper No More this Saturday, October 28, starting at 9 p.m. in their 50th Floor Whisper Cocktail Lounge. Modeled after the famed Sleep No More party in New York City, this immersive sensory event will be an interactive experience centered around heightening your senses.
Complimentary experiences include a Corridor of Taste with cocktail samplings, a Perception Room with Virtual Reality Haunted experiences by loftVR, as well as Palm Readings to heighten the sense of touch.
Entrance is free and table reservations are encouraged. RSVP link here: wmiami-events.eventbrite.com.
Suviche Launches Lunch to Lush Promo
SuViche is excited to announce that it has extended its popular Lunch to Lush special, previously launched at its Las Olas location, to all its Miami Dade locations. Now available in Wynwood, Brickell and South Beach, this special gives guests the opportunity to earn a Happy Hour chip for every $25 spent during lunch, Monday through Friday from 11:30 a.m. to 3 p.m., dine-in only. Guests can redeem their chip for any eligible drink of their choice during Happy Hour, happening daily from 3 p.m. to 7 p.m. at all locations.
Lobster Bar Sea Grille Debuts Brunch
Lobster Bar Sea Grille, located at 404 Washington Avenue in the heart of Miami Beach, is pleased to announce it will begin serving a weekend brunch Sunday, November 5th. Known for their fresh seafood and USDA Prime steaks, the restaurant has now added a Saturday and Sunday brunch from 11:30 a.m. to 3:30 p.m.
Executive Chef Arturo Paz alongside Corporate Culinary Director Pano I Karatassos have created two brunch menus- a $49 pre-fixe three-course menu including endless Bloody Marys, Mimosas, Bellinis and Prosecco as well as a dedicated a la carte brunch menu. The three-course menu offers signature favorites like the Specialty Mediterranean Char-Grilled Octopus, the Whole "Chili Lobster Toast" and the Novia Scotia Whole Butter Braised Lobster.
New dishes include the Hass Avocado & Ostera Caviar Toast with poached eggs and a Steak & Egg Bernaise featuring a petite filet mignon with poached eggs and hashed potato tots. For guests who enjoy lunch dishes, the menu offers the choice between Entrée Salad Platters and Entrée Specialties. The three-course menu concludes with a choice of dessert featuring Passion Fruit Cremeux, Profiteroles or Real Greek Yogurt with Thyme Honey.
In addition, guests have the option to order off the brunch a la carte menu where an endless cocktail menu will also be available for $28 per person. This option features Santorini Wine, Chardonnay, Cabernet and Rosé, and unlimited Bloody Mary's. Lobster Bar favorites including the Lobster Morsels, the Shellfish Tower, the Whole Fish Sharing and their selection of USDA Prime Steaks are a few of the menu options. Both menus also feature a selection of fresh baked pastries created by French Pastry Chef Carl including fresh brioches, traditional and specialty croissants and homemade marmalades and jams.
Repour Hosts Halloween Pool Party
On Sunday, October 29th Repour Bar will host a Halloween Pool Party at the Albion Hotel's pool deck from 2pm to 8pm. Sponsored by Russian Standard, there will be food and drink specials throughout the day as well as a costume contest with prizes and giveaways. The Halloween Pool Party is free to attend and is 21 and over.
New Chef at Burlock Coast
South Florida culinary darling Paula DaSilva now helms the kitchen of Burlock Coast at The Ritz-Carlton, Fort Lauderdale as Chef de Cuisine. DaSilva is known for her remarkable talent and imaginative farm fresh dishes rich with the flavors and freshness of South Florida's abundant flora and fauna.
The Brazilian native's love for cooking began at a young age while working at her family-owned restaurants in Massachusetts and, later in South Florida. Eager to expand her culinary repertoire, DaSilva attended the Art Institute of Fort Lauderdale, where she earned a degree in Culinary Arts.
DaSilva began her professional culinary career at 3030 Ocean at the Harbor Beach Marriot under the tutelage of esteemed South Florida Chef Dean Max. It was around this time that she competed in the fifth season of FOX's Hell's Kitchen with Gordon Ramsey and finished as the season's runner-up and fan favorite, cementing her place as one of Florida's celebrity chefs.
In 2010, DaSilva took her talents to South Beach as the executive chef of 1500 Degrees at the illustrious Eden Roc Hotel. The chic farm-to-table concept earned rave reviews and popular acclaim for its soulful, seasonal, rustic cuisine. There she earned massive praise and wide-ranging appeal, including a nod from Esquire magazine as one of the "Best New Restaurants in America."
A couple years later, DaSilva's career came full circle when she returned to 3030 Ocean as executive chef. During her second stint there, she revitalized the menu, injecting her now-signature soulful cooking style into the restaurant's seafood-centric menu. After leaving 3030 Ocean for the second time, the culinary powerhouse took some well-deserved time off to travel.
Prior to joining the Burlock Coast team, DaSilva served as executive chef and simultaneously oversaw all food & beverage operations for Artisan Beach House at The Ritz-Carlton Bal Harbour, Miami.