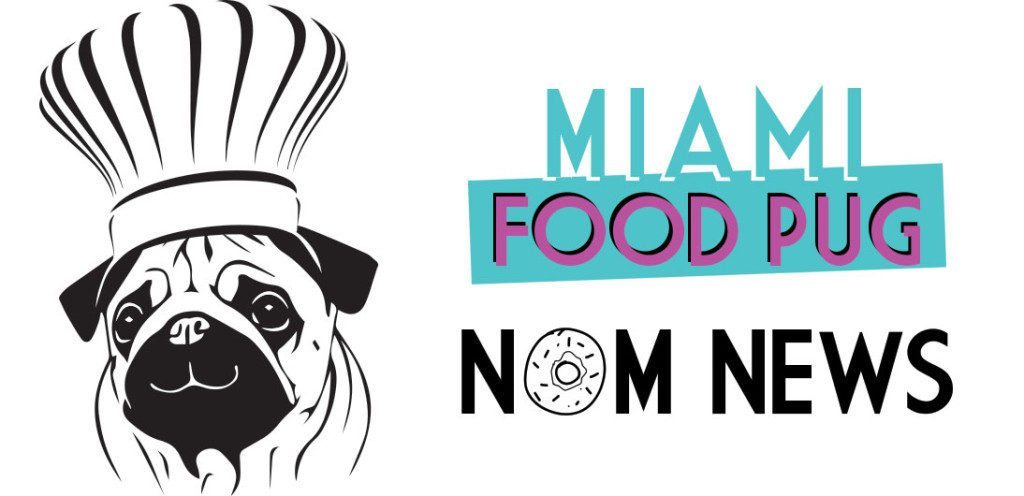 October 6, 2017
Each Friday, we compile South Florida food-related news and events that we couldn't fit on the site earlier in the week, as well as other local news that piques our interest. Want to be included in next week's roundup? Shoot us an email at bark@miamifoodpug.com.
Here's your weekly dose of nom.
Get Your SoBe Seafood Fest Tickets
Fizz and Chips Pool Party With The Avenue
Month-Long Pasta Promotion at Macchialina
Book Signing and Dinner at EDGE
Whisper Kicks Off New LGBTQ Event
The Taco Stand to Open in Wynwood
Kuro Hosts Hall and Walt Wine Dinner
Free Yoga Class at OTL
Mignonette Uptown Welcomes Hedy Goldsmith
Time Out Market Announces First Chef Lineup
Get Your SoBe Seafood Fest Tickets
The 5th Annual South Beach Seafood Festival is back to kick off Miami's globally-recognized stone crab season. #SobeSeafood kicks off October 17-21, 2017, with a week of dinners & events, leading up to Friday's Chef Showdown & Saturday's South Beach Seafood Festival, all happening the only way we know how, in purely delicious South Beach style. Make sure to use our SoBe Seafood Fest promo code PUG to save on your tickets!
This is not your typical Seafood Festival, but a high-end experience that showcases the talents of South Florida's leading chefs and culinary masterminds via a diverse group of events, benefiting a great cause: CI Foundation's EAT SMART program.
At Saturday's beachfront Main Event, guests should be prepared to indulge at pop up cafes from Miami's leading high end restaurateurs serving the freshest seafood dishes. Guests can choose their dishes and pair them with complimentary all day open bars for 21 and over! For more information — including restaurant lineups — visit the official festival page. And don't forget to use our SoBe Seafood Fest discount code PUG!
Fizz and Chips Pool Party With The Avenue
Meet celebrity chef Andy Bates and The Avenue team as we get together with Moet and The Vagabond Hotel to present our first ever… Fizz & Chips Pool Party!
Join us on Columbus Day, Monday, October 9th from 3pm – 8pm poolside at The Vagabond Hotel for an amazing pairing of Moet and our delicious beer-battered Fish n' Chips with triple cooked chips, tartar sauce, mushy peas and a lemon wedge.
Fizz & Chips offerings:
$22 – 1x glass of Moet and 1x Fish n' Chips
$85 – 1x bottle of Moet, 2x Fish n' Chips and 2x Strawberries & Cream … perfect for a couple 😉
$110 – Unlimited Moet and unlimited food (per person, first 2 hours)
Grab your bathing suit and a ticket, and see you by the pool. Tickets can be purchased thru Eventbrite — http://bit.ly/fizzchips.
Month-Long Pasta Promotion at Macchialina
Beloved Miami Beach hotspot, Macchialina, is extending its incredibly popular Pasta Thursday promotion to a month-long celebration. Throughout the month of October, guests will be able to enjoy a selection of $10 pasta dishes on Mondays through Fridays from 6PM to 7:30PM; with the exception of Thursdays, which will continue to offer $10 pastas all night long.
Please the palate and the wallet by indulging in handmade pasta crafted by Chef/Owner Michael Pirolo including a rotating weekly menu of specials and house favorites such as Beet Mezzaluna with hazelnuts, brown butter and ricotta salata; Lasagna with short rib and taleggio; and the Cavatelli Macchialina with baby meatballs, porchetta and pecorino.
Toast to la dolce vita with a boutique bottle of Italian wine or a craft cocktail by Will Rivas such as the Big Trouble In Little Chianto Spritz with Cocchi Barolo Chinato, Q grapefruit soda, Lovo prosecco; or a Newgroni made with Absolut Mandrin, Aperol and Carpano Antica.
Macchialina is located at 820 Alton Road on Miami Beach. Reservations can be placed by calling 305-534-2124.
Book Signing and Dinner at EDGE
Mediterranean meets Miami as Executive Chef Aaron Brooks invites spice expert, and owner of the New York-based La Boîte, Lior Lev Sercarz, to EDGE Steak & Bar for a special book signing Happy Hour on Thursday, October 12th, and an exclusive dinner in Bahía on Friday, October 13th. A portion of the proceeds from The Spice Companion cookbook, by Sercarz, and the Mediterranean-inspired dinner will go towards the relief efforts for the victims of Hurricane Irma.
All week long, diners can enjoy EDGE specials featuring the expertly crafted spice blends by Sercarz, and purchase his latest publication featuring an illustrated guide to 102 spices with recipe ideas to try at home. The cookbook will be available for sale in the EDGE Pantry for $50, and on Thursday, October 12th spice enthusiasts can take home a signed copy, as Sercarz will be at EDGE Happy Hour, 4 p.m. to 7 p.m., discussing his passion for spice blending.
On Friday, October 13th at 7 p.m. the two Chefs will collaborate for the first time since the 2014 "Spice it Up!" South Beach Wine & Food Festival dinner. Using worldly blends by Sercarz, they will orchestrate a four-course Mediterranean and Miami inspired meal, with Brooks slow roasting a leg of lamb over live coals as the main course and attraction.
The event will take place in Bahía, the poolside restaurant and lounge located on the 7th floor, two-acre terrace of Four Seasons Hotel Miami. Tickets must be purchased in advance here, and are available for $175 per person and include wine pairings and a special craft beer by J Wakefield Brewery using spices from Sercarz, and a signed copy of The Spice Companion.
A portion of the proceeds from the book sales and Mediterranean-inspired dinner will go towards the Florida Disaster Fund and to the Anguillan Red Cross.
For more information on EDGE Steak & Bar or the events, visit www.edgesteakandbar.com or contact (305) 381-3190.
Whisper Kicks Off New LGBTQ Event
On Friday, October 6 (today), Whisper Cocktail Lounge will host W Miami's first edition of Whisper OUT Loud. This monthly LGBTQ event series is debuting with back to back to back performances by Miami's hottest drag queens. The event will be held in partnership with This Free Life – LGBT campaign that works to prevent and reduce tobacco use among young adults. Doors open at 6 p.m. with performances starting by 7 p.m.
Whisper will host the best of the best in the Miami queen scene -– Miss Toto, Jupiter, Athena Dion, and famed queen Tiffany Fantasia (the host of iconic Palace drag brunch) — plus DJ Hottpants, who will be spinning his retro vinyl tracks all night.
Whisper OUT Loud will continue the First Friday of each month. Drink specials ($5!!) include Whisper's Happy Hour that goes from 6 – 8 p.m., with two specialty cocktails added for the night including Slay, Girl, Slay and Queen of the Night, with special fun surprises throughout the evening.
Attendees are encouraged to RSVP at https://www.eventbrite.com/e/whisper-out-loud-tickets-37429873760.
The Taco Stand to Open in Wynwood
A Southern California favorite, with locations in Downtown San Diego, La Jolla and Encinitas, The Taco Stand will open its fourth location in Miami's Wynwood art district at 313 NW 25th Street. Set to open in November 2017, owners Julian Hakim and Aram Baloyan will transport guests south-of-the-border for breakfast, lunch and dinner. The 1,700 square-foot restaurant will have 45 seats and will serve Baja inspired fare.
Since opening in San Diego in 2013, The Taco Stand has become a go-to destination for authentic Mexican dining on to the go. It will be a welcome addition to Miami's eclectic and burgeoning food scene with recipes handed down from generations of Tijuana family-lineage.
The menu – available for sit-down meals and take-out – is the brainchild of Julian Hakim and Aram Baloyan, both connoisseurs of authentic Mexican tacos. Influenced by their upbringing in Tijuana the duo grew up eating tacos and knew that it was the best option for a consumer that wanted a quick well-made meal on the go. Made with top grade proteins, handmade corn tortillas and the freshest ingredients, The Taco Stand is a true example of authentic Mexican cooking.
From breakfast items, burritos and carne asada fries, The Taco Stand has something for every palate. Menu staples range from Carne Asada tacos ($3.29), Al Pastor Burritos ($6.99) and the Pollo Quesadilla ($7.79). Standout items include the Sonora Taco ($4.29), the California Burrito ($7.89) and the Mar y Tierra Fries ($9.49) featuring grilled shrimp with flamed grilled angus steak, fries, guacamole, sour cream and cheese. Desserts include locally-made all-natural Paletas and hot Churros. The Taco Stand will additionally serve a selection of imported beers and Mexican sodas.
The Taco Stand will be open Sunday through Thursday from 11 a.m. until 10 p.m. and Friday -Saturday from 11 a.m. until 2 a.m. For more information, please visit www.letstaco.com or @letsataco on Instagram, Facebook and Twitter.
Kuro Hosts Hall and Walt Wine Dinner
Kuro, the award-winning, new-style Japanese restaurant at Seminole Hard Rock Hotel & Casino Hollywood, is hosting an exclusive pairing dinner featuring the acclaimed wines of sister wineries, Hall and Walt, on Wednesday, Oct. 18, 2017.
Hosted by Vintner Kathryn Walt Hall, the five-course dinner will be prepared by Kuro's creative culinary team led by Executive Chef Alex Q. Becker. The night will begin with a welcome reception at 6:30 p.m. with passed hors d'oeuvres, followed by dinner at 7 p.m. All guests in attendance will receive a complimentary bottle of Hall Cabernet Sauvignon.
The dinner is priced at $175 per person (excluding tax and gratuity). Seating is limited. Reservations are required and can be made by calling 954-316- 2900. Additional information can be found at https://www.seminolehardrockhollywood.com/halldinner.
Free Yoga Class at OTL
On Monday, October 9, OTL will host a free yoga class with Design District cult favorite Ahana Yoga.
No need to break your bank to have a trendy night – the event will include mini facials and complimentary hair products as well as Kombucha Happy Hour (50% off) and Ahana merchandise (30% off). Find you om early in the week and maybe even get a shout out on Ahana Yoga's Insta. Please note the event is bring your own mat.
Migonette Uptown Welcomes Hedy Goldsmith
Danny Serfer, the chef/restaurateur behind some of Miami's most beloved restaurants has been eager to bring the queen of sweets, renowned Pastry Chef Hedy Goldsmith, back to Miami. Her long-awaited return will bring her to Serfer's North Miami gem, Mignonette Uptown, for an exclusive, one-night-only dining experience. Goldsmith, a 2012 and 2013 James Beard Award Finalist for "Outstanding Pastry Chef" is recognized as one of the most talented artisans in her field.
On Tuesday, October 17, 2017, the two chefs will hit the kitchen to create a multi-course menu of savory dishes layering flavors sure to please any palate. Sprinkling some sugar on top of the already anticipated event, Goldsmith will be reunited with a former protégé from her Miami days, Devin Braddock, who serves as corporate pastry chef for all of Serfer's restaurants. Together, they will work hand-in-hand to provide creative and decadent desserts – and even a take home treat for that late night craving.
The menu is still in development but this rare and unique experience helmed by Serfer, Goldsmith and Braddock is guaranteed to be a one-of-a-kind culinary occasion. Priced at $100 per person, the evening includes a seated multi-course dinner, a "goody bag" of sweet treats to go and a signed copy of Goldsmith's first cooking book, Baking Out Loud: Fun Desserts with Big Flavors. Price excludes gratuity and alcohol.
Seating is limited; reservations can be made by calling: (305) 705-2159.
Time Out Market Announces First Chef Lineup
Miami will soon be home to a truly unique food and cultural market as Time Out Market is set to open in 2018. Located at 1601 Drexel Avenue, just off Miami Beach's famed Lincoln Road, Time Out Market Miami will bring together the best of the city under one roof: its best restaurants, bars and cultural experiences, based on the editorial curation Time Out has always been known for.
Time Out Market will feature a curated mix of 17 kitchens, three bars, an art space and a demonstration kitchen, representing the city's most celebrated chefs and restaurateurs, cocktails from award-winning mixologists and stunning art works by rising talent. It will showcase the people who make Miami the vibrant city it is and consistently create the best of what the city has to offer.
Earlier this week, Time Out Market Miami announced the first seven of 17 top chefs and restaurateurs who will serve up exciting menus with dishes capturing the essence of their outstanding talent and the city's flavors—offering an incredible range of local fine dining, affordable and accessible for all:
· Jose Mendin, a home-grown superstar in Miami's culinary scene with his Pubbelly Noodle Bar and other concepts, is celebrated for his fusion cuisine and Asian-inflected small plates. In Time Out Market Miami, he will continue to push boundaries on Latin cuisine, think Mexican Huitlacoche and Valencian Fideua.
· Michael Pirolo will serve up his soulful, Italian food which continues to garner praise at his acclaimed Macchialina. Food lovers can look forward to antipasti and well-crafted 'Grandma style' pies with carefully sourced ingredients from prosciutto di Parma to spicy sopressata.
· KUSH is an award-winning concept helmed by Matt Kusher—a third generation restaurateur and creator of five unique concepts in Miami. It is edgy, integrity-driven and best known for its epicurean, American cuisine based on locally sourced ingredients which will also be offered in Time Out Market.
· Coyo Taco – Coyo Taco founders Alan Drummond, Sven Vogtland and Chef Scott Linquist, one of the country's most acclaimed chefs in Mexican cuisine, will serve their hugely popular tacos made with locally sourced vegetables, seafood and humanely raised meats.
· Jugofresh – Nutrient density is a way of life for Matthew Sherman, the man behind South Florida's raw, organic, cold-pressed juice bar empire, serving only the freshest nutrients.
· Paradigm Kitchen, also by Matthew Sherman, is about creating big flavors with mostly plant-based foods and thoughtful animal proteins. Everything is about a more sustainable way of eating for mind, body, spirit and planet.
· BUHT-ER, the first outpost for Executive Pastry Chef Maria Orantes of Pubbelly acclaim. Maria loves to experiment with new techniques and flavors—a passion she will bring to Time Out Market with delicious and innovative desserts.
Over the next few months, Time Out Market will announce further chefs and restaurateurs as well as local artists for the art space, providing a canvas for curated local exhibitions.