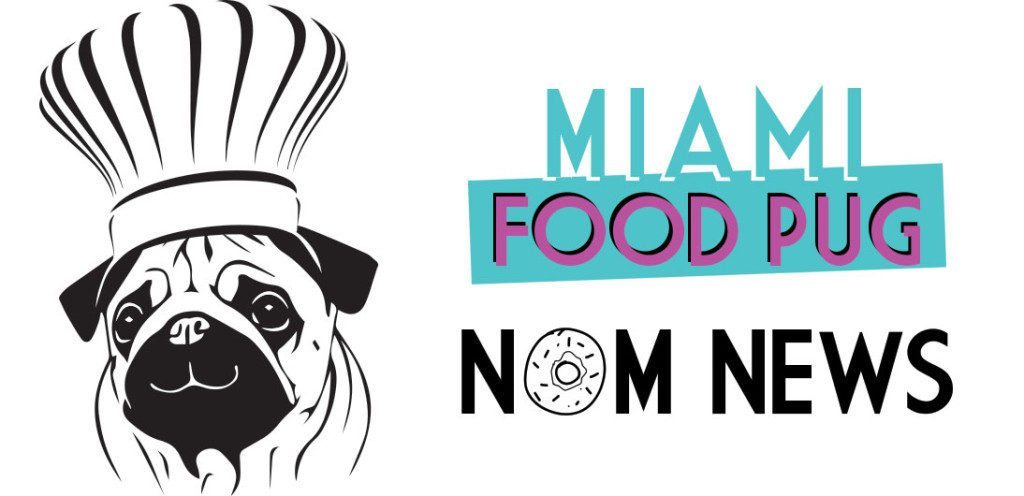 November 10, 2017
Each Friday, we compile South Florida food-related news and events that we couldn't fit on the site earlier in the week, as well as other local news that piques our interest. Want to be included in next week's roundup? Shoot us an email at bark@miamifoodpug.com.
Here's your weekly dose of nom.
Friendsgiving at The Wynwood Yard
Miami Model Citizens and Robyn Almodovar Partner to 'Drive Out Hunger'
Movie Under the Stars at Atton
New Dishes at NaiYaRa
Tanuki Teams Up With Best Buddies
Lolo's Launches Tacos & Tequila Tuesdays
Instant Karma at Beaker & Gray
The Setai Announces New Chef
P.I.G. Returns for 8th Year
Friendsgiving at The Wynwood Yard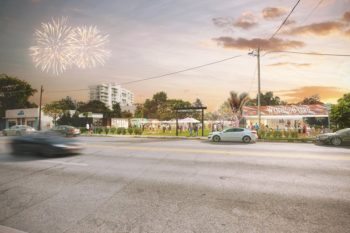 The Wynwood Yard is hosting a twist on the traditional family meal with a fun Friendsgiving at The Yard event this Saturday, November 11 from 6 p.m. to 8 p.m. where select food concepts at The Yard compete to make the best turkey dish competition including Mr. Bing, Kuenko, Lone Wolfe Taco Truck, della test kitchen and Food Dude. Guests will sample their creations, while Laine Doss, food editor of Miami New Times, food and culture writer Galena Mosovich, and Miami Food Pug's Geoffrey Anderson judge which food concept is the official champion.
Guests are encouraged to round up their troops, reserve a seat under the garden pergola with a $5 donation (benefiting the Lotus House) and create a Friendsgiving spread with the dishes the culinary pros from The Yard cook up.
There will also be samples of delicious bites from the Whole Foods Market turkey carving station–meatless alternative will also be available. Donations and a canned food drive throughout the evening will go to Lotus House.
Miami Model Citizens and Robyn Almodovar
Partner to 'Drive Out Hunger'
Miami Model Citizens and celebrity chef Robyn Almodovar will join forces to "Drive Out Hunger" by hosting a reverse food truck day. Food trucks typically sell food but this food truck does the opposite; it collects food. The reverse food truck will be stationed at various locations throughout Miami and Broward Counties from November 14-17th, to collect food items for the Miami Rescue Mission, a homeless shelter that helps Miami-Dade and Broward County men, women and children with meals, safe shelter, life-changing residential programs, employment, and housing.
Chef Robyn opened her own food truck company in South Florida after competing in the hit TV show "Hell's Kitchen" during Season 10. A current contestant in "Hell's Kitchen All Stars," Robyn will be contributing her award-winning gourmet food truck, "Palate Party," for this charitable event.
The South Florida community is invited to get in the spirit of giving for the holidays and donate any nonperishable foods and/or monetary donations at any of the food truck stops throughout Miami-Dade and Broward Counties. Each donation will help put hunger in the rear-view mirror. Here is a listing of the locations:
Tuesday, Nov. 14th – 10am-2pm (OPEN TO THE PUBLIC)
Whole Foods
12150 Biscayne Blvd, North Miami, FL 33181
Thursday, Nov. 16th – 1-2:30pm (NOT OPEN TO THE PUBLIC)
Carrollton School of the Sacred Heart
3747 Main Hwy, Miami, FL 33133
Friday, Nov. 17th – 1-5pm (OPEN TO THE PUBLIC)
BrightStar Credit Union
12405 Taft St, Pembroke Pines, FL 33028
Movie Under the Stars at Atton
Atton Brickell Miami is launching a weekly "Movie Under The Stars" series this and every Sunday, starting at 5:30pm.
Grab a friend or a hot date, and stop by this weekend as "The Birdcage" is displayed on a 16-foot blow up screen on Atton's picturesque rooftop pool deck. With stunning Biscayne Bay views surrounding you and a romantic moonlit sky above, there is no better way to take advantage of these cool nights. After all, it gets dark at by 6 p.m. nowadays!
There's also no need to eat before – there will be free popcorn and a featured menu with food and drink specials all night long.
New Dishes at NaiYaRa
This month, Executive Chef Piyarat Potha Arreeratn (more affectionately known as Chef Bee) is unveiling an array of new menu items. A meal at NaiYaRa is akin to a journey through the heart of Thailand and Bee's new creations compliment signature items. New starters inspired by the authentic Thai street food of Chef Bee's childhood include Pla Goong Salad (shrimp mixed with kaffir lime leaf lemongrass, sweet chili yam dressing and the crunch of iceberg lettuce) and a very Miami Tuna Tostones with hot sesame oil, mayonnaise, truffle eel sauce, and guacamole.
Guests can also expect a Tiradito of raw grouper with chili, garlic, lemon, and cilantro; Tempura Shishito Peppers dressed with parmesan, truffle oil, Maldon sea salt and shichimi; Sweet Chili BBQ Ribs fermented with garlic & cilantro, then toosed in a Thai chili and sriracha sauce, and Chiang Rai Sausage, a pork sausage seasoned with galangal, turmeric, coriander and nahm prik noom (a fiery Thai chile dip).
New entrées include Laad Nah, consisting of crispy chow fun noodles with white pepper chicken, soy bean gravy, bok choi and jalapeño vinegar; Panang Curry with slow roasted lamb shank, green beans, peanuts, and jasmine rice; Whole Branzino stuffed with basil, lemongrass and galangal, served with nam jim (dipping sauce); and Pork Leg (half or whole portions available) slow roasted and seasoned with Asian five-spice, served with steamed buns and pickled mustard greens.
The newest addition to the dessert menu, Sweet Roti, is not to be missed — pan-fried Thai flatbread drizzled with condensed milk and cinnamon crumble, served with green tea ice cream.
Tanuki Teams Up With Best Buddies
Tanuki is partnering up with Barry's Bootcamp to host Eat, Sweat, Love to benefit Best Buddies International on Saturday, November 18th.
Starting at 2:00 p.m., Barry's Bootcamp in Miami Beach will host a rousing class taught by Barry's Bootcamp partner and master trainer, Derek Degrazio. Once the class ends participants will be invited to a complimentary happy hour at pan-Asian hotspot, Tanuki from 3:30 p.m. – 5:30 p.m. featuring enticing snacks from Executive Chef Drew Andrade along with intriguing cocktails.
This event is open to the public and your spot can be reserved via Barry's Bootcamp.
Photo Credit: Tanuki
Lolo's Launches Tacos & Tequila Tuesdays
Lolo's Surf Cantina is launching Tacos & Tequila Tuesdays beginning Tuesday, Nov 14th. Guests are invited to enjoy half off tacos, $5 margaritas, and $3 illegal Mezcal and Lunazul tequila shots all day from 11 a.m. to 1 a.m.  
Instant Karma at Beaker & Gray
Wynwood's premier watering hole, Beaker & Gray makes Happy Hour more joyful with its monthly promotion, Instant Karma. Co-owners Brian Nasajon and Ben Potts have upped the ante each month, when the hip eatery joins forces with a local non-profit organization and donates a portion of their Happy Hour proceeds to benefit the cause.
The charity partner for November happens to be located a short distance from Beaker & Gray. The Miami Light Project, founded in 1989, is a not-for-profit cultural organization that presents live performances by innovative dance, music and theater artists from around the world. It supports the development of new work by South Florida-based artists and offers educational programming for students of all ages.
This month's edition of Instant Karma will run from Monday, November 13 through Thursday, November 16. From 4PM to 7PM, Happy Hour goers can enjoy bites like the Cheeseburger Croquettes with wagyu, aji amarillo, and bacon; Calamari with salsa verde, garlic and lemon; Chicken Wings in a brown sugar, sesame, and tamarind sauce; and a variety of cocktails, beers and wines to wash it all down.
The final evening of cocktails for a cause happens to coincide with the premiere of The Bearded Ladies Cabaret at the Light Box at Goldman Warehouse. For more information on Miami Light Project, please visit: www.miamilightproject.com.
Local non-profit organizations interested in partnering with Beaker & Gray for Instant Karma should email bcpr@brustmancarrinopr.com. Patrons can follow Beaker & Gray on social media for details on future beneficiaries.
The Setai Announces New Chef
The Setai Miami Beach is pleased to announce the appointment of Vijayudu "Vijay" Veena as the hotel's executive chef. Veena brings 12 years of culinary experience from around the world to his new position. A veteran of The Setai, in 2008 Veena joined the hotel's team and quickly moved up the kitchen hierarchy.
Originally from Hyderabad, India, Veena started his career at JW Marriott in Mumbai. He moved on to The Lausanne Palace and Spa in Switzerland before relocating to Miami to join The Setai family. Veena holds a Bachelor of Culinary Arts from Osmania University in India and an advanced studies degree from the Institute Hotelier Cesar Ritz in Switzerland.
As executive chef, Veena will oversee all of the hotel's culinary operations including its signature restaurant Jaya as well as The Ocean Grill, The Lobby Bar and The Courtyard. Veena will also oversee the hotel's in-room dining program, banquets and catering events.
He pays homage to his spicy and flavorful background by creating dishes inspired from his childhood and using his classically trained techniques to develop new flavors while maintaining culinary harmony. His combination of classic, rich Indian flavors along with ingredients from other regions of Asia including China, Thailand, Indonesia, Japan and Malaysia create a well-rounded dining program.
P.I.G. Returns for 8th Year
Pork is Good is back for its eigth year. Join us for P.I.G, a culinary festival by Miami's own Chef Jeremiah. PIG brings together South Florida's top chefs to prepare locally raised and pastured pork in inventive new ways. It promises to be a star- studded lineup of South Florida's most innovative purveyors of haute cuisine, gourmet street food, craft beef and artisan cocktails.
Jeremiah Bullfrog is perhaps best known for his food truck forays and television persona, the founder of P.I.G. (Pork is Good), now in its 8th year. This popular festival brings together Miami's most exciting chefs to show off the power of the mighty pig. The results are always outstanding – chicharrones, smoked pork butt bao buns, a whole pig rolled porchetta-style and cooked in a caja china, and even bacon ice cream.
The concept of P.I.G. (Pork is Good) is to challenge chefs to make the most of a basic core ingredient – the whole pig. It's also a celebration of how diverse and delicious pork can become in the hands of talented chefs who hail from the most extreme ends of the culinary spectrum, from food trucks to five-star hotels.
P.I.G. offers an all-inclusive food and cocktail experience with simple ticketing via Eventbrite. The result is a simple, no-frills event where hundreds of attendees can enjoy the same great experience and level of access. This is the most valued food focused event in South Florida, come see why this is deemed "the party of the year!"
PIG 8 will be held on Saturday, November 18, 2017 from 3 to 7 PM at The Little Haiti Cultural Complex, 212 NE 59th Terrace, Miami, FL 33137. See you there!