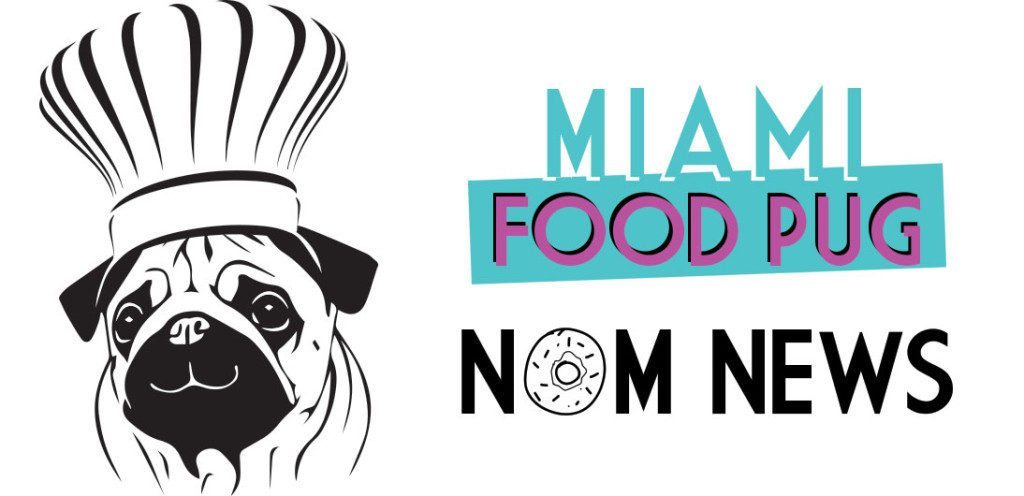 November 17, 2017
Each Friday, we compile South Florida food-related news and events that we couldn't fit on the site earlier in the week, as well as other local news that piques our interest. Want to be included in next week's roundup? Shoot us an email at bark@miamifoodpug.com.
Here's your weekly dose of nom.
Tacolandia Takes Over SoHo Studios
Pawsgiving at The Wynwood Yard
Le Pain Quotidien Opens in Coconut Grove
Semilla Celebrates 4 Years
Planta to Set Up Shop on Miami Beach
Stiltsville Fish Bar Launches Brunch
New Lunch Offerings at Wild Sea
Tacolandia Takes Over SoHo Studios
Miami New Times is proud to host Tacolandia presented by GOYA! In its inaugural year, this new event will feature unlimited taco samples from 30 of Miami's best restaurants serving authentic cuisine, live entertainment that highlights Hispanic culture, and cash bars. The event is taking place tomorrow (November 18) at SoHo Studios from 2 p.m. to 6 p.m.
To kick off this new event, New Times' Tacolandia presented by GOYA has partnered with Feeding South Florida to give both monetary and food donations as portions of ticket proceeds will benefit the organization, and any leftover food will be donated for insecure individuals in Miami-Dade County.
Just in time for Thanksgiving, all guests of Tacolandia are encouraged to bring a non-perishable food item to donate at the Feeding South Florida table. In return, each guest will receive a pair of tickets to the latest New Times' event called Sips & Sweets on December 14th (valued at $70).
Confirmed restaurants are Amour de Miami, Plomo Miami, Agave Taco Bar, Tacology, My Ceviche, La Santa Taqueria, Huahua's Taqueria, Rocco's Tacos, Candela Gastrobar, Villa's Taco, El Jefe Luchador, Pilo's Street Taco and many others! Sponsors participating in Tacolandia presented by GOYA include Herradura Tequila, Amazon Pepper, Dunkin' Donuts, Krave Jerky, Florida Resort Xchange, Guardian Ad Litem, Whizzy Ride, Mercedes-Benz of Coral Gables, Senor Pops, Executive Fantasy, Arsht Center and Sunshine Provisions.
VIP admission tickets include one-hour early admission to the event (2 p.m.), access to the VIP lounge with a complimentary VIP sponsored bar, unlimited food samples from Tacolandia vendors in all areas, and access to Naked Tacos and Cream Parlor ice-cream tacos. General Admission tickets include entry to the event at 3 p.m., unlimited food samples from Tacolandia vendors, and access to cash bars.
To purchase tickets, click here.
Pawsgiving at The Wynwood Yard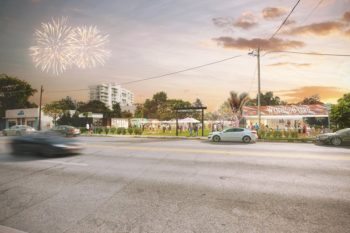 On Friday, November 17 (today) from 5 p.m. – 9 p.m., join us for the 5th annual Pawsgiving Drive. Give love back to Miami pooches by donating towels, sheets, toys and treats for Sparky. Enjoy a silent auction, pop-up shops and giveaways, and if you're really feeling the love, bring home a cat or dog from the on-site adoption tent.
Grab a bite to eat from The Yard's food concepts Kuenko or Morgan's Pizza Truck, and 10% of the proceeds will be donated directly to the animal shelter. Sip on happy hour drink specials by The Bar at The Yard and enjoy this meaningful event with family and man's best friends.
Le Pain Quotidien Opens in Coconut Grove
Today (November 17), Miami says "Bonjour!" to Belgian bakery-restaurant Le Pain Quotidien at 3425 Main Highway in Coconut Grove, the first Florida location for the international restaurant group. Le Pain Quotidien, which means "the daily bread" in French, provides breakfast, brunch, lunch and dinner, offering a simple, wholesome and seasonal menu to residents in the neighborhood.
Le Pain Quotidien's concept remains essentially unchanged since founder, Alain Coumont, opened his first bakery in Brussels in 1990. The bakery-restaurant prides itself on serving simple, nourishing, delicious food in a setting that offers reprieve from the busy urban lifestyle. The rustic interiors and traditional dishes transport customers to the Belgian countryside and a simpler way of life.
Delightful and varied menu items mean mornings at the bakery begin with breakfast and brunch offerings such as handmade organic breads, artisanal pastries and organic eggs, in addition to a range of baked goods, yogurt, organic coffee and teas. Other unique and healthy selections include the Dragon Fruit Smoothie Bowl, Key Lime Chia Parfait, Avocado Toast, Sunny Side Breakfast Bowl and fresh smoothies.
Miami residents will soon become familiar with Le Pain Quotidien's signature open-faced sandwiches called tartines, made from their organic whole wheat sourdough bread. Tartines join other tasty options such as savory soups, salads and quiches. Come evening, guests can linger over a glass of organic wine or a beer and will find many vegetarian, vegan and gluten-free options on the menu in addition to hot dishes exclusive to Miami, including Roasted Wild Salmon and Chicken Ratatouille. The Coconut Grove location also provides a range of catering and event services to suit every palate and occasion.
Le Pain Quotidien at 3425 Main Highway in Coconut Grove is open Monday through Friday 7am to 10pm, Saturday 8am to 10pm and Sunday 8am to 8pm for breakfast, brunch, lunch and dinner.
Semilla Celebrates 4 Years
In a food city like Miami, there is always something new and hot. That's why locals know that a restaurant lasting four years is tantamount to a lifetime. Chef and owner Frederic Joulin's success comes from the simple formula he used when creating Semilla four years ago – great food and drinks with just the right music, in a low-key setting that caters to the local community.
On Tuesday, November 21st, join the locals at Semilla Eatery and Bar to celebrate this gratifying milestone. Be sure to arrive between 6-8PM and you can partake in a complimentary toast to the occasion. After you receive your welcome drink, get ready to party all night with live music from DJ Stephan M, while you indulge in your favorite Semilla cocktails and vittles.
Planta to Set Up Shop on Miami Beach
The plant-based restaurant, Planta, is slated to open its first U.S. location in early 2018 in partnership with hospitality entrepreneur David Grutman. Opening at 850 Commerce Street, in the trendy South of Fifth (SoFi) neighborhood, Planta will bring innovative cuisine featuring high quality, responsibly sourced ingredients in an elevated atmosphere. Dishes to include Cauliflower Tots, Crab Cakes, The Planta Burger, Coconut Ceviche and the 18 Carrot Dog.
In addition to the delicious 100% plant-based fare, the restaurant will offer cold-press cocktails, juices and shots made of the most unique and masterful flavor combinations. This will be the second outpost for Planta following the success of its sister restaurant in Toronto. Planta's mission is to deliver delicious food while minimizing the environmental footprint, at every price point.
Stiltsville Fish Bar Launches Brunch
One of Miami Beach's hot new restaurants, Stiltsville Fish Bar in Sunset Harbour, is launching brunch on Saturday, November 18. Available a la carte Friday through Sunday from 11AM to 3PM, guests can kick back, relax and enjoy the ultimate brunch experience with a plethora of options. The menu, crafted by the culinary duo Jeff McInnis and Janine Booth features modern takes on classic seafood dishes and refreshing cocktails made especially for brunch patrons.
On the new menu, the chefs are whipping up a variety of Egg Plates including Pork Belly Bacon and Sweet Corn Pancakes ($18) with poached eggs, pickled green tomato chow-chow, tomato jam and Fresno chilies; Baby Kale and Pimento Cheese Omelet ($17) with local farm eggs, house-made pimento cheese, Farmer Dave's baby kale and tomato jam; and a hearty Steak N' Eggs ($38) with New York strip, eggs your way, smoky plantain hash and horseradish choron sauce.
Classics included in Brunch Plates consist of favorites like Shrimp N' Grits ($26) with stone ground grits, creole sausage, melted tomatoes, sweet peas and shrimp butter; Surf N' Turf Burger ($36) with butter poached lobster, grilled beef burger, black garlic, baby local kale and horseradish remoulade; and Bayleaf and Citrus Crusted Fried Chicken (Half Bird $22; Whole Bird $39) with watermelon pickle salad and Stiltsville hot sauce.
Guests can munch on Stiltsville signature dishes in Snacks & Small Plates such as Smoked Fish Dip ($9) with cherry wood smoked local catch, house pickles and thyme and butter toasted saltines; Green Eggs and Ham ($7) with green deviled eggs, crispy country ham and pickles; or Sour Orange and Yellow Tail Snapper Ceviche ($15) with chilled watermelon, sour orange mignonette and celery.
Staple Sides ($8 each) include sweet and savory selections like Chilled Watermelon and Pickles; Stone Ground Local Grits with grilled sweet corn; Local Farm Eggs prepared any way; Rum Glazed Pineapple Rings, House-Made Pork Belly Bacon; Smoky Plantain Hash; Bacon and Garlic Sofrito; and Fingerling Potato Tostones with black garlic aioli.
For something sweet, the Bakery section features Sugar Dusted Beignets ($9) with chicory coffee pudding; Sweet Corn Spoon Bread ($10) with buttermilk cream and scallions (add butter poached lobster for $13); and a Hummingbird Waffle ($13) with rum caramel, charred pineapple, pecans and mascarpone whip.
New Lunch Offerings at Wild Sea
Situated inside the charming Riverside Hotel in the heart of Las Olas, Wild Sea Oyster Bar & Grille is a Fort Lauderdale dining and imbibing mainstay serving decadent seafood while keeping true to its coastal fish-house sensibility. Just in time for the holiday season, this Fort Lauderdale gem is debuting its fall makeover, complete with a refined contemporary design and inventive new lunch offerings by Executive Chef Toby Joseph.
With tasty new dishes sure to reel in guests, the lunch menu at Wild Sea Oyster Bar & Grille features a number of delectable items from both land and sea. New shareables include savory conch beignets ($10) with lemon zest and charred shishito remoulade; shishito fries ($8) featuring tempura batter, lava salt, and sambal aioli; grilled oysters ($12) with kale, bacon, cream, and parmesan; falafel ($8) with sweet potato, quinoa, and banana ketchup; and tomato bread ($12) featuring grilled focaccia, prosciutto, and truffle ricotta.
If salad is what you crave, try the crab cobb ($17) – spinach, lump crab, bacon, egg, cucumber, blue cheese, avocado, tomato, scallion, and house-made ranch dressing; or the shrimp tempura ($18) – romaine, fried shrimp, parmesan, radish, crispy garlic crusted wontons, and Caesar dressing. Sandwich additions include spiced lamb ($13) – naan, curry, tomato-raisin chutney, arugula, red onion, and cucumber-mint yogurt; and jumbo lump crab BLT ($15) – watercress, heirloom tomato, bacon, Old Bay aioli, and Texas toast.
New Afternoon Entrée selections feature the succulent duck carbonara ($18) with pancetta, peas, orecchiette, and fine herbs; seared scallops ($25) served with cauliflower puree, zucchini, squash, and basil brown butter; street tacos ($5 each) – white corn tortilla, smoky tomatillo salsa, red chili sauce, jicama slaw, and pickled jalapeno with your choice of short rib, blackened chicken, tempura shrimp or catch of the day; salmon poke bowl ($16) served with avocado, quinoa, cucumber, radish, scallion, carrot, and soy-kimchi vinaigrette; and snapper escabeche ($26) served grilled or fried with charred scallion, red onion, fennel, scotch bonnet, dill, and lemon oil.