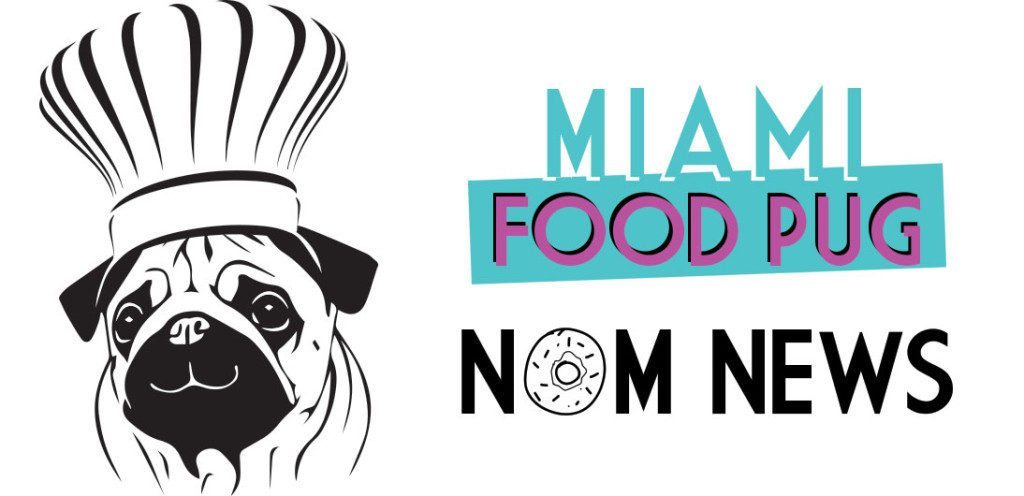 November 3, 2017
Each Friday, we compile South Florida food-related news and events that we couldn't fit on the site earlier in the week, as well as other local news that piques our interest. Want to be included in next week's roundup? Shoot us an email at bark@miamifoodpug.com.
Here's your weekly dose of nom.
Happy Hour for a Cause at Mondrian
Bottomless Brunch at Pinch
La Mar Debuts New Menus
Food Truck Block Party at SLS Brickell
Pisco y Nazca Celebrates 2 Years in Kendall
Aventura Mall Gets a New Food Hall
Lima Restaurant Now Offers Brunch
Couscous Night at Semilla
New Restaurant at The Atlantic Hotel & Spa
Macchialina Extends O.P.P. Sundays
Wynwood Brewing Company Turns 4
Happy Hour for a Cause at Mondrian
Mondrian South Beach is pleased to team up with Miami Dolphins Wide Receiver, Kenny Stills, for a Sunset Happy Hour benefitting two outstanding local youth programs. Earlier this year Stills launched his "Catches for Kids" Dreambuilders program in support of Empowered Youth and Big Brothers Big Sisters of Miami, with a pledge-per-reception campaign.
On Friday, Nov. 3, 2017 (today), Stills will host the event at Mondrian to encourage the community to come out and make a pledge while enjoying happy hour at the celebrated bay-side property. To aid in the cause Mondrian South Beach will feature discounted specialty cocktails with proceeds going to Empowered Youth.
Empowered Youth is a local non-profit whose mission is to provide on-going support to inner-city young men who have been, or are at risk of being, in the juvenile system by empowering them to create a lasting transformation and a positive life for themselves, their families and their communities.
For more information or to pledge to Kenny Stills' Catches for Kids, click here.
Bottomless Brunch at Pinch
In celebration of its two-year anniversary, Pinch Kitchen is kicking off a month-long celebration with a Bottomless Bubbles Brunch hosted by local Miami food bloggers, Dianne Rubin and Geoffrey Anderson of Miami Food Pug. The Bottomless Bubbles Brunch, sponsored by Zonin USA, will take place on Sunday, November 5th will include a four-course family style brunch featuring some of Pinch's classic brunch items along with two hours of unlimited bubbles. There will be three seatings available for the brunch: 10AM, 12:30PM, and 3PM.
The cost of the Bottomless Bubbles Brunch is $45 per person inclusive of tax and gratuity. A portion of proceeds from each ticket sold will benefit the Born Free Pet Shelter, a local no-kill animal shelter.
The Bottomless Bubbles Brunch is for guests 21 and over. Tickets to the event must be purchased in advance via Eventbrite at pinchbrunch.eventbrite.com.
La Mar Debuts New Menus
In honor of its third year of service, La Mar by Gaston Acurio located at Mandarin Oriental, Miami, is introducing new menus featuring innovative Peruvian-inspired offerings for lunch, dinner and Sunday brunch starting Monday, November 6, 2017. The popular waterfront enclave has become synonymous with picturesque skyline views, boozy Peruvian-inspired cocktails and innovative culinary offerings prepared by Executive Chef Diego Oka and his talented culinary team.
La Mar's Express Lunch Menu, a generous three-course tasting menu offered Monday through Saturday from 11:30am to 3:30pm for USD 25, with an ideal arrival and departure of 45 minutes, will see additions including Cebiche Chipotle, fish of the day, chipotle leche de tigre, crispy tortilla, avocado; Chicha Morada Brisket, braised and slowly cooked with chicha de jora, chichi morada, aji panca served with creamy lima bean stew and smoked bacon; Smoked Trout, mini red gem lettuce, crostini, radish, huacatay vinaigrette.
Patrons joining for dinner, available nightly from 6pm until 11pm, will be able to enjoy new offerings perfect for sharing including cebiche highlights such as Carretillero, catch of the day, shrimp, octopus, sweet potato, choclo, cancha spicy leche de tigre; A Paltado, lobster, crab, chalaca, radish, olive oil, smoked avocado and leche de tigre.
Keeping on pace, specialty anticuchos include Florida Wagyu "Bacon", Nikkei anticuchera sauce, sesame, chives; Paiche Charapa, the largest fish in the Amazon River roasted in banana leaves, mishkina, mango chalaca. Peruvian Specialties added to the menu include Parihuela Soup, snapper, octopus, jumbo prawns, clams, crispy yucca, mortero potatoes served in a hot stone bowl; Churrasco a Los Pobre, Black Angus ribeye, chimichurri, beans and rice Tacu-Tacu, quail egg, chorillana sauce served with fried banana; Branzino Chifa, half boneless steamed with soy sauce, ginger, Chinese wine, sesame oil, vegetables and chaufa rice.
One of Miami's best kept brunch secrets will also unveil three new additions to its Peruvian Specialties. Every Sunday from 12pm to 3:30pm for USD 95, patrons can enjoy unlimited Piper Hiedsieck champagne, La Mar's classic cocktails including Pisco Sours as well as traditional Mimosas and Bloody Mary alongside elaborate buffet selections including sushi, cebiche, anticucho, eggs and rice.
In addition, guests can order one Peruvian Specialty entrée such as recent additions Pescado Escabeche, catch of the day, cannellini beans, escabeche sauce, quail egg, sweet potato botija olive; Tallarines Verdes with Beef Milanese, house made spaghetti, Peruvian pesto sauce, Milanese, fried egg, huancaina sauce and Estofado de Pollo, chicken stew, tomato, carrots, peas, raisin, potato. and.
Food Truck Block Party at SLS Brickell
On Sunday, November 12th, sbe Miami will be giving locals and tourists alike a taste of Miami's culinary scene at their first-ever gourmet, block party at SLS Brickell! For $50/pp, attendees can enjoy live entertainment, delicious dishes and tasty cocktails from all of SBE Miami's dining destinations including Bazaar Mar by José Andrés, Fi'lia by Chef Michael Schwartz, Leynia at DELANO, Katsuya and more!
The block party will serve as the grand finale for a weekend full of culinary events as part of the debut of sbe Miami's Taste of SBE, the brand's new culinary series. The weekend's events will benefit World Central Kitchen, the non-profit organization founded by Andrés with the belief that food can be an agent of change. To purchase tickets, click here.
Pisco y Nazca Celebrates 2 Years in Kendall
It's time to commemorate 24 months of delicious Peruvian food, 104 weeks of ceviche at Pisco y Nazca in Kendall with a special celebration– happy hour all day long! On Thursday, November 16, guests will have the chance to celebrate two years with delicious cocktails like the Pisco Punch and Pisco Sour plus a chance to enter in the $100 gift card raffle upon dining. Additionally, guests that share the same birthday anniversary and provide their photo ID will receive a $20 gift card to be used on their next visit.
Aventura Mall Gets a New Food Hall
Aventura Mall's Treats Food Hall will open this winter with an eclectic collection of nearly a dozen local and national eateries, including Miami's first Figs by Todd English, the famed chef and restaurateur; Danny Meyer's trendsetting Shake Shack; Luke's Lobster, a Northeast favorite that is expanding worldwide; and more.
Located on the third level of Aventura Mall's highly anticipated 315,000 square-foot expansion wing, Treats Food Hall will be both refined and seamlessly connected to its natural surroundings. Enhanced by dramatic views and illuminated by natural light, the unconventional destination will be at once energized and calming. Abundant communal seating, including intimate banquettes and shared bar tables, will be interspersed around the space and a separate terrace is ideal for those wishing to dine al fresco.
Among the tenants at Treats Food Hall:
Figs by Todd English
A concept by American celebrity chef, restaurateur and TV personality, Todd English, Figs is known for its traditional thin-crust, free-form pizzas. Based in Boston, the casual, bistro-style restaurant serves inventive and gourmet everyday food.
Shake Shack
Founded by Danny Meyer in New York City, the known and loved fast casual restaurant chain has quickly expanded nationally after opening its first outpost as a food cart inside Madison Square Park in 2004. At Aventura Mall, Shake Shack will be the perfect destination to indulge in delicious burgers, chicken, hot dogs, shakes, frozen custard and more.
Luke's Lobster
A cozy, Maine-bred seafood shack, Luke's Lobster is committed to serving simple dishes that highlight superior, sustainably-sourced ingredients. The brand, which is famous for its Lobster Rolls, as well as Crab and Shrimp Rolls, pairs its seafood with chowders and bisques, Maine-style sides, local desserts and natural sodas.
Hank & Harry's Delicatessen
First opened on Miami Beach's Lincoln Road, Hank & Harry's is a NYC-inspired new-wave deli. Offering comfort food such as pastrami sandwiches, subs and matzo ball soup, it's an ideal location for a hearty, grab-and-go meal.
Lima Restaurant Now Offers Brunch
Lima Restaurant at Atton Brickell Miami, the Peruvian-inspired concept located in the hottest hotel to hit Brickell, has officially expanded its culinary options! Guests who are seeking an exciting new brunch venue have a chance to enjoy Lima every Sunday from 11:30am to 3:30pm!
Enjoy traditional breakfast staples, bottomless mimosas, an assorted seafood ceviche & oyster raw bar, European Charcuterie Station, Viennese Table and much more. Enhancing the guest experience, the Peruvian-inspired restaurant also features live music, making it an afternoon suitable for every-kind of brunch goer.
Live entertainment is provided by Chilean guitarist and singer/songwriter Rodolfo Troncoso, an award-winning international artist schooled in classical guitar, rumba flamenco, bossa nova and pop music. After the meal, guests are encouraged to head upstairs to Atton's rooftop bar and enjoy stunning unobstructed views of Biscayne Bay. Price is $40 per person, $22 for children ages 6-12, free for kids 5 and under.
For reservations, guests can email fpfiffer@atton.com or call 786.600.2600.
Couscous Night at Semilla
Just in time for this chilly fall weather, Semilla Eatery & Bar is serving up something warm and comforting.  This Saturday, November 4th, stop by your favorite organic French eatery for chef Frederic Joulin's couscous night!  A classic Parisian tradition with Moroccan roots, this scratch made specialty is prepared only on the first Saturday of every month, and served family style.  The stew is made up of a mélange of autumn vegetables including zucchini, pumpkin, carrot, and turnip.
The bouillon is then simmered all day, spiced to savory perfection with cumin, turmeric, ginger, cardamom, cilantro, and nutmeg.  It is then filled with braised chicken thighs and homemade Kefte and merguez sausages.  The slow-cooked concoction is piled high onto feather light couscous and is best enjoyed alongside a large glass of red wine.  At just $32 per person, reservations are highly recommended!
Macchialina Extends O.P.P. Sundays
Due to overwhelming demand, Macchialina, South Beach's treasured Italian hotspot, will be extending its O.P.P. (Outstanding Pizza and Prosecco) Sunday summer series into the Fall and Winter months. Guests will receive an exclusive sneak-peek of what's to come in The Time Out Market at the beloved, brick-walled trattoria. Chef Mike Pirolo's authentic grandma pies offer a taste of Sicily right here in South Florida that pizza enthusiasts will not want to miss! Diners are advised to reserve their pie when reserving a table due to the limited number of pies available each week.
To celebrate the extension of O.P.P., Chef Mike has introduced his latest creation, La Bianca – fontina, mozzarella, and fiore sardo cheeses with braised broccoli rabe oil, and calabrese chili atop a thin, crispy crust with a light, airy center.
Macchialina's Sicilian Pies are handmade by Pirolo, uniquely prepared with Cinque Stagioni flour imported from Parma, Italy. The dough is made using 85% hydration and 72-hour fermentation. The high hydration and slow rise allows the chefs to craft the perfect pizza with light, airy dough and a thin, crispy, glass-like crust on the bottom.
Varieties include a traditional pie served with Tomato and Shallots. Guests can also choose between various toppings, which include an 18-month Prosciutto di Parma, 24-month Parmigiano and Arugula, and Proper Sausage and Peppers. To top off the perfect Sunday meal, sip on a selection of bubbles for just $8 per glass.
New Restaurant at The Atlantic Hotel & Spa
A new dining concept is coming to The Atlantic Hotel & Spa: Coastal, featuring Italian-inspired Mediterranean coastal cuisine, along with beautiful oceanfront views. Led by Executive Chef Rocco Honig, the relaxed yet stylish dining venue serves breakfast, lunch, dinner and Sunday brunch. Situated on Fort Lauderdale Beach, Coastal is slated to debut Nov. 29. The restaurant will continue to serve the Atlantic Grill menu up until that time.
Coastal, evoking a contemporary coastal feel with airy, modern pastel colors and wood grain table tops, seats 84 guests indoors, and 56 guests outdoors on the restaurant's elegant terrace. A lively bar seats 12 guests, with front row seats to a fine selection of wine and spirits. An additional 20 seats are available in the bar area.
The menu features a robust selection of artfully prepared dishes. Not-to-miss menu highlights include the Grilled Octopus appetizer, with fingerling potatoes and greens beans ($16); the Lobster Milanese entrée with arugula, parmesan cheese, tomato and shaved onion ($38); and a made-from-scratch tiramisu for dessert ($10).
Additional menu highlights certain to entice the senses are appetizers such as Amalfi Shrimp, salads including Mediterranean Salad, piadina (Italian flatbread) including the Clams a la Vongole, and entrées such as the Seafood Cioppino. Desserts include housemade gelato and cannolis.
The Coastal Sharing menu, served family-style for tables of six or more, is a delightful option for larger gatherings. The menu includes Home Style Meatballs, platters of Italian meats and cheeses, Caesar Salad, Chicken Milanese, Rigatoni Bolognese, Sautéed Yellow Tail Snapper, desserts including cannolis, miniature tiramisu and assorted Italian cookies and more. It is priced at $80 per person.
Chef Rocco, who graduated from the Art Institute of Fort Lauderdale with a culinary arts degree, previously worked at best-in-class brands such as Café Martorano in Fort Lauderdale, Anthony's Runway 84 in Fort Lauderdale, and Vic & Angelo's in Delray Beach.
Wynwood Brewing Company Turns 4
On Saturday, December 2, Wynwood Brewing Co. (WBCo) will host a massive four-year anniversary block party to celebrate the family-operated, independent brewery, its award-winning craft beers, and the people who helped make it the success it is today. As co-founder of Miami's first production craft brewery, who created the brewery from the ground up with his father, Luis Brignoni shares his enthusiasm for the day, "We are excited and humbled to celebrate four years doing what we love to do. We look forward to celebrating this anniversary with the community and look forward to many more!"
For the celebration, WBCo will close 24th Street to local traffic between NW 6th Avenue and NW 5th Avenue from Noon to 11:00pm. The event will feature over 50 Wynwood beers, including core favorites like La Rubia Blonde Ale, Magic City Pale Ale, and Pop's Porter, and guest taps throughout the day. Other activities include a family friendly marketplace and entertainment, live music, and a variety of delicious eating options from some of Miami's most awesome food trucks. Attendance is free to the public, and $6 beer tickets will be available for sale with proof of 21+ ID.
Family friendly activities will begin at noon, featuring a local marketplace, kid-friendly entertainment, dunk tanks and more. Starting at 5pm, party guests will enjoy the melodies and tunes of Chantil Dukart. As the evening moves on, so will the four-piece, "post-blues," hybrid with a high motor and bottomless soul blues guys from JUke. Then to close the night, the fresh reggae grooves from Future Prezidents call for unity and higher loving vibrations.