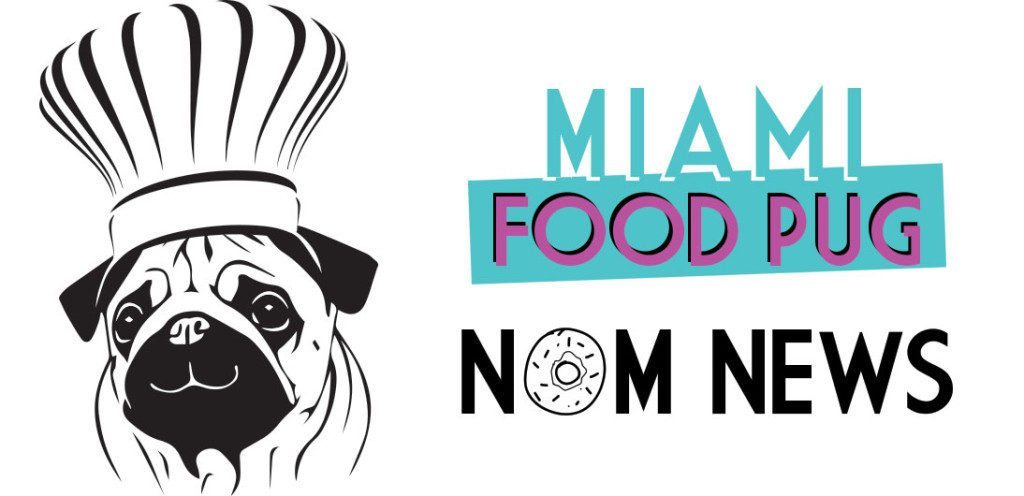 December 1, 2017
Each Friday, we compile South Florida food-related news and events that we couldn't fit on the site earlier in the week, as well as other local news that piques our interest. Want to be included in next week's roundup? Shoot us an email at bark@miamifoodpug.com.
Here's your weekly dose of nom.
LILT Hosts Taste of Cayman Fundraiser
ETARU Debuts Sundowner Menu
New Seasonal Menus at Bulla and Pisco y Nazca
Pubbelly Sushi Opens in Downtown Dadeland
Boxelder Celebrates Art Basel 2017
Artisan Beach House Hosts Art Walk
Jack's Miami Turns 1
Pincho Factory Opens 9th Location
Subs and Suds to Open Next Year
Polo Bar & Grill Launches Brunch
LILT Hosts Taste of Cayman Fundraiser
This coming Monday, LILT Lounge, the sultry cocktail lounge in Downtown Miami, will gather the area's top mixologists at the ultimate Seven Fathoms Rum Challenge series, to bring a taste of Grand Cayman to the Sunshine State and help rebuild the Caribbean.
On Monday, December 4th, LILT Lounge will host six of Miami's best mixologists, to shake it for a chance to compete in the prestigious 2018 Taste of Cayman Food & Drink Festival, while raising funds to assist Caribbean nations affected by Hurricane Irma. From 6PM to 9PM, participating bartenders will shake up their best creations featuring Grand Cayman's Seven Fathoms Premium Rum.
The stellar roster of participants will include Alex Aportella from FINKA Table & Tap, Luis Castro at Mercado Negro, David Velasquez at Sherwood's Bistro, Oscar Lopez at UVA Lounge at the Atton Hotel, Mikey Soto Rincon at W South Beach and LILT Lounge's own Hector Anzas. Star judges will include hospitality industry VIP Amber Love Bond, USBG Miami Chapter President Marita Leonard and Cayman Spirits Distiller Moises Sevilla.
The evening will be open to the public and will feature specially-priced Seven Fathoms cocktails, a Cayman Airways raffle and more! The competition series will continue on Monday, December 11th in St. Pete Beach at 360 Rooftop, to crown the west Florida cocktail champion.
Taste of Cayman: Seven Fathoms Rum Challenge is sponsored by Seven Fathoms Rum, The Cayman Islands, Cayman Airways and Kimpton Seafire Resort & Spa; a portion of the evening's proceeds will benefit The Caribbean Tourism Organization Relief Fund, a GoFundMe campaign to help families and countries rebuild after hurricanes, particularly in the wake of the massive category 5 Hurricane Irma, which has impacted a number of Caribbean countries.
All the money raised through the CTO's Relief Fund will be sent to CTO-member destinations affected by the catastrophic storm.
ETARU Debuts Sundowner Menu
Considered one of South Florida's hottest new restaurants since opening in late August 2017, ETARU Hallandale is now offering a Happy Hour menu at the oceanfront-dining destination; the perfect hangout post-work or after a lazy day on the beach.
Now live every day from 5:30 to 7:30 PM, visitors to ETARU can enjoy specially priced drinks and bites, at the gorgeous beachside bar. For even more fun on Fridays through Sundays, DJ Indigo will enhance the celebration with chill, seductive tunes.
What better place to end the day, listening to the sounds of the waves as sun sets than at ETARU's spacious indoor/outdoor bar or on its lounge-y deck? Specially priced libations include Whispering Angel rose – a mainstay at ETARU's popular Sunday brunch, at $10 per glass, $40 per bottle. Also available, ETARU's thirst-quenching Vodka lemonade, $8 per glass, $20 pitcher. For those who want to enjoy an up-market version of the old "bucket of beers," enjoy 5 Sapporo Lights for $20.
Light bites from the robata and sushi kitchen are also available – both Japanese fried chicken and the mini rock shrimp sub are priced at $5, while smoked chicken wing drumettes with spicy yakitori sauce are available at $2 each. A nice Maki selection includes 2 pieces each of cucumber, salmon and spicy tuna maki for $10. Those in the mood for something sweet can snack on mochi – assorted flavors at $2 each.
New Seasonal Menus at Bulla and Pisco y Nazca
This year, you don't have fly to Spain to enjoy festive dishes! Bulla Gastrobar is bringing Spain to Miami with their new signature Sabores de Invierno menu. Notable items from the menu are the Slow Roasted Pig and Galician Soup. Bulla Gastrobar will be offering this special menu from December 1, 2017 – March 20, 2018 at both restaurant locations in Coral Gables and Doral.
Over at Pisco y Nazca, the new Menu de Invierno is sure to get you ready for this winter with specially created dishes like the Pato Mochica and Sudado to truly warm up the heart and soul this season. Pisco y Nazca will be offering this special menu from December 1, 2017 – March 20, 2018 at both restaurant locations in Kendall and Doral.
Pubbelly Sushi Opens in Downtown Dadeland
The Pubbelly Group, led by five-time James Beard-nominated chef, Jose Mendin, have become widely known for their wide array of restaurant concepts. The active restauranteurs have now opened their fifth Pubbelly Sushi restaurant in Downtown Dadeland.
The original Pubbelly Sushi first opened its doors in the Miami Beach neighborhood of Sunset Harbour in October 2011, just one year after Pubbelly first exploded onto the scene. The new location offers its much-loved hip, neighborhood sushi den atmosphere.
Taking the helm of the Dadeland kitchen is Executive Chef Jorge Mijangos, who is helping dish up loyal favorites, including the coveted Butter Krab Roll with goma soy paper, kanikama, ponzu, and warm clarified butter ($12), Tuna Pizza on a crispy tortilla, garlic aioli and truffle oil ($16); and Salmon Tartare Taquito with avocado mousse, red pico de gallo and masago roe ($12).
Other additions to the menu include the The Heat Roll, a montage to the venue at the American Airlines Arena location, featuring spicy tuna, nori tempura flakes, albacore, garlic ponzu and spicy mayo ($16) as well as the Hamachi G Roll with Hamachi tartare, crispy garlic, cucumber, avocado and chili oil ($16).
Sushi isn'tthe only food group taking center stage – the restaurant will also house a Japanese robata grill with grilled seafood and meats, including Chicken Yakitori, Steak Anticucho and Grilled Octopus. Snacks and Vegetables offerings are plentiful and include items like Japanese Bravas (potatoes) with kimchee, cilantro aioli and crispy garlic and Shrimp Ceviche Taquito with Japanese spicy cocktail sauce.
In true Pubbelly fashion, all dishes are served family style, with each dish arriving fresh from the kitchen once it has been prepared. Prices range from $8 to $27 each.
Boxelder Celebrates Art Basel 2017
Miami will be the center of the art universe next week and Boxelder isn't planning on missing out on the fun! The Wynwood based craft beer bar, has teamed up with some of the top breweries from around the country to launch art inspired brewery collaborations throughout the week. During Miami Art Week, attendees will be able to try limited release brews, collect limited edition glassware, and collect limited edition prints of labels.
The hop inspired art and beer takeover kicks off on Tuesday, December 5th with Civil Society Brewing, a Florida based brewery from Jupiter; and closes out on Sunday, December 10th with hangover brunch hosted by Coppertail Brewing and El Bagel.
The full schedule of hops inspired art and tap takeovers will include:
Tuesday, December 5th
Civil Society Brewing kicks off Miami Art Week at Boxelder by plastering the walls of Boxelder's restrooms with a wallpaper print of their Fresh beer label. Fresh is their flagship beer and a very highly rated New England Style IPA. They are also brewing a beer exclusively for Boxelder which will be tapped on Tuesday.
Wednesday, December 6th
Our Mutual Friend Brewing Co, a small brewery out of the River North district in Denver, are wrapping up their visit to Florida with a party at Boxelder. Known for regularly doing "keep the glass nights," they will be doing a limited glass release at Boxelder. The glasses are a collab between both Our Mutual Friend Brewing and Boxelder.
Thursday, December 7th
Finback Brewery, located in Queens, New York, is taking over Boxelder with limited edition shirts, laser cut wooden coasters, a limited number of prints, and a small can release. One of the brewers/owners was a former architect and incorporates his background in architecture into the design of their labels.
Friday, December 8th
Angry Chair Brewing is bringing down their artist, Will Ralston, for a tap takeover and limited edition print release.
Saturday, December 9th
Aslin Brewing, a brewery out of Virginia, will be doing a tap takeover along with a special can release. Their artist, Mike Van Hall, has taken a close up of the label for their beer Neutrino and made an edition of 50 screen prints that will be released that day.
Sunday, December 10th
As the madness of Miami Art Week comes to a close, Coppertail Brewing out of Tampa will help with the art hangover as they host a special brunch. They will have a tap takeover as well as few prints available from their artist, Even B Harris. El Bagel will also be on site serving breakfast.
Artisan Beach House Hosts Art Walk
Communities in Schools of Miami is joining forces with Artisan Beach House for this weekend's Artisan Beach House Art Walk. Enjoy complimentary wine and a specialty menu provided by Artisan Beach House on December 3rd from 4 to 6 p.m.
A portion of the proceeds will be donated to Communities in Schools of Miami. Working directly in schools across Miami-Dade County, Communities in Schools of Miami builds relationships that empower students to stay in school and succeed in life. If you are interested in attending, please RSVP to res@artisanbeachhouse.com.
Jack's Miami Turns 1
Cheers to Jack's Miami for a successful first year in business! The family style restaurant has become a staple in and around the Wynwood area and is celebrating their success in a major way.
A year ago, on a Tuesday, Jack's Miami decorated its cozy tables with fresh flowers, fired up the
ovens, and opened the doors. Since then it has been a whirlwind of activity creating seasonal menus and cocktails, finding the perfect staff, the perfect meatball, brunch, jazz, late night games, cooking classes, and thousands of plates of pasta. At the center of all the activity have been Jack's loyal customers.
To celebrate, Jack's wants to thank the community. On every Tuesday for the entire month of December, Jack's will give you a complimentary appetizer and dessert, with the purchase of a full size entrée. Yes, both an appetizer and dessert. Everyone is welcome to come join the month long celebration.
Pincho Factory Opens 9th Location
Pincho Factory has made its mark on Miami. Now, the beloved fast casual success story is heading North with the launch of their second location in Broward County: the opening of Pincho Factory Fort Lauderdale.
To celebrate the brand's ninth opening, there will be an invitation-only Ribbon Cutting Ceremony on Saturday, December 9 at 10:30AM officiated by the City of Fort Lauderdale's Vice Mayor Bruce G. Roberts. All those who walk through the door from 11AM to 2PM will receive a free Pincho Burger as a welcome.
In partnership with the Broward Health Foundation, a portion of the day's proceeds will support the organization; its mission is to improve the health of its community by providing resources to promote, support, and enhance the programs and initiatives of Broward Health.
Located on North Federal Highway, Pincho Factory's newest location will be home to its signature menu of unique burgers and kebabs including the Pincho Burger, Tostón Burger, Tostones, Classic Fries and Sweet Potato Tater Tots. Menu highlights include Hot Dogs and Chicken Sandwiches, the popular "Chalkboard Special" serving a creative specialty item which changes monthly, and their signature craft brew the 627 Ale.
Subs and Suds to Open Next Year
Celebrated restaurateur Memphis Garrett and Chef Jeremy Powell, the team behind Fort Lauderdale's
wildly-successful eatery The Poke House, have partnered with award-winning real estate maven Samantha
"Sam" DeBianchi to open Subs and Suds in the city's up-and-coming Riverside Park/Sailboat Bend
neighborhood.
Slated to open early 2018, Subs and Suds will feature creative riffs on some of the country's
most quintessential sandwiches, along with specialty craft brews and sinfully delicious ice cream concoctions.
Each sandwich will be expertly paired with one of 20 craft beers or diners can choose their own accompanying brew. Creative sandwiches will include the Honolulu Pork Sandwich with six-hour braised pulled pork, Japanese BBQ sauce, spicy pineapple pico, and fennel cabbage slaw on a sweet bread hoagie roll, paired with Maui Brewing Company's Big Swell IPA.
Classics will include the Miami Cuban featuring slow-roasted pork, sweet ham, Swiss cheese, pickles, Dijon mustard and potato sticks served atop a Cuban roll, paired with Hatuey Cerveza. Desserts will be equally enticing and will include sinful sweets such as creative blizzards, soft-serve, dipped cones and more.
Polo Bar & Grill Launches Brunch
Get your brunch on at Polo Bar & Grill this weekend! Wellington's hottest new restaurant and bar recently started serving brunch on Saturdays and Sundays from 11 a.m. to 3 p.m.
The brunch menu includes Buttermilk Pancakes ($10), served with choice of bacon or sausage; Breakfast Scrambled ($11), which includes two scrambled eggs, breakfast potatoes and a choice of protein and toast; Greek Yogurt Parfait ($8), served with granola, fresh berries, whipped cream and a choice of white or wheat toast; Fruit Bowl ($7), made up of seasonal fruits with a choice of white or wheat toast; Biscuits & Gravy ($10), fresh biscuits served with homemade gravy and a choice of bacon or sausage; and The Hungry Feast, scrambled eggs, two pancakes, biscuits with gravy and sausage or bacon. Sides include breakfast potatoes, bacon, sausage and toast.
The brunch features unlimited coffee with the order of any entrée making it a coffee lovers paradise. For an additional $17, guests can order unlimited mimosas. Bud and Bud Light drafts are $3 per draft and $10 for a bucket of five beers.
To make a reservation, please call 561.429.2049.