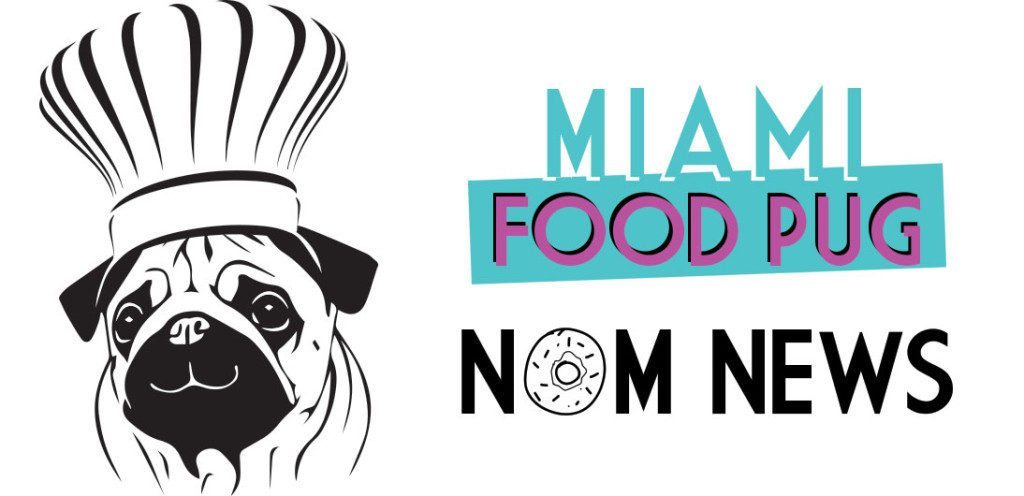 December 15, 2017
Each Friday, we compile South Florida food-related news and events that we couldn't fit on the site earlier in the week, as well as other local news that piques our interest. Want to be included in next week's roundup? Shoot us an email at bark@miamifoodpug.com.
Here's your weekly dose of nom.
17th Anniversary Celebration at Purdy Lounge
Stubborn Seed Launches Brunch
Spanglish Takeover at The Broken Shaker
Exciting Openings in 2018
USBG Miami Hosts Shaking for Puerto Rico
Weekly Events at Española Way
Sunny Poké Opens in Miami Beach
Star Wars Cocktails at KINGS
Polo Bar & Grill Debuts New Programming
New Rotating Exhibit at The Confidante
17th Anniversary Celebration at Purdy Lounge
Miami Beach's quintessential, retro hangout spot, Purdy Lounge, is celebrating 17 amazing years in Sunset Harbour this Friday, December 15th (today). Enjoy an open bar from 10 p.m. to midnight featuring free well drinks and a great time!
Stubborn Seed Launches Brunch
Top Chef Jeremy Ford, in partnership with Miami's premier boutique restaurant firm, Grove Bay Hospitality Group (GBHG), opened the highly anticipated concept Stubborn Seed in September in the vibrant South of Fifth neighborhood at 101 Washington Avenue.
Now, the beloved Miami Beach hotspot is launching weekend brunch on Saturday, December 16, 2017. Available a la carte Saturday and Sundays from 11AM to 3PM, guests can indulge in season-inspired menu items sourced naturally, perfectly paired with a selection of elegant bubbly and specialty cocktails.
Crafted by Chef Jeremy Ford and his talented team, the rich menu – designed for sharing – features breakfast essentials like Stoneground Sweet Potato Pancakes ($14) with spiced pecans and Vermont butter; and Chai Waffles ($12) with whipped espresso cream and spiced syrup. Savory plates include Smoked Tennessee Pork Belly ($16) with crispy farm egg, frisée lettuce and truffle lemon vinaigrette; Mezcal & Citrus Cured Salmon ($13) with brioche and everything spices; Roasted Cauliflower ($15) with fried onions and garlic, sunny side up eggs and spicy crumbs; and Local Lettuce ($13) with scattered herbs, aged parmesan, crunchy bread and Meyer lemon.
For a little something sweet enjoy Ricotta ($8) with kumquat jam atop charred sourdough; Pastry Chef Dallas Wynne's now famous Snickerdoodle Cookies ($8) made with brown butter, Valrhona Gianduja and cinnamon; and Organic Strawberry Doughnuts ($9) with passion fruit sabayon and pistachio. Additional brunch offerings to come.
No brunch is complete without a selection of bubbly including Perrier Jouet, Gerard Bertrand Rose and Colde Salici Prosecco. Inventive cocktails include the Desert Daisy with Olmeca Altos Bravo Tequila, beet, orange bell pepper, habanero shrub, lime and carrot habanero dust served on ice inside of an earth dome; and Follow the Light with Bombay Sapphire, lemongrass-infused Cocchi Americano, cayenne tincture and black currant served with a web of candied grapefruit art.
Spanglish Takeover at The Broken Shaker
Spanglish Craft Cocktail Bar, Central America's first and only craft cocktail bar listed on World's Best Bars, has crossed the Caribbean and made its way to Miami. For one night, on Monday, December 18th, Spanglish will be taking over The Broken Shaker from 6pm to 9pm.
Hector Acevedo and Eddie Fuentes of the The Cocktail Cartel, along with star flair bartenders Christian Delpech and Manuel Picon Delgado will be shaking and stirring cocktails thanks to 1888 Rum, Maestro Dobel Tequila, Effen Vodka, and Basil Hayden.
The event is open to public and will offer complimentary cocktails.
Exciting Openings in 2018
Boulud Sud – Opening in January, Chef Daniel Boulud will open his second Boulud Sud location (the first location is in NYC) in Downtown Miami feature coastal cuisine inspired by flavors the Mediterranean.
El Vez – Stephen Starr's Modern Mexican comes to Fort Lauderdale James Beard Award winning restaurateur Stephen Starr's celebrated Mexican restaurant, El Vez, is slated to open in South Florida in early 2018. El Vez will bring a vibrant setting, regional Mexican fare and stellar service to W Fort Lauderdale, joining Starr's boutique steakhouse, Steak 954.
In addition to the delicious fare the restaurant will offer a vast tequila selection and outstanding signature cocktails including a variety of margaritas available by the glass or pitcher. This will be the third outpost for El Vez following the success of sister restaurants in Philadelphia and New York. It will join Starr's exciting portfolio of South Florida restaurants including Steak 954, Le Zoo, Makoto and Upland.
AZABU Miami Beach – The team behind the popular New York sushi restaurant is bringing their intimate, authentic Japanese dining experience to Miami with the opening of their second location, AZABU Miami Beach, in the coveted South of Fifth neighborhood. Led by Chefs Masatsugu (Masa) Kubo and Kenichi (Ken) Fujimoto, Azabu Miami Beach will house various concepts including a hidden sushi counter.
USBG Miami Hosts Shaking for Puerto Rico
On Saturday, December 16th, the USBG (United States Bartenders Guild) Miami Chapter will bring the entire South Florida community together as they present Shaking For Puerto Rico at The Anderson Bar. Shaking For Puerto Rico is a hurricane relief event to raise money and much needed supplies for those still affected by the devastation that Hurricane Maria left on the island.
Shaking For Puerto Rico will take place from 1 p.m. to 6 p.m. in the parking lot of The Anderson Bar. It will be a combination of drinks, food, and fun for everyone to enjoy while also helping those most in need.
Shaking For Puerto Rico will transform The Anderson Bar into a typical Fiesta Navideña. Title Sponsor, Don Q will have Piña Coladas and Coquito shaken up by Miami's favorite trio, The Cocktail Cartel. Puerto Rican style bites with a Miami twist will also be served from some of Miami's favorite local restaurants including: Ariete, the newly opened Shelley's in South Miami, and 27 Restaurant. Beam Suntory will also be on site with a traditional Caja China cooked by Ms. Cheezious.
For those with a sweet tooth, there will be a dessert station with the Puerto Rican favorites and coffee provided by Vice City's cold brew cart to keep you caffeinated and dancing. Find out more about the family-friendly event at the official Eventbrite page.
Weekly Events at Española Way
Española Way, the rustic and picturesque pedestrian-only street, is inviting visitors and locals alike to join them for daily deals and entertainment seven days a week. The street will be hosting weekly themes such as: Meatless Mondays, Travel Tuesdays, Opera and Happy Hour Wednesdays, Salsa Thursdays, Flamenco Fridays and Yoga Saturdays. Free and open to the public, the daily festivities are ideal for tourists and locals alike.
For a full calendar of events, visit the Española Way official website.
Sunny Poké Opens in Miami Beach
Sunny Poké is the newest restaurant to come to life in Miami from Sunny Oh, Chef/Partner of Miami Beach favorites Juvia and Sushi Garage. Located in Sunset Harbour, Sunny Poké will offer Miamians a dining experience that perfectly embodies the poké bowl experience with fresh, wholesome ingredients in a fun, beachy atmosphere. Located next to Sushi Garage, Chef Oh has created a simple and fresh menu set to cater to the on-the-go customer in Miami Beach.
Guests will choose from three different base bowls on the menu, or "create your own" bowl. All fish will be flown in daily and cut in-house by Chef Oh and his team. Toppings will include avocado, cucumber, tempura flakes and more. For the morning hours, customers will find simple, homemade granola bowls with toppings including yogurt, milk, and fresh fruits such as blueberry, strawberry and melon.
Bowls will range from $14-$17 per person, and the restaurant will be open daily from 11 a.m. to 6 p.m. Delivery will also be available via Postmates, UberEats and Door Dash.
Star Wars Cocktails at KINGS
In celebration of The Last Jedi's release, KINGS is serving up Star Wars-themed cocktails through Sunday, December 17:
Blue Skywalker
Coconut Rum, pineapple juice & blue curacao, blended & served with a cherry
Princess Leia
Gin, muddled strawberry & blueberries & elderflower garnished with Leia buns
Did it for the Wookie
Kahlua, vodka & sweet cream garnished with mini marshmallows & chocolate sauce
The Dark Side
Coconut rum, citrus & cranberry juice. Garnished with orange wheel & cherry
Yoda Soda
Rum, mint & ginger beer garnished with lime Yoda ears
Rey of Sunshine
Raspberry vodka, pineapple juice & bubbles
Vader Aide
Vodka with lemon juice, strawberry & raspberry puree, rimmed with black sugar
Storm Trooper
Pineapple & coconut rums garnished with black sugar rim
Polo Bar & Grill Debuts New Programming
Beginning January 2018, Polo Bar & Grill is hosting new daily events and specials. The restaurant is bringing friends and family together to enjoy farm fresh cuisine, live entertainment, cocktail specials and dog-friendly activities creating memorable community dining experiences on a daily basis.
In the spirit of Polo season, the restaurant is hosting a Monday Mimosa Beach Brunch to recover from Sunday's match. On Tuesdays, indulge in Two for Tuesdays and enjoy buy one, get one free cocktails all day long (excludes shots).
Wine Down Wednesdays offers guests half priced bottles of wine to pair with a signature flatbread or savory pork chops. Don't forget to bring your canine companion to Thursday's Dog's Night Out, which benefits Big Dog Ranch Rescue and features agility and obedience classes. Friday Night Lights is perfect for equestrian enthusiasts who can enjoy show jumping, dressage and polo while sipping on craft cocktails and sharing small bites like Tuna Tacos and Curry Chicken Wantons.
Dive into the weekend with Saturday and Sunday Brunch complete with bottomless mimosas and live music from 11 a.m. to 3 p.m. Rock out to live music on the patio every Saturday night from 7 p.m. to 11 p.m. at Southern Rock Saturday. Wrap up the weekend on Sunday with live music overlooking the grounds while watching Polo for Polo on the Patio from 8 p.m. to 11 p.m.
New Rotating Exhibit at The Confidante
The Confidante Miami Beach's unveils a rotating solo art exhibit beginning with Ivan Roque's Art Installation "Visions From Across The Way".
Beginning with an Ivan Roque-curated projection of Miami's distorted landscape on the hotel's porte cochère, the eight-month pop-up art gallery will be reimagined every eight weeks. An Artist Meet-and-Greet on the first Thursday of each new exhibit accompanies, to learn about the installation and the artist's experience living in Miami.
The Confidante's pop-up art gallery will feature a diverse, impressive collection of Miami-based artists, including contemporary muralist Ivan Roque; international fashion photographer Claude Charlier; modern media, contemporary photographic artist Sam Dobrow; and Cuban painter Nestor Arena. The installations will be inspired by Miami, as well as the artists' life experiences.
Once Roque's Art Basel installation concludes in January, the rotating art showcase, which is complimentary to resort guests and visitors, will live on the south side of the hotel's lobby. The exhibit is just one of the new amenities and services the hotel will debut over the next several months, offering guests story-worthy experiences.
The following is a full schedule of the hotel's new art exhibit program:
Ivan Roque – Visions from Across the Way – November 30, 2017 to January 31, 2018
Claude Charlier – Pop World Project – February 1 to March 31, 2018
Sam Dobrow – The Surreality Collection – April 1 to May 31, 2018
Nestor Arenas – Transformers Landscapes – May 31 to July 31, 2018