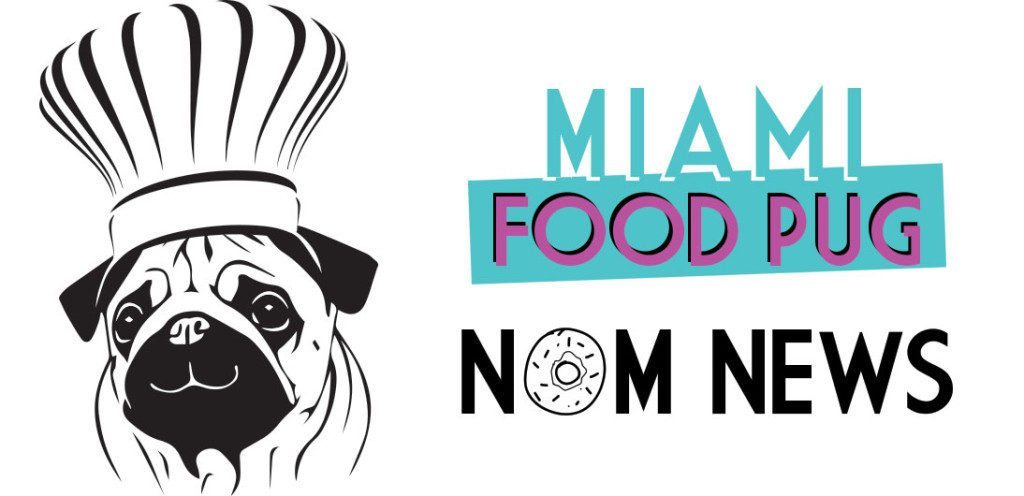 December 8, 2017
Each Friday, we compile South Florida food-related news and events that we couldn't fit on the site earlier in the week, as well as other local news that piques our interest. Want to be included in next week's roundup? Shoot us an email at bark@miamifoodpug.com.
Here's your weekly dose of nom.
Girl Scout Cookies Preview Party at O Cinema
L Bar Welcomes Alex Boyé
Ariete Hosts Satellite Cafe During Art Basel
Coming Soon: Olivia Restaurant & Bar
Chef Eileen Andrade Opens Amelia's 1931
Pinch Kitchen Hosts Craft Collab
Lure Debuts New Cocktails
Sergio's Expands Fast-Casual Footprint
New Menu at 3030 Ocean
Lime to Reopen on South Beach
Girl Scout Cookies Preview Party at O Cinema
O Cinema, The Girl Scouts of Tropical Florida and Girl Gang Flicks: A Sip-n-Series are hosting a Cookie Season Preview Party to promote The Girl Scout Cookie Program. The event will include a screening of the 1989 film Troop Beverly Hills along with free hair braiding and a special Thin Mint® cocktail complimentary with every ticket purchased. Attendees will have the opportunity to win Girl Scout Cookies before the official start of cookie season on January 14th.
Tickets are $14 and includes the film, free hair braiding and one Thin Mint® cocktail. Buy your ticket here.
L Bar Welcomes Alex Boyé
Seminole Hard Rock Hotel & Casino's intimate cocktail and live music venue, L Bar, welcomes recording artist, director, producer and YouTube sensation Alex Boyé for an exclusive, performance on Saturday, Dec. 9, 2017 at 7 p.m. Recognized for his dynamic African-inspired songs, Boyé is the grand prize winner of the Hard Rock Rising 2017 Battle of the Bands and will surely deliver a not-to-be-missed performance.
Raised by his Nigerian mother in London and now residing in Park City, Utah, this talented artist remains true to his African roots by seamlessly blending contemporary pop with a rhythmic African style. Boyé's unique musicality has earned him a chance to share the stage with many notable artists across genres including Jay-Z, Tim McGraw, George Michael, Missy Elliot, The Beach Boys and even opened for Olivia Newton John at the world-renowned Royal Albert Hall.
Presenting more than live music, L Bar offers the finest selection of handcrafted cocktails in an intimate lounge setting perfect for mixing and mingling. Using fresh, seasonal produce, house-made syrups and inventive techniques, L Bar's menu presents a variety of cocktails ranging from riffs on the classics to unique creations.
In addition to its cocktail menu, the contemporary lounge also offers a specialized menu of premium tequilas and unaged, unoaked mezcals, as well as imported beer, wine and champagne. Signature cocktails include the Passion Flower – passion fruit, lemon juice and Ketel One; Queens Park Swizzle – Ron Zacapa rum, mint, bitters and lime; and the Dos – Kah Reposado Tequila, Tabasco, cilantro, agave and lemon.
Ariete Hosts Satellite Cafe During Art Basel
Coconut Grove's favorite neighborhood spot, Ariete, announces its collaboration with NADA Art Fair Miami Beach. Miami locals and the masterminds behind Ariete, Chef Michael Beltran & Jason Odio have built-out an entire satellite café as part of the fair.
The pop-up offers patrons an assortment of salads, sandwiches, snacks and of course a taste of Cuba – Ariete's signature croquetas, guava & cheese pastelitos, alajores, tres leches and other favorites. Additionally, Ariete will be doing a pig roast hosted by Moran Bonoraff on Wednesday, December 6th, to welcome exhibitors and VIP guests to the fair.
Coming Soon: Olivia Restaurant & Bar
A concept by well-known South Florida restaurateurs Piero Filpi (Mezzanote and Carpaccio) and Marcello Sindoni (Il Toscano), Olivia Restaurant & Bar will bring authentic Italian cuisine to the emerging neighborhood of Downtown Hollywood.
Located in the lobby of the 12-story CIRC HOTEL, the 5,000 square-foot eatery will offer an array of quality Italian fare as well as signature experiences including tableside risotto and a mozzarella bar with a fresh selection of cheese. Menu highlights at Olivia include Ravioli Olivia made with homemade round pasta filled with a delicate ricotta cheese mousse and spinach, served in a cream sauce with a touch of tomato; Fettuccini Bolognese, fettuccini pasta in a homemade meat sauce, topped with parmigiana cheese; and Scaloppini Salta in Bocca made with tender veal scaloppini sautéed in butter-wine sauce with a touch of sage and topped with prosciutto.
An impressive bar and lounge area at the front will act as the focal point of the 140-seat restaurant, offering delectable craft cocktails, while the private dining room, The Cellar, will feature a wine wall with over 800 bottles of wine. Olivia, expected to open early 2018 with the hotel, will serve breakfast, lunch and dinner in an experience-driven indoor/outdoor setting.
Chef Eileen Andrade Opens Amelia's 1931
Chef Eileen Andrade is pleased to announce the opening of her second restaurant, Amelia's 1931, located near her family's famous restaurant, Islas Canarias Restaurant on Coral Way and 137th Avenue.
The eatery is a cozy Cuban diner with counter service, craft beers, specialty wines, twists on classic Cuban dishes and of course, cafecito. It carries the ambiance of a classic Cuban diner of the 1930s featuring classic antiques from lighting to décor combined with the bold innovation you typically find in Andrade's dishes.
Guests will find reinvented versions of Finka Table & Tap's "crowd favorites" such as the Peruvian Arroz con Pollo Fritters with huacatay mayo and the 6 Hour Smoked Brisket with crispy onions, Asian slaw & huacatay mustard in the form of a sandwich.
With a new restaurant, comes new dishes like the General Tsao Alligator Fried Rice with pineapple, red peppers, scallions & frijol Chino. Amelia's 1931 is especially excited to unveil their new Cuban Tots section of the menu. Choose between Sweet Potato Tots with chipotle corn and melted mozzarella, Yuca Tots with pulled pork, mariquita crumble, cilantro aioli & chives, or the Malanga Tots with vaca frita, fried garlic and salsa huancaina.
If you're looking for something to get your hands on, the menu features sandwiches like the Korean Style Frita with shoestring fries, huacatay & Korean BBQ mayo, fried maduros and truffled potato wedges or you can bite into a selection from our Asian Steamed Buns portion of the menu like the Fried Sweet Chili & Kaffir Lime Shrimp Buns with peanuts, shisho leaf, & ginger mayo.
Stopping by for a quick pick-me-up? The menu will feature the best croquetas in all of Miami from Islas Canarias Restaurant along with a full coffee bar where you can sip on foamy lattes made by an expert barista. Here to hang out? Sit back at the counter and enjoy our craft beers on tap, selection of boutique wineswhile catching the game in our "upscale" setting.
Pinch Kitchen Hosts Craft Collab
Pinch Kitchen's Craft Collab returns on December 12th as they partner with St. Bernardus Brewing for a four-course beer pairing dinner. The dinner will begin at 7pm with a welcome beer and feature new dishes by Chefs John Gallo and Rene Reyes that will be paired with the beers being highlighted that evening. Tickets for the St. Bernardus Craft Collab are $70 per person not including tax or tip. Purchase your tickets on Eventbrite.
Lure Debuts New Cocktails
Lure Fishbar, the acclaimed seafood restaurant located inside Loews Hotel, has been celebrated for its progressive cocktail program as well as its unbeatable menu of contemporary, seafood-centric fare. Now, with newly-appointed Bar Manager Chris Resnick at the helm, the restaurant has unveiled a rejuvenated cocktail menu overflowing with refreshing temptations, sure to reel in new customers and loyal fans. Crafted for the holiday season, the new menu additions sport bold spices and unique flavor combinations that will surely lure imbibers in for a second (or third) round.
The eclectic menu includes an assortment of nautical-themed cocktails including the Anne Bonny, an adventurous play on a spicy margarita and ode to the Irish lady-pirate made with Milagro Silver tequila, Habanero pepper, pineapple, Dolin Genepy and fresh lime for the perfect balance of sweet and spiciness.
The River City Ransom, named after the classic arcade game, is comprised of Rittenhouse Rye, vanilla, allspice, fresh lemon, and Whiskey Barrel Bitters; it offers a multitude of seasonally-inspired, layered flavors from the fruity bitterness of the Rye to the notable presence of vanilla and allspice. The Mystery Plane highlights a sweeter profile but packs a punch – made with Plantation Pineapple Rum, Averna, Aperol, Blanc Vermouth and fresh lemon, this inventive cocktail is an Italian twist on the classic "El Presidente" daquiri.
Hailing from Bloomington, Indiana, Resnick is the former Head Bartender of Bloomington's first craft distillery, Cardinal Spirits. In May of 2017, he ventured to Miami with his wife, Baylee, to create classic libations at The Gale Hotel's Regent Cocktail Bar. Chris was drafted onto the Lure Fishbar team to reinvent the cocktail menu, balancing his unique artistry and cocktail-crafting prowess while maintaining the restaurant's classic maritime persona.
Sergio's Expands Fast-Casual Footprint
At long last… libertad! Sergio's Family Restaurants are giving people the freedom to enjoy their beloved Cuban dishes in a guilt-free, healthy way with the help of Sergio's Cuban. The new fast-casual concept gives the diner the power to customize their dishes as they desire. The franchise will be launching 25 new locations throughout South Florida and beyond, beginning with Florida International University and American Airlines Arena, which will be followed by North Miami — its first retail establishment.
Sergio's Family Restaurant's CEO, Carlos Gazitua, spent his childhood around the family business. But it wasn't until years later that he had an epiphany. After noticing an alarming rise in diabetes and blood pressure within the community, he realized there weren't many restaurants helping people make healthy eating choices. He knew he had to make a difference. His solution: put a healthier spin on the authentic Cuban food they knew and loved.
Having come of age in a generation that put an emphasis on organics, as well as the quality and sourcing of food, he saw an opportunity to take the family business in a new direction. Soon thereafter, Sergio's Family Restaurants launched "La Flaca," a menu committed to providing flavorful and balanced dishes under 500 calories and with less than 500mg of sodium. The success of "La Flaca" inspired the new Sergio's Cuban — a place where everyone in the family, young and old, would be able together in a communal setting and customize a meal to their liking.
The new concept is an opportunity to bring people together in a quick, convenient fashion over flavorful dishes and good conversation. Diners will queue up and customize the ingredients in their dish while overseeing the process. Lean Turkey Picadillo with Organic Quinoa, Boiled Yuca, Artisan Greens, Cauliflower Rice and Chopped Bite-Sized Platanitos are just a few of the items available.
Guests have the option of building their own bowls, sandwiches and platters using high-quality ingredients prepared with classic cooking techniques. Naturally, classic cafecito or the newly launched Nitro Café Con Leche will be on tap for the necessary afternoon pick-me-up. Sergio's Cuban empanadas, award-winner by Travel & Leisure Magazine,will also be featured along with perfectly flaky pastelitos and fresh-pressed juices.
New Menu at 3030 Ocean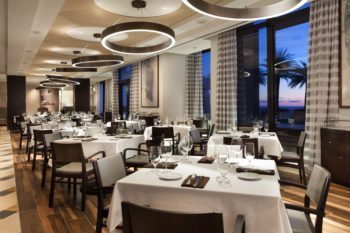 3030 Ocean, Fort Lauderdale's premier waterfront dining destination located at the Harbor Beach Marriott Resort & Spa, has introduced an entirely new menu concept by Chopped champion and Executive Chef Adrienne Grenier.
For Fall, Grenier has created a menu that turns away from a more formal, traditional concept and embraces eclectic small plates and shareables. Keeping true to her signature cooking style of inventive farm-to-table fare, the new dishes highlight premium, seasonal and locally-sourced ingredients.
New shareable starters include the baby green salad ($9) – shaved pear, Humboldt fog goat cheese, spiced pecans, and poppy seed vinaigrette; Sunfresh Farm salad ($11) – greens, soft egg, smoked baby tomatoes, radish, crispy shallot, herb dressing; brown butter figs ($13) – stracciatella cheese, prosciutto, pine nuts, Swank Farm upland cress, balsamic; and local wahoo crudo ($15) – blood orange, jalapeno, Swank Farm radish, basil, pink peppercorn.
Signature entrees are available as traditional plates or guests can order a lighter, smaller version. New culinary delights sure to please seafood aficionados include roasted Florida snapper ($18/$35) – carrot puree, fingerling potatoes, greens, salsa verde, fresh herbs; coriander roasted swordfish ($17/$32) – sweet potato and bacon hash, confit fennel, green onion crème fraiche; and grilled black grouper ($19/$36) – beluga lentils, charred Swank Farm turnips, lemon thyme sauce.
The decadent dessert menu will continue to highlight local ingredients and flavors. New sweet treats include pumpkin cheesecake – maple whipped cream, gingersnap-pecan crumb, candied cranberries; and apple coffee cake – pecan streusel, house made apple butter, maple frosting, bourbon-pecan ice cream.
Lime to Reopen on South Beach
Left Field Holdings, LLC, a Miami-based franchisee of LIME Fresh Mexican Grill, is excited to announce the opening of a new LIME restaurant in the same South Beach location where the brand was originally launched in 2004. Located at 1439 Alton Road in Miami Beach, LIME is scheduled to open the 800-square-foot restaurant in January 2018.
LIME represented the vibrant and food-conscious culture of South Beach and quickly became a local favorite, with lines of hungry people vying for a taste of the Fresh Mex restaurant. As the brand expanded, LIME continued to maintain its neighborhood appeal with its engaging staff and fun, dynamic atmosphere. With ingredients sourced daily from local vendors, on-site preparation and a freshness that was unmatched, LIME set a new standard for the fast-casual Mexican segment.
To celebrate LIME's return to South Beach, this new location will go back to its roots by offering the original 2004 menu and pricing for two weeks, the original uniforms worn by the restaurant staff – and images will adorn the walls commemorating the people and events that defined 2004. Guests will enjoy a journey back in time to when LIME was first launched – South Beach Born and Raised!
The South Beach location will be open Sunday through Thursday from 11 a.m. to 10 p.m. and Friday and Saturday 11 a.m. to 11 p.m. LIME Fresh South Beach will offer Mexican-inspired dishes made with quality ingredients, including non-GMO beans, all-white-meat chicken and fresh produce. Ingredients are sourced daily from local vendors and prepared without the use of microwaves or freezers.
The menu will feature homemade guacamole, queso dip, nachos, tacos, burritos, salads, soups and our award-winning margaritas. Also featured is Lime's signature Fresh Salsa Bar, offering at least 8 homemade salsas prepared daily and an extensive selection of unique bottled hot sauces.