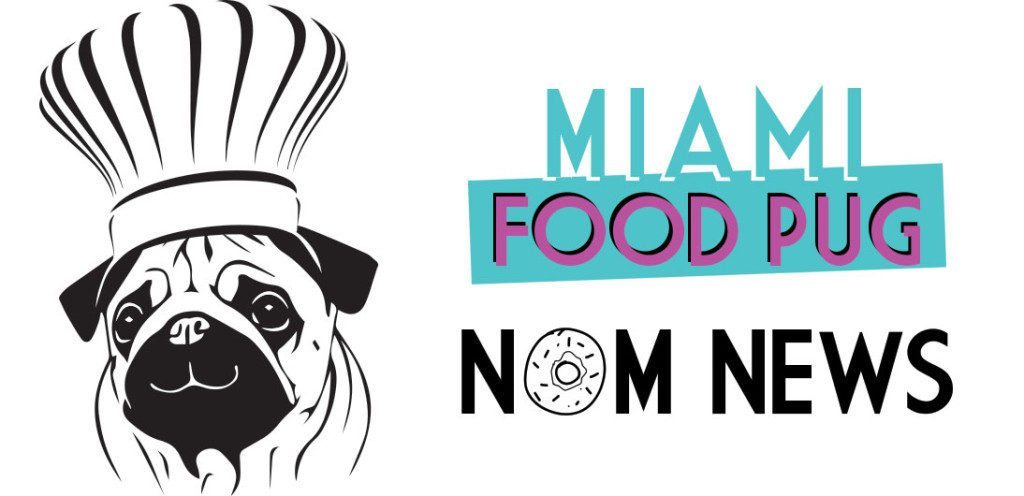 January 19, 2018
Each Friday, we compile South Florida food-related news and events that we couldn't fit on the site earlier in the week, as well as other local news that piques our interest. Want to be included in next week's roundup? Shoot us an email at bark@miamifoodpug.com.
Here's your weekly dose of nom.
UMI Debuts Cocktail Omakase Dinner Series
Celebrate Peking Duck Day at Tanuki
Three Launches Sunday Brunch
Now Open: Sushi Azabu Miami Beach
Out to Brunch Returns to Wynwood
UMI Debuts Cocktail Omakase Dinner Series
UMI at Delano South Beach announces the debut of an exclusive cocktail omakase dinner series this Winter. The series, will kick off on Saturday, January 27th, with a five-course omakase dinner paired with hand crafted cocktailsby NYC master mixologist, Marshall Altier.
The menu will feature unique sushi creations and Asian inspired delicacies dishes including Tuna Carpaccio made with grated ginger and yuzu soy, Tsukiji Fish Market Nigiri masde with fresh wasabi and pickled ginger and Miso Black Cod for $140 per person plus tax and gratuity.
The intimate dining experience, accommodating only 20 guests per seating, will fuse the culinary creations of Chef Jose Icardi with sips that will complement each bite provided by a variety of high-end spirits. All communal dinners begin with cocktails at 7PM followed by dinner at 8 p.m (additional details below). Other dates include Friday, February 23, and Thursday, March 29. Limited seating available.
For UMI Uncorked reservations, please call (305) 674-5752.
Celebrate Peking Duck Day at Tanuki
In honor of National Peking Duck Day this week, Tanuki will be celebrating the dish today (Friday) by offering guests complimentary Peking Duck Ramen with a fried duck egg on top in addition to an order of regular priced Peking Duck ($49) — a great promo for sharing or a family-style dinner.
Three Launches Sunday Brunch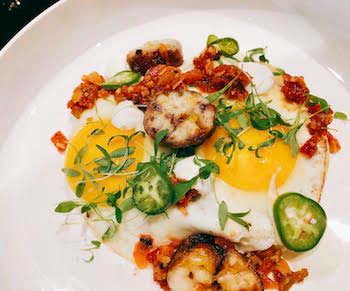 Three Wynwood is now serving brunch. Every Sunday, stop in from 11 a.m. to 4 p.m. to enjoy dishes like shrimp and pork steamed dumplings, "Korea Town" fried chicken and waffles, duck confit hash and pan-cooked fillet of Key West yellowtail. For more information, visit their official website.
Now Open: Sushi Azabu Miami Beach
Today, famed Michelin-starred Sushi Azabu New York debuts their intimate, authentic Japanese dining experience in Miami. Led by Chef Masatsugu Kubo (Chef Masa), Azabu Miami Beach houses various concepts under one roof including a full-service dining room, hidden sushi counter with Tokyo-trained chefs called The Den, and Bar Azabu, a classic-style cocktail bar showcasing sakes and over 40 imported whiskies.
Awarded for seven consecutive years, Michelin-starred Sushi Azabu is a New York City sushi den offering specialty cuisine crafted with the highest quality ingredients and elegant preparation. Azabu Miami Beach differs from its NYC counterpart with the introduction of two Japanese culinary concepts; the main dining room and a secluded sushi den. A six-foot Bonsai fixture is highlighted as the centerpiece of the main dining room, surrounded by understated wood décor, boasting 80 seats.
A large, open-format kitchen where guests can observe chefs preparing dishes using the customary Japanese cooking method of Robata is another centerpiece of the restaurant, which is a charcoal grilling technique using special Binchotan charcoal. The overall experience within the space will be an Izakaya dining style, where guests can order a variety of sharable dishes like Robata-grilled Yakitori, Japanese fried rice served tableside on a sizzling Tobanyaki grill, and other traditional fare such as Udon.
Guests are invited to discover a clandestine, intimate experience at The Den. With access only through the kitchen doors, The Den features an 11-seat sushi bar with a counter crafted from a Hinoki Cypress tree. The Den strictly serves Omakase using local and imported seafood flown directly from fish markets in Japan, offering guests a traditional Japanese style dining experience.
Another exciting destination at Azabu will be Bar Azabu, the main bar within the dining room area whose cocktail program will utilize unique imported ingredients and Japanese-inspired presentation styles served in glassware handcrafted by a Japanese artisan. Bar Azabu will apply classic bartending formats, where each movement and styling contributes to the overall essence of each cocktail. Notably
Out to Brunch Returns to Wynwood
Brunch is back! Get ready for a boozy Miami brunch Saturday, April 14 at Soho Studios. New Times' Out To Brunch brings together some of South Florida's favorite brunch restaurants, along with an array of brunch cocktails – a bloody mary bar, mimosas, beermosas, and more! Guests can enjoy delicious eats from some of the area's best restaurants, as well as live music.
Confirmed restaurants are Amour de Miami, American English Kitchen + Bar, Bagatelle, Boss Burger & Brew, Dough Miami, Edukos Restaurant and Bar, Fresh Guacamole, Il Mulino, Vicky Bakery, Fifi's on the Beach, Fatty Cakes NY and Yarumba Restaurant and many more will soon be added!
New Times' is also happy to announce that for the second year, it has paired up with Special Olympics Florida as a charity partner, and portions of ticket proceeds will benefit the organization. Also, any leftover food will be donated to Miami Rescue Mission to feed the homeless in Miami-Dade County.
Drink partners participating in Out to Brunch include Voga Italia, Dunkin' Donuts, Koloa Rum, Estrella Damm, South Beach Brewing Company, CannaVinus Wine, Santos Sangria and others to be announced very soon.
The inaugural Out to Brunch, held last year at SoHo Studios, drew over 1,200 attendees and raised over $7,000 for Special Olympics Florida. Click to see photos from last year. This year's event promises to be bigger and better! "We are thrilled to partner with the Miami New Times again on this incredible event", said Linsey Smith, Area Director for Special Olympics Florida. "Attendees will have a great time while supporting over 6,500 athletes we serve in Miami-Dade County".
The 2018 brunch event will begin at noon for VIP ticketholders and 12:30 p.m. for general admission ticketholders. Early bird pricing available now. For more information, visit NewTimesOutToBrunch.com.