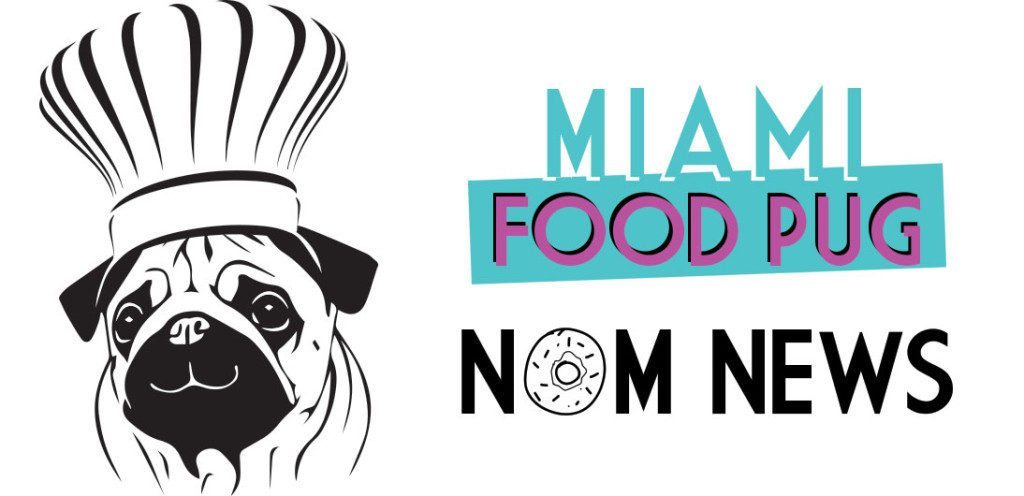 January 26, 2018
Each Friday, we compile South Florida food-related news and events that we couldn't fit on the site earlier in the week, as well as other local news that piques our interest. Want to be included in next week's roundup? Shoot us an email at bark@miamifoodpug.com.
Here's your weekly dose of nom.
American Harvest to Open Flagship Location
National Pisco Sour Day Celebrations
New Brunch Dessert Specials at Juvia
LIV Boardwalk Village Pops Up at Pegasus World Cup
A First Taste of Boca Bacchanal
Tacology Debuts New Promotions
Carb-Heavy Specials for Miami Marathon
1-800-LUCKY Opens for Lunch
American Harvest to Open Flagship Location
Coconut Grove-based restaurant firm Grove Bay Hospitality Group (GBHG) is expanding its home-grown, fast-casual concept American Harvest with the South Miami opening of its full scale newest location on Tuesday, January 30, 2018.
New to the the restaurant's expanded menu are flavorful Acai Bowls ($13) and refreshing Smoothies ($6) including Strawberry Banana, Blueberry Banana, and Mango Orange. A variety of Toasts ($6-$9) are perfect for lunchtime sustenance or a quick and nutritious snack with toppings like fresh Avocado; Mushroom, Tomato & Fontina; Stracciatella & Jam; and Peanut Butter & Banana
Guests can also indulge guiltlessly with vibrant Handhelds ($9-$14) from the American Harvest Burger – an all-natural, angus chuck short rib and brisket blend, Fontina cheese, house made mayo and caramelized shallots served on a Martin's potato bun and Blue's Steak Tacos – Myer all-natural, angus steak, organic GMO-free blue corn tortillas, caramelized shallots, chimichurri vinaigrette, avocado and fresh cilantro.
Salads ($8-$10) include favorites like the Harvest Cobb Salad and newcomer Asian Salad – soy seared vegetables, kelp noodles, almonds, red peppers, spice asian dressing.
Harvest Bowls & Skillets ($7-$10) round out the menu with options such as a Rotisserie Chicken Skillet – cage-free, all natural, hormone and antibiotic free chicken quarter with chimichurri vinaigrette served with roasted sweet potatoes, mushroom, bacon and scallions; and a Curry Roasted Vegetable Bowl – quinoa, green and yellow squash, red pepper, Portobello mushroom, cauliflower, carrots, red onion, edamame, basil and a house made coconut curry sauce.
Also, unique to the concept's new location is weekend brunch. With items priced from $5-$9, Brunch will be available Saturdays and Sundays, from 10AM to 3PM, featuring an assortment of delicious clean favorites such as Nine Grain French Toast, an Egg & Bacon Sandwich, Harvest Granola with Greek Yogurt, Breakfast Taco and the Cubano Breakfast Skillet.
American Harvest South Miami will be located at 5958 South Dixie Highway. Lunch and dinner will be served Monday – Friday from 11:30AM; Brunch will be served Saturday and Sunday from 10AM to 3PM.
National Pisco Sour Day Celebrations
In honor of National Pisco Sour Day on Saturday, February 3rd, guests can enjoy happy hour priced Pisco Sours all day at Pisco y Nazca Kendall and Doral locations. Making this national holiday all the more fun, Pisco y Nazca will be holding a raffle during "Hora Loca" from 5pm-7pm for a chance to enter and win a bottle of Cuatro Gallos Pisco.
Guests can also say cheers with SuViche on Saturday, February 3rd as the restaurant celebrates National Pisco Sour Day with Peru's most popular cocktail! SuViche will be celebrating by offering $5 Pisco Sour Cocktails from 12 p.m. to 7 p.m. at its Wynwood and Las Olas locations.
At Sucviche, guests can choose from the traditional Pisco Sour made with fresh squeezed lime juice, simple syrup and a dash of egg whites, or kick it up a notch by adding a signature macerado, an infusion made with fresh berries, herbs, spices and pisco. SuViche's Pisco Sour Macerados include Thai Chile, Mango, Blueberry Thyme, Cinnamon, Lychee, Gummy Bear and more.
Suviche customers can also enjoy Happy Hour specials with dishes starting at $5 from 3 p.m. to 7 p.m. and a live DJ spinning music at both locations.
New Brunch Dessert Specials at Juvia
There are no traditional vanilla and chocolate flavors on the menu at Juvia Miami Beach. Available every Saturday and Sunday during brunch, Executive Pastry Chef Gregory Gourreau is adding new fruit- and chocolate-infused dessert specials. Guests can still enjoy the signature brunch appetizers and entrées by Executive Chef Sunny Oh and now end the meal on a sweeter note.
Available for a limited time, dessert specials include the Caramel Mandarin Gazpacho and the Caramel Macadamia Almond Bar. Chef Gourreau incorporates the freshest seasonal ingredients like softly poached pears, hibiscus pear sorbet and almond ice cream. Juvia's brunch prix-fixe menu is priced at $55 per person and includes bottomless mimosas, bellinis or prosecco. Desserts are included in the set price and guests can also order them a la carte for $12 each.
LIV Boardwalk Village Pops Up at Pegasus World Cup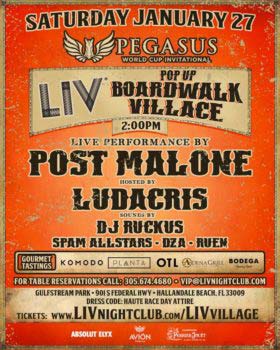 On Saturday, January 27th, David Grutman of LIV, Story, Komodo, OTL and Planta, will bring the iconic LIV brand to the Pegasus World Cup with a LIV Boardwalk Village Pop-up at Gulfstream Park. The pop-up will feature live performances by "Rockstar" chart topper Post Malone along with Ludacris. DJ Ruckus, Spam Allstars, DZA and Ruen. Guests will enjoy a full-blown LIV experience with food and drinks provided by Grutman's Komodo, Planta and OTL while also having viewing access to the races. Other vendors include Bodega Taqueria y Tequila and Adena Grill.
The event will open at 2:00 p.m. on Saturday, January 27th. Tickets are available for purchase and range from $75 to $135, available here. For bottle service and tables reservations, call 305.674.4680 or email VIP@LIVNightclub.com.
A First Taste of Boca Bacchanal
The Boca Raton Historical Society & Museum is gearing up for their "Sweet 16" – The Annual Boca Bacchanal and kicking off the festivities with Bacchus Beckons, the official launch party at Saks Fifth Avenue Boca Raton from 6-8pmon Thursday, February 8, 2018.
As one of the most unique society events in town, tickets for The Vintner Dinners of Boca Bacchanal sell out quickly. At Bacchus Beckons, guests will learn the pairings of each chef and vintner as well as the hosts of each Vintner Dinner and have an opportunity to sample wine from each vintner.
This is also the FIRST chance to purchase tickets for a preferred vintner dinner before they sell out, which is why Bacchus Beckons is an important pre-event for loyal Boca Bacchanal attendees. Also unique this year will be a Bacchanalia-themed vehicle from Excell Auto Group, a new sponsor for the event, which will be showcased at Saks Fifth Avenue for attendees to view and take pictures with from January 22 to the Beckons event.
For those who have not attended in years past, The Vintner Dinners are exclusive, intimate dining experiences that take place during Boca Bacchanal weekend. Each dinner features a vintner and chef that pair their wine and cuisine to create a sumptuous 5-6 course meal.
Call 561-395-6766 for more information
Tacology Debuts New Promotions
Tacology in Brickell City Centre has launched two new weekly promotions: Industry Night and Ladies Night. Industry Night, which takes place every Monday from 7 p.m. to 10 p.m., features half-off Mexican beers, Micheladas, Classic Margaritas and No Mames Margaritas.
During Ladies Night, female patrons can enjoy $25 bottles of sparkling rosé. All ladies will also receive a free disco ball cocktail.
Carb-Heavy Specials for Miami Marathon
Need some carbs for the big race? Scarpetta by Scott Conant will offer Miami Marathon runners a special "Carb-Up" prix-fixe menu. Priced at $39, exclusive of tax and gratuity, the menu is available from 6 p.m. – 8 p.m. on Friday, January 26 and Saturday, January 27. Specially crafted to ensure optimal performance, the three-course menu offers runners a delicious way to hone their competitive edge.
Runners can also fuel up at La Mar by Gaston Acurio nestled inside Mandarin Oriental, Miami with a pre-race carbo-load menu on Friday, January 26 and Saturday, January 27. Executive Chef Diego Oka put together a menu featuring Tallarin Saltado [USD 29] with bucatini pasta, stir fried tenderloin, red onions, tomatoes, green onions, soy sauce, cilantro and Quinoa Chaufa [USD 28]with shrimp, calamari, octopus, red quinoa, nikkei sauce, pickled veggies, red peppers.
For those in need of post-race recovery, Brickell's Quinto La Huella will be offering 50% off this Sunday's Brunch to the first 100 Miami Marathon runners who present their medal at the hostess stand. This Sunday's Brunch will include live entertainment from 12-4 p.m., and costs $55 per person per buffet ($25 for children under 12), and an additional $25 per person for unlimited rose and mimosas.
1-800 LUCKY Opens for Lunch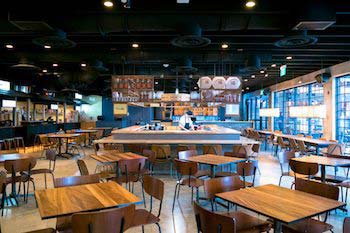 After much success since opening in November, 1–800–LUCKY decided to extend their hours. Starting today, the Asian-themed marketplace will be open everyday for full lunch service at 12 p.m.. The new operating hours will be from 12 p.m. to 3 a.m. Can't decide where to go for lunch? The options are endless with 1-800-LUCKY's seven vendors offering different Asian favorites.