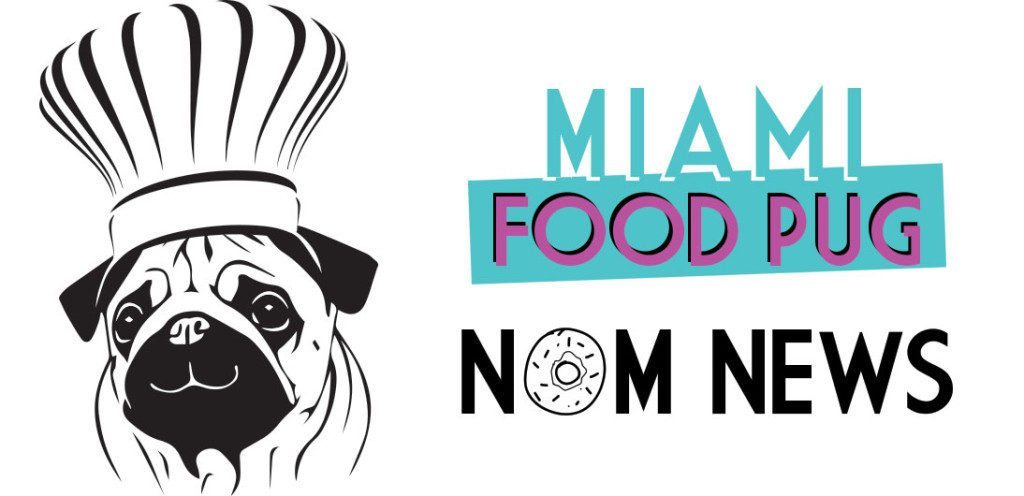 January 5, 2018
Each Friday, we compile South Florida food-related news and events that we couldn't fit on the site earlier in the week, as well as other local news that piques our interest. This will be the last Nom News for 2017. It will return on Friday, January 5.
Here's your weekly dose of nom.
New Events on Española Way
Michael Schwartz Opens 2nd Fi'lia Location
Nancy Launches Full Dining Menu
Habitat Hosts Chef Massimo Bottura
'Ice Cream We Love' Weekend at Bal Harbour Shops
Rusty Pelican Launches Eco-Friendly Campaign
South Pointe Tavern Now Serves Breakfast
Monthly Acoustic Concert Series at Veza Sur
Market Mondays Return to Arsht Center
New Events on Española Way
Española Way, the rustic and picturesque pedestrian-only street in Miami Beach, is inviting visitors and locals alike to join them for their weekly Bazaar on Sundays, starting Sunday, January 7th, 2018, from 11 am to 9 pm, and their Arts & Crafts Market on Tuesdays, starting Tuesday, January 9th, 2018, from 4 to 9 pm.
In collaboration with The Market Company, the markets will feature handmade merchandise such as clothing, gourmet foods, gifts, art, children's items, jewelry and more made by artisans from South Florida, The Florida Keys and across the country. The Bazaar on Sundays and Arts & Crafts Market on Tuesdays are free and open to the public.
Michael Schwartz Opens 2nd Fi'lia Location
Continuing to expand sbe's international footprint, the global lifestyle hospitality company has announced the newest addition to its Disruptive Restaurant Group portfolio in The Bahamas with the opening of Fi'lia by Michael Schwartz, the Italian restaurant concept by Miami's celebrated James Beard Award-winning chef. The restaurant, featuring 202 seats of indoor and outdoor seating, marks sbe's fifth culinary and entertainment venue to open at Baha Mar, the $4.2 billion integrated resort destination, joining Cleo, Katsuya, Monkey Bar, Bungalow Pool Bar & Grill, as well as sbe's first international SLS hotel.
Located on the main Baha Mar Casino floor just steps from SLS Baha Mar, the new 299-room hotel sbe opened last month, this is Fi'lia's first international outpost and second location overall after opening at SLS Brickell in Miami last year. Fi'lia is inspired by the simplicity of Italian cuisine, featuring a menu of straightforward dishes that highlight fresh, seasonal ingredients, housemade pasta and memorable signatures like the Tableside Caesar Salad.
Fi'lia's dinner menu features Small, Large and Extra Large plates alongside Snacks, Sides, Pasta and Pizza. To start, Beef Carpaccio is Chef Schwartz's twist on the classic featuring sunchoke, green onion pecorino and mustard vinaigrette, while the Extra Large Grilled Whole Snapper features tomato, Calabrian chile, mint and grilled bread. Rustic pizzas are served with creative topping combinations like Pistachio Pesto with ricotta, charred onion and pecorino. The Tableside Caesar is prepared from scratch from dressing to grated parmigiano finish on a roaming cart, dispatching delicious smells of toasted garlic croutons in the dining room as it passes.
Cocktails are refreshingly uncomplicated with specialties including a section of Spritz. The Mistaken, a lively take on the traditional Negroni aperitivo, features Campari and Carpano Antica sweet vermouth, substituting bubbly Prosecco for gin. With a focused wine list, Fi'lia celebrates Italian, regional varietals and American wines with an old world sensibility.
Nancy Launches Full Dining Menu
Nancy, Little Havana's crafty cocktail den, announces that it is adding a full food menu to its milieu, just in time for the onset of 2018. Located in an unsuspecting strip along Calle Ocho in Little Havana, Nancy opened in April 2017 to immediate success, wowing cocktail aficionados, fellow industry veterans, media and the general public, by virtue of its impressive, self-built nautical design, incredible mixology program and inviting live music catalog. Now, with Kat Alvarez, a former pastry chef at some of Miami's most popular eateries, heading the galley, Nancy is poised to become as popular a haven for munching on craveable pub grub, as it is a hotspot for sipping libations and rare microbrews.
The Miami dive bar-meets-distinguished, New York City craft cocktail lounge, boasts an undeniable nautical theme that makes revelers think they're aboard a ship straight out of the Revolutionary War. Named after a Colonial supply ship involved in the spice trade with the Caribbean, the bar Nancy stays true to her theme, from cocktails and glassware, to décor and now food. Alvarez, who whipped up desserts at spots such as Swine Southern Table & Bar, BaZi, Beaker & Gray and Fireman Derek's Bakeshop is giving savory a go with her menu of Daily Rations.
Snack ($6-$10) type items include jazzed-up favorites such as puffy Chicharrones, dressed with a house seasoning and lime mist, and served alongside chipotle aioli; Seadeviled Eggs with fresh dill, Old Bay seasoning, lump crab meat and mustard seed "caviar"; perfectly crispy Cheese Planks, a creative take on stuffed mushrooms with roasted mushrooms, caramelized onion puree, goat cheese, shaved Parmagiano Reggiano and fresh thyme; and Loaded Gun Potato Cakes – panko breaded potato cakes with cheddar cheese, bacon and scallion crema.
Bigger items ($10-$12) include Cannon Ball Sliders with homemade meatballs, marinara, lemon ricotta, and cacio e pepe chips; a Captain's Sloppy Joe, made with bison meat, sweet and spicy Dr. Pepper Jim Beam bourbon sauce, pickled onions and potato sticks on Zak the Baker brioche; Fiddler's Green Roasted Red Beet & Black Bean Burger with honey Sriracha slaw and melted provolone on Zak The Baker brioche; and Nancy's Kettle Gemelli with pulled pork, brown butter crumb, crispy bacon and a creamy cheese sauce over al dente gemelli pasta.
Desserts ($7-$8) obviously shine with Alvarez's dense yet light Sea-Salted Pretzel Cheesecake with candied bacon and bacon caramel sauce and The Perfect Storm Crème Brulee with chocolate ganache, graham crumbles and torched meringue.
Habitat Hosts Chef Massimo Bottura
When Mendin & Friends first started three years ago at Pubbelly, it was a humble endeavor; a night for chef/host José Mendin to cook with chef friends and respected colleagues for the pleasure of an ardent group of ravenous fans. In the years since, it has become one of the longest running chef series in the region and evolved to feature some of the greatest chefs from South Florida and the US.
Now, for its third year, Mendin & Friends is going global and launching with none other than world famous Italian chef and three Michelin-star restaurateur Massimo Bottura at Mendin's lauded new restaurant, Habitat at 1 Hotel South Beach. In keeping with Habitat's varied global influences, it only made sense for the theme of Mendin & Friends' third year to be internationalism. Guaranteeing the 2018 series debut delivers, Mendin is hosting Bottura for two separate events.
On Wednesday, January 24, guests will be able to join Mendin and Bottura at a special, cocktail reception featuring a welcome drink and an array of passed bites curated by Mendin. This approachable cocktail hour welcomes the community, including local chefs and industry vets, to spend time with Mendin and Bottura in a comfortable, laidback setting. Tickets are limited and priced at $50 per person (excluding service charge and tax); taking place at Habitat's chic cocktail bar and lounge,The 2nd Floor, located on the mezzanine level. Start time is 7:30PM.
On Thursday, January 25, the dinner itself; a once-in-a-lifetime affair at Habitat. Limited to 100 guests, the six-course dinner, paired with an exclusive selection of premium Italian wines, will be a not-to-be-missed collaborative experience between Mendin and Bottura. Tickets are priced at $650 per person, excluding tax and gratuity. A brief cocktail reception will begin at 7PM; guests will be seated at 7:30PM sharp.
Tickets for both events can be purchased at https://www.exploretock.com/habitatmb/.
'Ice Cream We Love' Weekend at Bal Harbour Shops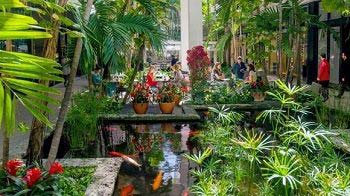 Bal Harbour Shops is partnering with leading local and national ice cream makers to bring a fun-filled philanthropic weekend to South Florida to benefit Holtz Children's Hospital. The luxury shopping and dining destination, just north of Miami Beach, will welcome locals and visitors of all ages to an over-the-top ice cream festival.
Attendees can expect to sample creative confections from 18 unique ice cream vendors on Saturday, January 13, and Sunday January 14, 2018, with plans to make the event a sweet annual tradition.  The inaugural "Ice Cream We Love" celebration will take place throughout the first level courtyards and second level promenades at Bal Harbour Shops, featuring a curated selection of ice cream parlor pop-up booths.
Guests are invited to stroll the al fresco center, window shop and taste the fabulous flavors of celebrated national brands including Jeni's Splendid Ice Cream, Graeter's Ice Cream,  Malai and Three Twins; and local, artisanal ice cream makers such as Bianco Gelato, Nanndi Homemade Frozen Cream & Pastry Shop, Serendipity, Mr. Kream, Jaxson's Ice Cream Parlor, Quality Meats, hipPOP's, Freddo, Dasher & Crank, Mr. Bing, Fireman Derek's Bake Shop, Sweetness Bakeshop, Sweet Melody, Cielito Artisan Pops and Le Zoo.
The weekend-long event celebrates the legacy of Bal Harbour Shops founder, Stanley Whitman, who was a longstanding supporter of Holtz Children's Hospital. Ice Cream was Mr. Whitman's favorite dessert and Bal Harbour Shops has created the event to honor his legacy and love for philanthropy. 100% of the proceeds from ticket sales will go directly to Holtz Children's Hospital Foundation and its mission to enhance and expand pediatric specialty programs at Holtz Children's Hospital.
Tickets are $35 for adults, $15 for children and $90 for a family of four, and can be purchased online at IceCreamWeLove.com or by calling 305.585.GIVE (4483).
Rusty Pelican Launches Eco-Friendly Campaign
Did you know that 500 million straws are used in the United States every day? These single use plastics which are built to last, some for thousands of years, contribute to the approximately 8 million tons of plastic pollution that reach our oceans annually.
It was facts and figures like these that weighed heavily on the mind of Pallava Goenka, Regional Managing Director of Specialty Restaurants Corporation (SRC), which operates Miami's iconic waterfront dining destination, Rusty Pelican. Thus, he began the effort to eliminate the use of plastic straws, as well as plastic to-go containers, utensils, and kid's cups, and plastic coffee pods at the restaurant.
Instead of plastic straws, patrons will be offered a more environmentally friendly paper straw upon request. Takeaway containers and utensils will be replaced with a biodegradable paper alternative; doggie bags will be packed in reusable tote bags, and children's cups will now be paper rather than plastic. They are even replacing coffee pods with fresh brewed coffee.
The #MiamiIsNotPlastic campaign, is a joint effort between Rusty Pelican and its neighboring sister restaurant Whisky Joe's, and Rickenbacker Marina. The marina has already stepped up, eliminating the use of all Styrofoam and single use plastics at its office, retail, and convenience store.
In an effort to create a "Plastic Free Key", both Rickenbacker Marina and the two restaurants have teamed up to promote environmental responsibility amongst local restauranteurs, retailers, and the general public. In collaboration with local civic partner, Debris Free Oceans the plastic free partnership will be hosting an event at the Rusty Pelican on Wednesday, January 10, 2018 at 6:30PM, where local retailers and restaurateurs, along with the general public, will have the opportunity to meet with ecofriendly vendors and speakers and learn more about how they can get involved. According to Goenka, the goal is to educate, entertain, and promote environmental awareness and responsibility.
To participate in #MiamiIsNotPlastic, restaurants, bars, marinas and other establishments need to commit to replacing single use disposable plastic items with ocean-friendly alternatives such as recycled paper, bamboo, stainless steel or glass. Ensuring a plastic alternative is available for customers is a key element to this program.
South Pointe Tavern Now Serves Breakfast
South Pointe Tavern in the SoFi neighborhood is now serving breakfast from 8 a.m. to noon every day. The menu items are made in-house with high quality ingredients, and the baked goods are brought in fresh daily from a local bakery. Guests can choose from an assortment of options including avocado toast, a breakfast wrap, smoked salmon, quiche and much more. Visit their official website for more details.
Monthly Acoustic Concert Series at Veza Sur
Wednesday, January 10th will be the third instillation of VEZA SUR Unplugged – the brewery's monthly acoustic concert series that's hosted by local artist and musician, Nacho Londono, that will feature LA LOVO, Cintia Vinchar. The show is from 8-10PM, and offers Latin lagers on tap, tasty bao buns from the on-site food truck, Baja Bao, and groovy acoustic tunes – all located in the heart of Miami's most artistic neighborhood, Wynwood. The event is free and open to the public.
Market Mondays Return to Arsht Center
The Adrienne Arsht Center for the Performing Arts of Miami-Dade County, The Café at Books & Books and Urban Oasis Project are pleased to announce the return of MARKET MONDAYS beginning Monday, January 8 at 4 p.m. In the spirit of the new year, MARKET MONDAYS will focus on health and wellness with a "Farm to Fitness" theme featuring Florida-grown produce and prepared foods; complimentary yoga led by Prana Yoga; and Chef Allen's coveted Farm-to-Table Dinner. Additional weekly activities will include a new biergarten by BRAVA by Brad Kilgore and storytime for kids hosted by The Café at Books & Books.
MARKET MONDAYS is located on the Arsht Center's Parker and Vann Thomson Plaza for the Arts every Monday from 4 – 8:30 p.m. Free parking will be available in Lot C, located just south of the Center's Ziff Ballet Opera House between Northeast 12th and 13th streets. For more information, click here.