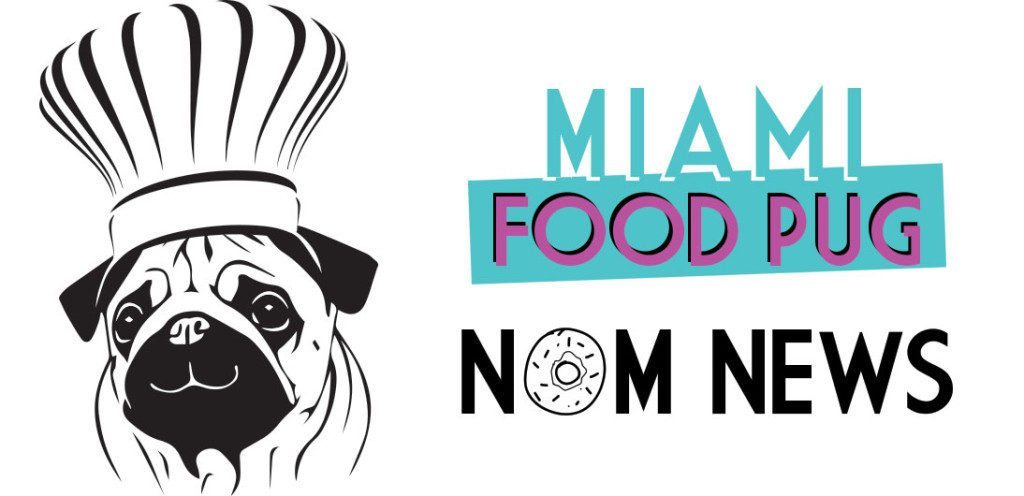 February 23, 2018
Each Friday, we compile South Florida food-related news and events that we couldn't fit on the site earlier in the week, as well as other local news that piques our interest. Want to be included in next week's roundup? Shoot us an email at bark@miamifoodpug.com.
Here's your weekly dose of nom.
Fado Irish Pub Hosts Empowered Youth
Skorpios Opens in Midtown Miami
The Rum Line Returns for SOBEWFF
Stiltsville Fish Bar Launches Lunch
Tortuga Nights at Quaterdeck
Bulla Debuts Brunch Menu
Prezzo Rolls Out Lunch Service
Purdy Lounge Introduces New Programming
Henry's Sandwich Station Opens in Fort Lauderdale
Blue Ribbon Now Offers Late-Night Dining
New Cocktail Menu at KINGS Doral
Boozy Bootcamp at Nightlife Brewing Co.
Kuro Hosts Friends of James Beard Benefit Dinner
Lightkeepers Celebrates 1-Year Anniversary
Fado Irish Pub Hosts Empowered Youth
Empowered Youth, a local nonprofit whose mission is to provide support to at-risk young men in Miami by empowering them to create lasting transformation and a positive life for themselves, their families and their communities, is hosting a Happy Hour for a Cause at Fado Irish Pub on Friday, Feb. 23, 2018.
The two-hour long event will be led by toastmistress Sara Yousuf, Chair of Engage Miami, and celebrate the legacies of EY students and graduates. Guests can enjoy Fado's signature happy hour specials along with presentations by former students who will each share their legacy.
There is no cover charge for the event but donations are appreciated and will go towards The Empowered Youth Culinary Training Center & Café that is slated to open in Wynwood this spring.
Skorpios Opens in Midtown Miami
Located in the epicenter of Miami's popular Midtown neighborhood, Skorpios officially opens its doors today, combining signature Greek cuisine with South Florida flare. Named after the private island owned by the late Greek shipping billionaire Aristotle Onassis, Skorpios will be a destination for fresh Mediterranean fare, handmade cocktails, and a playful atmosphere that offers a wondrous and celebratory experience to its guests.
The outdoor dining area is a reflection of a Mediterranean-designed retreat, complete with a century-old olive tree and rustic-cool outdoor seating that inspires guests to relax while enjoying great food and cocktails. A lively brunch that will be curtained off from the rest of the dining room will also be offered on Saturday and Sunday, complete with music programming and a rotating DJ roster.
Leading Skorpios' culinary program and helming the kitchen is Executive Chef Erhan Ozkaya, who also served as executive chef at Mandolin for three and a half years, and was the opening chef at Wynwood Diner. The menu will feature a variety of signature Mediterranean dishes with a modern twist.
A selection of hot and cold mezzes will be offered on the menu, including Baba Ghanoush, Tzatziki, Octapothi Skorpios, and Psaro Keftedes (Greek fish croquettes). Main dishes will include a selection of Daily Catches, ranging from Seabass, Seabream, Mackerel, Stripe Bass, Red Mullet and Grilled Langoustines, all served fresh and grilled whole with olive oil, lemon and oregano. Other Mediterranean favorites found on the menu include Flat Breads, Assorted Salads, Oven Baked Casseroles and Grilled Shish Kebab.
Indulgent desserts include Homemade Baklava with Ice Cream, Oven Baked Cheese Pastry with Kadaifi, Rose Water and Pistachio, and Fresh Strawberry Granite and Rose Water.
For reservations, please call 786-329-5905
The Rum Line Returns for SOBEWFF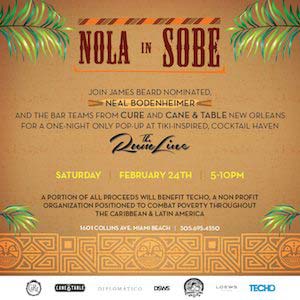 Neal Bodenheimer and his team behind the James Beard-nominated New Orleans cocktail bar Cure and "proto-tiki" rum bar Cane & Table are bringing their critically acclaimed cocktails to South Beach.
On Saturday, February 24 from 5 p.m. to 10 p.m.,  they'll be taking over The Rum Line for one night only. In collaboration with Diplomatico Rum and Gracias a Dios Mezcal, the menu will feature specialty cocktails from Cure and Cane & Table. A portion of the proceeds will benefit TECHO, a non-profit that builds homes for needy families in Latin America.
Stiltsville Fish Bar Launches Lunch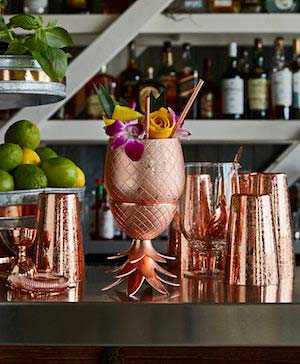 Miami Beach's hottest new waterfront restaurant, Stiltsville Fish Bar in Sunset Harbour, has expanded its hours to include lunch service. Now available Monday through Friday from 11:30AM to 4PM, diners can now drop in during the week for the rustic, delicious, seafaring fare that has helped chef/co-owner Janine Booth nab her recent James Beard "Rising Star" award nomination.
Crafted with chef/partner Jeff McInnis, the new menu includes Stiltsville favorites along with dishes of lighter fare from the Skinny Mermaid Menu thoughtfully prepared with the health-conscious guest in mind, featuring locally sourced ingredients, inclusive of vegan options.
Beyond lunch, the restaurant is also introducing Hemingway's Happy Hour featuring a vibrant cocktail menu and drink specials intended to encourage guests to kick back and enjoy good company, good food and the blissful bay breeze. The Happy Hour will be offered weekdays from 5PM to 7PM at Stiltsville's bar.
Tortuga Nights at Quarterdeck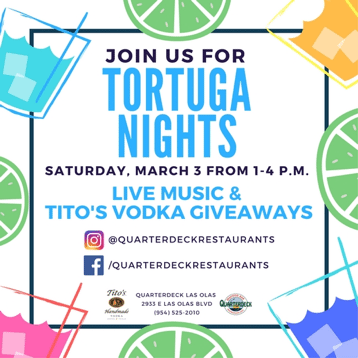 As the 2018 Tortuga Music Festival approaches, Quarterdeck is hosting Tortuga Nights at their Las Olas location. The next installment, which will feature live music and Tito's Vodka giveaways, is on March 3rd from 1-4 P.M.
Bulla Debuts Brunch Menu
Bulla Gastrobar, the authentic Spanish restaurant with locations in Coral Gables and Downtown Doral, is introducing new brunch menu items to the already amazing, boozy brunch menu on Saturday, February 24.
Guests will now be able to indulge in signature brunch favorites such as Avocado Toast ($8.50), Bocata de Huevo ($11), Huevos Rancheros ($12), Chicken & Waffles ($16) and Churros S'mores ($10). In addition to featuring new menu items, a new three-course brunch prix-fixe menu will feature the most popular dishes and be available for $27 per person.
Bulla Gastrobar offers brunch on Saturdays and Sundays from noon to 4 p.m., with the option of bottomless sangria and mimosas available for $18.
Prezzo Rolls Out Lunch Service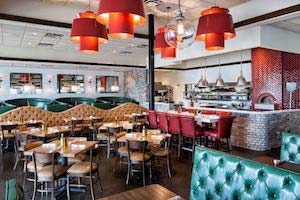 Rapoport's Restaurant Group's Prezzo, located in the Park Place plaza on Military Trail in Boca Raton, has begun serving weekday lunch. Available from 11:30 a.m. to 2:00 p.m. Monday through Friday, area residents and business executives can now enjoy a variety of house specialties including lunch sized pizzas and pastas, daily combos, fresh salads, Italian sandwiches and more. Saturday and Sunday brunch services will come at a later date.
In addition to lunch sized portions of their signature pizzas and pastas, Executive Chef Mark Militello has added some traditional features to the lunch menu such as an Italian sandwich section. Averaging $13 each, options include Meatball, Chicken or Eggplant Parmesan Hoagies, Caprese Panini, Grilled Chicken Panini, Italian Hero, or Sausage & Peppers.
New lunch salads include Roasted Salmon Salad with chopped greens, farro, tomato crudo, olive oil and balsamic vinaigrette ($18) or Pasta Salad Primavera prepared with arugula, seasonal vegetables, olives, tomatoes, mozzarella and an olive oil vinaigrette ($14).
Those in a bit of a hurry can opt for quick combo options from the lunch specialties section. Choose from Daily Soup & Mixed Green Salad; Daily Soup & Margherita Pizza or the Daily Pasta for just $10 each.
Inside seating as well as al fresco dining is available. Prezzo features a spacious indoor/outdoor bar area, complete with beer, signature cocktails, and a curated wine list. Lunch reservations are available for tables of 5 or 6. They can be made by phone by calling 561-314-6840 or online via Opentable. Tables less than 5 are seated in the order in which they arrive.
Purdy Lounge Introduces New Programming
Purdy Lounge recently introduced new weekly programming to complement their two for one special during happy hour from 3 p.m. to 8 p.m., Monday through Friday.
Made You Look Sunday (Main Room)
A hip-hop night like no other, Purdy Lounge turns up on Sunday with $7 Highlife and Jäger shots
Household Sunday (Back Room)
Bringing the back room back to life, DJ ICUE and DJ haraan will be playing all of the best house music starting at 11 p.m.
Reggae Night Monday
Live Music by JP James followed by Dancehall music by DJ ICUE and guests can enjoy $4 Red Stripe
Bring Your Own Vinyl (B.Y.O.V.) Tuesday
Have that itch to spin some vinyl? Local DJs will be given the opportunity to showcase their talents on Tuesday nights while guests enjoy 2-4-1 well drinks and domestic beer
In the Biz Wednesday
Purdy Lounge calls all industry people to join them on Wednesday nights for $5 well drinks and domestic beer in the best locals spot in town. Enjoy tunes by DJ ILLMANICK.
Ladies Night Thursday
Ladies gather your gals and head to Purdy Lounge for the ultimate girls night! Enjoy free well drinks from 11 p.m. to 1 a.m., and music by DJ Kace.
Friday Nights with DJ Boe & DJ ILLMANICK
Saturday Nights with DJ Boe & DJ ICUE
No description needed for the most popular nights at Purdy, just come dance, suck on Blow Pops and drink to your heart's desire. As always, no cover.
Henry's Sandwich Station Opens in Fort Lauderdale
JEY Hospitality is proud to announce their newest concept, Henry's Sandwich Station, located in the FATVillage Arts District, will open to the public on February 24 at 11am. The restaurant is located at 545 NW 1st Ave at the intersection of Sistrunk Boulevard and NW 1st and open for business seven days a week.
As part of opening day, the first 100 guests will receive a complimentary slice of Henry's fresh baked pie with the purchase of any menu item.
A nod to Henry Flagler, Henry's Sandwich Station offers small batch, artisanal purveyors, and house smoked and cured meats. All bread served on site is prepared by local bakeries, and the restaurant features unique, artisan cheeses.
Signature sandwiches range from "Montreal Style" Smoked Meat on Zak The Baker Jewish Rye to Slow Roasted Prime Rib with a homemade horseradish cream. Menu items range in price from $8-$14 and feature breakfast sandwiches, daily specials, artisan toasts, and a full bakery and coffee bar, specializing in homemade pies and baked goods.
All menu items be accompanied by a variety old school craft sodas like Cheerwine and Boylan, as well as, locally brewed craft Beers from South Florida based breweries.
Henry's Sandwich Station seats over 50 guests, with communal seating and a large outdoor courtyard located adjacent to the train tracks and C&I Studios. The restaurant is open daily for breakfast, lunch and dinner and will offer dine in seating, take-away, and local delivery.
Blue Ribbon Now Offers Late-Night Dining
The famed sushi eatery Blue Ribbon Sushi Bar and Grill is now opened for late night dining. In a city where dining late is very common, the restaurant will be carrying on the late night dining tradition made famous by its sister New York City restaurants and will now be open until 2:00 a.m. on Fridays and Saturdays.
Located inside The Plymouth Miami Beach Hotel, guests will be able to enjoy the full dinner menu which includes favorites like Blue Ribbon Fried Chicken, Japanese Kobe Beef Strip Steak and Assorted Sushi and Sashimi, to name a few. Reservations can be made at OpenTable.com or by calling the restaurant 305-800-0404.
New Cocktail Menu at KINGS Doral
KINGS Dining & Entertainment Doral is the premier destination for all things gaming, drinking, and eating! This month, KINGS Doral is launching a new cocktail menu showcasing the classics – tried and true drinks that have endured the test of time and become favorites over the years. Listed alongside their estimated dates of original creation, the new cocktail menu at KINGS Doral will remind you of why these are great go-tos for any occasion.
For those looking to explore outside of traditional recipes, the menu also boasts some new and notable 'contemporary' cocktails like the KINGS White Russian, (Vanilla Vodka, Godiva Chocolate Liquor, Coffee Liqueur, and Vanilla Sweet Cream); Kingstini, (Raspberry Vodka, Pineapple Juice, and Prosecco; and the Cold Brew (Van Gogh Double Espresso Vodka, Coffee Liqueur, Vanilla Sweet Cream, Cold Brew Coffee).
The 'Shareable' drinks offer guests a variety of 64 oz. pitchers for all to enjoy with playful flavors like Sangria, Mai Tai, Moscow Mule, Mojito, and Margaritas.
Boozy Bootcamp at Nightlife Brewing Co.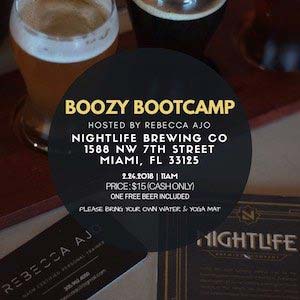 Nightlife Brewing Co. together with local personal trainer, Rebecca Ajo, are hosting a Boozy Bootcamp at the local brewery. The bootcamp will be a mix of a traditional bootcamp class with a twist given that it's being held at a brewery. The cost for the class is $15 (only cash will be accepted). Attendees are encouraged to bring their own water bottles and yoga mats if they have (yoga mats are not a requirement).
Following the bootcamp, attendees will enjoy a complementary beer provided by Nightlife Brewing Co.
Kuro Hosts Friends of James Beard Benefit Dinner
Kuro at Seminole Hard Rock Hotel & Casino in Hollywood, will host its third annual Friends of James Beard Benefit dinner on Friday, March 2, 2018. This event welcomes national culinary talent and comes on the heels of Kuro's recent sold-out dinner at the distinguished James Beard House in New York City.
The collaboration dinner kicks off at 7:30 p.m. and will feature a five-course dinner prepared by Seminole Hard Rock and Kuro's Creative Culinary Director Chef Alex Q. Becker and James Beard Award winner Chef Stephanie Izard of Chicago's Girl & the Goat; Little Goat; and Duck Duck Goat.
Emceeing the evening is guest of honor, multiple James Beard Award winner, cookbook author and Emmy Award-winning host of Food Network's "Chopped" and "Chopped Junior," Ted Allen. Following the dinner, guests will have the opportunity to participate in a Q&A with Chefs Becker and Izard on the evening's culinary offerings, moderated by Allen.
Tickets are priced at $175 per person and can be purchased via Ticketmaster.com. Space is limited. For more information on the event, please click here.
Lightkeepers Celebrates 1-Year Anniversary
Lightkeepers located at The Ritz-Carlton Key Biscayne, Miami is celebrating one year as Key Biscayne's premier waterfront destination for drinking and dining.
To celebrate the occasion, the restaurant is hosting an elegant soiree on Friday, March 2, 2018 from 7PM to 10PM, with $5-$8 cocktails and light bites; featuring a mixology mix-off with newly appointed Lead Bartender Alexa Delgado; including the debut of the latest addition to Lightkeepers refreshing drink menu – the Anniversary Cocktail.
The celebration is open to the public; RSVPs are required by Wednesday, February 28 and can be made by calling (305) 365-4186 or via email at LKDiningReservations@ritzcarlton.com.