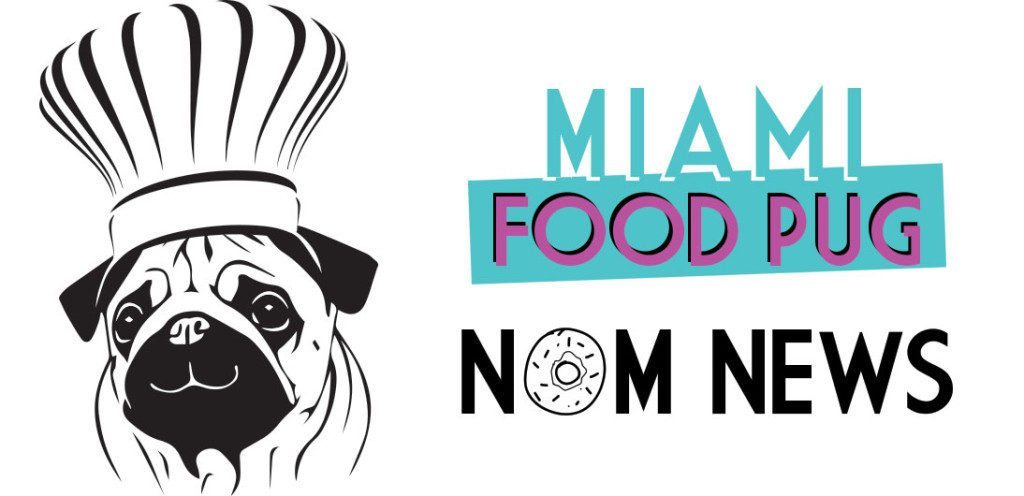 February 9, 2018
Each Friday, we compile South Florida food-related news and events that we couldn't fit on the site earlier in the week, as well as other local news that piques our interest. Want to be included in next week's roundup? Shoot us an email at bark@miamifoodpug.com.
Here's your weekly dose of nom.
Wok Star Supper Club Pops Up at Gaijin
Nightlife Brewing Co. Releases Wade County IPA
1111 Peruvian Bistro Launches Reverse Happy Hour
Area 31 Hosts Private SOBEWFF Dinner
The Anderson Debuts New Menu
Serafina to Open at Aventura Mall
Palmar Hosts Chef Collaboration With Himitsu
Chinese New Year at Hakkasan
Good Spirits Opens in Fort Lauderdale
Better Food Movement Conference Returns to MDC
Mardi Gras Celebration at 305 Brews
Rocco's Tacos Celebrates 10 Years
Pineapples & Pizza at Matador Bar
Wok Star Supper Club Pops Up at Gaijin
Wok Star Supper Club wants you to get cozy when celebrating Chinese New Year at Gaijin Izakaya.
Eleanor Hoh's Wok Star Supper Club will be celebrating the upcoming Chinese New Year of the Dog at Chef Cake's Japanese gastropub, Gaijin Izakaya in midtown, Sunday, February 25, 5:30pm-8:30pm. A $50/person scrumptious 5-course menu starts with a welcome cocktail and passed hors d'oeuvre of spicy tuna rice roll that'll set the New Year off with a bang.
Hoh's Wok Star Supper Club, an event held periodically throughout the year, is about celebrating Asian culture and cuisine in South Florida. Her main goal in these gatherings is to support and showcase mostly chef owned restaurants and introduce her audience to good Asian inspired food. All ticket sales go to Gaijin Izakaya.
To view full menu and to purchase your ticket, click here.
Nightlife Brewing Co. Releases Wade County IPA
Following the announcement that Heat fans have been waiting for since 2016, Miami is once again Wade County! To celebrate the return of Dwyane Wade to the Miami Heat, Miami base Nightlife Brewing Co. has released the Wade County IPA. The limited release beer is a 6% ABV, 69 IBU and is a blend of mosaic and citrus hops. It has a very soft mouth feel and a very Miami tropical, fruity aroma and taste.
Wade County IPA is a taproom exclusive that will only be available while supplies last! So hurry in for a pre-game beer before heading to the arena to see D-Wade's homecoming game.
1111 Peruvian Bistro Launches Reverse Happy Hour
Join 1111 Peruvian Bistro as they launch their Reverse Happy Hour special, which will take place on Friday and Saturday nights from 10pm – 11pm. Regular Happy Hour takes place from 6pm – 8pm and includes 50 percent off all drinks.
The Peruvian Bistro looks to make their restaurant the go-to spot in the neighborhood as it is located in the
Axis Building. With the release of the new lunch menu and the launch of Reverse Happy Hour, 1111 Peruvian Bistro is sure to be a hit!
Area 31 Hosts Private SOBEWFF Dinner
Kimpton EPIC Miami's award-winning restaurant, Area 31, is hosting a private dinner on February 22nd.
The private dinner will be hosted by Carlo Mirarchi, Enrique Olvera, Brady Williams and Alex Olivier, Executive Chef for Area 31. The chefs are expected to cook up a storm of mouthwatering dishes everyone will fall in love with. Area 31 is located on the edge of Brickell on the 16th floor of Kimpton EPIC Miami, offering enviable panoramic views of the glittering waters of the Biscayne Bay and Miami River.
For more details and tickets, click here.
The Anderson Debuts New Menu
The MiMo district's favorite bar, The Anderson – recent winner of the 2017 Pineapple Awards' Best cocktail menu – is debuting its new food and cocktail menu on February 15, 2018 with a retro 80's fashion show styled by the legendary Danny Santiago. Conceptually, the menu design is evocative of a 1980's fashion magazine, remaining on brand with the bar's "throwback" theme that ties together the cocktails, music and programming.
Paying homage to the era of big shoulders and bigger hair, the fashion show will begin promptly at 11pm. Groovy tunes by LoLo will keep the vibe alive all night as we relive the funkiest era of America.
With food by Chef Jimmy Lebron of 27 Restaurant, the new menu reimagines the delectable lite bar bites that The Anderson is known for. The eclectic new menu features items such as, Buffalo Cauliflower, $12, made crispy with a side of ranch; the Pretzel Burger, $15, with beer cheese, caramelized onions and juicy bacon; and Dan Dan Noodles, $14, sun noodle, tehina and roasted shiitake.
Don't Fret, The Anderson's famous Crispy Chicken Sandwich still remains. Ranging from $5-$15, the mouthwatering bites are perfect to pair with the new craft cocktails created by Lead Bartender and recipient of The Pineapple Awards' Bartender of the Year, Joshua Alperstein.
Just to name a few, there's The Hebrew Hammer, $12, made with Old Forester Bourbon, Amaretto Liqueur, Red Wine Reduction, Swizzled on Crushed Ice and topped with freshly squeezed Florida Orange Juice; and A Former Greenskeeper, $13, Martel VSOP Cognac, Creme de Menthe, Creme de Cacao Coconut Cream, Served over Ice Cone with Shaved Dark Chocolate & Lime Sprinkles, finished with the cherry on top.
Serafina to Open at Aventura Mall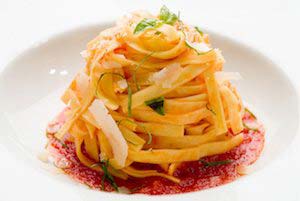 Famed Italian eatery, Serafina, will open for lunch and dinner service this February in the Aventura Mall's new wing (19565 Biscayne Blvd Space 1944 Aventura, FL 33180). Originally launched in New York City, the globally recognized celebrity hotspot now has over 30 locations worldwide and Serafina Miami will be the only location in Florida.
Serafina Miami owners Benny Shabtai, Stacey Shabtai, Samantha Cooper and Mike Baccaro alongside Serafina founders Vittorio Assaf and Fabio Granato will offer diners the option of indoor and outdoor dining featuring authentic Italian cuisine in a lively atmosphere with monthly live music. Serafina Miami will combine excellent food with a relaxing environment fueled by home-style meals shared with friends and family.
The Serafina Miami kitchen will be helmed by notable Miami based Executive Chef Dustin Ward (Iron Fork Miami winner 2016). Known for his innovative culinary creations, Chef Ward will serve Serafina classics while incorporating new signature dishes that utilizes fresh local ingredients.
Serafina Miami's menu will offer a selection of various homemade pastas, salads, pizzas and main dishes including a Filet Mignon Burger, with gorgonzola cheese and caramelized onions; Filet of Bass Al Pinot Grigio, wrapped in thin sliced potatoes on a bed of zucchini and leeks; Serafina's legendary Tartufo Nero Pizza with hand selected Italian gourmet black truffles to name a few. In addition to a robust menu Serafina Miami will also offer an extensive wine program and cocktails created by Cocktail Cartel of Broken Shaker fame.
Serafina Miami's design mirrors its home-style feel creating an inviting vibe and atmosphere. Designed in-house by the owners, the 220-seat restaurant features a balance of indoor and outdoor dining options and design elements include large dining tables, copper accent lighting, natural wood tables and soft lighting.
The private event space is located outside underneath the restaurant's 65-foot pergola and can be sectioned off by a 12-foot-tall moveable "living" plant wall making the restaurant a perfect location for special events. Serafina Miami will also feature Instagram worthy art installations including a Neon Angel Wing sign (Serafina means angel in Italian) and an arched star lit infinity bathroom hallway.
Palmar Hosts Chef Collaboration With Himitsu
You can now get a reservation for the "no-reservation" restaurant. Himitsu, recognized as one of Bon Appetit's "America's Best New Restaurants" (2017) will come to Wynwood's newest modern Chinese concept, Palmar, for one night only on Tuesday, February 13.
Grab your reservation and enjoy the seven -ourse chef collab between acclaimed Chef Kevin Tien from Washington, D.C. most talked-about restaurant and Albert Diez, chef of Palmar.The menu will be a celebration of Asian flavors and is available for $89 per person (drinks and gratuity not included). Reservations can be made through Resy with two seatings available – 6:30/7 p.m. and 9:30/10 p.m.
Chinese New Year at Hakkasan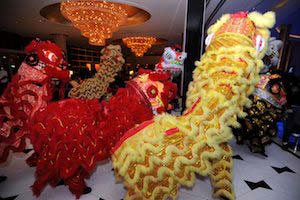 From now through March 4, 2018, Hakkasan will celebrate the Year of the Dog with a limited-edition menu, exclusive cocktails and desserts. During the celebrations, diners will be able to share their hopes for the coming year by writing wishes on beautiful red and gold ribbons, and are invited to hang them on the iconic Hakkasan lattice cages.
Guests looking to indulge in the limited-edition menu, priced at $118 per person, can enjoy dishes featuring ingredients believed to bring good luck and prosperity in the New Year. Highlights include Chilean sea bass with kumquat glaze, wok-fried native lobster in superior stock and lamb tenderloin in seaweed soy.
On February 16, Hakkasan will provide entertainment believed to bring good luck and fortune in the form of the Chinese lion dance. The dance will begin at 8:00 p.m. at Bleau Bar located in the iconic lobby of Fontainebleau and progress all the way to Hakkasan.
Good Spirits Opens in Fort Lauderdale
Old School Hospitality has opened the doors to its newest restaurant 'Good Spirits', located at the corner of Fifth Street and Federal Highway. Good Spirits Fifth and Fed is nestled in a new retail and entertainment complex in Victoria Park, just north of historic Las Olas Boulevard and east of the newly redeveloped area of Flagler Village.
Good Spirits Fifth & Fed is the pièce de résistance of Old School Hospitality, whose leadership includes Victoria Park residents and co-founder Frank Zaffere and his wife Kimberly Zaffere.  The décor is mid-century modern and is centered around a large fireplace flanked on one side by an extensive sushi bar and elevated raised wine cellar and a modern take on a 1960's vintage lounge at the entrance of the restaurant on the other side. The music will range from The Commodores to Coldplay, creating an atmosphere enjoyed by older and younger generations alike.
Good Spirits embodies an upscale casual American restaurant serving a unique spin on traditional American fare, alongside the highest quality fresh sushi. Executive Chefs Chang 'Sushi Mike' Jin and Joseph Parsons lead the creative direction and culinary creations for Good Spirits. Chef Parsons is classically trained in the culinary arts and has spent the past two decades traveling the world to hone his craft.
Signature dishes include the Blue Bird, a modern take on the mid-century classic chicken cordon bleu; the Maple Pig, a delectable appetizer made with maple-chili glazed pork belly, roasted sweet potato whip, cotija cheese, crispy sweets and pecans; So-Flo Scallops, pan seared scallops, honey-lime mint slaw, avocado relish and sprouts; and the Firecracker Roll, spicy tuna, shrimp tempura, avocado, topped with tuna, masago, scallions, tempura flakes and drizzled spicy mayo and eel sauce.
The cuisine is complimented by a wine cellar with more than 300 wine bottles from across the world. The bar and lounge area offers a full-service menu and is equipped to serve classic cocktails with a modern twist, select high quality wines, and a variety of craft beers. Patrons can enjoy their cocktails inside the restaurant or on the extensive dog-friendly patio.
Better Food Movement Conference Returns to MDC
Top industry professionals and business leaders from the United States, Latin America, Europe, and Israel will convene to explore new trends in making healthier food more readily available at the second annual Better Food Movement Conference on Wednesday, Feb. 21, 2018 at Miami Dade College's (MDC) downtown Wolfson Campus, in partnership with its acclaimed Miami Culinary Institute (MCI) and digital-first media company, NATCOM GLOBAL.
The conference will be a premier event launching the beginning of Food Week 2018 in Miami, attracting top chefs, global food industry executives, new media influencers, and political leaders. This year's keynote speaker is Einav Gefen – Corporate Executive Chef at Unilever Food Solutions North America, who oversees 250 chefs worldwide with influence over the food choices of millions of consumers everyday, and who will discuss Innovation: The Future of Food.
Joining us to share their experience with feeding top athletes for Real Food for Fast People are Chef Allen Campbell, former chef to NFL's Tom Brady, and Shannon Allen, Founder with her husband and former NBA All-star Ray Allen of Grown, first USDA organic fast-food restaurant.
Conference participants will join the discussion on culinary topics affecting the global community that will inspire the next generation of future food entrepreneurs. Topics include: The Future of Food, Real Food for Fast People, Food Innovation in Florida, Food Start-Ups Best Practices, and much more. This year's conference will again include a track for culinary students in high school and college. Invited Miami-Dade county high school culinary students will have the chance to compete in the Better Food Innovation Competition hosted at the Miami Culinary Institute.
Mardi Gras Celebration at 305 Brews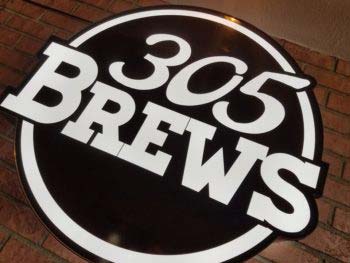 On Thursday, February 15th, 305 Brews is bringing a little bit of New Orleans to Miami as they celebrate Mardi Gras Miami style. Enjoy the sounds of traditional Dixieland jazz by Damian J. Sanchez and his band The TRAD305.
Neighboring local brewery Concrete Beach will also be on site for the exclusive release of their Miami Gras Saison, a traditional saison brewed with orange blossom, honey, and juniper berries.
Since no Mardi Gras party is complete without some cajun fare, 305 Brews will be adding a little taste of New Orleans to the menu for the night. Enjoy Shrimp Po' Boys served with a side of cajun fries throughout the evening as you sip on Miami Gras.
The event is free to attend. Food and brews will be available for purchase. To RSVP to the event, visit Eventbrite.
Rocco's Tacos Celebrates 10 Years
Co-owners Rocco Mangel & Big Time Restaurant Group are celebrating the tenth anniversary of Rocco's Tacos & Tequila Bar, and everyone is invited! On Saturday, February 24th, 2018, Rocco's Tacos will host a massive block party that takes over the 200 block of Clematis Street in West Palm Beach.
Guests will enjoy drink specials and street food throughout the night, and of course Rocco Mangel himself will be pouring plenty of free tequila anytime he's on top of the bar. The event culminates with a live performance from Philadelphia three-piece G. Love and Special Sauce, who are known for their unique laid back blues sound that encompasses classic R&B and hip hop. Local reggae favorites Spred the Dub will open the show. Admission is free and no RSVP is required.
Rocco, the self-made man behind Rocco's Tacos & Tequila Bar, is also a devoted father, a successful philanthropist, and last year he announced that he was living with Multiple Sclerosis. Serving as a voice for MS, Rocco has raised more than $500,000 for the National MS Society, and he recently received the organization's prestigious Hope Award.
On Sunday, February 25th he will be participating in the Walk MS West Palm Beach with his friends, family and co-workers. If you like to walk with Rocco or donate to the National MS Society, please visit www.JoinTeamRocco.com.
Pineapples & Pizza at Matador Bar
Matador is ready to excite your taste buds with their monthly pizza and cocktail party! February's installment of Pineapples & Pizza will take place on Thursday, February 15 at Matador Bar at The Miami Beach EDITION, and this month's pizza is the Smoked Salmon, Dill Mascarpone and Everything Crust Pizza. Share a pizza and a cocktail with a friend and enjoy tunes by The Spam Allstars.