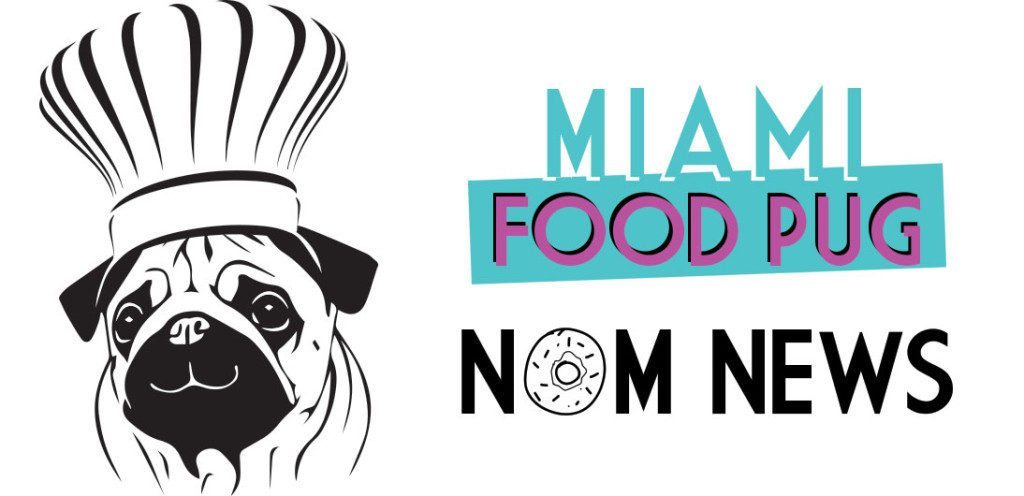 March 30, 2018
Each Friday, we compile South Florida food-related news and events that we couldn't fit on the site earlier in the week, as well as other local news that piques our interest. Want to be included in next week's roundup? Shoot us an email at bark@miamifoodpug.com.
Here's your weekly dose of nom.
New Brunch at Sweet Liberty
Tabañero Becomes Miami Heat's Official Hot Sauce
Beloved Chefs Depart The Local
Now Open: Kahwa Coffee
Top Chefs Unite for Out of the Kitchen
Bunnie Cakes Launches New Menus + Workshops
Lincoln Road Kicks Off Miami Beach Gay Pride
Catch March Madness at LT Steak & Seafood
Guest Chef Series at Byblos
Collab Dinner at Palmar
New Brunch at Sweet Liberty
Waffles, bottomless booze and breakfast burritos…Oh my!! This spring, acclaimed neighborhood bar, Sweet Liberty Drinks & Supply Co. is rolling out a BRAND-NEW BRUNCH MENU, sweetening up their already-admired Sunday Brunch with new flavor-packed food and drink items.
Beginning April 8th (and every Sunday afterwards), guests can indulge in Sweet Liberty's new brunch dish offerings including: Cauliflower Nachos, Oysters, Homemade Biscuits and Chicken Apple Sausage, as well as crowd-favorite staples: French Toast, Chicken and Waffles, Brunch Burritos, Chilaquiles and more.
Best thing about it – you can still catch those much-needed zzz's and calm those hangovers with these culinary delights because this brunch starts at 12pm and doesn't end until 5pm, EVERY Sunday. But wait… THERE'S MORE! Not only will $25 bottomless rosé or prosecco be offered, but now you'll have the chance to choose from a whole new selection of bubbly brunch cocktails on Sweet Liberty's "Pimp Your Prosecco" menu section.
Guests can buy a glass ($10) or a pitcher ($55) of these new bubblies mixed with fresh fruits, fluffy juices, herbs and oils which include: Rosé Spritzes, Fluffy Mimosas, Peach & Almond Belinis, Passionfruit Cinnamon Belinis, and the Strawberry Elderflower. Everybody's favorite aunt will also be a part of this boozy brunch madness with Sweet Liberty's newest brunch cocktail: "Auntie Teresa's Bloody Mary."
Tabañero Becomes Miami Heat's Official Hot Sauce
Tabañero, the leading all natural, gluten free hot sauce, is proud to announce that it has been named the "official hot sauce of the Miami HEAT." Tabañero and the Miami HEAT have entered into an official partnership through June 2018, bringing together two sizzling icons.
Visitors to Miami's AmericanAirlines Arena can see how the partnership has come to life.
– All three Tabañero flavors will be available throughout the arena on all condiment carts that will be branded with Tabañero's logo.
– Free tickets to a Miami HEAT home game for customers who purchase a bottle of Tabañero either at Publix or Tabanero.com.  With proof of purchase customers will be able to receive one (1) free ticket per bottle purchased, up to a limit of five (5) tickets.
– Branding of Tabañero throughout AmericanAirlines Area.
– One on court promotion (date TBD) of "Spin the Tabañero Bottle," with whatever section the bottle landing on receiving a coupon for a free bottle of Tabañero.
As part of the partnership, Tabañero is now a sponsor of the Miami HEAT Golf Classic and the Miami HEAT Family Festival.
Beloved Chefs Depart The Local 150
Coral Gables' The Local 150 – Craft Food and Drink has announced that Executive Chef-Owner Phil Bryant and Director of Operations-Owner Veronica Valdivia will make their departure from the small restaurant's kitchen.
The duo is set to embark on new endeavors to further develop their impressive résumés in the Miami area. The parting from The Local 150 comes with the intent to pursue ambitions that are inspiring to both Chef Bryant and Valdivia.
Coral Gables' The Local 150 Craft Food and Drink has announced that Executive Chef-Owner Phil Bryant and Director of Operations-Owner Veronica Valdivia will make their departure from the small restaurant's kitchen.
Chef Bryant has a distinguishable track record with developing creative and fresh restaurant menus that are critically acclaimed. His time under esteemed culinary force, Norman Van Aken, has earned him a sound pedigree and a nomination as "the most promising culinary talent in the Southeast". Chef Bryant's strong influence and expertise has landed him to be featured in publications such as, Zagat and Ocean Drive.
With his love for Southern cuisine and comfort food, the Virginia native Bryant has steered the direction of restaurants such as Yardbird Southern Table and Bar and Swine Southern Table and Bar. After moving along from those restaurant hotspots, he took on his most recent development with The Local 150.
The Local Craft Food and Drinks' part owner, Veronica Valdivia, has worked with Phil Bryant for years, and they have been dating since their days at Yardbird. From both American and Cuban descent, Valdivia's passion for cooking was curated from an early age. With her love for Cuban food and Southern cooking, Valdivia directed the success of The Local 150 alongside Bryant. The two of them are partners in their small restaurant group and private consulting firm, Heirloom Hospitality Group.
The pair's partnership with The Local 150 has led to the craft food and drink spot's revival in the Coral Gables area. The clientele at the restaurant has consistently grown since the arrival of Phil Bryant and Veronica Valdivia and has done so because of the bold mix of flavors that the menu delivers to the customers. Chef Bryant has made the ever-changing menu into his art form and staple for The Local. The menus strongest attribute is the locally-sourced fresh ingredients that Bryant searches for weekly and turns into colorful appetizing plates.
The dynamic duo's menu is no longer available at The Local at 150 Giralda Ave, Coral Gables, FL 33134. Their last day with The Local 150 is this Saturday, March 31, 2018.
Now Open: Kahwa Coffee
Kahwa Coffee, one of Florida's leading coffee roasters, debuts its first café in Miami Beach. A favorite among the culinary elite, including Michelle Bernstein and Ingrid Hoffman, the Purdy Ave. location will celebrate its grand opening today, March 30, with complimentary coffee drinks from 7 am to 7 pm.
Zak the Baker has been tapped to feature baked goods, with prepared foods sourced by local purveyors.
Founded by husband and wife team, Raphael and Sarah Perrier in 2006, Kahwa Coffee is one of the fastest growing coffee brands founded in Florida. In addition to 13 retail locations, Kahwa provides its signature roasts to Crumb on Parchment, Metropolitan Hotel by Como and in luxury destinations such as Grace Bay and Sailrock Resorts in Turks and Caicos. Additionally, Kahwa Coffee is slated to be featured in HSN.
Top Chefs Unite for Out of the Kitchen
Top Chef alum Sam Talbot and Miami INDULGE's Editor-in-Chief Evan Benn will be hosting Out of the Kitchen featuring 20 top Miami chefs, including our esteemed culinary chairs Chefs David Hackett, Brad Kilgore and Norman Van Aken April 8, 2018.
All chefs will prepare a gourmet four-course dinner tableside for tables of 12 guests inside the Astor ballroom at the St. Regis Bal Harbour Resort. The evening will also feature a cocktail reception with pop-up restaurants, desserts by Fireman Derek's World-Famous Pies and more. Proceeds benefit the Diabetes Research Institute at University of Miami's Miller School of Medicine.
For more information and tickets, click here.
Bunnie Cakes Launches New Menus + Workshops
Bunnie Cakes, Miami's prestige vegan shop, launches a new menu just in time for Easter. The Wynwood bakeshop will be offering an array of ten different sweet treats all themed for the holiday in conjunction with Easter workshops at Bunnie Cakes Studio.
When concocting this year's Easter menu Bunnie Cakes owner Mariana Cortez wanted to include something for everyone.
This year's menu features 3 cakes that come in 6 different flavors including red velvet and guava. All are available in the vegan and vegan + gluten free variations that Bunnie Cakes is known for. Also on the menu is an array of treats including decorated sugar cookies, popsicle and cones and rice crispy treats amongst others.
In addition to the baked goods Bunnie Cakes Studio, located behind the store front will offer two Easter themed workshops. "We wanted to do something interactive at the studio so we came up with these workshops that the whole family can attend," adds Cortez. The first class, on Friday March 30th will teach enthusiasts how to decorate their very own Easter basket and the second held on Saturday, March 31st will have patrons decorating holiday themed cupcakes.
Lincoln Road Kicks Off Miami Beach Gay Pride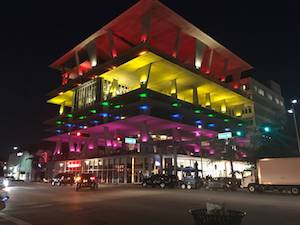 Lincoln Road, Miami Beach's iconic promenade, is proud to support the LGBTQ community as an official sponsor of Miami Beach Gay Pride 2018. This year, everyone can visit Lincoln Road as it celebrates diversity and individuality with a uniquely colorful experience, reflecting its continued commitment to art, culture, design and community through its Live #onLincoln series. Lincoln Road will host the second annual Pride Lights the Night – A Tribute to PULSE, Monday, April 2, 2018 at 8:00pm.
With the Miami Beach Gay Pride taking part April 2-8, Lincoln Road will kick things off on the evening of April 2 at 8:00pm with PULSE Nightclub survivor Laura Vargas as she "flips the switch" to light up the iconic 1111 Lincoln in a rainbow of colors. Pride's signature colors will illuminate 1111 Lincoln throughout the week as part of "Pride Lights the Night." This beautiful display of unity and remembrance will pay tribute to the victims of PULSE and their families, as well as send a message of support to the entire LGBTQ community.
In addition to the activations above, Lincoln Road will host Live #onLincoln events during PRIDE week. All events will take place at the 1100 Lincoln Road Stage from 1:00-4:00pm.
April 1: "Live on Lincoln," a FREE concert from 1:00-4:00pm at 1100 Lincoln Road, featuring the Icons of Drag with DJ Adora. Danilo de la Torrre as his famed character Adora, will DJ as Miami Beach's most popular drag queens take the stage to celebrate the start of PRIDE week. Guests can expect to see fabulous, high energy performances by Noel Leon, Angie Ovahness Pryce and Serenity Dupree.
April 7: "Live on Lincoln," a FREE concert from 1:00-4:00pm at 1100 Lincoln Road, featuring Karina Iglesias' Nu-Thang. Taking inspiration from Rhythm & Blue, Boleros, Gospel and Hip-Hop, Karina's sound reflects the diverse musical and cultural influences that have shaped her character. Karina is a veteran of the Miami music scene and was previously one of the top contestants on NBC's hit show, The Voice.
April 8: "Live on Lincoln", a FREE concert from 1:00-4:00pm at 1100 Lincoln Road featuring Robbie Elias. Through the span of his career singer/songwriter Robbie Elias has been conquering the Latin pop world, writing songs and singing background vocals for the likes of Ricky Martin, Marc Anthony and Alejandro Sanz. Don't be fooled by his Latin roots; Elias defies all stereotypes and blends the soulful sounds of Motown with crisp pop melodies of the late 90's and early 2000's.
April 14: "Live on Lincoln", a FREE concert from 1:00-4:00pm at 1100 Lincoln Road featuring the Icons of Drag with DJ Adora. Joining DJ Adora will be the first ever 'Miss Miami Beach Gay Pride,' Tiffany Fantasia, who has also been seen on Andy Cohen's Watch What Happens Live. Mhi'ya Iman LePaige, better known as 'The Queen of Flips' will also take the stage with local favorite, Pussila.
The Live #onLincoln series aims to elevate the destination beyond world-class shopping and dining, to one that is a haven for those seeking art, culture and design as well.
Catch March Madness at LT Steak & Seafood
A must-watch for any basketball fan, LT Steak & Seafood at The Betsy Hotel will host a viewing party for the March Madness Championship Game. The best part? Guests have the opportunity to score their entire meal for free.
LT will have an 81-inch TV showing the game in their dining room where you'll be able to order off their dinner menu, or opt for one of the specials that Chef Danny Ganem has prepared for the evening, including Crispy Mac n Cheese Balls, Deep Dish Pepperoni Pizza, Francheesy Hot Dogs, Brioche Grilled Cheese and more.
Guests who join for dinner will be asked to submit their best guess at what the final total score will be (add up the final points from each team), and the guest who comes closest to the correct number of total points will receive their meal for free.
Guest Chef Series at Byblos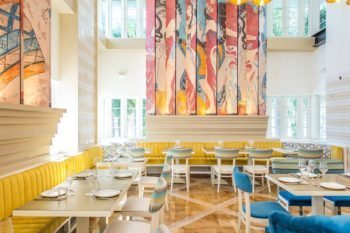 On Wednesday, April 18th, Byblos Miami + Executive Chef Stuart Cameron have announced they will be hosting the 3rd iteration of their Guest Chef Collaboration dinner series with Chef Daniel Serfer of Mignonette and Blue Collar.
Available for one night only, the two chefs will be joining forces cooking side-by-side to prepare a special curated four-course menu featuring unique preparations with a mix of Southern and Middle Eastern influences curated by Chef Serfer.
For $70/pp ++, guests can partake in this flavorful, family style meal with an optional wine pairing for an additional $35++pp topped off with a specialty dessert created by Mignonette's very own Pastry Chef, Devin Braddock. All foodies and scenesters are invited to partake in this one-of-a-kind dining experience with open seating times from 6pm – 10pm.
For menu details and reservations, click here.
Collab Dinner at Palmar
From Panamá to Miami, Chef Mario Castrellon of Maito, recognized as No. 20 on Latin America's "50 Best Restaurants" by San Pellegrino, will come to Wynwood's newest modern Chinese concept, Palmar for a one night only chef collaboration on Wednesday, April 4.
Grab your reservation and enjoy the seven-course menu between Chef Castrellon and Albert Diaz, chef of Palmar (180 Northwest 29th Street, Miami). The menu will be a celebration of culture and speak to the various flavors that influence Panamanian cuisine. Tickets are available for $89 per person (tax and gratuity not included). Reservations can be made through Resy with two seatings available – 6:30/7 p.m. and 9:30/10 p.m.