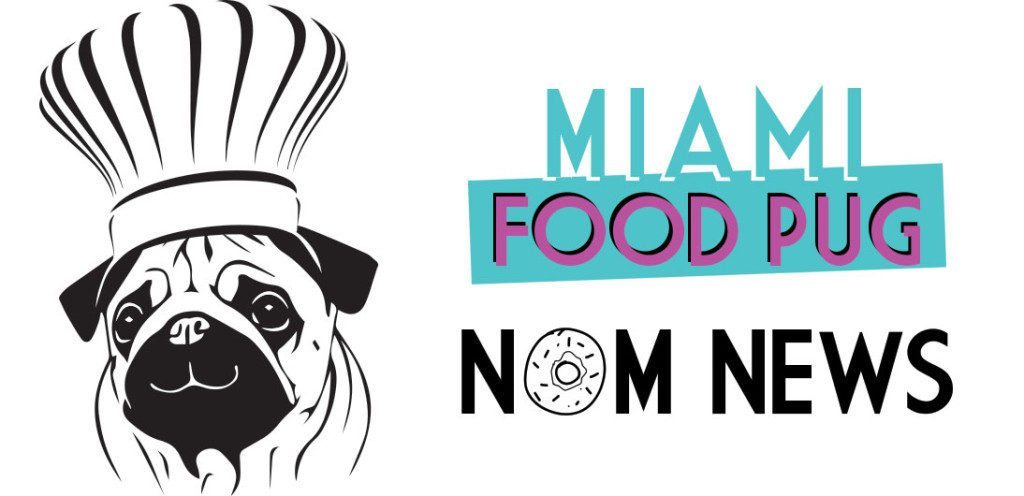 April 20, 2018
Each Friday, we compile South Florida food-related news and events that we couldn't fit on the site earlier in the week, as well as other local news that piques our interest. Want to be included in next week's roundup? Shoot us an email at bark@miamifoodpug.com.
ETARU Kicks Off 7 Days of Sake
Local Eats Dinner Series at Bourbon Steak
Bagatelle Revamps Brunch Menu
M House to Open in Coral Gables
Azabu Debuts Happy Hour
Pisco y Nazca Introduces New Brunch Dishes
Taste of the Nation Returns Next Friday
The Setai Unveils Exclusive Beer
Subs & Suds Opens in Fort Lauderdale
Earth Day at 1 Hotel South Beach
ETARU Kicks off 7 Days of Sake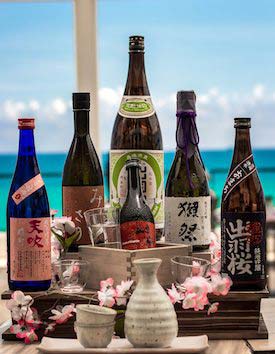 Yesterday, ETARU Hallandale kicked off Seven Days of Sake with a seasonal 4-course tasting menu plus dessert created by Corporate Executive Chef, Luca Spiga. The menu, priced at $75 per person, is designed to pair perfectly with special sakes that will be sold only with this menu.
On Wednesday, April 25, Seven days of Sake will come to an end with an exclusive sit-down dinner hosted by Sake Master, Carrie Becker and Sake lover and ETARU general manager, Nigel Marumahoko. Guests will be treated to exciting and exquisite sake pairings to go with the menu.
The bar has also created a "Sakatini" to mark the occasion. For reservations or more information, guests may call the restaurant at (954) 271-3222.
Local Eats Dinner Series at Bourbon Steak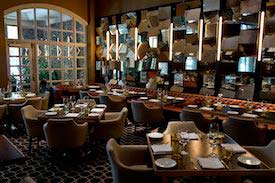 Bourbon Steak Miami, the modern American steakhouse from James Beard Award-winning chef Michael Mina located at Turnberry Isle Miami has brought back their 'Local Eats' monthly dinner series. The dinner series, which kicked off Wednesday, brings some of South Florida's most acclaimed young chefs into the kitchen at Bourbon Steak alongside executive chef Gabriel Fenton to collaborate on a five-course dinner complete with beverage pairings.
Dinner is priced at $200 inclusive of pairing, tax and gratuity and begins at 7PM. The full schedule of restaurants/ guest chefs follows:
– Wednesday, May 23: Chef Michael Beltran of Ariete
– Wednesday, June 13: Chef Brad Kilgore of Alter
– Wednesday, July 18: Chef Jun Lee of Kuro
Each chef will prepare two dishes followed by dessert from Bourbon Steak's pastry chef Julian Belon. Reservations can be made by calling 786.279.6600.
Bagatelle Revamps Brunch Menu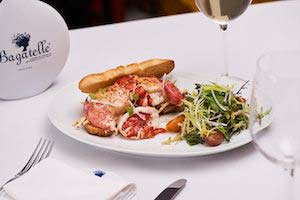 Bagatelle is pleased to announce their new Sunday brunch menu. Known for their weekly brunch party featuring Mediterranean food, chic decor, lively music, and an element of frivolous fun, Bagatelle has changed their brunch menu for the first time since opening in 2015!
Executive Chef David Allan Russell Jr. has revamped the menu offering decadent options for the foodie at heart, gluten free options for those with dietary restrictions and more.
New signature menu items include:
Lobster Croissant – Poached eggs, Lobster Bernaise, toasted croissant, celery remoulade
Smoked Salmon – Charcoal brioche, avocado, soft poached egg, dill cream cheese, seasame seeds
Shakshuka in Cast Iron – Grilled lamb kefta, braised chickpeas, spicy tomato sauce, butternut squash, crumbled feta cheese, baked egg
Patacón – Fried plantain, braised short ribs, avocado, haloumi cheese, cilantro yogurt sauce, sweet potato fries
Gluten Free Belgian Waffles – Fresh berries, chantilly, fruit syrup, candied lemon
Signature Bagatelle favorites including Poulet Rôti Entier à la Truffe – Half or whole roasted chicken, country style potatoes, caramelized cipollini onions, button mushrooms, thyme chicken jus , Gnocchi Truffés à la Parisienne – Homemade Parisian gnocchi, black truffle sauce, aged parmesan cheese and the Les Coquillettes Au Jus – Elbow pasta, French ham, Gruyère cheese, black truffle veal jus will remain on the menu.
M House to Open in Coral Gables
To be immersed within one of Miami's burgeoning culinary destinations, Downtown Coral Gables will soon welcome a coastal European restaurant to join its flourishing collection of dining experiences, with the opening of M House this summer.
M House's approach to cuisine will celebrate the legacy of late visionary Chef Alfredo Alvarez – best known in Coral Gables for his renowned former Giacosa restaurant – whose prodigy, Chef Abraham Silva, will helm the new restaurant's kitchen as executive chef.
In his debut role leading M House's menu creation and kitchen team, Chef Silva brings diverse experience from some of Miami's most coveted dining locales. He formerly served as executive sous chef of Brickell's famed East Hotel at Brickell City Centre, where he oversaw all hotel and restaurant food and beverage operations. Prior to that, Chef Silva trained under Chef Alvarez at Miami River hotspot Seasalt and Pepper – now known as Seaspice – which sparked their close friendship and culinary collaboration.
Since then, Chef Silva's gastronomic travels have taken him throughout Europe, where he furthered his perfection of authentic coastal European cooking styles utilizing the Josper Charcoal Oven, a method that will serve as a cornerstone of M House's offerings. Upon his stateside return, Chef Silva has applied his epicurean prowess to curate unique recipes, to soon be unveiled, that embody the lively spirit and dynamic essence of the seaside lifestyle.
M House will be inspired by the signature flavors of coastal regions like Italy, Spain, Portugal, and Greece, while incorporating a medley of expertly-sourced ingredients, both local and those tailored to a true European seaside palate. Guests will dine in an indoor/outdoor oasis, where urban relics will intertwine with modern tropical elements to showcase a relaxed, yet elegant and social ambiance.
Azabu Debuts Happy Hour
AZABU in Miami Beach has officially launched happy hour. Called "Kanpai Hour" (kanpai = "cheers" in Japanese), the happy hour takes place Sundays through Thursday from 6 p.m. to 8 p.m. Guests can enjoy drink specials like $6 sake, $9 highballs, $9 cocktails, $7 wine and $5 draft beers.Food specials are also available and include $4 edamame, $7 chicken wings, $5 shishito peppers, $8 lobster tempura and $5 potato salad.
Pisco y Nazca Introduces New Brunch Dishes
Pisco y Nazca, a Peruvian ceviche gastrobar with locations in Doral and Kendall, is introducing new brunch items on Saturday, May 5. Guests can indulge in dishes like Alfajor Pancakes, Croque Madame, Cachapa and Tamalito Verde Pork or more traditional brunch items with a twist like French Toast with Dulce de Leche, Avocado Toast and Chicken and Waffles.
In addition to the new items, a new three-course brunch prix-fixe menu will feature the most popular dishes and be available for $27 per person. Pisco y Nazca offers brunch on Saturdays and Sundays from opening to 4 p.m. with the option of bottomless sangria and champange cocktails available for $18.
Taste of the Nation Returns Next Friday
Share Our Strength's No Kid Hungry campaign invites South Florida residents to sip and sample the area's most celebrated culinary creations to help kids in need at this year's 30th annual Taste of the Nation for No Kid Hungry on April 27, 2018.
Hosted at Ice Palace Films Studios, the annual tasting event will feature gourmet cuisine and libations crafted by the city's top chefs, sommeliers, mixologists and brewers as they unite to raise funds to ensure all children in America have access to the healthy food they need, every day.
One-hundred-percent of proceeds from the event benefit No Kid Hungry's work to end childhood hunger in America.
The 30th annual tasting event will take place from 7PM to 10PM, followed by an exclusive Chef's Party for VIP ticket holders at Wynwood's own R House from 10PM to midnight. Led by Chef Chairman Timon Balloo, South Florida's culinary tastemakers will provide guests with scrumptious bite-size fare, craft cocktails and delectable desserts. The benefit will also feature a Giving Tree with exclusive culinary themed prize packages.
The party will continue just down the street at R House where Chef/Owner Rocco Carulli will team up with Taquiza, Ms. Cheezious, Tropical Fluff and MadLab Creamery to treat guests to tasty bites and pours late into the night. The evening soiree will be hosted by media personality, Roberto "Kiko" Suarez and will feature fun outdoor activations for guests to enjoy.
For tickets and full lineup information, click here.
The Setai Unveils Exclusive Beer

The Ocean Grill at The Setai, Miami Beach is now offering a house-made beer exclusive to the oceanfront restaurant. Locals and guests alike are invited to indulge in the hotel's new signature draft, "Serai Bir," with tones and flavors perfect for Miami's hot season.
Priced at $10, the crisp, tart and refreshing brew garnered its name from the translation of "serai," which means lemongrass in Bahasa, an Indonesian language. Playing on the fruity and spicy characteristics of a classic Saison, this straw-colored beer combines floor-malted wheat and barley malts to create a soft, yet complex flavor. The hops work in support of the citrus and lemongrass aroma profiles to round out the drink.
The "Serai Bir" is brewed by the well-known Miami-based brewery, The Tank Brewing Company. The company began when a group of homebrewers joined forces with local entrepreneurs and craft beer lovers and blended their various cultures and backgrounds. The founders call their product "liquid innovation" because every brew is crafted with an unparalleled passion for creating high-quality artisanal beer.
Subs & Suds Opens in Fort Lauderdale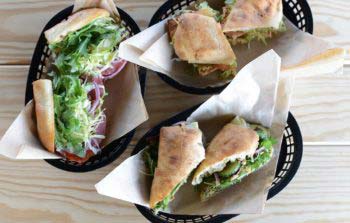 Celebrated restaurateur Memphis Garrett – visionary behind several of Fort Lauderdale's wildly-successful concepts including The Poke House, Growlers & Howlers, and JB&C – has opened Subs & Suds at 601 Southwest 12th Avenue in the Riverside Park/Sailboat Bend neighborhood.
For Garrett's fourth concept – Subs and Suds – he has partnered with award-winning Fort Lauderdale real estate maven Samantha "Sam" DeBianchi, who has been featured on FOX News, FOX Business, CNBC, Bloomberg and BRAVO's "Million Dollar Listing Miami." The duo has tapped Chef Jeremy Powell to develop the menu. Powell also developed the menus for The Poke House and JB&C and is currently sous chef at Daniel Boulud's new Miami outpost Boulud Sud.
For Subs and Suds, Powell has created a fun and approachable menu featuring elevated twists on signature sandwiches from U.S. cities along with a selection of classics. Each sandwich will be expertly paired with one of 20 craft beers or diners can choose their own accompanying brew. Creative sandwiches will include the Honolulu Pork Sandwich with six-hour braised pulled pork, Japanese BBQ sauce, spicy pineapple pico, and fennel cabbage slaw on a sweet bread hoagie roll, paired with Maui Brewing Company's Maui Big Wave and the Atlanta Fried Chicken – brined and breaded chicken breast, caramelized onions, bread and butter pickles, spicy mayo and jalapeño-bacon pepper jack, topped with coleslaw on a toasted sesame roll and paired with Terrapin Beer Company's Hi-5 IPA.
Sandwiches range from $10 to $15 and include a choice of side such as spiced cauliflower poppers, bread and butter pickles, chips and house made coleslaw or potato salad (with or without crumbled bacon). Beers are additional and range from $5 to $7. Desserts promise to be sinfully sweet with creative blizzards, soft-serve ice cream, dipped cones and more.
The 40-seat outdoor space exudes the charm of a retro sandwich shoppe complete with vintage signage and casual, relaxed seating. Upon arrival, guests can place their order at the walk-up window, where they will receive a playing card (Ace of spades is said to be the lucky one) and grab a seat at one of the picnic tables, low-tops or at the counter. Fans throughout promise breezy comfort, while an overhead awning protects from the elements South Florida tends to offer. Strategically placed speakers will turn out music from yesterday and today and a 60-inch flat screen TV will display games throughout the year.
Earth Day at 1 Hotel South Beach
1 Hotel South Beach invites guests and locals to celebrate Earth Day for a full day of fun on Sunday, April 22nd. Known for mindfully creating an ecologically friendly, sustainability focused environment, the hotel will host several conservation initiatives.
These events and activations are part of 1 Hotels recently launched Earth Day Every Day campaign, a year-long initiative that will include activations across all properties (1 Hotel Brooklyn Bridge & 1 Hotel Central Park) focused on raising awareness of environmental issues, specifically around saving our shores.
To RSVP, please contact earthday@1hotels.com or for more details, visit https://earthday1hotelsb.splashthat.com/.