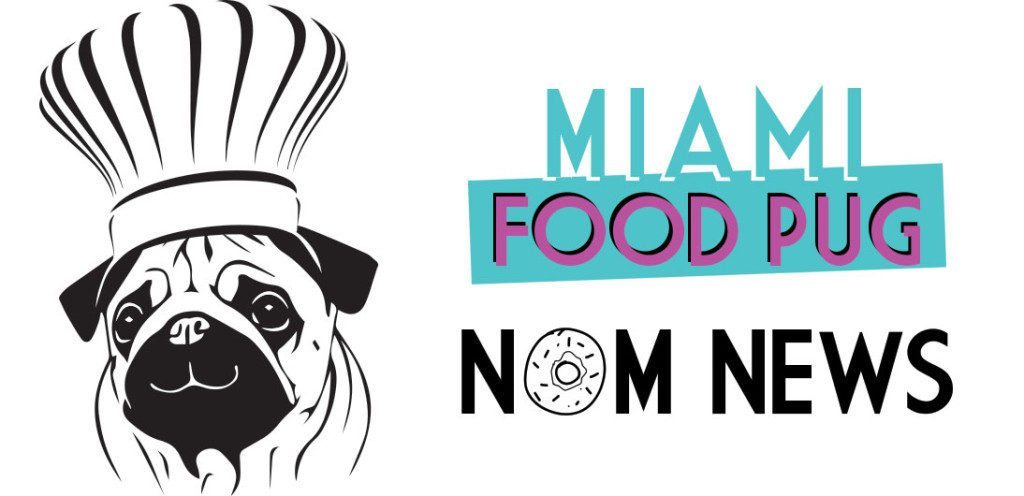 April 27, 2018
Each Friday, we compile South Florida food-related news and events that we couldn't fit on the site earlier in the week, as well as other local news that piques our interest. Want to be included in next week's roundup? Shoot us an email at bark@miamifoodpug.com.
Fi'lia Launches Weekend Brunch
The Balcony to Open on Las Olas
National Burger Month at Pinch
Bulla Doral Celebrates 2 Years
One Door East & Valentino Host 2-Day Event
Jezebel Debuts New Happy Hour Menu
Margarita Rumble Heads to Miami
The Wynwood Yard Hosts May Cooking Class
2 New Restaurants Coming to Miami Beach
Malibu Farm Opens at Eden Roc
Fi'lia Launches Weekend Brunch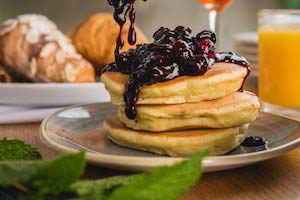 sbe and Chef Michael Schwartz's renowned culinary concept, Fi'lia, has announced the debut of their brand-new weekend brunch experience filled with a variety of new offerings starting April 28.
Located at SLS Brickell, the Italian eatery will offer an abundance of brunch delicacies with an Italian twist for guests to savor all weekend long. Dish highlights include Breakfast Pizza made with spiced sausage, bacon, potato, fontina and egg , Heirloom Breakfast Bruschetta made with basil, Calabrian chili, scallion and oven baked egg), Lemon Ricotta Pancakes made with blueberry compote and Fried Zeppoles topped with brown cinnamon sugar. In addition to the culinary delights, guests can enjoy free flowing Mimosas or bloody marys for an additional $25/pp.
For reservations, book your table on OpenTable.com or call (305) 912-1729.
The Balcony to Open on Las Olas
The Balcony, an upscale two-story restaurant which features an open-air rooftop and balcony on Fort Lauderdale's trendy Las Olas Boulevard, is slated to open May 4, 2018. It features New Orleans-style cuisine, including tapas-style small plates, craft cocktails and live music. Owned by the PDKN Restaurant Group and led by Executive Chef Simon Porter, the restaurant will incorporate the dynamic tastes of New Orleans, which blends French, Spanish, West African, Amerindian, German, Italian, Irish and Vietnamese influences and ingredients.
Located at 1309 E. Las Olas Boulevard, The Balcony offers the taste and lively atmosphere of New Orleans in South Florida. The menu includes unique and New Orleans-inspired dishes such as:
– Shreveport Smoked Gumbo: Skillet braised chicken, andouille sausage, fried okra, pepper, onion, carrot, celery in a rich vegetable broth ($10)
– Alligator & Shrimp Jambalaya: Andouille sausage, smoked chicken, red beans, tomato, garlic crostini ($18)
– Baked Porterville Bay Oysters Bienville: Shrimp, bacon, mushroom, cheese with a Meyer lemon-green onion relish ($16)
– Natchitoches Pies: Adena Ranch grass-fed all-natural beef, vegetables with bayou hot sauce ($16)
– Fried Green Tomatoes: Ciabatta and corn-crusted, cayenne barbecue aioli ($12)
– Southern Confit Duck Cobb: Point Reyes bleu cheese, Applewood smoked bacon, avocado, heirloom tomato, egg, romaine lettuce tossed in a creamy Cajun vinaigrette ($18)
The beverage menus include specialty New Orleans-inspired cocktails such as Milk Punch, The Balcony Sazerac and French 75 Cristo, in addition to craft beers and an extensive wine list. As a special start to the evening, every table is greeted with a complimentary Gruet sparkling wine toast upon being seated. Wine aficionados will love the restaurant's comprehensive wine selection, which is on display in a wine gallery.
For the true VIP experience, a limited quantity of private wine lockers are available for purchase.
A few of The Balcony's additional features include an all-you-can-eat Saturday crawfish boil for $35 per person, and a Sunday Jazz Brunch from 10:30 a.m. to 3 p.m., with live music and mimosas and Bloody Mary's for $5 each.
National Burger Month at Pinch
It's back! The annual, month-long celebration of all things burgers — better known as National Burger Month — is upon us. To celebrate, Pinch Kitchen has once again teamed up with some of their media and industry friends to develop their own take on the Pinch Burger.
Each week throughout the month of May, Pinch will feature a different burger developed with some of Miami's top influencers, media and chefs. A notable newcomer this year: Michael Ombia of Crumb on Parchment and formerly of Lutum, where he quickly gained a cult-like following for his burger of the week; he will help Pinch kick off National Burger Month on the week of May 1st.
This year's Burger Month collab line-up will also include the following participants:
Week of May 8th – Kiko Suarez (Telemundo 51)
Week of May 15th – Mitch Nover and Melanie Garcia Galarce (Mitch and Mel Take Miami)
Week of May 22nd – Nick Pena (The Food-e/Y100)
Week of May 29th – Amber Bond (MIAbites/Eater)
The burgers will only be available during lunch and brunch Tuesday through Sunday, and prices will vary depending on the burger. The classic Pinch Burger along with the Impossible Vegan Burger will also be available. The winner will be decided by the most burgers sold.
Bulla Doral Celebrates 2 Years
Bulla Gastrobar will be celebrating the 2nd birthday of its Doral location on May 1.The Spanish restaurant will be showing their loyal customers their appreciation with $5 red sangrias all day. Additionally, guests are invited to enjoy a complimentary paella tasting, samples from Fermin's demonstration of cured meat, along with live entertainment on the terrace during happy hour!
One Door East & Valentino Host 2-Day Culinary Event
To further celebrate South Florida's passion for food, Chef Giovanni Rocchio of Fort Lauderdale's acclaimed Valentino Cucina Italiana and One Door East, is welcoming a band of international and local chefs into his kitchen for a two night dinner series.
On Tuesday, May 8th, Chef Ricardo Chaneton, former chef de cuisine of the 2-Michelin star restaurant Mirazur in Menton, France will join Chef Rocchio at Valentino Cucina Italiana for a multi-course seated dinner highlighting global flavors inspired by the eateries of both esteemed culinary masters.
On Wednesday, May 9th, at One Door East, multiple chefs including Chef Clay Conley of Buccan in Palm Beach, Chef Carlos Garcia of Alto in Caracas, Venezuela and Brickell's Obra Kitchen Table, Chef Xavier Torres of Drunken Dragon in Miami Beach and Chef Timon Balloo of Sugarcane Raw Bar & Grill in Miami's Wynwood neighborhood, will collaborate with Rocchio on a five-course journey through Asia, illustrated by the flavors and tradition found in the region. Both dinners will include wine pairings for each course that has been curated by Chef Rocchio and guest chefs.
On both May 8th and 9th there will be a champagne reception starting at 6 p.m. with dinner beginning at 7 p.m. Tickets for each dinner start at $150 per person before tax and gratuity. To book a seat, call 954-523-5767.
Jezebel Debuts New Happy Hour Menu
Jezebel Bar + Kitchen, located in the heart of Miami Beach's iconic Lincoln Road, is excited to announce their new Happy Hour menu.
Available Monday – Saturday from 5:00 – 8:00pm, the new Happy Hour menu will feature half-price hookah, $5 draft beer and wines and $8 house made cocktails, in addition to $25 mojito, sangria or rum pitchers. Sparkling bottle specials include a $20 bottle of sparkling brut and a $25 bottle of sparkling rose.
Menu highlights include Crispy Brussel Sprouts ($4), Lobster Taco ($4), Tomato Feta Salad ($6) and Truffle Popcorn ($5). For those with a sweet tooth, the Mochi Ice Cream ($6) is the perfect choice for a refreshing treat during the hot summer months.
Margarita Rumble Heads to Miami
Margarita Rumble, presented by Don Julio Tequila, is coming to Miami for the first time ever on Saturday, April 28, 2018!
This famous competition that was been already made wave in places such as London, San Francisco, and New York, is now going to take place in Miami.
This event will showcase some of Miami's best restaurants and bars such as Swine Southern Bar & Table, Tacology, So Cal, The Anderson and GKBistronomie to name a few. The competitors in return will compete to claim their fame and title of having the Best Margarita in Miami. Miamians will get a first-hand experience of not only sampling all the different margaritas, but will have a say in voting for who they think should be crowned!
The event will be located at MAPS Blocklot in the heart of Wynwood's Art District. Tickets are available at https://www.miamimargaritarumble.com/buy.
The Wynwood Yard Hosts May Cooking Class
Executive Chef Pablo Zitzmann of No Name Chinese heads the next Right on Target® Cooking Class on Wednesday, May 2 at 6:30 p.m. Get in on his skills and learn to cook up killer contemporary Chinese cuisine like smashed cucumber salad with creamy spicy sesame dressing; herbs with Mr. Lee's jiaozi-red ossabaw pork shoulder; lemongrass and shrimp siu mai dumplings with smoked trout roe; and walnut tarts!
Proceeds benefit Wellness in the Schools programs, which are committed to ending childhood obesity through nutrition and fitness education.
Tickets ($50) are available here.
2 New Restaurants Coming to Miami Beach
Donna Mare & Bungalow By The Sea, Cadillac Hotel & Beach Club's two new restaurants, are set to open at the completely reimagined Miami Beach resort this summer.
Under the culinary direction of Chef-Partner Manuel Mattei, who has led kitchens all over the world and is an admired chef and restaurateur in South Florida, the resort will debut the new Donna Mare, an authentic Italian trattoria named after Mattei's mother, and Bungalow by the Sea, an oceanside dining and cocktail destination. Both cuisine and design are inspired by Chef Mattei's heritage and years working as a chef in coastal Italy. Wine lists throughout the hotel will feature a strong emphasis on rosé, reflective of Cadillac's European-inspired sensibility.
Both Donna Mare and Bungalow by the Sea will be available for private occasions. Weddings, corporate events and meetings in the hotel's extensive flexible event spaces will be catered by Chef Mattei's experienced culinary team. Cadillac Hotel & Beach Club will join Marriott International, Inc.'s Autograph Collection Hotels when it opens in summer 2018. Click here for more information.
Malibu Farm Opens at Eden Roc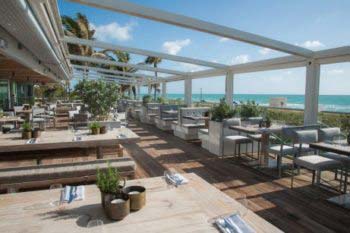 Malibu Farm Miami Beach officially open its doors to the public on Saturday, April 28 at the Eden Roc Miami Beach. The first East Coast location for the popular farm-to-fork dining destination, Malibu Farm Miami Beach boasts simple dining that is fresh, organic and locally sourced – there are no secret ingredients.
Located in the heart of mid-beach and directly overlooking the Atlantic Ocean, Malibu Farm is one of the only restaurants in Miami Beach to offer a true beachfront dining experience, providing guests with unmatched ocean views.
Chef and Swedish native, Helene Henderson, is the founder and owner of Malibu Farm Pier Café and Restaurant in Malibu, CA, and now Malibu Farm Miami Beach at the Eden Roc Miami Beach. Influenced by the fresh vegetables and seafood of her home country, Henderson's Scandinavian techniques have strongly influenced her cooking throughout her career, driving her to launch her first restaurant on the Malibu Pier.
Now, after single handedly changing the face of Malibu's food landscape and attracting a loyal following of locals, surfers and A-list celebrities, Chef Henderson brings Malibu Farm's food philosophy – "fresh, organic, local" – to Miami.
Embodied throughout every dish is Malibu Farm's commitment to offering seasonal fare from local farmers across the state of Florida. From the Vegan & Coconut Tofu with seasonal vegetables, and quinoa rice to the Chicken Ricotta Burger with spicy aioli to the Local Fish with seared radish, arugula and salsa verde, the menu is tailored to satisfy any gourmand.
The first location with a wood-burning pizza oven, the restaurant also serves shareable, veggie-infused pizzas including the Cauliflower Crust Pizza topped with mozzarella, heirloom tomato, pesto, arugula and roasted cauliflower, and the Zucchini Crust Pizza, which adds shaved zucchini to the mix. Malibu Farm also features pies baked on traditional pizza crust with assorted toppings including calahoo local spinach, Miami smokers bacon and more.
Malibu Farm offers vegan options, gluten free items and traditional items that are very simply prepared, allowing health conscious diners to enjoy a variety of dietary options.
An organic and plant-based cocktail program features hand-crafted drinks named after the fruits and vegetables that they are made of, including the Watermelon with cucumber infused Ketel One Vodka, watermelon, lime and basil, and the Grapefruit with Honeybush Tea infused 1792 Bourbon, agave and grapefruit. Guests can also keep cool in the Miami heat with Frozen Sauvignon Blanc cocktails as they take in the ocean views.