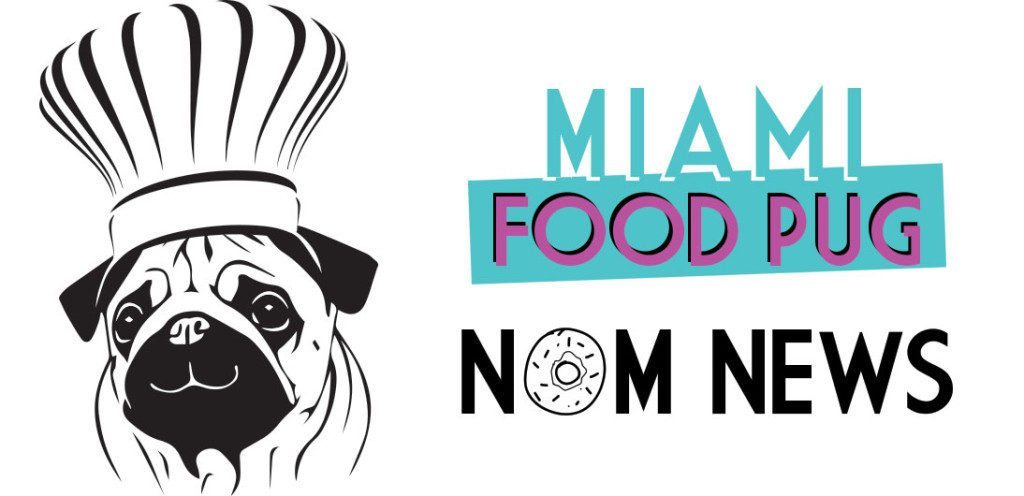 May 17, 2018
Welcome to a special Thursday edition of Nom News! We're up in New York this weekend and won't be able to publish on Friday, so we're pushing out our roundup a little early. Don't worry: We'll be back to our Friday schedule next week — enjoy!
Want to be included in next week's roundup? Shoot us an email at bark@miamifoodpug.com.
vista to Open in June
Obra Debuts in Brickell
Air & Sea Show Festivities at Loews
Juvia Welcomes New Michelin-Starred Chef
Cooking With Friends Series at Stiltsville
Duck Duck Goose Returns to The Anderson
Divino Ceviche Hosts Peruvian Festival
New Dinner Series at Toro Toro
City Works Launches Bottomless Brunch
vista to Open in June
Italian chef and experienced restaurateur Roberto Bearzi and wife Fiorella Blanco, the heart, hands and soul behind Downtown Miami's Italian restaurant Fratelli Milano, are proud to announce the opening of vista, a two-story restaurant that is adding a flavorful twist to Italian cuisine within Miami's newest burgeoning neighborhood and micro-boutique destination, Upper Buena Vista. The restaurant is expected to launch June 2018.
Located on NE 2nd Ave and 50th Street and nestled near a 150-year-old Banyan tree, vista is the full-service restaurant in the Upper Buena Vista complex that will offer flavorful Italian cuisine influenced by Miami's local tastes and multicultural backgrounds. The chef-driven cuisine is built around a strong focus on fresh ingredients.
The restaurant will offer patrons a wide-ranging, all-day menu, with dishes moderately priced between $9-30. Standout appetizers include Calamari Fritti with sesame salt, pickles and yuzu foam, and Fisherman Crudo (daily catch) with mango salad, citrus and cilantro oil. A selection of entrées includes Maltagliati Brisketwith homemade maltagliati pasta, slow braised brisket, tomato and parmesan cheese, Gnocchetti New World Pesto with poblano peppers, mint and pistachio, and Swordfish a la plancha with grilled little gem salad, corn, shallots, and avocado.
Obra Debuts in Brickell
Set to open on Thursday, May 24, Venezuela's most recognized chef, Carlos Garcia, will debut his highly anticipated first stateside concept, Obra Kitchen Table, in Miami's Brickell neighborhood, located on the ground level of the Jade at Brickell building. The restaurant's unique concept and design will encourage interaction between chef, his culinary team and guests, creating an atmosphere where diners feel as if they are eating in the comfort of their own kitchen.
At Obra Kitchen Table, the most special place to be seated will be at the open-kitchen's wrap-around counter, which seats 25. Here, customers will be able to connect with the dishes, the cooking process and each other while casually dining on Garcia's award-winning Latin American cuisine with international influences. The 3,015-square-foot restaurant will be a bustling spot for friends, family, co-workers and couples to gather for varied and quick lunches, late-afternoon snacks and relaxed dinners where great food and drinks will be served at fair prices.
Obra Kitchen Table will center its kitchen around a Josper Charcoal Oven Grill that will be used to cook a large portion of the menu. Begin the meal with starters like Raw Vegetables Tartare ($7) with pumpkin cream and lemongrass; Roasted Clams ($11) with corn court-bouillon and pico de gallo; Snapper Tiradito ($17) with pineapple rum and mashed ripe banana and fried kale; and Scallops "Reina Pepiada" ($12), one of many Venezuelan-inspired specialties on the menu. Continue down the menu with pasta and rice selections like Spaghetti with Octopus Carbonara ($21); Black Fideua with Mussels ($22); and Grilled Rice with Squid and Artichokes ($18).
Entrees will range from seafood selections like Roasted Tuna ($28) with brown butter yuca and garlic purée and Fried Red Snapper ($32) with roasted cabbage and "salsa verde" to traditional slow cooked meats like Short Rib Asado Negro ($34) and Pork Pernil ($26) prepared Venezuelan-style and finished in the Josper for additional flavor. Finish the meal with desserts including Tierra de Cacao ($12), incorporating Garcia's obsession for cacao, a source of national pride for Venezuelans; Tarte Tatin ($8) with ripe banana and coffee and sarrapia ice cream; and Mango Bajito ($8).
Air & Sea Show Festivities at Loews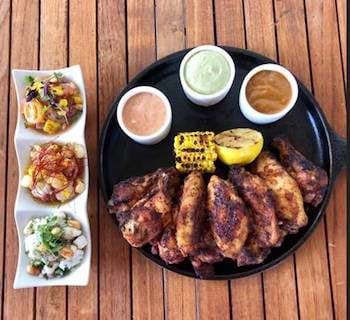 This Memorial Day Weekend, the National Salute to America's Heroes returns and Loews Miami Beach Hotel is an ideal place to catch all the fighter jets doing their aerial displays! Whether floating in our oceanfront pool, watching from your private SOAK Cabana rooftop, or sitting on Preston's Market Terrace while eating delicious Air & Sea Show specials, Loews Miami offers a great location with direct views of all the tricks and turns.
In the spirit of the Air & Sea Show, we're offering an Air & Sea culinary special that includes a Flight of Wings and a Ceviche Fleet. Folks are invited to reserve a table on our Preston's Market Terrace, where they can enjoy these specially themed items and watch the Air & Sea Show. The Flight of Wings and Ceviche Fleet will be available May 26 & 27 from 12pm – 6pm at Preston's Market Terrace and at Bar Collins. Full restaurant menus will also be available, in addition to the Air & Sea specials. Preston's Market will have live music both days as well.
– The Flight of Wings ($16) features oven roasted chicken wings with a trio of sauces: charred poblano crema, coconut curry BBQ and chipotle mayo.
– The Ceviche Fleet ($14) features a trio of ceviches served with plantain chips including: Shrimp and poblano pepper; octopus and mango; grouper and tomato.
Juvia Welcomes New Michelin-Starred Chef
he Juvia Group, founded by Jonás and Alexandra Millán, along with Chef Partner Sunny Oh, Executive Pastry Chef Gregory Gourreau, and Corporate Chef Kaoru Chang are pleased to announce Chef Gilles Epié as the Executive Chef of Juvia Miami Beach. Beginning this Spring, Juvia will be under the culinary direction of Michelin starred French icon, Gilles Epié.
Epié will work alongside Chef Partner Sunny Oh and Executive Pastry Chef Gregory Gourreau to recreate the menu at Juvia focusing on French and Asian influence at the James Beard award-winning Miami staple. Epié is the youngest chef to receive the prestigious Michelin Star when he was 22 years old. With years of experience and professional training under his belt, Chef Gilles brings over 20 years of talent and passion to Juvia.
Recently relocated from Paris to Miami, Chef Epié has helmed the kitchen at some of the most prestigious and well-recognized restaurants worldwide including Citrus Etoile in Paris, Miravile in Paris, L'Orangerie in Los Angeles, and La Petite Cour in Paris. Additionally, he has trained with two iconic chefs, Alain Senderens and Alain Ducasse and has traveled the world learning about different cuisines.
Furthermore, Chef Epié is collaborating with Chef Partner Sunny Oh and Executive Pastry Chef Gregory Gourreau to bring together the elements of what Juvia started as – the fusion of French, Peruvian and Japanese cuisines in one kitchen. He is adding new dishes to Juvia's current dinner and brunch menus featuring Marinated Scottish Salmon served with warm potatoes and red onions, Coconut Maine Lobster made with coconut milk and wasabi and Epié's signature varieties of French potatoes, Pommes Purée, including classic, basil, olive and truffle flavors. The menus will be changing constantly as he incorporates the freshest, seasonal ingredients, tests new techniques and showcases his fusion of flavors to diners.
Cooking With Friends Series at Stiltsville
Every month and beginning in May, Chef/Partners Jeff McInnis and Janine Booth will be inviting a chef to feature a special at Stiltsville. To kick off this first month, they've invited Chef Norman Van Aken, who will be featuring his Cumin Rubbed & Roasted Pork Tenderloin "Havana" with Smoky Plantain Crema, Blistered Peppers & Sweet Corn Salsa ($30). Diners can enjoy Chef Van Aken's special dish during dinner for the entire month of May.
Duck Duck Goose Returns to The Anderson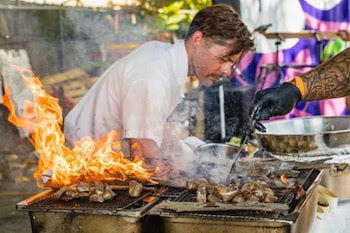 Join us for the third annual Duck Duck Goose Trois, a culinary festival by Miami's own Chef Jeremiah on Sunday, May, 27. DDG3 brings together South Florida's top chefs to prepare locally raised and pastured fowl in inventive new ways. It promises to be a star-studded lineup of South Florida's most innovative purveyors of haute cuisine, gourmet street food, craft beef and artisan cocktails.
Chef Jeremiah of gastroPod is perhaps best known as the founder of P.I.G. (Pork is Good), now in its 8th year. This popular festival brings together Miami's most exciting chefs to show off the power of the mighty pig. The results are always outstanding – chicharrones, smoked pork butt bao buns, a whole pig rolled porchetta-style and cooked in a caja china, and even bacon ice cream.
With DDG, Chef J and his crew unleash their creativity on all things winged and delicious for an all-day, all-inclusive food and cocktail celebration. Expect some familiar faces from P.I.G., our first Duck Duck Goose, and boldface names from all corners of Miami's cutting-edge food scene.
DDG is a chance for local foodies to taste one-of-a-kind creations from some of the region's top chefs in an awesome indoor-outdoor setting. Expect a mouthwatering selection of all-you-can-sample food and drinks, live fire cooking over embers, live music, great DJs and a laid-back, fam-friendly party vibe. Purchase tickets here.
Divino Ceviche Hosts Peruvian Festival
As proud members of the Peruvian Chamber of Commerce, Divino Cevicheis participating at their 8th Annual Peruvian Gourmet Gastronomic Event. Guests attending will taste dishes from different regions of Peru by some of the best Peruvian restaurants in South Florida. Leading up to the celebration, Divino Ceviche is serving a special Festival Menu only available for a limited number for days.
Chef Christian Encalada said he was inspired by the influence of the Peruvian – Japanese movement in cuisine called Nikkei.From May 15-30thceviche lovers can rejoice at Divino Ceviche for the following exclusive dishes in addition to their regular menu.
– Ceviche Salmon con Chicharrón de Scallops: Salmon ceviche with scallops chicharron served in a leche de tigre huancaina sauce ($17.99)
– Ceviche de Mahi Mahi: Mahi mahi ceviche and crispy shrimp served with leche de tigre, mint and aji amarillo sauce ($17.99)
– Roll Acevichado: Ceviche roll ($12.99)
– Ceviche de Tuna: Tuna ceviche with Galician style mussels and leche de tigre norteño ($17.99)
Reservations for the Coral Gables location can be made by calling, 786-360-3775 and Doral at 305-406-2345.
New Dinner Series at Toro Toro
The InterContinental Miami's Toro Toro will be kicking off a year-long culinary tour sharing Chef Richard Sandoval's favorite dishes from across Latin America. The series will feature the flavors of a different country every three months, beginning with Chef Sandoval's native Mexico and continuing through Peru, Argentina and Brazil. A three-course pre-fixe menu will feature authentic appetizers, mains and desserts from each country. The destination series will last a year and will feature a different country every three months starting with chef's native country, Mexico.
City Works Launches Bottomless Brunch
City Works (3450 NW 83rd Ave., Doral) celebrates summer with the launch of its Bottomless Boozy Brunch. Every Saturday and Sunday from Memorial Day through Labor Day, guests can visit the eatery and pour house located in CityPlace Doral to get their day-drinking back into summer shape and toast to brunch with bottomless mimosas.
Along with choice of brunch entrée, bottomless brunchers can imbibe with the refreshing mimosa made with fresh squeezed orange juice and Champagne. City Works' weekend brunch features items like Stuffed French Toast made with vanilla ice cream battered brioche bread, Bailey's cream cheese, mixed berry compote, and topped with powdered sugar, and the Pork Benedict with smoked pork shoulder, poached eggs, English muffin, BBQ hollandaise, habanero hash browns, and pico de gallo.
City Works' Bottomless Boozy Brunch deal is available for $30 every Saturday and Sunday from open to 3 p.m., Memorial Day through Labor Day (beginning June 2). The deal includes choice of a brunch entrée along with bottomless mimosas.