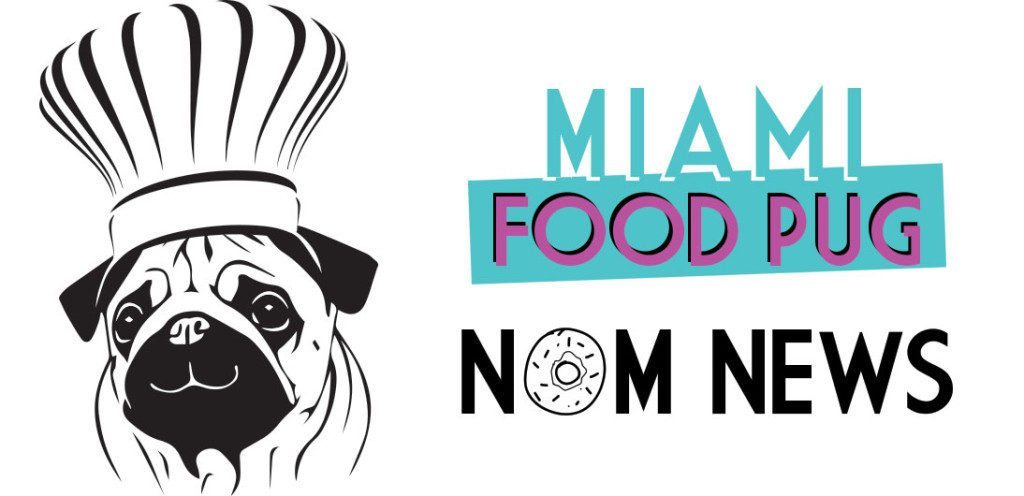 June 1, 2018
Each Friday, we compile South Florida food-related news and events that we couldn't fit on the site earlier in the week, as well as other local news that piques our interest. Want to be included in next week's roundup? Shoot us an email at bark@miamifoodpug.com.
Now Open: Sette Osteria
ROK:BRGR Launches Saturday Brunch
Donut Deals for National Donut Day
STARR Restaurants Debut STARR Summer Fridays
Summer Truffle Menu at Forte Dei Marmi
Overtown Music and Arts Festival Returns
Downtown Coral Gables Kicks Off Culinary Month
Taco Tuesday at The Taco Stand
Burn and Brunch at Point Royal
Beach Cleanup at 1 Hotel South Beach
Ofa Restaurant Hosts Wine Dinner
Now Open: Sette Osteria
Sette Osteria, an Italian concept who has made a name for itself in Washington, DC, has come to Wynwood. The stylish new eatery has opened its doors on Memorial Day Weekend. Showcasing the best of Italian cuisine, the restaurant will be specializing in signature house-made pastas and authentic pizza. The menu is steeped in Italian tradition offering a wide selection of fresh seafood, organic produce, and cured meats and cheeses shipped directly from Italy.
Italian born corporate chef, Nicola Sanna, and executive chef, Nicolas Flores, understand the sophisticated simplicity of Italian dining. Their traditional styles will blend in the authentic cooking techniques from Italy keeping close to their roots as they use a mix of local sustainable and imported seasonal ingredients. Together, the chefs have put together an all-star culinary team including globally recognized Italian Chef Gaetano Ascione and expert Pasta Maker Angela Marinelli.
The menu is complemented by a bar boasting a selection of over 100 wines, including extensive "by the glass" offerings. The wine list was curated to include a mix well known vineyard and hard to find pours from boutique Italian vineyards. Local craft beers from breweries such as Wynwood brewery will be served alongside Italian beers on tap. Wines and beers range in price from $8 to $15 by the glass.
ROK:BRGR Launches Saturday Brunch
Who said Sunday's are the only day to brunch? ROK:BRGR is now offering their famous Sunday Social Brunch on Saturday from 10am to 3pm.
Enjoy live music while feasting on ROK:BRGR's classic Hangover Sandwiches [fried egg and cheesy deliciousness included], or build your own Eggs Benedict at their Benedict Bar. Bottomless Mimosas are $12 with the purchase of an entree.
ROK:BRGR has already launched Saturday Brunch at their Delray location with much success, and will roll out Saturday Brunch at their other locations as follows:
South Miami [5800 SW 73rd Street Miami, FL]: Saturday, June 2nd
Fort Lauderdale [208 SW 2nd Street Fort Lauderdale, FL]: Saturday, June 9th
Gulfstream [600 Silks Run #1210 Hallandale Beach, FL]: Saturday, June 16th
Donut Deals for National Donut Day
Today (Friday, June 1st) is National Donut Day, and two South Florida spots (that aren't Dunkin' Donuts) are getting behind it with free donut deals.
At Happy Place Donuts, the recently opened donut boutique on Española Way, get a complimentary bag of six Hot & Happy Dough Balls with every purchase.
At Duffy's Sports Grill, the all-things-sports restaurant in North Miami Beach and Kendall, get a complimentary order of Red Velvet Mini Donuts at every table (limited to one order per table).
STARR Restaurants Debut STARR Summer Fridays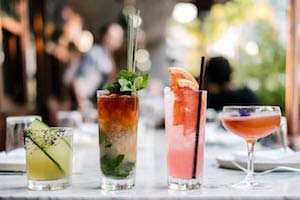 Summer is just around the corner, which means Summer Fridays will be in full effect. As many offices close up shop early on Fridays this summer, and locals take back the beaches, South Floridians can start their weekends off right with STARR Summer Fridays. The award-winning restaurateur Stephen Starr's South Florida restaurants Upland, Makoto, Le Zoo, El Vez and Steak 954 will each feature a Friday special from Memorial Day through Labor Day in celebration of summer including:
Nacho Average Friday at El Vez — $5 nachos and $20 buckets of Tecate along with complimentary chips and salsa from 5:30 – 7 p.m.
Meat Me at Steak 954 — $5 wagyu sliders, $3 tacos, $2 oysters, $5 beers, $7 select wines and $10 specialty cocktails from 5:30 – 7 p.m. at Steak 954's bar and lounge area
Pizza Party at Upland — Complimentary Margherita Pizza by the slice along with full happy hour menu: $7 draft beers, $8 wine, $9 cocktails from 4 -7 p.m. Additionally, guests can tag @Upland_MIA to be entered in a monthly drawing for 10 pizzas for the office from Upland.
Makoto Fridays — $5 special crispy rice with assorted toppings and $10 featured cocktail from new cocktail list by mixologist David Tang from 4 – 6:30 p.m.
A Votre Sante at Le Zoo — $1 oysters, complimentary canapes, $8 selected cocktails, $7 Simonet, $6 house red or white wine and specials on Sangria and Frosé from 4 to 6:00 p.m.
STARR Summer Fridays specials will run in addition to existing happy hours at Upland, Le Zoo and El Vez.
Summer Truffle Menu at Forte Dei Marmi
Debuting on June 15, the special menu introduces new dishes like the Gnocchetti Burro e Salvia, a homemade gnocchi sautéed with butter and fresh sage, finished with grated summer truffle; Buckwheat Pappardelle ai Funghi with sautéed mushrooms and topped with summer truffle; Orecchiette Carciofi e Gamberi with baby artichokes and shrimps topped with shaved summer truffle; Beef Filet, a seared beef filet served scalloped with sautéed mushrooms, potato fondent and shaved truffle; and Branzino del Mediterraneao alla Griglia, a Grilled Mediterranean sea bass with shaved truffle, served with lemon zest potato puree and asparagus.
Some signature staples receive a truffle twist, including the Tagliatelle Calamari, a slow cooked calamari julienne-style topped with Calvisius caviar and shaved summer truffle; Truffled Burrata served with arugula salad and organic cherry tomatoes; Tuna Tartar with spring onions and capers served with avocado puree and shaved summer truffle; and the Suckling Pig, which is slow cooked for 36hrs and served with sweet onions and Brussels sprouts and shaved summer truffle.
Overtown Music and Arts Festival Returns
Headliner Market Group (HMG), City of Miami Chairman Keon Hardemon, and the Southeast Overtown / Park West Community Redevelopment Agency (CRA) proudly announce the return of the Overtown Music & Arts Festival (OMAF). The annual street festival will take place Saturday, July 14, 2018, from 11 am. to 7pm. in Miami's Overtown Business and Entertainment District on NW 2nd & 3rd Avenue between NW 8th & 10th Streets.
The highly anticipated festival is set to bring back music and arts to the Historic Overtown neighborhood once again while promoting economic development and community enrichment. The goal of the festival is not just a free concert but to offer the neighborhood a day to enjoy local food, art vendors, crafts, a youth zone and more. This year, the festival is in search of a few select local artists to take over a 10 x 10 booth and showcase their unique work. Artists must be willing to actively create pieces or art live on site. Artists who are willing to create and sell their art during the festival can email OvertownMusicArtsFestival@gmail.com to submit their interest.
For more information about The Overtown Music & Arts Festival, visit www.overtownmusicandartsfestival.com.
Downtown Coral Gables Kicks Off Culinary Month
This June, the Business Improvement District (BID) of Coral Gables will be dishing out a forkful of flavor with its first-ever Coral Gables Culinary Month, celebrating Downtown Coral Gables' thriving food and beverage scene. An expansion of the BID's signature dining promotion Coral Gables Restaurant Week, Culinary Month promises 30 days of exclusive, interactive and mouthwatering events, promotions, special menus, chef demonstrations and more.
Coral Gables Restaurant Week, now in its eleventh year, will take place from June 4-24. Participating restaurants will serve three-course, prix fixe menus at discounted prices. With savings of at least 20% off, menu prices will range from $13 to $48 per person – giving customers the flexibility to find the right restaurants for their taste buds and budget.
For the first time, foodies and wine enthusiasts may purchase tickets to enjoy exclusive culinary experiences such as:
– An intimate, table-side Chef's Dinner experience with a carefully crafted menu prepared by La Taberna Giralda
– An exploration of the wine regions of the world without leaving Downtown Coral Gables during a lively Wine Walk
– Scaling a 'Miami-made' restaurant: What it takes to thrive in the 305: an exciting panel about Miami's restaurant scene featuring Sam Gorenstein of My Ceviche, Otto Othman of Pincho Factory, and Abe Ng of Sushi Maki – three of the City Beautiful's most successful restaurateurs
– A specially themed Venetian Farm-to-Table dinner by the renowned Chef Allen Susser of the Café at Books & Books
Restaurants participating in Coral Gables Restaurant Week include: newcomers Mara Basque Cuisine and Sushi Club, as well as classic favorites Ortanique on the Mile, Bulla Gastrobar, Christy's Restaurant, La Dorada, Swine Southern Table & Bar, MesaMar Seafood Table, Divino Ceviche, Cibo Wine Bar, Zucca, La Taberna Giralda and more. For a full list of participating restaurants, please visit CoralGablesRestaurantWeek.com.
Taco Tuesday at The Taco Stand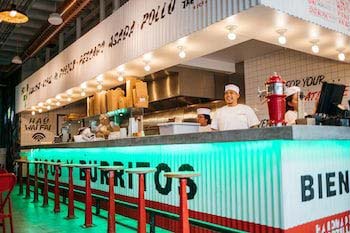 Taco Tuesdays – yes, please! There's a new Taco Tuesday in Wynwood and it's at The Taco Stand. With specially priced items including Grilled Chicken Tacos for $2.50, Al Pastor Tacos for $2.50, Nopal Tacos for $2.50 and Cervezas for $3. With deals like this, guests will leave happy with a full stomach and a full wallet.
From the graffiti art murals on walls to the energetic atmosphere and authentic Baja Mexican cuisine, The Taco Stand is becoming the go-to spot for great eats and late night bites. The recently launched Taco Tuesday deals are sure to make it the place to go to fight off the Monday blues.
'Burn and Brunch' at Point Royal
Calling all foodies and fitness junkies! The Diplomat Beach Resort launched a monthly, must-attend 'Burn and Brunch' experience. Guests partake in an hour-long boot camp style workout, directed by rotating fitness experts, held on the gorgeous, sandy beaches of Hollywood, FL. Following the class, Chef Geoffrey Zakarian's Point Royal, serves a lavish breakfast/brunch buffet where guests can replenish with indulgent dishes such as malted waffles, smoked salmon, or even a choice from the salad bar, cereal station, pastry spread and more. For those who book burn and brunch, enjoy a glass of complimentary champagne to toast your accomplishment.
This experience is open to the public. Guests must meet on the beach at 9:00 AM. Admission is $50. For reservations, dates and additional details, contact The Diplomat Spa at 954-602-8400. Valet and self-parking are available.
Beach Cleanup at 1 Hotel South Beach
1 Hotel South Beach is back at it again – taking action to help the environment in any and every way possible! Next Friday, June 8th, 1 Hotel South Beach will host a Beach Clean Up in honor of World Oceans Day.
What's better than making a difference? Making a difference, and being rewarded with booze!
From 10 a.m. to 12 p.m., hotel guests, hotel employees and the public alike will join together for the cleanup. With Titos as a sponsor for the event, all participants will then receive a complimentary cocktail at 1 Hotel South Beach's private beach after the cleanup.
The group is to meet at the beach entrance on 24th Street, and supplies will be provided.
Ofa Restaurant Hosts Wine Dinner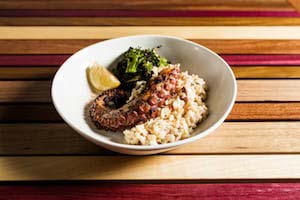 On Tuesday, June 5, 2018, Ofa Restaurant – Sunset Harbour's progressive Brazilian hotspot – will host an exclusive wine pairing dinner featuring the acclaimed wines of Rioja winery, Beronia. This five-course dinner will be prepared by Executive Chef Flavia Carnicelli and will take diners on a culinary adventure by pairing regional Brazilian cuisine with Spanish wines.
The evening will take place on Ofa's plush patio from 7-9 p.m. The dinner is priced at $70 per person (excluding tax and gratuity). Seating is limited. Reservations are required and can be made by calling (305) 763-8766.