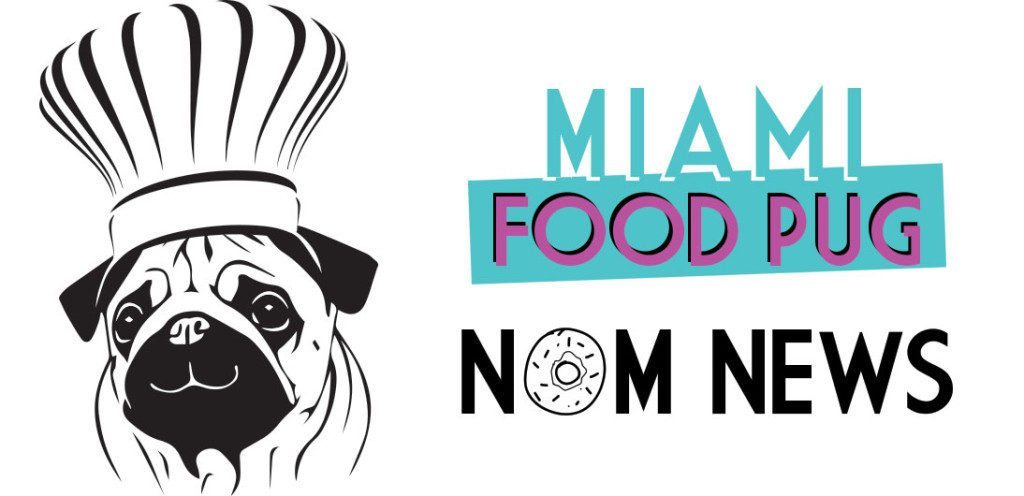 July 20, 2018
Each Friday, we compile South Florida food-related news and events that we couldn't fit on the site earlier in the week, as well as other local news that piques our interest. Want to be included in next week's roundup? Shoot us an email at bark@miamifoodpug.com.
Skybar at Shore Club Launches New Happy Hour
&pizza Opens at Hard Rock Stadium
Full Moon Soiree at Brickell City Centre
Tropical Shandy Showdown at The Anderson
Miami Spice Brunch Mash-Up at Phuc Yea
Summer BBQ Sundays at CHARCOAL
New Menu at Bulla
Summer Programming at 1 Hotel South Beach
Cancun Grill Opens in Doral
Solo IPA Launches at Concrete Beach
Skybar at Shore Club Launches New Happy Hour
For those looking for a remedy after a long Monday workday, Skybar at Shore Club announced the launch of their brand new happy hour, "Ocho Hour," bringing guests an extension of items offered at Diez y Seis to their gorgeous patio garden area. Beginning Tuesday, July 24th, the hotel's scenic terrace will be open for guests to relax and enjoy ($5) well drinks, ($10) specialty cocktails and ($8) wines by the glass from 6pm-8pm every Sunday-Thursday. Guests can also indulge in much-admired bites from Diez y Seis with favorites like ($14) Guacamole, ($15) Tuna Tostadas, ($15) Carnitas Tacos, ($13) Chopped Salad, and ($15) Empanada Suizas.
What's more? The launch of Skybar's "Ocho Hour" falls on one of our favorite celebrated holidays: National Tequila Day. Yep, you read that right – TEQUILA TUESDAY! So, in honor of this national holiday, from 6-8pm on July 24th, Skybar's Ocho Hour will also feature $8 Casamigos Margaritas (classic & pomegranate) and $14 Casa Mezcal Lemonades. And you already know, it wouldn't be considered a true fiesta without a live mariachi band which is why guests will get to listen to the best mariachi beats in town while indulging in some delicious taco specials whipped up by Chef Icardi himself.
Grab your sombreros and fake (or real) mustaches and celebrate National Tequila Day and the launch of Ocho Hour at Skybar!
&pizza Opens at Hard Rock Stadium
&pizza is opening its first location in Miami at Hard Rock Stadium. &pizza is a different kind of pizza shop built on the renown of its creative pies and craft beverages, localized shop design, and the strength, unity and vibe of its living-wage-paid, ampersand-tattooed Tribe.
The shop will open on 7/28. If you find yourself at the stadium, don't forget to tag @andpizza on social media.
Full Moon Soiree at Brickell City Centre
On Friday, July 27, Brickell City Centre (BCC)'s Residences (REACH and RISE) and Prism Creative Group invites the community to a moonlight fiesta!
Mingle under the moonlight with delicious bites, bumping beats and stellar cocktails at the Full Moon Soirée on the lawn at 700 Brickell Ave. from 7 to 10 p.m. Uma Galera will be kicking things off with an opening set and the group will beam their SKRUNK (ska/reggae/funk) jams to the crowd. After their performance, Local Latin funk legends, Spam Allstars, will take the stage and give everyone a dose of their magic city talent.
Refuel with a refreshing cocktail by Mac's Pubs as you peruse the stalls of local artisans featuring macrame, handmade prints, crystals, oils, vinyl and vintage finds. Local culinary favorites like Meat & Bone, Don Giuseppe's Pizza, Reina Vegana, Coop, Fufi Empanadas and Cielito Artisan Pops will be there to satiate your every craving. Open to the public, the event space is limited, so make sure to RSVP quickly on eventbrite or facebook and celebrate the full moon with us.
Tropical Shandy Showdown at The Anderson
Everyone's favorite neighborhood bar is looking Miami's best mixologists for The Anderson's Tropical Shandy Showdown on Monday, August 6. From 7PM-10PM, enjoy refreshing summer beverages and delicious bites as the friendly competition unfolds. First place winner will take home a $100 Cocktail Kingdom gift card, a bottle of Bacardi 4 year, a case of Peroni, as well as a trophy and bragging rights. Sit-back, relax, and have a drink while you cheer on the competition as they battle it out for the judges choice.
Miami Spice Brunch Mash-Up at Phuc Yea
In its 17th year, the Greater Miami Convention & Visitors Bureau (GMCVB)'s Miami Spice Restaurant Program is teaming up with Chef Gordon Maybury of Corsair kitchen + bar at Turnberry Isle Miami and Chef Cesar Zapata of Phuc Yea for a preview of one of the Miami Spice Program's newest and most popular offering.
The one-time-only dining experience will take place on Sunday, July 22 at 12:30PM at the vibrant Phuc Yea restaurant in the heart of Miami's MiMo district. Priced at $50 per person (inclusive of tax, tip and three drink tokens) the brunch will include pours from Miami Spice sponsors Chandon California, Fiji Water, Terrazas de los Andes and Stella Artois.
Get your tickets here.
Summer BBQ Sundays at CHARCOAL
CHARCOAL beer garden + tapas embraces summer with Summer BBQ Sundays every Sunday starting July 22nd. Enjoy Josper-fired BBQ specials from 2 p.m. till close al fresco in CHARCOAL's Roman-shaded patio or indoors in the air-conditioned conservatory. Check in on @charcoalmiami"s insta to find out what the kitchen crew is cooking up for that Sunday.
CHARCOAL sizzles this Sunday with a melt-in-your-mouth BBQ beef brisket grilled to perfection on state-of-the-art Spanish Josper enclosed grills that burn 100% charcoal. Enjoy along with side dishes of summer sweet corn-on-the-cob, baked beans and braised greens…all for only $15 per person.
Find equally delicious Josper-grilled eats on CHARCOAL's new summer pop-up tapas de verano menu like white wine and garlic-herb-broth steamed mussels served with crispy tostadas, cool and refreshing very green gazpacho and coca con manchego, a Sullivan Street Bakery pizza bianca topped with nutty Manchego cheese, tomatoes and zucchini.
Get even more bang for your buck by stopping in during happy hour. Yes! Happy hour on Sunday from 5 p.m. to 7 p.m. featuring half-off glasses of Heineken and draft beer, $5 glasses of house wine, $6 classic well cocktails and $8 specialty cocktails like Renee's Juice made with Flor de Caña 4-year rum, Aperol and Dolin Blanc or give El Sabio a swirl made with tequila, sage-apricot reduction, Amaro, lime and served with a spicy salted rim. If brews are more your thing, share 64-ounce growlers half-off during happy hour as well.
New Menu at Bulla
Bulla Gastrobar is now offering new refreshing dishes and cocktails that will keep guests cool during the summer season. Take a trip to Spain with new dishes like the Escabeche de Salmon, Clams with Pork Belly, Branzino con Kale, and more. Guests are also invited to sip on Bulla's featured summer cocktail, the Shattered Pineapple , which is made with Martin Millers Gin and shaken with a pineapple cucumber purée plus lemon juice, then poured over ice. For an Instagram-worthy drink, the new Bougie Palmer cocktail is the perfect fit with Tito's vodka, oolong peach tea, and dried lavender syrup – garnished with a lemon wheel and lavender sprig.
Summer Programming at 1 Hotel South Beach
In an effort to continually enhance and elevate the guest experience at 1 Hotel South Beach, the hotel's famed Rooftop is officially re-launching with an added amenity – a fully retractable roof. In tandem with the rooftop's physical transformation, WATR at the 1 Rooftop is also offering a new summer menu featuring Japanese and South American inspired dishes to be enjoyed in either the sun or shade. These new additions to the already-famed venue create an unparalleled dining and leisure experience for hotel guests and visitors alike.
At cloud level, 18 stories above the beach, WATR at 1 Hotel South Beach is a floating oasis with unobstructed sweeping views of the Atlantic Ocean. The newly re-launched roof will boast the same 395-person capacity and square footage, but now features a built-in retractable canopy that fully expands across the seating area of the restaurant, allowing diners to enjoy the breathtaking space despite unpredictable and inclement weather conditions. The new feature also provides groups with the ultimate private events and dining options, cultivating an intimate vibe unmatched by any rooftop space in Miami.
Keeping in line with WATR's classic Japanese inspired dishes, the new summer menu continues to place an emphasis on sushi, but now also incorporates more Latin and Peruvian flavors. An expansive selection of Crudos are new to the seasonal offering, including Corvina Ceviche, a ceviche made with Traditional White Drum Fish from tropical and South Pacific waters mixed with Red Onions, Baby Peppers, Choclo, Cilantro, Leche de Tigre, and Crispy Malanga Chips.
Assorted Anticuchos or "Pinchos" have also been added to the menu, and include Shrimp served with Salted Sherry Honey Brussels Sprouts, and Gluten-Free Chicken served with Sweet Potato Puree and Aji Panca. New signature and handcrafted sushi rolls include the New England Lobster Roll and the Sea Bacon Roll made with Warm Scallop, Smoked Salmon, Nori, Wasabi Tobiko, Crispy Salmon Skin, 1 Spicy Mayo, and Kabayaki Sauce.
The new summer menu also features a re-invigorated cocktail menu developed by Steven Minor, Beverage Director at 1 Hotel South Beach. The Cocktails, Boozy Slushies and large-format Sangrias and Margaritas offer a refreshing and innovative take on Latin ingredients, utilizing local fruits like Guanabana and Guava sourced directly from 1 Hotel South Beach's partners in The Redlands area of South Florida. New signature cocktails include the MVP, made with Aged Agricole Rhum, Local Guanabana, Coconut, Angostura Bitters, and Lime as well as The Cusco Connection made with Pisco Acholado, Florida Guava, Vanilla, Lemon, and Aquafaba.
Cancun Grill Opens in Doral
Beloved Miami Lakes restaurant Cancun Grill (since 1990) has announced the opening of its second location in rapidly growing Doral on Monday, July 23.With a more modern and industrial vibe than its original sister location, Cancun Grill Doral will offer an entirely authentic experience, transporting diners to Mexico.
From the colorful floor tiles and wall art to the tortilla presses and consulting chef, every inch of the restaurant was hand-picked from Mexico by chef/owner Martín Cardenas. The restaurant boasts an interactive exhibition kitchen, traditional Mexican cuisine inspired by local flavors and an expansive bar area featuring creative cocktails and large collection of rare mezcals.
Sola IPA Launches at Concrete Beach Brewery
IPA Day is coming on August 2nd and Concrete Beach Brewery is debuting their brand new signature beer – the SOLA IPA, named after their logo, the mysterious matriarch of Concrete Beach.
The Sola IPA is an India Pale Ale with a juicy, tropical, bright citrus aroma and flavor. This new brew will be available at the Brewery next week.