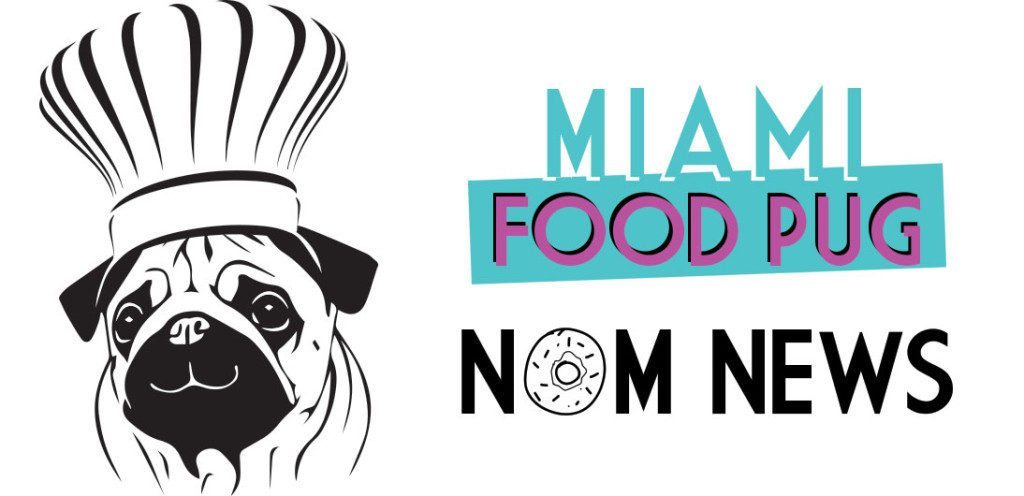 September 28, 2018
Each Friday, we compile South Florida food-related news and events that we couldn't fit on the site earlier in the week, as well as other local news that piques our interest. Want to be included in next week's roundup? Shoot us an email at bark@miamifoodpug.com.
Crown Wine & Spirits Hosts Bourbon Celebration
Jaguar Sun Opens in Downtown
Mediterranean Feast at Boulud Sud
Gianni's at the Mansion Now Offers Lunch
Oktoberfest at Hilton Fort Lauderdale Beach
New Asian Night Brunch at EAST, Miami
New Specials at Fratelli La Bufala
VEZA SUR Gets a New Food Truck
Fall Programming at Pisco y Nazca
Crown Wine & Spirits Hosts Bourbon Celebration
September is National Bourbon Month, and Crown Wine & Spirits knows just how to help you celebrate with the 6th Annual Bourbon & American Whiskey Affair!
This Saturday (Sept. 29), expect an evening full of amazing bourbons, American whiskeys and gourmet goods. The event features over 50 of the top Bourbon and America whiskeys.The celebration will take place at Crown Wine & Spirits at 1590 South Dixie Highway in Coral Gables from 7 p.m. to 9p.m. Tickets cost $35 and includes tastings of all featured spirits and food.
Purchase your tickets here.
Jaguar Sun Opens in Downtown
The recently opened X Miami apartment community has partnered with rising hospitality stars Will Thompson and Carey Hynes to open Jaguar Sun – a cocktail bar and eatery offering craft
cocktails and a chef-driven dining experience in a hotel-esque residential lobby. This debut
partnership by Thompson and Hynes creates a new meeting place and social hub for residents
and Downtown locals.
With a tropical vintage aesthetic and gastro-bistro menu, Jaguar Sun opens in mid-September
from 5 p.m. to 12 a.m. in the lobby of X Miami and will be open to the public. The ownership
group has also started operating Mockingbird coffee bar in the X Miami lobby from 7:30 a.m. to
3:30 p.m. daily [times will be evolving quickly for both]- rapidly becoming a favorite hangout for residents, students, and business meetings.
Jaguar Sun will offer shareable dishes, an eclectic craft cocktail menu and freshly prepared
pastas. Signature dishes include Cacio e Pepe made with Mafaldine pasta, Pecorino Romano
cheese, Parmesan cheese and cracked Tellicherry pepper; and a choice of rigatoni or
pappardelle pasta topped with pork sugo sauce that has been enriched with Calabrian and Thai
chilis, chicken liver, and fish sauce.
Executive Chef Carey Hynes has worked at a variety of renowned and Michelin-rated
restaurants, including serving as sous chef for David Chang's acclaimed Momofuku Ko and chef
de cuisine at Momofuku Nishi. He also opened The Charter Oak in St. Helena, California
alongside Christopher Kostow – the third youngest chef to ever receive three Michelin stars.
Meditarranean Feast at Boulud Sud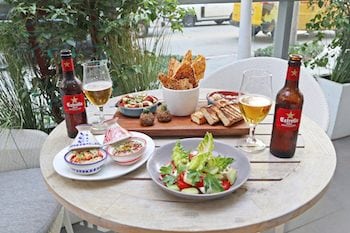 As Miami Spice comes to a close, diners are looking for their next great meal at a great price. During the month of October, join Boulud Sud for a Mediterranean Feast for two. Guests will enjoy five classic tapas to share, followed by their choice of one of Chef Clark Bowen's signature dishes as their entree. Finish the feast with a special dessert trio from Pastry Chef Saeko Nemoto.
The menu also includes the choice of two Estrella beers per person or one glass of red or white wine from Sommelier Haunah Klein's favorite Mediterranean regions. For more information, call 305.421.8800.
Gianni's at the Mansion Now Offers Lunch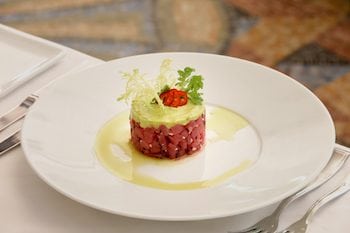 For the first time since its inception, Gianni's at The Versace Mansion, the hotel known as The Villa Casa Casuarina, will now serve lunch. Beginning October 2nd, the elegant oasis that is equal in beauty as it is in luxury, will give diners a chance to experience a specially curated three-course menu for $29 seven days a week.
Designed to honor Gianni Versace's own dining palate and situated in what was once Versace's private dining space, Gianni's gives diners a glimpse into the opulent lifestyle the legendary designer was known for.
Showcasing decadent Italian-Mediterranean fare, the menu, created by Executive Chef Thomas Stewart, features a choice of appetizer including Grilled Spanish Octopus, Gianni's Salad or Tuna Tartare; a choice of entrée including Mushroom Risotto, Spaghetti All Chitarra, Free Range Chicken or Freshly Grilled Dorade; and a dessert including a Fresh Fruit Platter, Selection of Sorbets or Ice Cream. In addition to the lunch menu, Gianni's will now offer a specially priced wine-by-the-glass menu.
Oktoberfest at Hilton Fort Lauderdale Beach
Hilton Fort Lauderdale Beach Resort is teaming up with Biscayne Bay Brewing to host Oktoberfest by the Ocean on Thursday, October 18 from 7 – 9 pm. Hosted on the resort's open-air, ocean-front BalQony space, the pop-up brewer event will include beer tastings and bottled favorites, traditional bites such as a brat bar and pretzel wall, a live DJ, and outdoor games, including Giant Jenga and corn hole. Tickets are priced at $30 and this includes: food and beverage, games and complimentary valet parking. To buy your tickets, click here.
New Asian Night Brunch at EAST, Miami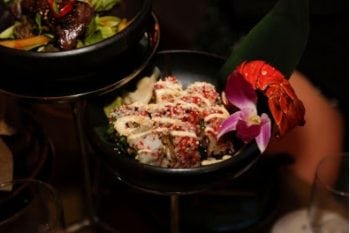 Located high above the bustling streets of Miami's metropolitan Brickell neighborhood, EAST, Miami's exclusive restaurant and cocktail lounge, Tea Room, invites guests to sit back, relax and find themselves captivated by a new late-night dining concept, the Tea Room Asian Night Brunch.
Inspired by EAST, Miami's Asian roots with a dash of Latin spice and seduction, Tea Room's Asian Night Brunch offers a carefully-curated menu that tantalizes the senses and puts each guest in charge. The two-hour dining experience encourages guests to select one dish from each category offered on the five course tasting menu and pair it with their choice of free-flowing champagne, wine, beer or sake to enhance the experience.
The Asian Night Brunch menu is divided into five different categories, ranging from lighter appetizers, like the Tuna Tower, made with Ahi Tuna, Sushi Rice, Quail Egg and a Wasabi Soy Demi-Glaze, to more robust entrees, such as the Korean Short Rib, served with Kimchee Spiced Cucumber and Soy Marinade. Indulgent desserts include Bananas Foster Cake made with Caramelized Banana and Star Anise Whipped Cream, and the Asian Gingerbread Pudding with Chocolate, Ginger and Vanilla Rum Sauce.
In addition to the bountiful selection of Asian-inspired cuisine, Tea Room's Asian Night Brunch also offers premium beverages and a curated cocktail menu that is sure to please the taste buds of any spirit connoisseur. Priced at $88++ per person, Tea Room Asian Night Brunch is offered weekly from Thursday to Saturday, 6-11PM.
New Specials at Fratelli La Bufala
Located in Miami Beach's South of Fifth neighborhood for the past 13 years, Fratelli La Bufala is dishing out new fall programming that locals and visitors won't want to miss. Known as the first Neapolitan pizzeria in Miami, the restaurant is a staple in the community, offering regulars and newcomers consistently delicious pizzas and traditional Italian dishes. This fall, patrons can expect a variety of specials almost every day of the week.
$10 Pizza Night (Mondays): Launching on October 1st, the restaurant will offer a selection of 20 pizzas for only $10 each on Mondays (dine-in only). Some of the featured pizzas include Napoli, tomato sauce, anchovies, capers and basil; Parmigianella, tomato sauce, mozzarella, eggplants and basil; Diavola, tomato sauce, spicy salami, mozzarella and basil; Tartufo, mozzarella, mushrooms, sausage, truffle oil and basil; Tricolore, mozzarella, cherry tomatoes, arugula, shaved parmigiano and basil; Vesuvio, tomato sauce, mozzarella stuffed with ricotta cheese, ham and basil; and Cappello di Totò, a ricotta-filled crust Margherita.
Supper Club (Monday – Thursday): As a family and group-friendly location, the restaurant is encouraging guests to host birthday parties, special occasion suppers and holiday dinners with a special offer. Organized parties of seven or more receive 30% off of their check (all beverages excluded). Groups must call ahead to make a reservation and mention the special occasion they're celebrating. This offer does not apply to regular reservations or walk-ins.
Oktoberfest Beer Night (Wednesdays): Starting on Wednesday, October 3rd through October 31st, guests can enjoy $3 beers every Wednesday in honor of Oktoberfest. The beer selection includes Peroni, Wynwood La Rubia, Lagunitas IPA and Moretti La Rossa.
Soccer Showdown (Saturdays & Sundays):  Italian soccer enthusiasts can catch the Serie A weekend games at the restaurant. Fans can watch the 12:00 p.m. and 2:30 p.m. games while enjoying shareable pizzas, beer and wine.
VEZA SUR Gets a New Food Truck
VEZA SUR Brewing Co. is bringing new sazon to Wynwood with it's newest food truck partner Chi-Fa. The latest concept by the renowned SuViche Hospitality Group is a fusion of Chinese and Peruvian cuisine. With Executive Chef and Partner, Jaime Pesaque at the helm, the new menu elevates the typical food truck experience.
The condensed yet perfectly crafted menu includes sharable traditional plates, such as a selection of anticuchos served on a bed of charred corn and queso fresco, an array of udon noodle combinations and more.
Guests can experience a variety of dishes, including the Alitas, all natural chicken wings marinated with a spicy beer eel reduction using VEZA SUR's Dark Lager and served with tahini sauce, Camarones Anticucho topped with oyster sauce, pickled pineapple and lime zest, and the favorite Udon Noodles with your choice of protein and sauce. Ranging from $5.50 to $15, the dishes pair perfectly with VEZA SUR's craft beer selection, including our signature Latin Lager and Chopp Dark Lager.
Chi-Fa will be open Tuesday through Thursday and Sunday from noon to 11pm, and Friday to Saturday from noon to 1 am.
Fall Programming at Pisco y Nazca
This fall, enjoy some fresh new dishes at Peruvian restaurant, Pisco y Nazca. These dishes are perfect for the (semi) cooler months that come to Miami! The new menu includes dishes like Ramen Criollo, a ramen dish with a Peruvian twist, Ceviche Acilantrado, a seasonal ceviche with a fresh cilantro base and Choros a la Chalaca, jumbo mussels that are topped with a refreshing onion tomato mix.
The dishes will be available starting October 2nd. On the same day, Pisco y Nazca in Kendall will be starting their live music program! Every Tuesday and Sunday guest can listen to live music while enjoying fresh fall dishes.