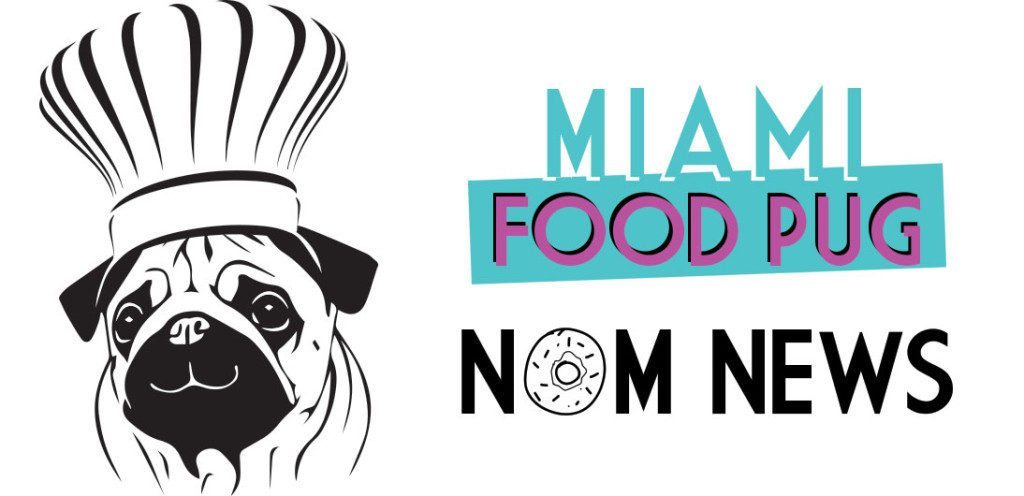 October 19, 2018
Each Friday, we compile South Florida food-related news and events that we couldn't fit on the site earlier in the week, as well as other local news that piques our interest. Want to be included in next week's roundup? Shoot us an email at bark@miamifoodpug.com.
Something French Release Party at Nightlife
Boulud Sud Hosts Susan G. Komen Benefit Dinner
Planta Launches New Prix-Fixe Menu
Special Exhibition at Casa Florida Popup
The Confidante Debuts Monthly Supper Club
Power Lunch Deal at GK Bistronomie
Friendsgiving at The Anderson
Something French Release Party at Nightlife
NightLife Brewing Co. is holding a release party for its new beer, Something French. The party is taking place in the NightLife taproom on Saturday, October 20th at 2pm. A collaboration beer with M.A.S.H. (Miami Area Society of Homebrewers), Something French is a French style saison made with Citra & Mosaic hops along with orange peel added in the whirl. It is a brilliantly clear saison and comes in at 5.4% ABV.
During the release party all NightLife beers will be $4. NightLife Brewing Co. is located on the first floor of the Home Plate garage at Marlins Park at 1588 NW 7th Street.
Boulud Sud Hosts Susan G. Komen Benefit Dinner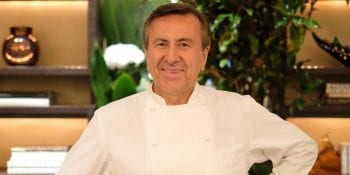 Set during the International Women's Forum, legendary Chef Daniel Boulud invites guests to a lavish dinner experience on Wednesday, October 24 to honor a few of his friends and colleagues as the nation's top female chefs and sommeliers. Hosted at Daniel's newest concept Boulud Sud Miami, the evening will showcase the talent of Pastry Chef Saeko Nemoto of Boulud Sud Miami; Chef Christina D'Angelo of Boulud Sud NY; Chef Nicole Thomas of Daniel Boulud's Dinex Group; Chef Gabriella Valls of Bar Boulud NY; and Sommeliers Amanda Fraga of Genuine Hospitality Group; Kirsta Grauberger of Progress Wine Group; Jen Schmitt of Zuma Miami; and Mariya Kovacheva of Pernod Ricard USA.
Daniel Boulud and the outstanding women will prepare a four-course dinner with carefully curated wine pairings highlighting the rich flavors of the Coastal Mediterranean. Highlights from the dinner menu include Beet Cured Hamachi, Pumpkin Agnolotti, Chicken Tagine and Grapefruit Givré.
Proceeds from the ticket sales will benefit the Susan G. Komen Foundation for breast cancer awareness and research. Tickets are $225 per person, including tax, fee and service charge. To purchase tickets, click here.
Planta Launches New Prix-Fixe Menu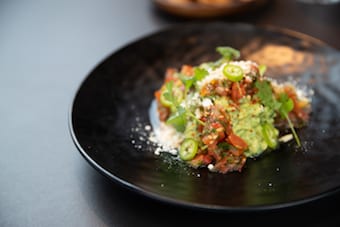 David Grutman's South of Fifth, 100% plant-based eatery recently launched Taste of Planta, a four-course experience where guests can enjoy select signature dishes from the restaurant's diverse menu at $55 per person from Sunday through Thursday. Courses include tastings of a rotating selection of unique sushi rolls, Steamed Dumplings, Watermelon Poke, Cauliflower Tots, and the Heart of Palm "Crab" Cake. Guests who experience Taste of Planta also have the option of adding a wine pairing with each course at $24.
Special Exhibition at Casa Florida Popup
The Casa Florida pop-up lounge located at Habitat, 1 Hotel South Beach's signature restaurant, is partnering with the locally based clothing brand Nomad Tribe and Artist Valeria Savino to create a special exhibition titled, The Green Nomad Project. 'The Green Nomad Project', uses the power of post-consumer waste to create art installations that honor animals native to Florida. During the event, hotel guests and locals alike are encouraged to donate clothes to the dedicated bins at Habitat.
Once the Casa Florida pop up lounge opens, every donor will receive a complimentary glass of Casa Florida's signature Pink Flamingo cocktail. The event will be sponsored by Zunte Mezcal and will include handcrafted cocktails, a specially curated menu of bar bites from Habitat, and beats by local DJs including Caleesi, Sarah Kreis, Mateo and Manumat. The launch event will take place this Saturday (the 20th) from 8 p.m. to 2 a.m.
A flamingo installation, made of previously donated clothing, will be on display at the restaurant starting on October 20 until the end of the month to bring attention to the waste issue in the country. With a deep commitment to sustainable fashion, Savino uses her creations to uncover a world of designs made from raw materials and artisan practices. The clothes donated during the event will be turned into a future sustainable and recyclable art installation by Savino.
In line with 1 Hotel South Beach's efforts to conserve and honor the environment, the Casa Florida x Nomad Tribe event will create a space for innovators and tastemakers to make a positive impact on the world while enjoying themselves.
The Confidante Debuts Monthly Dinner Club
The Confidante Miami Beach, alongside Bird & Bone's Chef Richard Hales and Tequila Revolución's National Sales Director, Adrian Sosa, invite guests to a special tequila pairing dinner on Friday, October 26. The inaugural evening kicks off The Confidante's new monthly dinner series aptly named The Confidante Dinner Club, which will feature a specially curated collaboration with a new spirit brand each month. Embracing the warm, welcoming and vibrant glamour of The Confidante, the evening will take place in The 1930s House, a private, outdoor Spanish-style bungalow originally built as a one-bedroom family home.
Once located across the street from the Collins Avenue hotel, the structure was picked up by crane and relocated to The Backyard at The Confidante, where it currently resides. The evening features passed hors d'oeuvres and retro-themed welcome cocktails created in partnership with The Confidante's food and beverage team and Tequila Revolución's master mixologists. Renowned local chef Richard Hales, Chef/Partner of American-inspired on-site eatery Bird & Bone, will showcase a specially curated three-course menu expertly paired with three different expressions of Tequila Revolución.
Chef Hales and Sosa will be present to guide guests through the culinary journey, explaining how the flavors of each dish pair with the tequila. As a 15+ year veteran in the wine and spirits industry, Sosa has represented various prestigious tequila brands such as Patron, Sauza, Cazadores and Partida. After the food and spirits journey, guests will end the evening with a social hour complete with a cigar rolling station and open bar.
Guests can reserve a spot for $100 per person by emailing concierge@theconfidantehotel.com or calling (305) 424-1234. Space is limited to 25 guests and reservations are granted on a first-come, first-served basis. Guests can mark their calendars for the next dinners in the series on Friday, November 30, featuring an evening with Jim Beam, followed by a wine dinner in December.
Power Lunch Deal at GK Bistronomie
GK Bistronomie, located in the heart of Wynwood, has created a Power Lunch Deal. Monday through Friday, from 12 p.m. to 4 p.m., GKB will be offering a lunch deal for only $14. The power lunch deal includes one appetizer, one entree of choice, and coffee & dessert. The lunch menu includes some of GKB's most delectable dishes such as the "Icy Hot" Shrimp Salad, the 25th Street Pork Sandwich and the Salmon Burger.
Can't make it for lunch? GKB offers 30 percent off to anyone that works in the hospitality industry on Mondays and 15 percent off every day for Wynwood neighbors. (Discounts do not apply to happy hour or power lunch deal.)
Friendsgiving at The Anderson
Just in time for the holiday season, All Day Foundation will be hosting the 3rd annual Friendsgiving on November 19th from 6 – 9 p.m. at The Anderson. Some of the city's best chefs, bar owners, and spirits will come together in support of All Day Foundation.
All Day Foundation, founded by Caroline Strauss and Gabriel Orta, is a non-profit organization dedicated to supporting the children in our communities by raising awareness across the food and beverage industry. This year's Friendsgiving proceeds will go to the Chef Andrew Scholarship Fund, in honor of the life of our dear friend. As you may know, Andrew was a chef at 27 Restaurant who tragically passed away earlier this year.
Tickets cost $45 and will include unlimited bites and cocktails by some of the best in the industry. Participating restaurants include, but are not limited to No Name Chinese, Ghee, Mason Eatery, Proof featuring Pastelito Papi, Wynwood Kitchen & Bar, Drunken Dragon, Chef Sasha Ariel, Makoto, Ms. Cheezious, Generator Miami and Wynwood Parlour. Cocktails and beer will be provided by Don Q, Jim Beam, and Nightlife Brewing Company.
Purchase your tickets here.