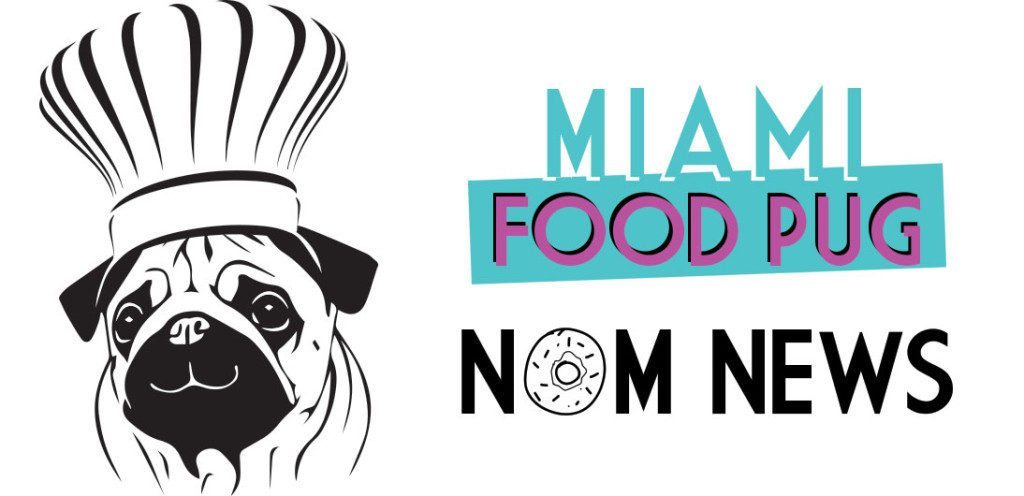 October 5, 2018
Each Friday, we compile South Florida food-related news and events that we couldn't fit on the site earlier in the week, as well as other local news that piques our interest. Want to be included in next week's roundup? Shoot us an email at bark@miamifoodpug.com.
Monthly Cinema Club at ETARU
Flamingos for a Cause at Stanton
OG Supper Club at St. Roch Market
Homecookin' Collab at Drunken Dragon
Rock the Vote at The Anderson
Natural Chicken Grill Opens in South Miami
October Deals at KINGS
The Commodore Opens in Coconut Grove
New Menu Items at Le Zoo
60-Cent Margaritas at Rusty Pelican
Monthly Cinema Club at ETARU
ETARU Hallandale's monthly Cinema Club on the Beach is back next Wednesday, October 10 at 8:30 p.m. Taking place the second Wednesday of every month, the Cinema Club offers locals and visitors a fun and different type of outing. With a big screen on the sand, guests can lounge on the day beds and watch the movie, which changes every month.
This month, the movie will be in theme for Halloween and everyone's favorite – Hocus Pocus. Tickets include a sushi box and a drink. Select cocktails, drinks and snacks are also available at Happy Hour prices for the duration of the film. Purchase your tickets here.
Flamingos for a Cause at Stanton
In honor of Breast Cancer Awareness Month, the property is showing its support for the pink colored cause with flamingos!
Inflatable flamingo drink holders will be sold at the front desk throughout the month of October, perfect for floating and sipping the day away. At just $5 per flamingo, travelers can sip on Lolo's delicious speciality cocktails in style.
All proceeds will go to the Susan G. Komen Miami/Ft. Lauderdale affiliate.
OG Supper Club at St. Roch Market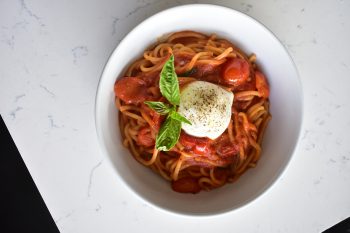 Take a culinary trip around the world and savor a variety of global flavors at St. Roch Market Miami for the first-ever "A Taste of the Market" presented by The OG Supper Club, Miami's newest multi-generational, experiential dinner club launched by locals Leslie Wolfson and Lauren Melamed.
Explore a diverse lineup of some of the city's best chefs by sampling a signature dish from all 11 vendors in our award-winning space located in Miami Design District's Palm Court.
From southern comfort food at Coop and fresh pasta at Dal Plin to Peruvian-infused sushi at Itamae and guilt-less desserts from Chef Chloe and the Vegan Cafe, A Taste of the Market promises a mouthwatering selection to suit every taste while mingling with Miami's OGs, influencers and entrepreneurs from a variety of creative industries.
Upon arrival, each guest will receive his or her own passport to present to each vendor to receive a signature dish. Guests will enjoy live music by DJ Derek Walin of Dream Machine, complimentary organic craft cocktails by Miami Cocktail Company and specialty gin cocktails from Sipsmith, giveaways, and more special surprises!
Thanks to Lyft, the official rideshare partner of The OG Supper Club, getting to "A Taste of the Market" is sweet and convenient. New users can download the Lyft app and insert MIALYFT for $5 off the next 4 rides.
Tickets are $50/pp. For online ticket purchases and more information, please visit www.tasteofthemarketmia.eventbrite.com.
Homecookin' Collab at Drunken Dragon
Drunken Dragon announces a new culinary collaboration, Homecookin' Chef Series. Savor the flavors of Executive Chef Xavier Torres with four reputable Miami Chefs from October 2018 through January 2019 as they infuse their chef styles creating umami experiences.
Kicking off the Homecookin' Chef Series in October will be Cantina La 20's very own Chef Santiago Gomez.  The first of four dinners from Drunken Dragon's groundbreaking collaborative culinary series will feature a 5-course family style tasting menu, especially prepared by the duo, that expertly blends authentic Mexican cuisine with elevated Korean barbecue for an unforgettable dining experience.
Be a part of the exclusive evening at only $65.00 per person. Purchase your tickets here.
Rock the Vote at The Anderson
The Anderson is helping make 'America Vote Again' by hosting a voter registration drive this Friday, October 5 and Saturday, October 6. From 5 to 10 p.m. guests are encouraged to register to vote and make a difference in Florida's upcoming midterm election.
To kick off the festivities, Friday's event will be hosted by Savannah Buffett and feature a live DJ performance by world renowned artist, Wyclef Jean.
Guest volunteers will be on location each day at The Anderson to help attendees sign up to vote. A special Jameson punch cocktail will be offered complimentary to those who have completed their registration.
Natural Chicken Grill Opens in South Miami
Natural Chicken Grill has made its mark as one of Miami's most celebrated, homegrown, fast-casual success stories. Now, with several locations throughout South Florida, the concept is laying the groundwork for further expansion with the opening of its newest and largest location in South Miami.
In an effort to set themselves apart from other chicken chop joints, CEO Alexis Acosta has launched drive-thru service at the recently opened location at 6800 SW 57th Avenue, near Sunset Place. The restaurant bills itself as a wholesome, fast-casual establishment where chicken breasts are never frozen, free of hormones and antibiotics and seasoned with traditional Latin spices. Inspired by a family recipe, the chicken is immersed in a secret marinade for three to four days before it's grilled to perfection.
Beyond the menu, Acosta wanted to give the dining room a refreshed, contemporary look to match his customer base. For the interior, he teamed up with none other than the renowned, Miami-based design firm, Saladino, to revamp the space. Apart from Natural Chicken Grill, some of the firm's notable work includes: Funky Buddha Brewery, SuViche, and The Confidante. Saladino's design will be used as a template for future Natural Chicken Grill outposts.
Natural Chicken Grill is open for lunch and dinner daily, Monday-Thursday from 11 a.m. – 10 p.m.
October Deals at KINGS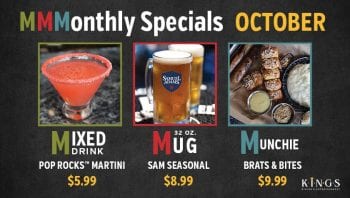 As part of the monthly Mixed Drink, Mug and Munchie (MMM) deal at KINGS Dining & Entertainment Doral, the venue is offering the following all day, every day for the month of October:
Mixed Drink – Pop Rocks Martini for $5.99
Mug – 32oz Sam Seasonal (get Oktoberfest while in stock) for $8.99
Munchie – Brats & Bites (Guinness Bratwurst, Seasoned Pretzel Bites, Sauerkraut, Mashed Potatoes, Whole Grain Mustard, Honeycomb Mustard) for $9.99.
The Commodore Opens in Coconut Grove
Embracing its location, a trendy craft cocktail bar with a library vibe that also encompasses an al fresco lounge, The Commodore is sure to be a hot new destination in Coconut Grove. Cocktail connoisseurs, Happy Hour seekers and locals on the hunt for a perfectly-made drink in an unpretentious, welcoming setting will flock to the trendy new space.
The bar and lounge, operated by LDV Hospitality (the team behind Miami Beach's award-winning Regent Cocktail Club and more), has been quietly open to friends, family and the neighborhood this summer and now, with the arrival of Fall, The Commodore is ready for its closeup.
Nestled in The Ritz- Carlton Coconut Grove, Miami and featuring its own exclusive exterior entrance, The Commodore features both a regal indoor bar and lounge, a tropically lush covered patio, a compelling cocktail list of classics and new innovations, and a bites menu designed to pair well with The Commodore's featured spirits. Rounding out the bar and lounge's attractions, live music every Friday and Saturday evening; a tight jazz trio delivering the perfect aural backdrop for a night out.
The Commodore bar program brings to Coconut Grove all the staples of a proper craft cocktail bar, from the ice and glassware to the varied spirits and drinks it serves. Anyone seeking a well-crafted classic cocktail, from a Manhattan or Old Fashioned to a Negroni or Sidecar will feel right at home.
Stand out pours include Socal – Amaras mezcal, lime, orgeat and cucumber juice; Spicy Raspberry Collins – Zyr vodka, lemon juice, jalapeno syrup and St. Germain; San Remo – Wild turkey 101, Antica Formula sweet vermouth, orange juice, St. Germain, Campari, lemon juice and Papa Doble – Santa Teresa 1986, lime, grapefruit juice, Luxardo.
For more information about The Commodore, click here.
New Menu Items at Le Zoo
Le Zoo, the South of France inspired restaurant located in Bal Harbour Shops, is offering new Fall flavors with the start of the season. Beginning Monday, October 1, Chef Julian Baker introduces seasonal flavors to the regular menu including flavors including leak vinaigrette, parsnip, and fruit flavors like apple and apricot.
Chef highlights include the Roasted Quail, King Crab Omelette and Chicken Liver Parfait. The seasonal dishes are priced a la carte and range from $12 to $26. The menu runs until Sunday, December 16.
60-Cent Margaritas at Rusty Pelican
In celebration of their parent company's (SRC) 60th anniversary, Rusty Pelican and Whiskey Joe's will be offering a special "throwback menu" from October 8-21 with Polynesian themed items like Crab Cake with Tiki Sauce ($10) and Pineapple Cheesecake ($6).
Also, on Thursday, October 11, guests can enjoy Dave's Margaritas for only $0.60 (limit 2 per person and must accompany the purchase an appetizer or entrée).