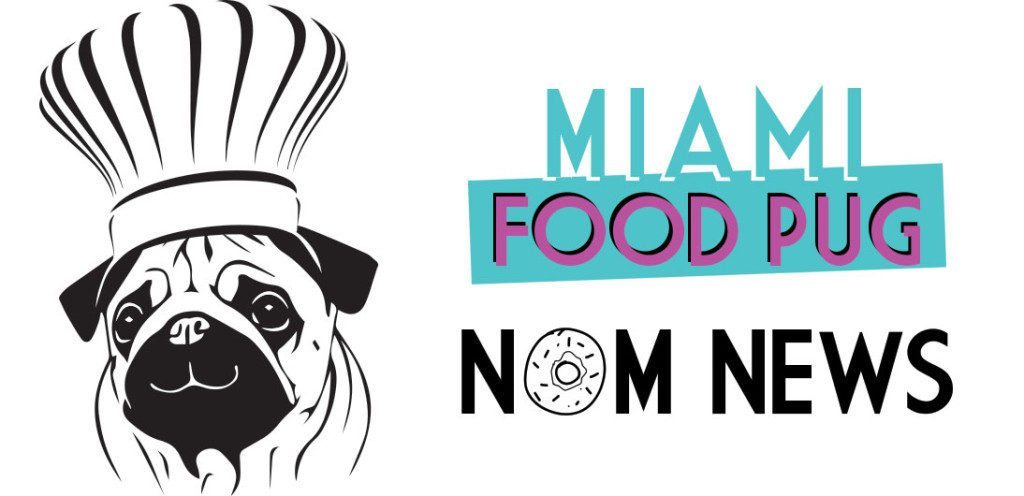 November 2, 2018
Each Friday, we compile South Florida food-related news and events that we couldn't fit on the site earlier in the week, as well as other local news that piques our interest. Want to be included in next week's roundup? Shoot us an email at bark@miamifoodpug.com.
Mexican Fiesta at Diez y Seis
Upcoming Events at Area 31
Anniversary Party at Novecento Brickell
Art, Wine and Jazz at Atton Brickell Miami
Deep Blue Debut at Minnow
New Sommelier Night at La Moderna
Pineapples & Pizza Returns to Matador Bar
Mexican Fiesta at Diez y Seis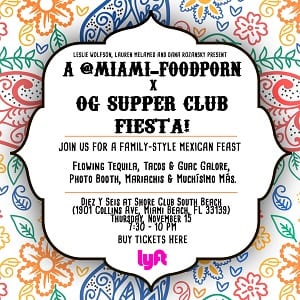 On Thursday, November 15th Shore Club's brand-new Mexican restaurant, Diez y Seis, will partner with popular Miami food blogger, @Miami_FoodPorn, and The OG Supper Club, Miami's newest multi-generational, experiential dinner club, to present a @Miami_FoodPorn x OG Supper Club Fiesta! TACO bout a good time!
Foodies and scenesters of all ages are invited to partake in the tequila-soaked Mexican feast with a family-style spread including tacos, guac, Mexican specialty dishes & muchísimo mas from 7:30PM-10PM. Guests can indulge in bottomless tequila, snap pics at the photo booth, jam out to a live mariachi band and much more. Tickets are priced at $59/pp (tax and tip included) and can be purchased here.
The only thing we're throwing back this Thursday is tequila!
Thanks to Lyft, the official rideshare partner of The OG Supper Club, it's never been more convenient to get to the OG Supper Club X @Miami_FoodPorn fiesta. New users can download the Lyft app and insert MIALYFT for $5 off the next 4 rides.
Upcoming Events at Area 31
Starting today, November 2nd, and every Friday through the fall season, Area 31's social hour begins at 5 p.m. on the 16th floor of Kimpton EPIC Hotel with panoramic views of Downtown Miami and the Miami River.
During the rooftop's already popular Friday Social Hour, guests will enjoy $7 cocktails all night including single mixed select drinks, house red, white wines and prosecco. Area 31's executive chef Alex Olivier will also offer $8 bar bites such as ceviche clasico, pork belly steamed bun, goat cheese croquettes and Parmesan truffle fries, as well as occasional poolside grill specials.
Kimpton EPIC's resident DJ Kristian Caro provides the rooftop party vibes, spinning soulful beats with occasional live musical guests. Poolside cabana rentals are available. For reservations, call 305-424-5234.
Area 31 is also hosting a Dias de los Muertos fiesta tomorrow (Saturday, November 3rd). From 3 p.m. to 7 p.m., the rooftop restaurant will serve Espolón Tequila Silver Coin and Grand Marnier Gold Coin Margaritas, a special taquería-style menu featuring the Dia de los Muertos salad, street corn, chips and guac and an Area 31 tacos bar. There will be live painting, with a contest for the best Dia de los Muertos painting; beats by Kimpton EPIC's resident DJ Kristian Caro.
Anniversary Party at Novecento Brickell
Novecento Brickell is celebrating their 14th anniversary big with brunch, all you can eat Asado (think South American BBQ) and bottomless drink specials. On Saturday, November 10th from 10AM to 4PM all guests are invited to enjoy food and drink specials along with a live DJ.
The menu includes choice of Asado Clasico ($29) – vacio, picana, pollo, chorizo and mollejas or Asado Novecento ($49) – entrana, ojo de bife, pollo, chorizo and mollejas. Drinks are specially priced to "Beat the Clock" – $10 at 10AM, $11 at 11AM, $12 at 12PM and $15 from 1PM to 4PM. Novecento Brickell is located at 1414 Brickell Avenue. RSVPS can be made here.
Art, Wine and Jazz at Atton Brickell Miami
On Thursday, November 8, enjoy contemporary art created by a local Wynwood gallery while swaying to jazz music and sipping on fine wine. Stop by for few minutes or hang out for the entire event — all are welcome at Art, Wine and Jazz Night at Atton Brickell Miami's Uva Bar from 5:30-10 p.m.
Deep Blue Debut at Minnow
Minnow Bar, the Washington Avenue clear spirits cocktail den, launched its weekend Deep Blue Debut, a unique and savory lite bites menu from the upcoming Seawell Fish n' Oyster. Developed by Seawell's executive chef Julian Garriga, Deep Blue Debut is a preview of the upcoming coastal American seafare restaurant and a great compliment to the gin house's herb-infused craft cocktail menu.
Available on Saturdays and Sundays from 11:30AM to 4PM, Deep Blue Debut features some of Garriga's soon-to-be favorites such as $1 coast to coast oysters, Seawell's signature lobster roll served with choice of melted butter or mayonnaise and chips, smoked local catch fish dip with house pickles and saltines and the decadent muffuletta on a sesamo bun with salumi, provolone and giardiniera. Minnow Bar's unique clear spirits menu is available during Deep Blue Debut including favorites such as Sea Level, Hey Roxy and Rey Mambo.
With over a decade of South Florida culinary expertise, executive chef Julian Garriga will lead the culinary program at Seawell Fish n' Oyster with his energetic approach in the kitchen and his appreciation for local flavors. Chef Garriga's menu will highlight tried-and-true classics alongside entrée selections that play with finfish, shellfish and non-seafood items, offering a broad range of flavors that will appeal to all palates.
Recently crowned the winner of the Battle: Fish at this year's South Beach Seafood Festival, Chef Julian will run his winning dish during upcoming Deep Blue Debut weekends.
New Sommelier Night at La Moderna
La Moderna's new Sommelier Night launches this Monday, November 5th. Every Monday, guests can enjoy 50 percent off ALL wine bottles (excluding the cellar selection). Expect a wide selection of wines (sparkling, white, red, rosé) from regions/countries including Lombardia, Piemonte, and Toscana in Italy; and France, California, New Zealand, Argentina and more.
Pineapples & Pizza Returns to Matador Bar
The Miami Beach EDITION is bringing back Pineapples & Pizza at Matador Bar on Thursday, November 8. The popular pizza party will feature live music by Eli La O, Matador Bar's resident Saturday DJ.
Guests can indulge on the speciality pizza of the night, Beef Carpaccio Pizza topped with mushroom, arugula and parmesan and sip on the Absolut Elyx Pineapple cocktail for $35.