Each Friday, we compile South Florida food-related news and events that we couldn't fit on the site earlier in the week, as well as other local news that piques our interest. Want to be included in next week's roundup? Shoot us an email at bark@miamifoodpug.com.
NightLife Brewing Co. Hosts Ugly Sweater Party
National Pastelito Day at Vicky Bakery
Biscayne Bay Brewing Co. Raises Funds for Wildfire Survivors
Bubble Bath Brunch at Stiltsville 
Nightlife Brewing Co. Hosts Ugly Sweater Party
Come party with NightLife Brewing Co. and kick off the holiday season with their Ugly Sweater Party on December 14th. The party starts at 7 p.m. with a live performance by !Suenalo! at 10 p.m.
Come dressed in your ugliest and tackiest sweater for an opportunity to win a $250 NightLife Brewing bar tab! 
National Pastelito Day at Vicky Bakery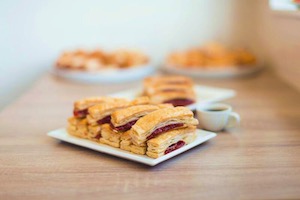 Just in time for National Pastry Day on December 9, Vicky Bakery, South Florida's largest Cuban Bakery, is spotlighting a pastry with a little more Latin flare, the iconic Cuban pastelito. To celebrate, the company is launching its new campaign, "What's Your Flavor?" which aims to engage Miamians, Cubans, and Cuban Americans to share the pastelito flavor they grew up eating with their families on Sunday morning pastelito runs.
Vicky Bakery sells thousands of pastelitos each year, mainly through its pastelito trays which complete any Miami family gathering. The Bakery serves a variety of flavors including, guava, guava and cheese, coconut, and meat, and for those who want to switch it up we have non traditional flavors like mango, mango and cheese, bacon and cheese, and a pizza pastelito! 
On Sunday December 9th , Vicky Bakery invites locals to stop by their nearest location for a free guava pastelito (the best selling flavor!) and share their sweet treat on social with #WhatsYourFlavor. 
Biscayne Bay Brewing Co. Raises Funds
for Wildfire Victims
For this one-of-a-kind beer release, the Resilience IPA, 100% of the proceeds made will go to back entirely to those victims impacted by the Camp Fire in Southern California. Biscayne Bay Brewing Company, has always prioritized giving back to the community, and in this case it's the community of Southern California.
Over 400 breweries from across the country have pledged their support to brew and make beers to help the victims of this terrible wildfire. The original recipe of the Resilience IPA was created by Sierra Nevada. 15 Barrels of the Resilience IPA were brewed on 11/27 and will be available for patrons to enjoy in Biscayne Bay Brewing Company's Doral Tap Room location.
The beer will also be distributed to other bars and restaurants across South Florida. The beer will be available in the brewery starting on Monday, December 10th. The holiday season is a time to give back and serve others, you can do so by visiting Biscayne Bay Brewing Company and enjoying their collaboration with Sierra Nevada to help the people impacted by the Camp Fire of Southern California.
Bubble Bath Brunch at Stiltsville
"Where to brunch?" is always the question of the week but Stiltsville Fish Bar, located in the Sunset Harbor neighborhood in Miami Beach, just made that decision a lot easier! This neighborhood eatery specializes in locally sourced line-caught fish, traditional Florida seafood classics, and an upscale chef-driven experience.
Stiltsville, the latest inspiration of Top Chef veterans and James Beard Nominees Janine Booth and Jeff McInnis, is announcing this season's new Saturday and Sunday Brunch:
Cutting elevated beverage prices in half; from 11am – 5pm every weekend with specials like $55 bottles of Perrier Jouet, $25 bottles of La Fete Rose, and $6 Elyx Vodka Bloody Mary's – opt to garnish your Bloody Mary by visiting the accouterment station to spice things up or to create an Instagram masterpiece! Brunchers can dive into the everchanging Bubble Bath Brunch menu which highlights raw bar bites; presented in a fisherman's tackle box, the finest catch of the day, and Stiltsville's signature Whole Grilled Barbequed Big Fish; grilled over white oak, and only offered during brunch.
Guests can also enjoy classical brunch menu items such as the Pork Belly Bacon & Sweet Corn Pancakes, Meyer Lemon Lobster & Eggs Benedict, Local Blue Crab Cakes, or the chef's award-winning Bay Leaf & Citrus Dusted Fried Chicken, in addition to lighter fare or vegan options that are always available on the Skinny Mermaid Menu.
Reservations can be made online at www.stiltsvillefishbar.com through OpenTable or by calling the restaurant at 786-353-0477.