January 25, 2019
Each Friday, we compile South Florida food-related news and events that we couldn't fit on the site earlier in the week, as well as other local news that piques our interest. Want to be included in our next roundup? Shoot us an email at bark@miamifoodpug.com.
ADDiKT Announces Business Power Lunch
New Menu Items at La Moderna
Lolo's Surf Cantina Debuts New Brunch Offerings
Corsair Launches Local Beer Series
KINGS Doral Raises Funds for Make-A-Wish
Le Zoo Introduces New Seasonal Fare
Novecento Opens in Doral
Winter Offerings at Bulla
Bahia 'Barbie With Chef Aaron Brooks
ADDiKT Announces Business Power Lunch
Catering to the busy professionals in the city, ADDiKT, W Miami's 15th floor restaurant in the heart of Brickell, is launching an all-new business power lunch, promising to deliver your 3-course lunch meal in under 30 minutes – or the lunch is on the house!
This weekday In-N-Out menu includes a choice of soup or salad to start, your choice of grilled skirt steak with mamposteado rice, sweet plantain and yuzu chimichurri, OR smuggling salmon with french lentils, orange segments, browned hazelnuts, salsa verde and a yogurt raita. For dessert, the Chef will serve his selection of petit fours. This special menu is $24 per person.
New Menu Items at La Moderna
La Moderna is diversifying its Italian menu with the addition of new dishes prepared in the restaurant's wood burning grill. On the heels of a successful Vegan menu launch, the restaurant aims to cater to all dietary preferences with these new dishes.
The menu features four new menu items for meat lovers. Items include the Whole Mediterranean Branzino, Argentinian Prawns, 16 oz. Boneless Ribeye and Australian Lamb Chop. The meat is cooked with wood for a savory, smoky flavor and tender bite. The steaks are served on a wooden board accompanied by accoutrements including infused oils, Himalayan salt, black pepper and other seasonings presenting patrons with an interactive experience.
To complement these flavorful new dishes, the restaurant has added a selection of sides made in the wood burning grill including Sautéed Truffle Porcini, imported porcini mushrooms sautéed with black truffle carpaccio and herbs; Fennel Cake Gratein, gratein fennel with béchamel, parmesan and bread crumbs; Torretta di Verdure, grilled onions, red bell peppers, tallow squash, zucchini and eggplant; Broccoli Rabe, brocooli sautéed in olive oil, garlic and chili peppers; and Focaccia in Teglia, Roman-style, brick oven rosemary focaccia.
Lolo's Surf Cantina Debuts New Brunch Offerings
Lolo's Surf Cantina, the baja-inspired Mexican eatery and bar located in Miami Beach's South of Fifth neighborhood, has launched a new brunch menu that will give you another reason to head over to the beach this weekend. Guests will now be able to indulge in a variety of new dishes plus a bottomless mimosa option for $18 per person every Sunday, from 11 a.m. – 2 p.m.
New sweet and savory dishes include:
Lolo's Parfait ($10) – Greek yogurt, pumpkin seeds, seasonal fruit, coconut and agave syrup
Berry Bowl ($12) – Selection of fresh berries
Fresh Fruit plate ($10) – seasonal selection of fruits
Mexican Botana Platter ($22) – chipotle smoked chicken wings, charred shishito peppers with sea salt
Melbourne Toast ($14) – Poached egg, guacamole, and cotija cheese served on crispy toast
Lolo's Benedict ($17) – Poached eggs on English muffins with chorizo, topped with a spicy mushroom cream sauce, and served with tater tots and greens
Corsair Launches Local Beer Series
JW Marriott Miami Turnberry Resort & Spa is partnering with South Florida's most acclaimed microbreweries for Crafted by Corsair, a Beer & Dinner Series at CORSAIR Kitchen & Bar.
Beginning on January 31st 2019 and continuing through September 26th on the final Thursday of each month, diners can savor an exclusive selection of artisanal beers specially chosen to complement a rotating 4-course menu meticulously crafted by Executive Chef Gordon Maybury and Chef de Cuisine Derrick Connor. Microbrewery partners include local favorites such as The Funky Buddha, M.I.A. Beer Co., Bousa Brewing, Due South Brewing Co., and many more.
All dinners will be priced at $58++ per person exclusive of tax and gratuity. The first collaboration is slated for Thursday, January 31st at 7:30PM and will feature select pours from Wynwood Brewing; Miami's first craft production brewery and taproom located in the heart of the Wynwood Arts District.
Crafted by Corsair dinners will begin at 7:30PM and is priced at $58++ per person, excluding tax and gratuity. Seating will be limited and reservations are encouraged — to reserve a table, guests may purchase tickets on ExploreTock.
KINGS Doral Raises Funds for Make-A-Wish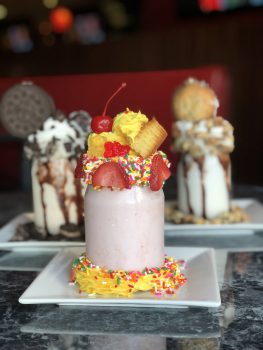 It has been long believed that if you make a silent wish as you blow the candles on your birthday dessert, your wish will come true. Kings Dining & Entertainment at CityPlace Doral is excited to introduce the all-new Make-A-Wish® Sundae and Mega Shake benefiting the Make-A-Wish® Southern Florida, Inc.
Each decedent Sundae and Shake is topped with a lit candle so Kings guests can "make a wish" and support a great cause. 20 percent of proceeds from every sundae and mega shake purchased will be donated to Make-A-Wish®'s mission to positively impact the lives of children with critical illnesses. In addition to Kings Doral, the Make-A-Wish® Sundae and Mega Shake will be available at all 11 Kings locations nationwide, spanning from South Florida to Boston.
The Make-A-Wish® Sundae and Mega Shake features strawberry ice cream topped with yellow buttercream frosting and honey strawberry sauce, garnished with sliced strawberries, gummy bears, rainbow sprinkles, and a vanilla cupcake. The mega sundae is available for $13.99 and the mega shake can be purchased for $11.99. The Kings dessert menu is available throughout regular business hours (open to late-evening).
Le Zoo Introduces New Seasonal Fare
Le Zoo, the South of France inspired restaurant located in Bal Harbour Shops, is offering new winter dishes to cozy up to the cooler months in South Florida. Available now until the beginning of Spring, Executive Chef Julian Baker introduces French classics in addition to the regular menu, including the Milk Fed Veal Chop, Foie Gras Tourchon and Sea Scallops among other dishes.
Chef Julian meticulously matches the flavors and ingredients in each dish. Take Chef's specialty for example, The Milk Fed Veal Chop, which combines earthy flavors of the porcini mushroom purée with the acidity of red wine to elevate the char of the meat. The seasonal dishes are available a la carte for lunch and dinner and range from $12 to $58.
Photo credit: Andrew Hektor
Novecento Opens in Doral
Novecento, the beloved Argentinean hotspot, is now open at CityPlace Doral. The brand has unveiled the concept's new look and feel, along with a refreshed and invigorated menu.  To reimagine the menu, the team tapped world-renowned chef and partner Jaime Pesaque, whose resume includes stints at El Celler de Can Roca, the opening of Pacifico in Milan and his critically acclaimed restaurant Mayta and 500 Grados in Peru.
The menu is divided into simple categories: Primer Tiempo (First Course), Parrilla (Grill), Segundo Tiempo (Second Course), Provisiones (Sides) and Masas (Homemade Pastas). The restaurant boasts a Mate Cart; a beautiful mobile station featuring an earthy selection of yerba mate, a traditional Argentinian herbal tea known for having the strength of coffee and the health benefits of tea; and a Wine Dispensing System which allows diners a wide variety of wine options including higher quality wines all available in different pour sizes.
Primer Tiempo dishes include a variety of items such as Stracciatella ($15) with cherry tomatoes; Pulpo a la Brasa ($19); Filet Mignon Carpaccio ($15); and Albondigas ($13). From the Parrilla, entrees offer an array of selections like the Entraña (Skirt Steak); Vacío (Flap Steak); Costilla (Slow-Cooked Bone in Short Rib); Ojo de Bife (Ribeye); Gaucho (36 oz. Bone-In Ribeye); Lomo (Filet Mignon); Branzino (European Bass); and Pollo (Half Boneless All-Natural Chicken).
To complement the Parilla, exceptional Provisiones include charred broccolini, sautéed spinach, sautéed vegetables, shrooms, creamed spinach, truffle fries and grilled kabocha squash. Dive into the Segundo Tiempo, and homemade pastas with dishes such as Risotto de Mariscos ($27) calamari, octopus, paprika, arborio rice and parmesan; or handmade ravioli Calabaza ($18) a squash and smoked almond filled ravioli with brown butter and sage; or the ravioli Funghi ($21) filled with mushroom and ricotta served with creamy truffle sauce; and the Gnocchi Gratinado ($17) with homemade ricotta gnocchi, and au gratin Parmesan sauce.
Winter Offerings at Bulla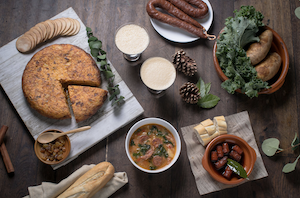 Bulla Gastrobar is now featuring special menu items for the winter season! Introducing some Spanish favorites, these new dishes will take you on a journey through Spain with each bite. Menu items include the Caldo Gallego featuring chorizo, pork, and alubias, plus Chistorra a la Sidra with cured sausage enhanced by cider.
For dessert, guests can indulge in the Arroz con Leche, a traditional favorite with golden raisin coulis and Swiss meringue crumbles. To wash it all down, the Carajillo is the perfect digestif with espresso coffee and Licor 43. Don't miss out, these seasonal menu items will only be available for a limited time!
Bahia 'Barbie With Chef Aaron Brooks
The traditional outdoor 'barbie is back at Bahía located on the Hotel's 7th floor pool terrace and will close out the week-long celebration on Sunday, January 27, 2019 from 1:00 to 4:00 pm. Joining Chef Aaron are his best 'mates, including Steve Santana of Taquiza, Carey Hynes of Jaguar Sun, Valerie Chang of Itamae at St. Roch Market, and Justin Flit of soon-to-open Navè.
With support from True Aussie Beef & Lamb, attendees will enjoy grilled Aussie favourites and delicious cuts of meat, including a whole-roasted rotisserie lamb. Beverages include an exclusive beer by J Wakefield Brewing with the help of Chef Brooks, who will create a brew intended to be paired perfectly with the dishes for the celebration. Guests will also enjoy a refreshing cocktail by David Sprintis, long time friend of EDGE, Steak & Bar, as well as Barcadi cocktails made by Aussie natives Adrian Biggs and Chris Hopkins.
In addition, Eamon Rockey of Rockey's Milk Punch and Giovanni Gutierrez representing Havana Club join forces to create a unique beverage. This specialty cocktail of Rockey's Milk Punch – a crystal clear and natural milk punch, blended and bottled in Brooklyn, made from citrus, tea, and fruit – will mix perfectly with Havana Club rum. Advance tickets are required and are available for USD 55 per person, plus tax and processing fee.