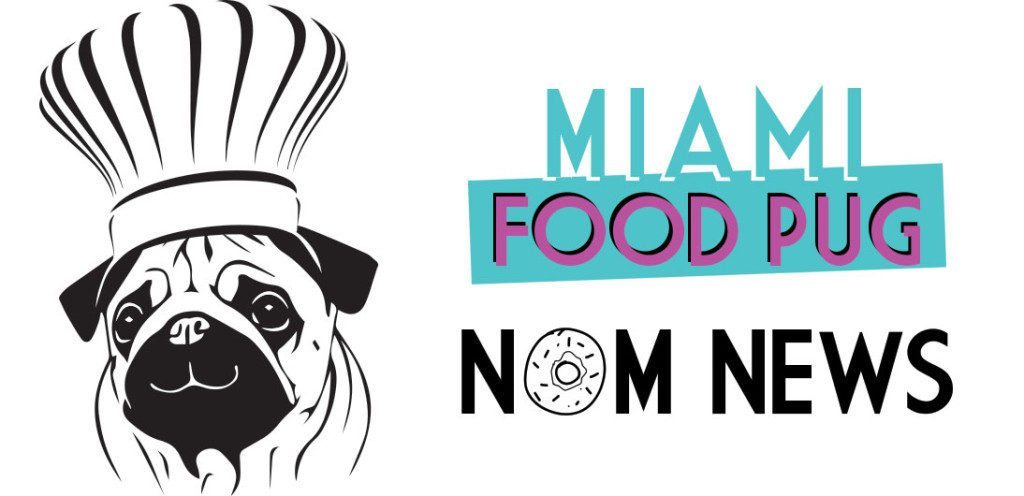 January 4, 2019
Each Friday, we compile South Florida food-related news and events that we couldn't fit on the site earlier in the week, as well as other local news that piques our interest. Want to be included in our next roundup? Shoot us an email at bark@miamifoodpug.com.
Now Open: Pink Pie
Rooftop Yoga at Atton Brickell
Release Party at Concrete Beach
La Jamoteca Opens at Dadeland Mall
Now Open: Pink Pie
Celebrated South Florida-based pie shop, Pink Pie, has now opened its flagship location in Wynwood. Situated in the heart of Miami, near Wynwood Walls, the 900-square-foot pie and coffee shop offers a New York-inspired minimalistic and modern space where visitors can enjoy handmade mini pies and a well-crafted coffee and beverage program.
Pink Pie brings an all-new innovative approach to the world of pie with mini pies that are small in size but bold in flavor. The pies are three inches, made fresh daily, with sweet and savory options. The company innovates in flavors and uses modern techniques to enhance the pie experience. The kitchen is constantly creating new flavors, including vegan and gluten-free options. The Wynwood shop features a rotation of sweet options and savory options, with some flavors being part of the permanent menu and others change according to season and special holidays. Permanent flavors include Oreo Nutella and Key Lime. Limited-edition favorites include Tiramisu; Caramel Pretzel, and Hot Cocoa among others.
Drawing on the owners' experience of working at Michelin starred restaurants in New York City, husband and wife duo Michael McGowan and Paloma Machado-McGowan create special flavors that might seem ordinary at a first glance but are far from it. For instance, the S'Mores pie is smoked with hickory wood and uses burnt marshmallows inside the filling, recreating the s'mores campfire experience.
Savory pies include Bacon, Egg and Cheese; and Chicken Onion Confit among others. All pies are the same price regardless of flavor. Savory pies are $3.50 and for sweet flavors, the larger the purchase quantity, the lower the individual price per item. Pies start at $3.50 for one pie; 2 pies for $6; 4 pies for $11; 6 pies for $15; 8 pies for $19 and 12 pies for $28.
Apart from mini pies, Pink Pie features "pies'cream sandwiches" (Choice of two pies with a scoop of ice cream, $6.50) and pie milkshakes ($7) with the available flavors of the day. The shop also offers a full beverage program that complements the pies, including coffee, tea, and coming soon craft beer and wine. Pink Pie has partnered up with Counter Culture Coffee to bring the highest quality coffee. The coffee menu includes espresso-based drinks as well as manual pour over. Prices of beverages range from $3 to $9.
Rooftop Yoga at Atton Brickell
Namaste your way into the new year with free rooftop yoga at Atton Brickell Miami on Sunday, January 6th, at 9:30 a.m. Soak in the sun and 360-degree views of Downtown Miami with an hour of Vinyasa-style yoga courtesy of Skanda Yoga Studio. This class is open to both hotel guests and the public, and it is friendly for all experience levels. Spots and yoga mats are available on a first-come first-served basis.
Release Party at Concrete Beach
A popular favorite on-tap, the Pisco Sour Berliner, co-created by Concrete Beach's newest brewer Alexandra (Ale) Miranda, and inspired by her Peruvian roots will be available in cans as of January 26th at noon. Celebrate the release with the Save the Drama for your Lllama event, (Jan 26th at 5pm), with a llama-themed scavenger hunt, pin the tail on the llama, silk-screened commemorative llama t-shirts with design and execution by local artist Moonlighter Makerspace, plus a Peruvian Cumbia DJ and Peruvian eats throughout the night.
La Jamoteca Opens at Dadeland Mall
La Jamoteca, an independent gourmet store that delivers fabulous Spanish ham and gourmet foods, has opened its first ham bar at Dadeland Mall. In addition to the best selection of Iberico products, they also offer carving classes, hand carved ham and baskets for special occasions. La Jamoteca is located near Cheesecake Factory and Guest Services
La Jamoteca specializes in Jamon Iberico de Bellota, Spain's greatest gastronomy treasure. Acorn Fed 100% Iberico ham (Jámon Ibérico de Bellota) is known as the king of Ibérico Ham because of its flavor, quality and production process. Try La Jamoteca's Iberico or Serrano ham sandwich with mother dough bread baked at their location, with ham masterly hand carved by their "cortadores".