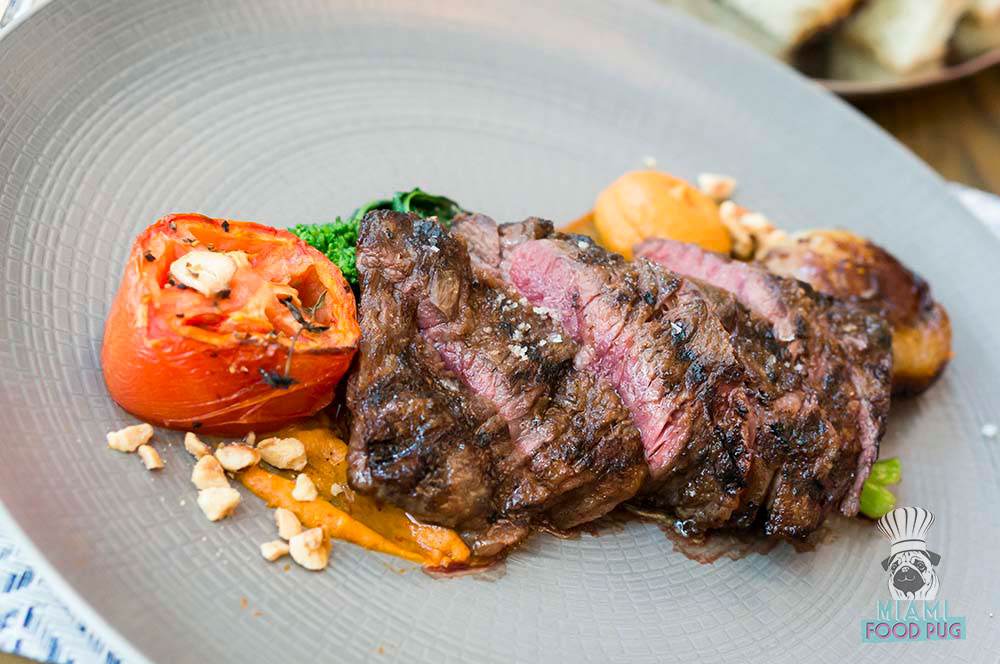 $55 for a 3-course bottomless brunch? Sign us up. That's the kind of deal you'll find at Boulud Sud, the beloved Downtown Miami Mediterranean restaurant. Every Sunday, you can indulge in an array of delicious bites and drinks for two solid hours. It's a lot of time to get your Sunday Funday off to the right start.
Appetizers run the gamut at Boulud Sud. Do you want something on the sweeter side or do you want something a little more savory? The choice is yours: Our choices were the Greek Parfait and the Andalusian Gazpacho. Both plates deserve an A for presentation and taste, especially the latter with its cucumber, watermelon and croutons. It's a beauty — just look at the photo. Sweet and savory options abound for mains, too. One of us opted for a Grilled Steak with broccoli rabe and garlic aioli, while the other ordered some Ricotta Pancakes. You truly can have the best of both worlds at Boulud Sud.
Dessert selections like the Mediterranean Sundae — baklava foreverrrrrr — and Caramel Fondant are a decadent cap to your meal. Complementing all this tasty food is a wide range of bottomless options such as the classic mimosa and Bloody Mary, plus fun additions like the Cinque Terre (Absolut Elyx, Dolin Blanc, sparkling wine, hopped grapefruit) and Venetian (Aperol, elderflower, pomegranate juice). Serious question: With all this stuff included, why haven't you made your reservation yet?
Boulud Sud is located inside the JW Marriott Marquis Miami at 255 Biscayne Boulevard Way in Downtown. 

F

or hours of operation and other information, visit their official website or call 305-421-8800.