March 1, 2019
Each Friday, we compile South Florida food-related news and events that we couldn't fit on the site earlier in the week, as well as other local news that piques our interest. Want to be included in our next roundup? Shoot us an email at bark@miamifoodpug.com.
PROOF Miami Finds a Permanent Home
Monkey Shoulder Mixer Returns to Miami
305 Day at Veza Sur
National Pancake Day at Soul Tavern
Ad-Lib Launches Happy Hour
Free Cafecito at Eden Roc
Monthly Happy Hour at Habitat
International Women's Day at Suviche + Novecento
PROOF Miami Finds a Permanent Home
Miami's beloved PROOF has found a permanent home at Taurus Beer & Whisk(e)y House in Coconut Grove.Now, PROOF Pizza & Pasta fans can enjoy Chef Justin Flit's signature dishes on the regular. Standout appetizers include the shaved brussels sprouts with apple cider vinaigrette, cranberries, candied pecans and blue cheese; fresh mozzarella sticks made in-house; and veal & pork meatballs.
PROOF's classic pizzas will also make a comeback and include the margherita, truffle, burrata, and spicy soppressata. Not-to-be-missed is the decadent Ariete short rib pizza. The famous PROOF burger will be available every Wednesday on a first come, first serve basis. PROOF is now open Wednesday to Sunday from 6PM to 11PM.
In addition, diners can indulge in new menu items at Taurus. New offerings include salt n pepa cracklins with malt vinegar and black pepper; beer battered local fish tacos with chipotle crema, pickled tomatillo and cabbage slaw; and an array of new fritas crafted by none other than Chef Michael Beltran. New selections include Pop's Frita – Bayley Hazen blue cheese salsa, spicy ketchup and caramelized onion; Frita Americano – chorizo & beef, house bacon, chug sauce and lettuce; and the Korean Frita – house-made kimchi, cucumber and scallion aioli.
Taurus Beer & Whiskey House is located at 3540 Main Highway in Coconut Grove. The bar is open daily from 4PM to 3AM and serves a weekend brunch from 12PM to 3PM.
Monkey Shoulder Mixer Returns to Miami
The blended malt Scotch whisky brings the fun on the road – for the second time – with the Monkey Mixer! Monkey Shoulder debuted the Monkey Mixer during Arizona Cocktail Week last February and has traveled all over the country with one goal: to inspire imbibers to "Play With Your Whisky". The Monkey Mixer, which can hold up to 2,400 gallons of liquid, resembles a cement truck, complete with rotating drum, or in this case, cocktail shaker. Guests can grab an Instagram-worthy photo with the truck while its on tour in Miami:
Thursday, February 28
5 p.m. – 7 p.m. – Better Days
(75 SE 6th St, Miami, FL 33131)
Friday, March 1
9 p.m. – 1 a.m. – Bar Nancy
(2007 SW 8th St, Miami, FL 33135)
Saturday, March 2
4 p.m. – 7 p.m. – Primo Liquors
(4815 SW 148th Ave, Southwest Ranches, FL 33330)
Wednesday, March 6
5 p.m. – 7 p.m. – Better Days
(75 SE 6th St, Miami, FL 33131)
305 Day at Veza Sur
At Veza Sur, Wynwood's #HechaEnMiami brewery, the pachanga never stops and what better way to celebrate the 305 than with cervezas? In celebration of the Miami holiday on Tuesday, March 5, Veza Sur will offer all of their beers on tap at $3.05 all day (barrel-aged beers not included). Known for their flavorful, sessionable beers, Veza Sur's beers are made perfect to accompany Miami's hot summers and mild winters, while staying true to cerveza artesanal. Veza Sur's newest beers on tap include the TORONJIPA (a grapefruit IPA), and Stay Peachy Miami (a peach hefeweizen).
National Pancake Day at Soul Tavern
Soul Tavern, Food Networks #1 plant based restaurant in Florida, is serving up stacks all day on March 12 which means you get to channel your inner kid and have breakfast for dinner without the guilt. A brunch staple, Soul Tavern's Banana & Almond Butter Pancakes are vegetarian and gluten free. Topped with blueberry compote, banana crème and lemon pearls, they're sure to set your tastebuds into a frenzy. Not only will guests be able to enjoy this favorite for lunch and dinner, but they'll be offering them all day for 50% off.
Ad-Lib Launches Happy Hour
Ad-Lib in Coral Gables now offers happy hour Monday-Friday from 3:30 to 7 p.m. Guests can enjoy $9 cocktails, $9 wine, $4 beer and an array of snacks that include the famous Swine Burger, hamachi crudo, aged beef tartare and more. Happy hour is only available at the bar and upstairs lounge.
Free Cafecito at Eden Roc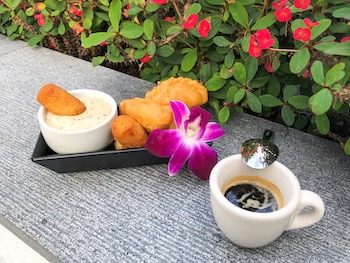 Miami, it's your time to shine by celebrating our beloved 305 Day. At 3:05 PM on March 5th, guests and locals caught enjoying the sunshine at Eden Roc Miami Beach will receive complimentary cafecito by Lavazza when they purchase one of our delicious ERC bites from the Aquatica bar menu.
Monthly Happy Hour at Habitat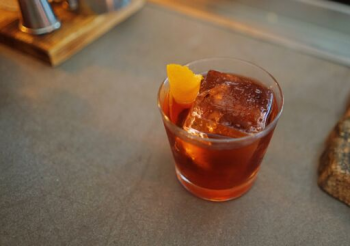 Starting on Friday, March 8th, Habitat at the eco-chic 1 Hotel South Beach is launching their 'Ocho on Ocho' monthly happy hour. This is the first event of a series of happy hours that will occur on the 8th of every month. Guests will be able to sit back, relax and sip on $8 cocktails made with Bacardi 8 Rum like the Bacardi 8 Negroni made with coffee-infused Bacardi 8, Campari and Yzaguirre Orange Essence.
International Women's Day at Suviche + Novecento
With International Women's Day coming up on Friday, March 8th, Suviche Hospitality is inviting guests to celebrate with them at any of their Novecento or Suviche restaurants! Each restaurant will be donating 5% of sales to the Lotus House Women's Shelter and for a unique, but positive twist, each location will invite women to write the things they love about themselves on a large drawing board as a form of encouragement and female empowerment. To end things on a sweet note, ladies who dine in at Novecento will receive a homemade alfajor – a traditional Argentinean dessert – to take home.