March 8, 2019
Each Friday, we compile South Florida food-related news and events that we couldn't fit on the site earlier in the week, as well as other local news that piques our interest. Want to be included in our next roundup? Shoot us an email at bark@miamifoodpug.com.
Chug's to Open in Coconut Grove
MC Kitchen Launches Aperitivo Hour
Macchialina Pops Up at El Bagel
New Happy Hour at ADDiKT
Upland Miami Adds New Menu Items
Life House Hosts Tacil Pop-Up
The Little Beet to Open in Aventura Mall
Chug's to Open in Coconut Grove
Chef Michael Beltran, renown for the flavorful, soulful cooking at the charming Coconut Grove eatery Ariete will expand his presence in the Grove with the eminent opening of Chug's, a one-of-a-kind Cuban diner in the former The Bookstore and Kitchen space.
Set to open early April 2019, the new eatery will be Chef Beltran's take on a traditional diner, serving up inventive Cuban-inspired breakfast, lunch, dinner and treats at prices designed for every day, and multiple day, visits. Beyond Beltran's fare, Chug's (the chef's nickname) will also serve as the official home to Pastelito Papi, chef Giovanni Fesser's wildly popular alter-ego and the mastermind behind some of Miami's most sinful and delicious pastelitos.
Offering a simple, thoughtfully crafted menu divided into Breakfast, Fritas, Handhelds, Salads, Large Plates, With Milk, and Sweets & Baked Goods, there is something for everyone at Chug's. Breakfast items offered all day include La Completa – three eggs, toast, and breakfast potatoes; Abuela's Breakfast – white rice, fried egg, black beans and maduros; Breakfast Sandwich – Taylor ham, fried egg and papitas served on Cuban bread; French Toast Sticks; and a Cast Iron Pancake that will be available on a first come first serve basis.
No menu crafted by Chef Michael Beltran would be complete without his signature Cuban Fritas. Chug's will offer the Classic – chorizo, papitas and ketchup on fresh potato bread; the Pop's – blue cheese and caramelized onion; the Americano – American cheese, Chug sauce and a bread and butter pickles; and the Breakfast frita – egg, Taylor ham and mayo. Hearty Handhelds include Pan Con Lechon – Cuban bread, roast pork, tuna tonnato and mojo onions; amd more.
The Sweets & Baked Goods portion of the menu will be headlined by Pastelito Papi, who will be serving up some of his famed favorites like Buffalo Chicken, Frita, PB&J and Redland Guava pastelitos. House made croquetas include the classic ham, Ariete short rib, and a rotating seasonal flavor.
MC Kitchen Launches Aperitivo Hour
Miami's iconic Italian pioneer MC Kitchen is going bigger and better than ever. Swinging into their sixth year in business, the Design District staple is "spritzing" up their happy hour. MC Kitchen is extending happy hour from 4-7 pm Monday through Friday. Locals and visitors can soak up the stylish setting while sitting at their scenic bar with views of the open kitchen or neighboring gallery. The offerings are generous and expansive with $7 dishes, cocktails, wine and $4 beer from Wynwood Brewery.
During their Apertivo Hour guests can enjoy drinks ranging from their signature MC Spritz made with Aperol, prosecco, strawberry, blood orange Pellegrino or The Last Pear shaken with Barr Hill gin, green tea, pear, thyme and prosecco. No trip to the bar is complete without the Short-Rib Pizzette topped with carmalized onions, ricotta and fontina cheese or for a steal try the signature Salumi & Cheese Boardwhich includes the chef's daily selections, marinated olives, and rosemary crostini. The bar is first come, first serve.
Macchialina Pops Up at El Bagel
On Saturday, March 16, 2019, Chef Mike Pirolo of Miami Beach's rustic Italian gem, Macchialina, will be shmearing up hand rolled, baked fresh bagels alongside Miami's favorite carb artisan, El Bagel's Matteson Koche. Also debuting is Pirolo's El Bagel Dip, a delightful iteration of an Italian-style roast beef sandwich – thinly sliced roast beef topped with caramelized onions and tangy homemade salsa verde served on Koche's savory garlic bagel and accompanied by a rich, beef brodo for dipping.
Pro Tip: There will be limited number of bagels available so be sure to arrive as early as possible.
Another Pro Tip: Don't even try asking for a scooped-out bagel.
New Happy Hour at ADDiKT
From 5 p.m. to 8 p.m. Wednesday to Friday, guests can stop into ADDiKT at W Miami for an array of discounted bites and drinks during the restaurant's new happy hour. Enjoy $8 cocktails, $8 wines by the glass and $5 beers alongside $8 bites like tuna tartare cones, pork belly bao buns and Asian wings, all while taking advantage of a beautiful terrace view.
For a limited time only, ladies can also enjoy free prosecco on Thursday evenings from 5 p.m. to 6 p.m.
Upland Miami Adds New Menu Items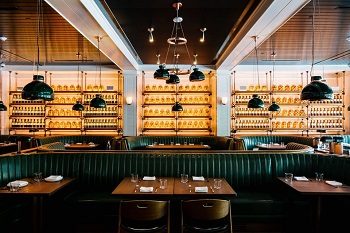 Upland Miami, the California-inspired South of Fifth hotspot, offers guests more of a reason to look forward to the spring season with new plates for brunch and dinner. Available daily during dinner service, Chef Justin Smillie introduces dishes to the menu combining the refreshing flavors that the SoFi outpost is known for, including hints of stracciatella in the Green Zebra Pizza and giardiniera in the Big Eye Tuna Crudo.
Guests can also enjoy additions to the weekend brunch menu, with highlights including the Spanish Frittata, Steak & Eggs, Quiche Lorraine as well as 'The Larry David' bagel to pay homage to Upland's New York outpost. The dishes are priced a la carte and range from $14 to $29. Bottomless brunch is additionally available for $26 per person.
Standard Bites Pop-Up at Lido
Take advantage of Miami sunsets and head to Lido Bar & Lounge at The Standard Spa, Miami Beach for Standard Bites every Wednesday night in March, beginning March 13.
Standard Bites is a one-night-only popup in collaboration with Chef Daniel Herget featuring Hot Chicken (03.13), Ramen (03.20), and Oaxacan Tiki (03.27) inspired food and drinks each week. Guests are invited to join anytime after 6PM and stay until whenever!
On March 27, the final iteration — Oaxacan Tiki Takeover — will kick-off Miami Music Week. Relax before the chaos with a Polynesian tiki pop-up with our friends Ilegal Mezcal and sounds by DJ Tavin.
Life House Hosts Tacil Pop-Up
In honor of Women's History Month, Life House Little Havana will host an exclusive Tactil Market in their tropical courtyard featuring women led businesses and female entrepreneurs from South Florida. This unique event on March 23 will highlight artisans, curators and makers, offering a platform for them to showcase and sell their handmade goods.
While shopping the market, guests can enjoy a selection of delicious cocktails crafted with ingredients fresh from the garden, biodynamic wines, local craft brews and small bites. The market will feature quality goods from local brands including Alma Aromatherapy, Carla Merino Jewelry, Buena Vista Candles, Casa Lima, Malvicino Swim, Kiramade Ceramics, Small Needs Vintage and Oltuskiart Prints, with prices ranging from $25-$150 dollars. The event takes place from 11 a.m.-4 p.m.
The Little Beet to Open in Aventura Mall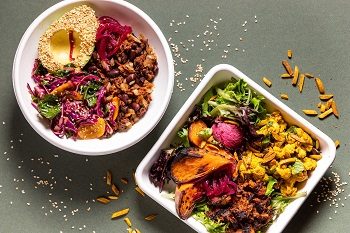 The Little Beet was founded with one simple philosophy: plant inspired, but not plant exclusive; gluten free, unique flavor combinations and high quality ingredients. With the original restaurant concept based in New York City, The Little Beet will be opening its first location in Florida, sure to excite relocated NYC residents, neighbors, families and more.
Slated to officially open in the Aventura Mall on April 1 at 11 a.m., The Little Beet will offer dishes inspired by local and natural elements. Additionally, "friends and family" can eat for free at The Little Beet's soft opening on March 30 and 31 from 11:30 a.m. to 3 p.m.
Those attending Dwayne Wade's "Night on the RunWade" event at Aventura Mall on the evening of March 16 should be sure to check out The Little Beet's set up, as they will be serving one of their specialty dishes – sweet potatoes and chipotle slaw over a bed of spirulina flecked sushi rice with colorful, flavorful homemade sauces.