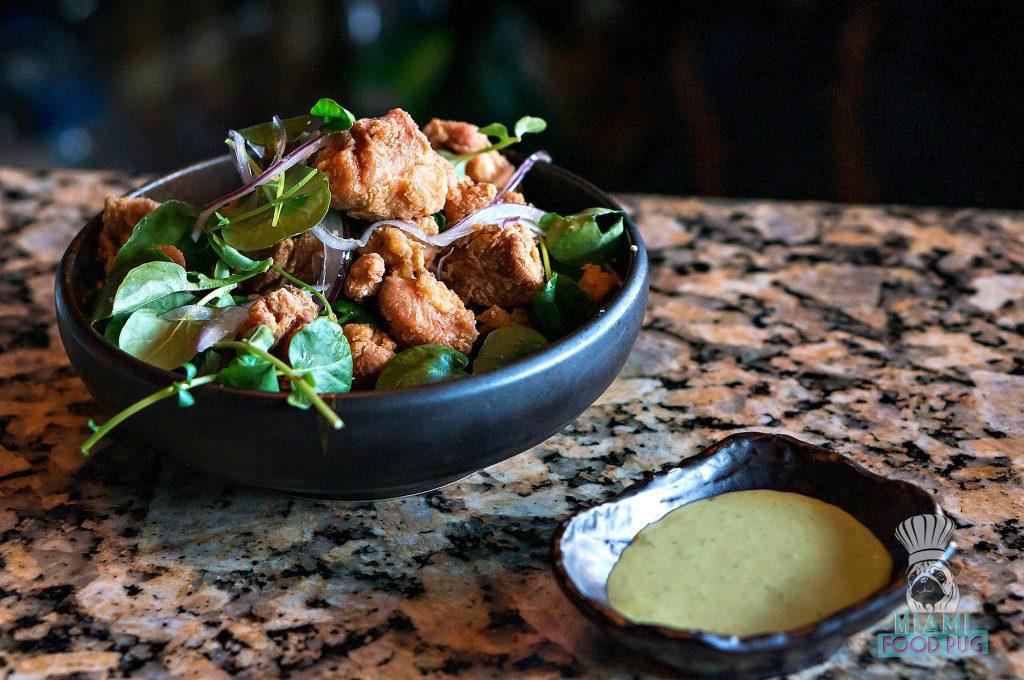 Tucked away in a Calle Ocho shopping center is Cardon y El Tirano, where a fusion of Latin American flavors awaits. Its odd locations makes it stand out from its neighbors, which include the more traditional Versailles and La Carreta. Curious diners will be rewarded with phenomenal plates at prices that won't break the bank.
When we last wrote about Cardon — all the way back in 2015 — we were pleasantly surprised by Chef Francisco Anton's fun dishes. Many of the staples from that experience, like the Crema de Calabaza and Tostones Picanha, are still on the menu, which has since seen the addition of several new items. On this most recent trip to the Little Havana eatery, we began with a few bites from the bar menu; this menu is usually used to feel out selections that could earn a spot on the permanent menu.
Among our favorites: the Chicharron de Pollo. A mountain of crispy delight, this dish set the bar high for the rest of our meal — which had its fair share of hits like the Frita and Sticky Ribs. These items are meant to be shared, and we found that portions matched the value; there was plenty to go around.
If you're really hungry, then take a look at the larger plates … specifically the Pork Belly Cachapas. Here, the Venezuelan classic features a seared adobo pork belly and queso frito; it's (probably) so bad for you, but tastes so good. Totally worth it, though.
Dessert selections are short and sweet. The Plantain Bombolini hasn't gone anywhere — get it if you haven't gotten it — but we opted for the Guava Pastelito, which is pretty self-explanatory. We're bummed we didn't stop into Cardon y El Tirano sooner, but the blog has been keeping us extra busy since 2015. We're just glad the place continues to produce some uniquely delicious food in an area that's lacking it.
Cardón y El Tirano is located at 3411 SW 8th St in West Flagler. For hours of operation and other information, visit their official website or call 305-392-1257.