May 3, 2019
Each Friday, we compile South Florida food-related news and events that we couldn't fit on the site earlier in the week, as well as other local news that piques our interest. Want to be included in our next roundup? Shoot us an email at bark@miamifoodpug.com.
The Big Bang: The Sixth Sense at Frost Science
Steak 954 Celebrates 10 Years
Experience Southern France at Boulud Sud
Pork Brawl at Pinch Kitchen
Big Macch Burger Returns to Macchialina
Now Open: La Estación American Brasserie
Beat Culture Brewery Collaborates With Only in Dade
Snail Social at Generator Miami
Dos Croquetas Opens Brick-and-Mortar Location
The Big Bang: The Sixth Sense at Frost Science
Get ready for a sensory overload at Frost Science as we unveil the new evolution of our Big Bang fundraiser, the official after party for the annual Celebration of Science gala. Ignite your curiosity with enhanced programming, a special photobooth experience, a feast of hors d'oeuvres and desserts, open bar and a futuristic celebration of all the senses – including the sixth. Begin your night in the Frost Planetarium with musical performances curated by Dean Shelton Berg of the Frost School of Music followed by late night revelry as you join the gala guests on our interactive dance floor in the Aquarium.
Purchase your tickets here.
Steak 954 Celebrates 10 Years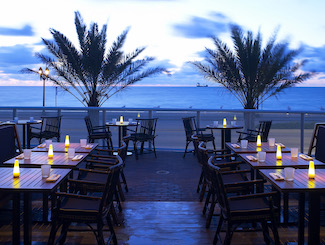 Steak 954, the contemporary steakhouse located at the W Fort Lauderdale, invites guests to celebrate its 10-year anniversary with a limited time prix-fixe menu through Sunday, May 5. Executive Chef Johan Svennson takes guests on a journey of Steak 954's timeless and fan-favorite dishes that truly showcase the flavors of the boutique steakhouse. The prix-fixe menu starts with a glass of prosecco followed by a choice of entrées including The Wedge, American Wagyu Sliders, French Onion Soup and Lobster Bisque.
Meat and seafood lovers can relish in the entrées including an 8 oz. Filet, Branzino or the Ora King Salmon. Chef Johan ends the menu on a sweet note with the choice of two desserts like the Key Lime Baked Alaska and Chocolate Souffle. The prix-fixe menu is $65 and the regular a la carte dinner menu is also available.
Experience Southern France at Boulud Sud
Boulud Sud Miami's Head Sommelier Daniel Chaviano will host a Southern France Wine Dinner on Wednesday, May 15th. Guest will experience a three-course dinner accompanied by hand-selected wine pairings that showcase the flavors of wines throughout Southern France. Executive Chef Clark Bowen and Pastry Chef Saeko Nemoto will serve regional specialties including Brandade De Morue, Tuna Crudo A La Provencale, Spring Roasted Lamb Saddle and Provencal Pagne De Basket.
The evening will begin with a with a reception in the energetic bar and lounge featuring a glass of the Commanderie de Payrassol Rosé de Provence. The night will continue with a seated dinner in the beautiful Salon De Provence with glasses of Domaine du Bagnol Cassis Blanc 2017, Mas Cal Demoura, Terre de Jonquières, Terrasses du Larzac, 2015 and Domaine de Fenouillet Muscat Beaumes de Venise 2017/18 accompanying each course.
Tickets are $85 per person (plus tax and gratuity). To purchase tickets, click here.
Pork Brawl at Pinch Kitchen
Join TouchBistro for its inaugural debut of Kitchen Scrap – the chef battle series that showcases some of America's most talented chefs and celebrated restaurants as they go head to head in the battle for culinary supremacy.
The series debut will see chef John Gallo (Pinch Kitchen) go head to head with chef Deme Lomas (Arson / NIU Kitchen) in the battle for pork supremacy on Monday, May 13th at 7pm at Pinch Kitchen – 8601 Biscayne Boulevard.
Indulge in a tasting of passed canapes like fried east coast oysters with kimchi vinaigrette, yuca espuma, and grilled wild red shrimp with mojo. Sound good? Wait until you taste the stars of the Pork Brawl – the chefs' secret, competing dishes created using a specially sourced heritage Red Ossabaw hog from Georgia. We can't spoil the surprise, but let's just say we're going to get a little cheeky and you'll go home with a happy belly.
The only question is – who will drum up the most supporters in their quest to be crowned Pork Brawl Champion? Will it be #TeamPinch or #TeamArsonNIU? Join us and cast your vote for a chance to win a $50 gift card to Arson, NIU or Pinch Kitchen!
Purchase your tickets here.
Big Macch Burger Returns to Macchialina
Carnivores and burger aficionados, rejoice! Beginning May 20th, Miami beach's rustic Italian outpost, Macchialina, will be offering an artisanal, grass fed burger in addition to
the ala carte menu for 3 days only. The Big Macch, crafted by Executive Chef Michael Pirolo will vaunt a Red Top chuck brisket and sirloin blend patty topped with Italian Fontina Val d'Aosta, sautéed porcini mushrooms, salsa Genovese and oven roasted shallots with a gratuitous amount of summer truffles served on a toasted Sullivan Street Bakery bun.
Pro Tip: There is a limited number of burgers each night so be sure to reserve yours when making your reservation. Another Pro Tip: Don't even ask for ketchup.
Now Open: La Estacion American Brasserie
La Estación American Brasserie by the Juvia Group is now open within Virgin MiamiCentral adjacent to the newly opened Central Fare – Downtown Miami's food hub. The new dining destination welcomes travelers and locals to experience a full-service bistro, soon-to-open grab and go and Dulce counters, where guests can indulge in a quick bite or simple dessert. The open bar and dining space overlook an open kitchen where La Estación's chefs showcase and prepare comforting and approachable dishes.
Upon entering the 10,000-square-foot space, guests will have their choice of dining in the full-service bistro style restaurant, grab a drink at the bar, indulge in dessert at the Dulce counter, celebrate a special occasion or plan a private event in one of four event spaces.
The menu includes items like tuna tartare, pickled shrimp avocado toast, steak frites, BBQ baby back ribs and seafood pasta. In addition to the full menu, guests can also expect a selection of sushi, and can take advantage of the unbeatable Happy Hour offerings – including specialty cocktails between $6 – $7 – available Monday through Friday from 4 to 8 p.m.
To make reservations, please call 786.490.2949.
Beat Culture Brewery Collaborates With Only in Dade
Beat Culture has collaborated with Only In Dade to brew Guava Pastelito Milkshake IPA. Inspired by the rectangular cuban staple, Guava Pastelito Milkshake IPA was brewed with freshly baked guava pastelitos, 200 lbs. of guava, vanilla, and grains and malted to mimic the flakey pastry dough taste without any of the mess left when biting into it. Unlike your typical pastelito, this one comes in at a 7.5% ABV. The beer will be released on Tuesday, May 7th.
It will be available both on draft and as a bottle release in the taproom. Bottles will be $12. There will be no limit on the number of bottles purchased.
Snail Social at Generator Miami
Slow Food Miami presents its "Snail Social" roaming Happy Hour event on Tuesday, May 14, 2019 from 6PM to 8PM hosted by the newest Snail of Approval honoree, Daniel Roy, Executive Chef of Generator Hostel Miami Beach.
The first hour of the event will be hosted at Driftway, the property's poolside bar and restaurant. Guests can sip refreshing libations like local beer and a Wells Espresso Martini. Complimentary passed bites will include a Burrata Crostini with fresh citrus and arugula and Pork Tacos with mojo, crispy shallots, queso fresco and lime zest. Then the party will migrate to the Generator's distinguished lobby bar and restaurant – The Jim and Neesie – for an extended Happy Hour and a few special menu items. Guests that stay for dinner will get 20% of all food and beverage.
This event is open to the public; There is a suggested donation of $15 pre-sale or $20 cash at the door. Tickets can be purchased here. Snail Social attendees can enjoy the Happy Hour menu from 6PM to 8PM. Student and teacher sponsored tickets are available – those interested can send a message to Slow Food Miami on Facebook or Instagram.
Dos Croquetas Opens Brick-and-Mortar Location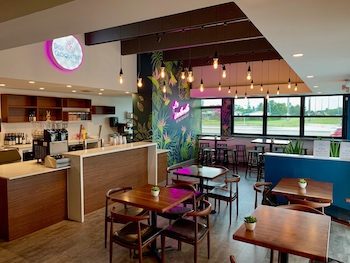 The wait is finally over! Miami will have its first ever Croqueta Bar where guests can enjoy their favorite craft croquetas paired with an ice cold beer or a glass of wine.
Dos Croquetas® will celebrate the grand opening of the Croqueta Bar on Friday, May 10th.
After three successful years as a pop up location in Doral, Dos Croquetas® is ready to serve up Miami's favorite croquetas seven days a week from their very own brick and mortar location.
From the art on its walls, to its golden finishes, customers should expect nothing less than an upscale experience while enjoying the comfort these signature croquetas bring.
Aside from offering their crowd-pleasing croquetas, Dos Croquetas® has partnered with some of South Florida's favorite breweries to serve up an experience unlike any other at the Croqueta Bar. Beers on tap include: Lincoln's Beard Brewing Co., The Tank Brewing, Concrete Beach Brewery, and for the first time — a Dos Croquetas® original, with the help of MIA Beer Company, DAME DOS ALE — created to perfectly pair with their signature croquetas.
For those looking to indulge in something sweet, the Croqueta Bar will also feature a Shake Bar with delicious creations such as a "The Cuban Dole Whip," which includes pineapple, vanilla ice cream and condensed milk.
With flavors ranging from the 305, which features Cuban style picadillo, sweet plantains, and queso blanco, to Mac 'n' Cheese and Bacon, Mexican Street Corn, Buffalo Crack Chicken and even dessert croquetas like the Oreo or Guava, the brand offers more than your average croqueta de jamón.
Dos Croquetas® Croqueta Bar is located at 10505 SW 40th Street. They will be open Sunday through Thursday, 8:00 a.m. – 12:00 a.m. and Friday through Saturday 8:00 a.m. – 2:00 a.m.