June 7, 2019
Each Friday, we compile South Florida food-related news and events that we couldn't fit on the site earlier in the week, as well as other local news that piques our interest. Want to be included in our next roundup? Shoot us an email at bark@miamifoodpug.com.
Monthly Wine Dinner at Steak 954
International Sushi Day at Tanuki
Grab & Go at Wynwood Kitchen & Bar
Zest Launches Carnival Nights
Mama Tried Celebrates 1-Year Anniversary
Copa America Watch Party at Veza Sur
Pineapples and Pizza at Matador Bar
National Donut Day Celebrations
Monthly Wine Dinner at Steak 954
Steak 954, the contemporary steakhouse located at the W Fort Lauderdale, alongside Executive Chef Johan Svensson, invite guests to experience the next monthly wine pairing dinner with award-winning Napa Valley winery, ZD Wines on Wednesday, June 26. The evening will begin at 7 p.m. in the Azul Room, embracing the elegant ambiance of Steak 954 paired with the world-class, organic ZD Wines. Chef Johan will showcase a four-course menu expertly paired with various ZD Wines, including ZD Cuvee followed by ZD Chardonnay, ZD Pinot Noir and ZD Cabernet.
Chef Johan will be present to guide guests through the culinary journey, explaining how the flavors of each dish pair with the tasting notes of the wine. Guests can reserve a seat for $150 per person by calling 954-414-8333. Space is limited and seats are granted on a first-come, first-served basis. For reservations, guests can call 954-414-8333.
International Sushi Day at Tanuki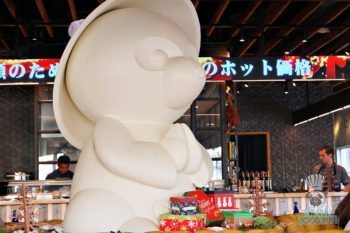 In honor of International Sushi Day on Tuesday, June 18, Tanuki, one of Miami's favorite sushi and pan-Asian hotspots located in the heart of South Beach, will be celebrating by offering two special limited-edition rolls.
– Ceviche Roll: Shrimp tempura, Avocado, Lettuce, Hamachi, Shallots, Micro Cilantro with Yuzu Lemon Cilantro Sauce ($18)
– Caribbean Roll: Sweet Plantain, Cream Cheese, Scallions, Avocado, Smoked Salmon, Yuzu Kosho Aioli and Coco Frito ($17)
To top it off, guests who purchase either of the above rolls will receive a complimentary glass of sake!
Grab & Go at Wynwood Kitchen & Bar
This summer, Wynwood Kitchen & Bar is changing the way locals and tourists see the Wynwood Walls. WKB is now offering a Grab & Go bar on their patio, where guests can purchase beverages and food while they roam the works of renowned artists, including Shepard Fairey, Kobra and Ron English. From 12:30 a.m. to 7:30 p.m. Tuesday through Thursday, sightseers can purchase handheld bites like Tacos, Avocado Fries, Mango Fresco and Elote for $5 and under. Drink specials also include beer, wine, water and sodas for $12 and under.
Zest Launches Carnival Nights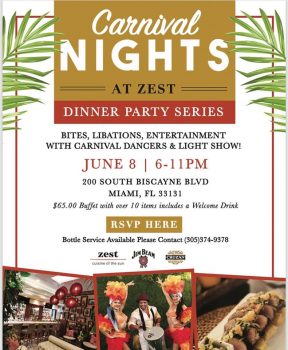 Zest Miami is launching a vibrant dinner party and you're invited! Carnival Nights sponsored by Jim Beam and Cruzan Rum is intended for all to explore, dance and indulge. Downtown Miami is revitalizing its scene and Zest is excited to put in their own twist. Zest, known for their exotic Carribean cuisine, is stepping it up a notch while giving locals and tourists alike a new go-to dinner and party spot.
Carnival Nights is a dinner party catering to all who seek to indulge in a delicious menu, while bobbing their heads and dancing to vibrant sounds or simply those looking to have a few specialty drinks with friends to start their Saturday night. Patrons will meet Cindy Hutson and be treated to a Carnival-inspired buffet featuring over 10 items. The dinner menu will consist of a Caja China pork roast, Brown Stew Chicken, West Indian Curried Vegetables, Fresh Catch Run Down to name a few – all for $65.00pp including a welcome drink.
Cocktails are always a must and Zest has you covered as they will be welcoming guests with "The Beach Bum," a delicious tropical cocktail with Cruzan Rum, coconut, lime juice, mango, passion fruit, nectar, and mint. Carnival Nights will also help those looking to start the evening right by getting the party going with bottle service in one of their private lounges. In addition to the delectable dinner menu and cocktails, Downtown go-ers are in for a night to remember with live entertainment from carnival dancers to a light show.
Carnival Nights will be coming to life Saturday, June 8, 2019, from 6 PM – 11 PM, at Zest. Located at 200 Biscayne Blvd, Miami Fl 33131.
Patrons are encouraged to make reserve their seating by visiting Eventbrite, a $10 fee will be paid upfront to secure the reservation, the fee will be deducted from the final bill. Those looking to secure bottle service reservations may contact (305) 374-9378.
Mama Tried Celebrates 1-Year Anniversary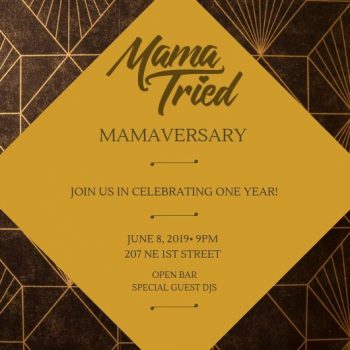 Mama Tried is celebrating their one-year anniversary on Saturday, June 8th! Enjoy open bar starting at 9 p.m. and sets by special guest DJs.
Copa America Watch Parties at Veza Sur
GOLLLLL-AZO!!!! Veza Sur Brewing Co. will be celebrating the 2019 Copa America soccer tournament with cold cervezas all month long!
From Friday, June 14 through Sunday, July 7, the 2019 Copa America series will be broadcasted at the pub on a giant projector screen for soccer fans to watch over a cerveza (or four). During every game, Veza Sur will offer cerveza specials including $2 Chopp (pronounced shoh-pee) to all fans wearing their soccer jerseys and new buenisimos snacks from the Peruvian fusion food truck, Chi-Fa.
To build on the success of last year's World Cup beer release – El Diez 10, a Ruby Red Grapefruit Witbier – Veza Sur will release El Otro Diez 10, a refreshing Pineapple Witbier. El Diez has tradition, and the best players such as Pelé, El Pibe and Messi, wear it proudly.
On June 14th's opening match, Brazil will play against Bolivia and the fiesta will be caliente. Fans will have the opportunity to fill out a bracket in order to win some FREE goodies alongside samba dancers and batucada. The night will end with a special performance by PRATO! ¿Que mas quieres?
Pineapples and Pizza at Matador Bar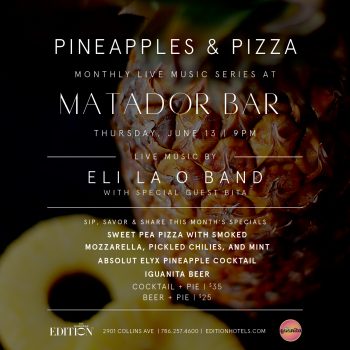 Bring a friend, share a pizza, sip a cocktail (or a few) at Matador Bar's delicious monthly series, Pineapples & Pizza, on Thursday, June 13.Kicking off a 9PM, this month's pizza and cocktail party will feature a Spring Pea Pizza topped with Smoked Mozzarella, Pickled Chilies and Mint paired with the Absolut Elyx Pineapple Cocktail for $35 or pair your pizza with an Iguanita Beer, The Miami Beach EDITION's official hotel brew, for $25.
Celebrate the incoming summer season by enjoying live music by the Eli La O band, who will be featuring special guest, Bita. Enjoy this tasty event at Matador Bar inside The Miami Beach EDITION.
National Donut Day Celebrations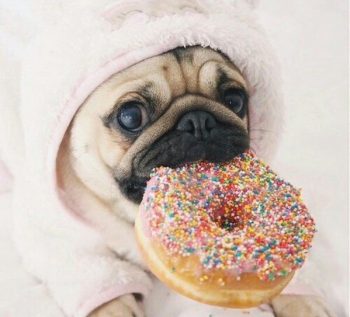 There's nothing better than a donut (or 10) after a long week, and thankfully National Donut Day is today. Yardbird Southern Table & Bar knows just how to celebrate.
The farm-to-table restaurant plans to serve up some classic Southern Hospitality tomorrow with an unbeatable donut experience served throughout the day. The Doughnut Tree will be served all day long, featuring a picture-perfect golden tree covered with a seemingly endless supply of donuts for just $16. The Doughnut Tree will additionally be served during normal brunch hours Saturday and Sunday.
Over at Beat Culture Brewery, the brewery has partnered with Mojo Donuts. Come in on today and get a Mojo Mini Irish Cream Donut when you order Beat's Colada Racing Breakfast Stout – an imperial stout with cold-brewed espresso beans, vanilla and a touch of milk sugar. Coffee forward, Colada Racing is a subtly sweet, rich and full-bodied beer with a 9.3% ABV. *Quantities of the mini donuts are extremely limited and will be available on a first come first serve basis.