July 12, 2019
Each Friday, we compile South Florida food-related news and events that we couldn't fit on the site earlier in the week, as well as other local news that piques our interest. Want to be included in our next roundup? Shoot us an email at bark@miamifoodpug.com.
Bastille Day at Fontainebleau
Serafina Miami Rolls Out Midsummer Brunch Menu
Bulla Launches New Summer Menu
Chotto Matte Debuts 'Swimmie' Menu
Pasta Mondays at Fi'lia Brickell
Broken Earth Wine Dinner at Council Oak
Dom Perignon Champagne Dinner at Kuro
New Wine Bar Coming to Downtown
Bastille Day Celebrations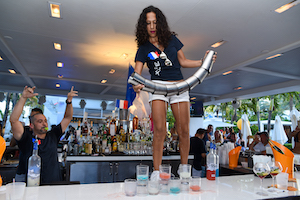 La Côte, Fontainebleau Miami Beach's swank, two-story Mediterranean oceanfront restaurant and bar, is hosting a Bastille Day celebration one day early on Saturday, July 13th. Guests can celebrate la fête nationale by dining, imbibing and enjoying live entertainment featuring French DJ's, festive dancers and a saxophone player.
Visit La Côte's, Moët & Chandon Champagne cabana and enjoy samples and giveaways of Moët & Chandon Ice Imperial while taking in the spectacular views of the Atlantic Ocean and Fontainebleau's iconic pool-scape. Fun fact: Commonly known as "La Piscine" or "The Swimming Pool" in French, Moët Ice was originally inspired by jetsetters in the South of France, who sip champagne on ice.
For more information, visit www.fontainebleau.com.
The acclaimed French-Mediterranean restaurant Le Zoo is celebrating Bastille Day on Sunday, July 14 with a series of activations and specials running from morning to late evening. Beginning at 11 a.m. and ending at 11 p.m., Le Zoo will celebrate the holiday with French-inspired programming including the famed jazz band The French Horn Collective, an accordion player, a human statue of Marie Antoinette, engaging mimes and a fully set-up photo booth to document the festivities all day long.
Le Zoo will also feature a special Bastille Day menu in addition to the standard brunch and dinner menu offerings. Menu items will be priced a la carte.
Serafina Miami Rolls Out Midsummer Brunch Menu
By popular demand, Serafina Miami, Aventura's star-studded Italian eatery, is keeping summer hot by launching a fabulous weekend brunch, available Saturday and Sunday for only $26.
Guests can enjoy a delicious two-course meal or add on dessert for $12. For those who'd like to indulge in a libation (or many) bottomless drinks like mimosas, bellinis,
sangrias, and frozé are available for $18. For starters diners can choose from options such as Granola Parfait, with granola, yogurt and fruit; Serafina Chicken Salad, with grilled organic chicken breast, romaine, mesclun, sundried tomatoes, raisins, pine nuts and pesto dressing; Insalata di Porto Benny with mixed greens, carrots, hearts of palm, avocado, corn and Sardinian dressing; and more.
Seconds include choices such as French Toast with brandy battered ciabatta, walnuts and banana; Mascarpone Pancakes with Vermont maple syrup and fresh whipped butter; Traditional Eggs Benny with Canadian bacon, poached egg, English muffin and Hollandaise; and others. Diners are welcome to substitute several regular menu items for $12.
Bulla Launches New Summer Menu
Summer is officially here and Bulla Gastrobar is welcoming the warmer weather with a new selection of seasonal dishes! Featuring Spanish favorites and colorful ingredients, the Doral and Coral Gables hotspots introduce new dishes that appeal to all tastes this summer. Menu items include the Tortillitas de Camarón featuring fish and shrimp fritters, Spanish paprika and tartar sauce, as well as the Grilled Oysters served simply with tabasco butter.
Enjoy the Bistec a la Parrilla, a perfectly grilled 4-ounce portion of bistro steak with truffled potato, salsa criolla and arugula salad, or go lighter with the Parrillada de Verduras, a plate of grilled veggies served with a house-made romesco sauce. Make sure to save room for the Budín de Pan for dessert to top it all off. These menu items are available for a limited time so make sure to get it while it's hot – literally!
Chotto Matte Debuts 'Swimmie' Menu
Celebrate the return of Swim Week at Chotto Matte Miami! From now through the end of July, the chic Nikkei restaurant is offering two 'Swimmy' 9-course prix-fixe menus featuring signature favorites such as the Spicy Salmon, Shishito Peppers, Chotto Ceviche, Nikkei Sashimi and more for $48 and $60. Guests can also cool down with the popular Yuzu Martini for $14!
Pasta Mondays at Fi'lia Brickell
Located at SLS Brickell in the heart of Miami's urban core, Italian eatery Fi'lia Brickell is now offering a new weekly dinner series called 'Pasta Mondays' where guests can indulge in a variety of signature housemade pasta dishes for only $13. Options include the creamy Spaghetti Carbonara, popular Linguine Cacio e Pepe, traditional Rigatoni Bolognese, and classic Spaghetti Pomodoro – there's something for everyone!
Broken Earth Wine Dinner at Council Oak
Council Oak Steaks & Seafood at the AAA Four Diamond-rated Seminole Hard Rock Hotel & Casino Hollywood will host an exclusive wine pairing dinner with Broken Earth Winery on Thursday, July 18, 2019. The dinner will feature three courses prepared by Chef James Stout and his team at Council Oak. Each course will be expertly paired with wine selections from the California winery. Hosted by internationally recognized winemaker Chris Cameron, the night will begin with a welcome reception at 6:30 p.m. in the restaurant's bar and lounge, followed by dinner at 7 p.m.
More details can be found here.
Dom Perignon Champagne Dinner at Kuro
On Thursday, July 25, 2019, Kuro at Seminole Hard Rock Hotel & Casino Hollywood will host an exclusive wine dinner featuring Dom Pérignon Champagne. The evening will begin at 6:30 p.m. with a welcome reception followed by dinner prepared by Kuro's culinary team. Hosted by Brandon Hays, champagne specialist from Moët Hennessy, the dinner will feature six courses, each perfectly paired with acclaimed champagnes by Dom Pérignon.
Click here for more details.
New Wine Bar Coming to Downtown
Gabe Orta and Elad Zvi, co-founders of Bar Lab, announce today the opening of a new, independent concept, Margot Natural Wine & Aperitivo Bar. Set to open fourth quarter of 2019 in the Ingraham Building in Downtown Miami, the intimate bar will offer a modern and fresh take on the classic wine bar, with a focus on natural wines and low ABV cocktails such as amaro, aperitifs and vermouths.
Designed by Danya Hachey of MaD Artistic, who has been Bar Lab's creative director since the original Broken Shaker pop-up, Margot will have an airy feel focusing on both femininity & functionality. Hachey is always inspired by the design of the late 60s, 70s & 80s, and for Margot the beautiful hues of natural wines definitely played a big role. She will incorporate all of these influences through playful color blocking and minimalistic custom furniture & millwork. Light wood accents and original artworks will add warmth & create an inviting backdrop for enjoying these lovely wines.
The playlist will include contemporary and classic R&B, soul and funk from predominantly female artists, and the food menu will focus on shared tapas, daily raw bar and seasonal offerings.
Orta and Zvi have opened award-winning cocktail bars the Broken Shaker (Miami, Chicago, Los Angeles and New York); 27 Restaurant and The Anderson in Miami; and The Exchange and Rudolph's Bar & Tea in Los Angeles. Bar Lab has twice won the coveted Spirited Award at Tales of The Cocktail for Best American Hotel Bar, twice named James Beard Foundation Awards semifinalists for "Outstanding Bar Program", has been repeatedly named to the World's 50 Best Bars, and The Anderson was named to Esquire's Best Bars of 2018.
In addition to Margot, Gabe and Elad have partnered with Timon Balloo to open Balloo: Modern Home Cookingthis summer and will also open a third concept in the winter of 2020, all located in the Ingraham Building. The Ingraham Building is located at 21 SE 2nd Avenue in Downtown Miami.