July 19, 2019
Each Friday, we compile South Florida food-related news and events that we couldn't fit on the site earlier in the week, as well as other local news that piques our interest. Want to be included in our next roundup? Shoot us an email at bark@miamifoodpug.com.
The Jim and Neesie Debuts Pasta-Making Class
New Summer Special at Zucca
Coyo Taco Announces New Outpost
Habitat Pays Homage to Dwyane Wade
New Libations at The Commodore
Italian-Style BBQ at RWSB
A Dog Day Afternoon at No.3 Social
The Doral Yard Reveals Vendor Lineup
The Jim and Neesie Debuts Pasta-Making Class
Nothing beats fresh, homemade pasta when it's made by you. Learn how to make pasta from scratch at The Jim and Neesie inside Generator Miami, led by Chef Daniel Roy. The class will be held every fourth Wednesday of the month through September and is launching on Wednesday, July 31st at 7PM. Limited to 15 guests per class and dinner, pasta lovers will enjoy a welcome cocktail, passed canapés and a 4-course dinner with wine pairings for just $100++.
While making your pasta, indulge in some small bites, which include Arancini with tomato sauce and mozzarella; Summer Melon with prosciutto di Carpegna; and Burrata Crostini with tomato salad and local bread paired with an Italian inspired drink featuring Campari. For the first course meal of the night, enjoy Snapper Crudo with Sicilian pistachio, Calabrian chili oil and herbs paired with Love Prosecco; Second dish, Ricotta Ravioli with san Marzano tomato sauce, 24-month parmesan and micro basil paired with La flor y La Abeja, Albarino; going into the third course, savor in the Paradelle Pasta with Sebastián inlet clams, smokey clam broth, celery leaf salad and pork belly paired with Buketo, red blend; and for dessert, Panna Cotta with summer melon, citrus crumbs, and micro herbs paired with limoncello and choice of coffee or tea.
Tickets can be purchased on Eventbrite, or by clicking HERE.
New Summer Special at Zucca
Embrace the summer heat and let Zucca add some sizzle to your love life. The Italian ristorante & bar in Downtown Coral Gables is offering a five-course couples tasting menu, featuring aphrodisiac ingredients like oysters, truffle and chocolate to ignite the senses. Priced at $150 per couple:
Ostriche con perle di frutta della passione e aceto rosso
Oysters with passion fruit pearls and mignonette
Fiori di zucca farciti con caprino e miele al tartufo
Zucchini flowers stuffed with goat cheese and truffle honey
Raviolo aperto di zafferano ed erbe al ragu di aragosta
Open face saffron ravioli with lobster ragu
Bistecchina di filetto di manzo al Barolo e fichi con patatine affumicate al rosmarino
Beef tenderloin medallion with figs and Barolo sauce with rosemary smoked potatoes
Fonduta di cioccolato e fragole
Dark chocolate fondue and strawberries
Coyo Taco Announces New Outpost
Taqueria COYO Taco announces its continued expansion in South Florida with a new location on Giralda Plaza in Coral Gables late summer. The outpost will feature COYO Tacos' signature recipes including authentic tacos, burritos, handmade tortillas, aguas frescas, and more served in a traditional taqueria setting prepared with a 'Todo es Fresco' ('Everything is Fresh') philosophy. The new location will house a speakeasy featuring live DJ's nightly and an expansive selection of more than 50 tequilas and mezcals.
Habitat Pays Homage to Dwyane Wade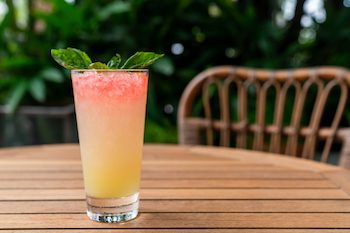 Drink like a baller with the cocktail named after the one person that Miami-Dade County lives and breathes for, Dwyane Wade. He put the Miami Heat on the map as a top sports team and in return Habitat at 1 Hotel South Beach has immortalized him in their cocktail menu. This all-star drink curate by beverage director Steven Minor, is described as vigorous, agile and flashy just like D – Wade and the rest of 'Wade County'. Made with Brockman's gin, French grapefruit liqueur, cucumber, basil, hibiscus, and Fever Tree Ginger Beer.
New Libations at The Commodore
Coconut Grove's chic bar and lounge, The Commodore, has unveiled an updated menu replete with fun, inspired cocktails and curated spirit flights. There's something for everyone including a new list of beers. Guests can chill out inside on plush leather chairs or at the breezy outdoor oasis while enjoying a variety of seasonal options.
Although they have become known for their innovative drinks, The Commodore is upping the ante by adding a selection of eight Flights ($30-$70) containing a trio of one-ounce pours featuring top-shelf brands. For the single malt lover, Scotsman – Glenlivet Code, Balvenie 14, and Oban 14. Tequila fans can sample the Tequilero flight with Fuenteseca 7 year (rare), Jose Cuervo Reserva De La Familia, and Clase Azul Añejo. Rum enthusiasts can enjoy some aged spirits with XO – Dictador XO, Mount Gay XO, and Ron Zacapa XO. An entirely new selection of Beer ($9) features five local and popular national brewers like Wynwood Brewing Company, Lagunitas, and Kronenburg.
Also, new to the menu, a Classic Cocktails section ($15-$20) that includes another eight items not previously featured like: El Presidente – Don Q Rum, orange curaçao, dry vermouth, and grenadine – a perfect drink for staying cool in the Miami heat; Sazerac with Whistle Pig PiggyBack rye, Peychaud's bitters, simple syrup, and absinthe; and Vesper Martini made with Bombay Sapphire, Absolut Elyx, and Lillet Blanc.
The Signature Cocktails section ($15-$18) is now comprised of four updated drinks and five new, unique creations. A light and refreshing Cucumber Mule with vodka, lime, cucumber, and ginger beer is perfect for sipping on the quaint patio. The drink in honor of "Mr. 305" Pitbull, the Pa La Playa, is made with his own vodka brand Voli305, strawberry cordial, St. Germain, yellow chartreuse, and bubbles.
The "Caja China" Old Fashioned is another Miami-inspired concoction made with bacon fat washed Four Roses Bourbon, Plantation O.F.T.D. Rum, house amaro blend, and bitters. Highlights of the signature drinks that have been revamped for summer include the popular The Commodore Old Fashioned, now made with pecan-infused Buffalo Trace bourbon, walnut liqueur, amaro nonino, and pecan syrup. The Socal is another beloved Commodore cocktail that is fragrant and smoky with Vida mezcal, Earl Grey infused orgeat, lime, cucumber, and hellfire bitters.
Italian-Style BBQ at RWSB
Summer continues to sizzle at RWSB with Chef Josh Gripper's annual barbecue series. On Wednesday, July 24, RWSB's Executive Sous Chef Mario Alegre will be hosting Guest Chefs Michael Beltran (Ariete); Justin Flit (Proof); and Niven Patel/Tim Piazza (Ghee) for an Italian cook-out. The Italian-themed event will be a celebratory sneak peek of their soon-to-open concepts, Navé (coming late-summer 2019) and Erba (coming fall 2019). RWSB is located inside W South Beach Hotel & Residences, 2201 Collins Avenue, in Miami Beach.
For reservations, contact rwsb@knrhospitality.com or (305) 938-3112.
A Dog Day Afternoon at No.3 Social
Head to No. 3 Social, the first rooftop bar & lounge to hit Wynwood, this Sunday, July 21st from 2-5pm for A Dog Day Afternoon benefitting Paws 4 Youl! It will be a dog- gone perfect day filled drink specials from Tito's Handmade Vodka and adorable dogs from Dog Wynwood waiting to be adopted. Guests can expect wonderful prizes to first three adoptions that take place that day among other things!
The Doral Yard Reveals Vendor Lineup
The Doral Yard plans to include della bowls, Paletas Morelia, Pokekai, Santo Dulce Churros, Un Pollo and Yip as vendors for the new community gathering space opening in late 2019. The local food entrepreneurs will bring dynamic new flavors to Doral.
Paletas Morelia – Handcrafted gourmet pops made with natural ingredients, in flavors like banana filled with Nutella; mango; Sicilian pistachio and passion fruit filled with condensed milk. Customize dip and toppings for each paleta.
Pokekai – Fast-casual customizable Hawaiian poké bowl concept, which also offers tacos, bao, poke wontons and a poke burger. Winners of People's Choice Award at The Doral Yard Pitch Event
Santo Dulce Churros – Made-to-order halos (churros) coated with inventive flavors and stacked over locally-made scoops of ice cream. Judges' Winners at The Doral Yard Pitch Event.
Un Pollo – Authentic Venezuelan 'pollo en brasa' or rotisserie chicken. In Venezuela, having "Un Pollo" (making reference to eating rotisserie chicken) means a family celebration for any occasion. The flavors and spices of a masterfully prepared rotisserie chicken evoke beautiful memories of when you last got together with loved ones and shared this dish. Chef and co-founder Lisseth Campos hopes to create this experience for everyone in Miami.
Yip – Handcrafted dumplings made from scratch every morning. The dim sum shifu (master) hand-rolls in small batches to ensure every bite is amazing. Yip arrives in Doral via the Gold Marquess family in Pembroke Pines.
These culinary entrepreneurs will join The Doral Yard CEO Della Heiman and her beloved della bowls plant-based bowls fast-casual concept in Doral. Doral community members can look forward to trying an all-new bowl created just for them!
Some of the culinary entrepreneurs will make their appearance during the Grand Opening of The Doral Yard in late 2019, while others will open in a second phase of the project, in the spring of 2020.
The Doral Yard has also just launched an 'early adopters' membership, known as La Familia, with both paid and free options. Ahead of The Doral Yard's opening, members and the Doral community will be invited to pop-up events such as brewery dinners. Members will also get perks like a 10 percent off all drinks the first week The Doral Yard is open and a chance to win a Punchbowl Party.