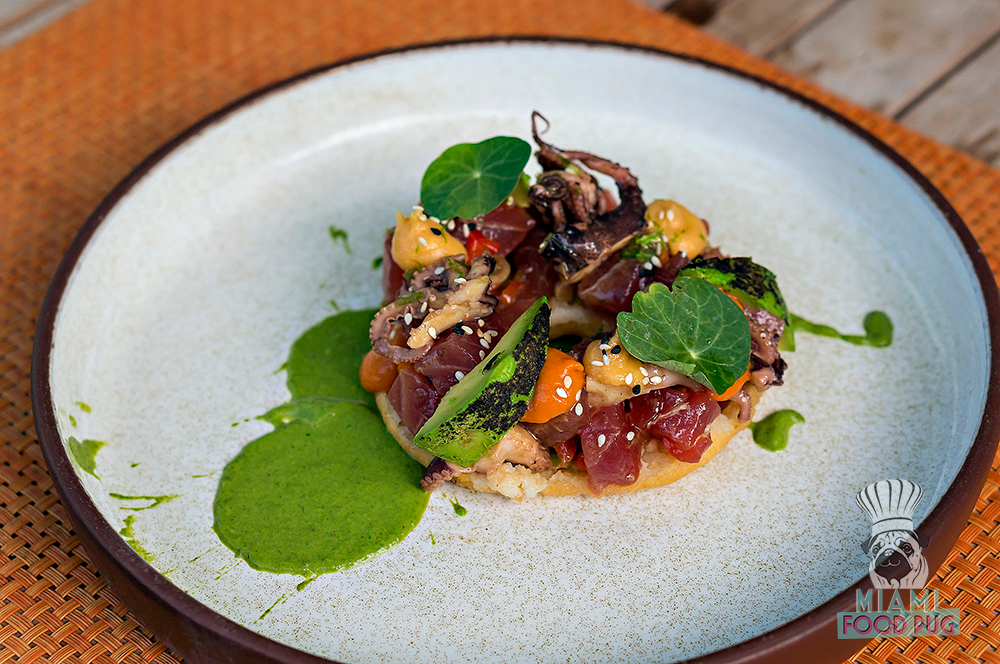 Obra Kitchen Table is the definition of a hidden gem. The restaurant is a standout in Miami's crowded food scene, but it's a bit hard to find. Unless you're really looking for it, you'll likely walk right past the low-key condo location. You'll definitely want to keep your eyes peeled, though, as this eatery's Miami Spice menu is not to be missed.
In terms of Miami Spice offerings, Obra's menu is short and sweet. At our visit, we had the option of three dishes for each course. It's not the most offerings we've encountered this season, but what the menu lacks in size it makes up for in flavor. Items like the Roasted Heirloom Tomato with Smoked Stracciatella and the Octopus with Tuna Tartare atop a fried arepa are fun starters that also double as colorful Instagram posts.
For entrees, the Rigatoni (artichokes, feta and crispy kale) is easily one of our favorite Miami Spice dishes so far. It sounds rather simple in description, but upon first bite, you'll be hooked. If meat is more your thing, the Ossobucco and Cachapa have you covered; you definitely won't be leaving hungry after that.
Desserts-wise, we enjoyed both a Catalina and Mango Sandwich and a Guava, Rosemary and Goat Cheese Frosting creation. Either dessert should cap your meal on a high note, but we found the former to be the better of the two. At this point in the meal, we were full from our sizable entrees so a smaller dessert like the sandwich made us feel less guilty.
At $39, the Miami Spice menu at Obra is worth it. Chef Carlos Garcia and his team have put together a great meal at a great value. The menu is subject to change, but with the talent on this team, you should leave satisfied regardless of what you order.
Obra Kitchen Table is located at 1331 Brickell Bay Dr. in Brickell. For hours of operation and their Miami Spice menu, visit their Miami Spice page or call 305-846-9363.