August 16, 2019
Each Friday, we compile South Florida food-related news and events that we couldn't fit on the site earlier in the week, as well as other local news that piques our interest. Want to be included in our next roundup? Shoot us an email at bark@miamifoodpug.com.
Taquiza Debuts New Cocktail Menu
KYU to Open in Mexico City
Jet Pilot Tiki Pop-Up Launches Today
Now Open: Esotico Miami
Havana Night Series at Concrete Beach
90s Bar Crawl Takes Over Brickell
Beat Culture Brewery Now Offers Brunch
Weekend Events at Nightlife Brewing Co.
National Rum Day Celebrations
Taquiza Debuts New Cocktail Menu
Think Taquiza is just tacos and totopos? Well, think again. With two of its three locations donning beautiful, full-liquor bars, Taquiza Head Bartender Katie Slichter has put a fresh new face on the original cocktail menu, and re-created the classics by paying homage to the agave plant, Mexican culture, and zero-waste movement.
Along with the eight new signature cocktails, Taquiza has expanded the margarita lineup with a classic marg on tap (available in glass [11] and pitcher [44]), a spicy marg [13] featuring resposado tequila, chile de arbol, agave, and fresno tincture, and refreshing frozen marg [12] with blanco tequila, simple syrup, and lime with the option to "make it a Cadillac" = shot of Grand Marnier for +$2. Oh, and did we mention happy hour? Every Monday – Friday from 4:30 to 7:30 PM in North Beach and South Beach only.
Some of the new cocktails include:
I Love You… Azafran [12]
Saffron-infused Tequila, Mexican Honey Syrup, Lime
[Variation of the margarita. Features traditional spices and herbs used in Taquiza's braised meats, and topped off with an edible, dehydrated corn wheel sourced from the already popular "Elote" side. "Azafran" = saffron in Spanish. Get it?]
Forbidden Fruit [12]
Tequila, Brown Sugar Cordial, Grapefruit Soda & Juice, Lime
[Variation of the Paloma. Uses the grapefruit zest and juice in both the cordial and cocktail, topped off with Jarritos Grapefruit Soda, and garnished with an edible, dehydrated grapefruit wheel. Grapefruit was originally named the "forbidden fruit". Thanks, Adam and Eve.]
KYU to Open in Mexico City
Chef Michael Lewis and restauranteur Steven Haigh, the duo behind the award-winning Miami restaurant KYU, have announced plans to bring their Asian-inspired, wood-fired concept to Mexico City, Mexico this fall.
After three wildly successful years in Miami, the KYU co-founders will launch their second location in the vibrant neighborhood of Polanco on the cross streets of Presidente Masaryk and Goldsmith. To help introduce the concept to the new market, the KYU team has partnered with Grupo Lujor, a Mexico-based company specializing in the restaurant and hospitality industry.
Featuring the same globally-inspired dishes that have put KYU's kitchen on the map, the menu will include signature favorites such as the Whole Roasted Cauliflower with shishito herb vinaigrette and goats' cheese, Wagyu Beef Brisket with black shichimi pepper, Crispy Tuna Tartare with smoked chili and Thai Rice Stone Pot with Alaskan King Crab.
Not to be outdone by the exquisite food menu, the elevated bar program will offer seasonal, Asian-inspired cocktail selections that are designed to perfectly compliment the dishes. Guests can also expect a prominent whisky selection and bottle program as well as curated wine and sake menus.
Incorporating raw concrete and natural wood finishes, touches of greenery and bold graffiti art by famed street artist 2ALAS; the new space will feature design elements that mirror its sister location while also embracing the vibrant culture of Mexico City. Guests will have views of the large open kitchen with the focal point being the open-fire grill and smoker. Accommodating up to 120 guests, the space features both indoor and outdoor seating, including a large terrace with a retractable roof and an upper level with plans to house a speakeasy cocktail bar.
In 2016, Chef Michael Lewis and his business partner Steven Haigh established KYU as a standout restaurant amidst Miami's competitive dining scene with a daring and worldly menu influenced by Chef Michael's continent-hopping career. Prior to opening KYU, Chef worked under influential Chefs such as David Bouley and Jean-Georges Vongerichten, ran kitchens from New York to London to the Bahamas, and led a team at Zuma as the Global Executive Chef. In its first year, KYU earned a James Beard nomination for "Best New Restaurant" and was named the "Best Restaurant in Florida" by TIME.
Jet Pilot Tiki Pop-Up Launches Today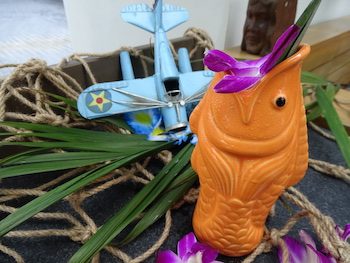 On Friday, August 16th, the Jet Pilot will make a crash landing in Miami Beach's North of Fifth neighborhood, bringing JET PILOT – a unique late-night tiki pop-up experience to Washington Avenue. Chris Resnick and the team behind Minnow Bar will be present at the crash site, slinging drinks with luau flair. Open on Fridays from 10 pm to 2 am only, the late-night themed pop-up will feature tiki cocktails and small bites, available throughout the summer.
"The Jet Pilot is a classic tiki cocktail, dating back to 1950's Beverly Hills," shares Resnick. "We wanted to pay homage to this classic and the tiki movement while creating a fun and unique," he says. The story behind the fictional JET PILOT is equal parts Don the Beachcomber and Gilligan's Island: once upon a time, there was a Jet Pilot flying around, exploring the Pacific Islands. He was having a great time jamming out to Harry Belafonte's "Jump in the Line", when all of a sudden he was lost in thick clouds of smoke and before he knew it, his jet crashed into the side of an erupting volcano. Miraculously he, and his last bottle of rum, survived the crash. The local island women say he must have had the luck of Pele, the goddess of volcanoes. Mix vigorously and you get a truly unique Miami Beach pop up bar.
The late-night bar will feature classic tiki drinks and a couple of Resnick originals, all priced at $13-$15. JET PILOT cocktails include the namesake JET PILOT, a "daring, dangerous, DELICIOUS!" blend of strong dark rums, grapefruit, lime, cinnamon, absinthe, bitters and LOST AT SEA, "a slightly herbal, mildly sweet, totally chill" mix of gin, guava, orgeat, lime and pineapple.
Things get interesting at midnight with the bar's "Midnight Shot" hour… Who said nothing good happens after midnight? Executive chef Julian Garriga of the upcoming Seawell Fish n' Oyster will offer a themed small bites menu. Chef Julian's Hawaii-inspired menu offerings ($11-16) will include Spam Loco Moco served with fried rice, foie gras, brisket, egg and XO sauce, Suckling Pig Sandwich with smoked pineapple relish on a Hawaiian bun and Hawaiian Fried Chicken, calamansi and chili, pickles
JET PILOT will pop-up every Friday in an intimate open space, colorfully decorated with bamboo umbrellas, torches, flamingos and all things "tiki." To find the secret entrance, look for the lit tiki torch on 6th street side of the Kimpton Angler's hotel. JET PILOT will land in Miami this summer through Thanksgiving 2019.
Now Open: Esotico Miami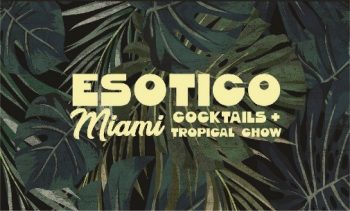 Graspa Group is pleased to announce the much-anticipated opening of its newest concept, Esotico Miami. The tropical, tiki-themed restaurant and bar is now open and serving dinner. Conceptualized by Graspa Group partner Daniele Dalla Pola (DDP), Esotico Miami is located in downtown Miami at 1600 NE 1st Avenue on the ground floor of the sleek Canvas Condominium Complex in the heart of the Arts and Entertainment District. The restaurant will be a draw for foodies seeking a taste of exotic bites as well as some of the most creative and potent drinks in town.
DDP – considered one of the world's best tropical mixologists – has created an immersive and innovative experience for guests. The eclectic drinks menu reflects DDP's international influences with vibrant, delicious and dynamic concoctions. A cocktail globetrotter, DDP has travelled the world learning the craft of libations inspired by remote locales. Esotico Miami's "tropical chow" menu perfectly complements the drinks with an array of culinary options.
The Dinner menu is comprised of authentic tiki-with-a-twist offerings featuring a variety of fresh seafood, meat-centric dishes, and seasonal vegetables. Executive Chef at the helm, Roberto Dubois, is also known as "Chef Koa" (his Hawaiian name). Chef Koa's impressive résumé includes positions at Juvia, Makoto, and Azul. Pupu Platters/Starters ($12-$22) feature items like Black Truffle Dumplings with pork and shrimp; a smoky Octopus Hot Dog served with mezcal cucumber relish and spicy sriracha mayo atop a brioche bun; Shaved Ice Leche de Dragon made with fruit de mer, lime juice, coconut, cherry tomatoes, green onion, mint, cilantro, is topped with shaved pisco watermelon gazpacho ice; and Kimoko Fish Cake – a classic Floridian fish cake will be served with spicy mango chutney.
The comprehensive cocktail menu contains an assortment of original creations influenced by tiki-cocktail history. The expansive offerings include signature drinks, limited edition mugs, large-format social cocktails for sharing, and sections dedicated to Negronis, rum flights, gin and tonics, mocktails, and beer. Among Esotico Miami's unique offerings is DDP's Nu Mai Tai ($15/$23 with souvenir glass) with Bacardi Carta Negra Rum, Yellow Snake Rum, Trois Rivieres Ambre Rum, orange liqueur, passion fruit and a very secret ingredient for a compelling twist.
Volcanos & Social Cocktails serving 2-8 people ($45-$170) are great for festive gatherings. Grab a straw and share the punch of the day with the mysterious Treasure Chest; the explosive Mauna Kea Volcano Bowl containing Bacardi Carta Oro Rum, Probitas Barbados Rum, and Yellow Snake Jamaican Rum; or the Tiki Cannibal Bowl with Lemon Hart Demerara 151 Rum, Diplomatico Planas and Bacardi Cuatro Rums, and Esotico's secret mix.
Havana Nights Series at Concrete Beach
Wynwood-based Concrete Beach Brewery will celebrate Cuba with a month long Havana Nights series, including multiple themes every Friday, throughout the month of August. On 8/9, the brewery revisits a '90s summer classic, with Dirty Dancing, then tests out beer cocktails with some dominoes on 8/16. On 8/23, CBB will partner with CubaOne to host a panel discussion covering topics on exploring identity and "Afro-Cubanness." The finale event on 8/30 will feature a pig roast and potluck.
90s Bar Crawl Takes Over Brickell
Join Miami Bar Crawls on Saturday, August 17th for a "That's So 90s Trivia & Bar Crawl" at five participating venues in Brickell. The fun starts at 6 p.m. at the host bar, Blackbird Ordinary. Attendees will receive a free drink at each venue, along with drink specials throughout the night.
Trivia will take place at the start of the night at Blackbird Ordinary. Dressing up is encouraged and teams that dress up in 90s fashion will get bonus trivia points. The grand prize for the four winning teams is a $100 cash prize along with "That's So 90s" Glow In The Dark medals.
There will be three ticket options:
– Trivia + Bar Crawl – $25 (minimum of 6 participants)
– Bar Crawl Only – $20
– Bar Crawl Only Group Tickets – $15 (groups of 4 or more)
Click here for tickets.
Beat Culture Brewery Now Offers Brunch
Beat Culture Brewery is launching weekend brunch this weekend with a special limited bottle release of Chismosa Mimosa on Saturday, August 17th. Chismosa Mimosa is a champagne-like beer brewed with Florida oranges intended to imitate a mimosa, the drink of choice for all weekend brunches.
The brunch menu, curated by Chef Giorgio Rapicavoli, will incorporate beer elements into the dishes like French Toast with bacon butter and beer dulce de leche.
Brunch at Beat Culture will be available Saturday and Sunday from 8 a.m. to 3 p.m.
Weekend Events at Nightlife Brewing Co.
NightLife Brewing Co. is hosting its first domino tournament on Saturday, August 17th at 2 p.m. in their outdoor beer garden. Attendees and spectators alike will enjoy beer specials like the Cabana Pils for $5 all night long, along with music, and food by Mr. PB and J.
First place will win a $150 bar tab along with NightLife Brewing Go. goodies. Second place will win a $50 bar tab. Entry into the domino tournament is free. NightLife Brewing Co. is located in Little Havana on the first floor of the Home Plate Garage at Marlins Park.
On Sunday, Hamilton Barkley is hosting his first Doggie Meet-Up at NightLife Brewing Co. on Sunday, August 18th from 2 p.m. to 5 p.m. Man and girl's best friend will enjoy mingling with their fellow fur buddies while they convince their pawrents to buy them goodies from the various doggie vendors that will be on-site including Live Pawsitively, The Bear and The Rat, Paws with Style, and Pet Wants. They can even have professional photos taken thanks to Marthinsen Photography.
Dog moms and dads don't have to feel left out! While their fur children are having fun, they'll be enjoying happy hour pricing on NightLife beers.
NightLife Brewing Co. is located in Little Havana on the first floor of the Home Plate Garage at Marlins Park.
National Rum Day Celebrations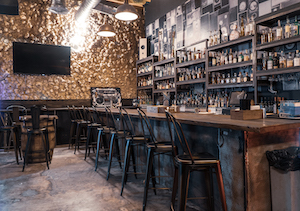 Red Bar in Brickell will be celebrating National Rum Day today with $10 rum cocktails all night long. Red Bar will also be launching their Painkiller Tropical Bar window. A tiki style walk-up window to enjoy tropical cocktails in their outdoor space.
Sweet Caroline will be celebrating National Rum Day all weekend long with $13 premium rum cocktails starting and Friday, August 16th and continuing through Sunday, August 18th.