December 13, 2019
Each Friday, we compile South Florida food-related news and events that we couldn't fit on the site earlier in the week, as well as other local news that piques our interest. Want to be included in our next roundup? Shoot us an email at bark@miamifoodpug.com.
PRIMADONNA at Sweet Liberty
Ugly Christmas Sweater Party at American Social
New Menu at PINCHO
Fooqsgiving at Fooq's
Movie Night at ETARU
New Promotions at Tanuki
Prohibition Wednesdays at Swizzle
PRIMADONNA at Sweet Liberty
Just 'Like A Prayer,' you know Sweet Liberty will take you there. The acclaimed neighborhood bar is throwing a very special and wildly entertaining PRIMADONNA pre-show series, to celebrate the legendary Madonna before her upcoming Madam X performances here in the Magic City. Beginning Saturday, December 14th through Sunday, December 22nd Sweet Liberty will host Madam X pre-parties, from 7 to 9:30 p.m. each night, hosted by the undeniably showstopping Miami/LA-based drag queen, Morphine Love.
Guests are encouraged to come dressed in their best Madge-inspired garb, for a fun-filled evening of delicious libations, lavish decor, enthralling acts by some of Miami's most popular drag divas, inspired by the 'Queen of Pop' herself, and plenty of surprises that'll help you get into the groove, before the show!
Ugly Christmas Sweater Party at American Social
December means it's time to dust off the old ugly Christmas sweater from the back of the closet and take it out for a spin. Luckily for everyone, American Social Brickell is throwing an Ugly Sweater Party on Friday, December 13, AKA the perfect excuse to debut that perfectly worn sweater. Featuring $5 Tito's Vodka specials all day long, the guest with the ugliest sweater also wins a $150 restaurant gift card.
Stick around on Saturday, December 14 to celebrate National Biscuit and Gravy Day at the gastropub with a $10 Biscuits and Gravy special served alongside two eggs any style.
Ugly sweaters, Tito's specials and discounted biscuits and gravy? Sounds like our kind of holiday cheer! Kindly let me know if you are interested in featuring these specials in any upcoming holiday stories that you are working on.
Photo Credit: Adorned Photography
New Menu at PINCHO
PINCHO, a Miami based restaurant brand, is proud to announce its four new items to their menu, launching in restaurants on Monday, Dec.16. The new menu items will be an addition to PINCHO's existing menu and can be ordered at all of the brand's nine restaurants spanning across Miami Dade and Broward except the Marlins Park location and the Hard Rock Stadium location. Restaurant regulars will be pleased to know all new items keep the signature taste and quality PINCHO is known for.
PINCHO's new menu items stay true to the brand's original mission: to introduce the entire country to real Latin-inspired food that is always cooked with outstanding flavor and passion in every bite; to proudly and vividly represent South Florida and it's unique, vibrant culture.
The new menu additions are as follows:
PIPO'S CHOICE BURGER: Winner of the 2019 Food Network South Beach Wine and Food Festival (SOBEWFF) BurgerBash. Topped with smoked gouda, fried sweet plantain bits, applewood smoked bacon, grilled onions, potato sticks and PINCHO's guava ketchup.
CHICKEN TEX MEX: PINCHO's signature chicken pincho, fresh tomato mix, flame-roasted corn, roasted pineapples, and black beans, served over a bed of jasmine rice and drizzled with PINCHO's chipotle aioli.
VACA FRITA BOWL: PINCHO's shredded 16-hour braised beef, fresh tomato mix, black beans, and fried maduro tidbits, served over a bed of jasmine rice and drizzled with PINCHO's cilantro sauce.
SALTADO BOWL: PINCHO's signature steak pincho, roasted plum tomatoes, grilled onions, french fries, and a soy-based jus, served over a bed of jasmine rice, drizzled with a spicy aji aioli and garnished with cilantro.
Fooqsgiving at Fooq's
Fooq's, the eclectic Persian/European-inspired eatery known for its Feel Good Food in the heart of downtown Miami, is celebrating the festive season with its annual Fooqsgiving dinner on Wednesday, December 18.
Fooqsgiving will have two seatings; one at 6:30 p.m. and 9:30 p.m., and offer three family-style courses at one large communal table including an appetizer course with Fooq's signature Mediterranean dips, a chef's salad and a drool-worthy charcuterie plate. The main course of goose, ham and whole roasted vegetables will be followed by dessert comprised of a specialty pie and Fooq's chocolate cake.
To drink, guests will be treated to welcome bubbles and hand-selected red or white wine pairings with each course. The cost is $75 per person, plus tax and tip and for every seat sold, Fooq's will donate a meal to the Overtown Children & Youth Colation.
Guests can reserve their seat at the Fooqsgiving table on 12/19 via Opentable – https://www.opentable.com/fooqs
Movie Night at ETARU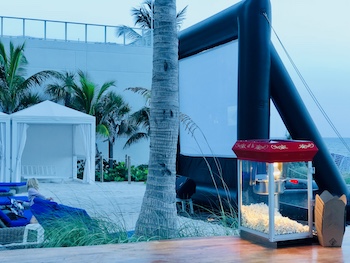 ETARU Hallandale will be hosting its December Cinema Club next week, which should be a wonderful time now that the weather has been so nice.Taking place once a month, the Cinema Club offers locals and visitors a fun and unique type of outing. With a big screen on the sand, guests can lounge on plush daybeds while enjoying a movie with quality food & drinks.
This month, the movie night will take place on Wednesday, December 18 at 7PM, with a screening of Home Alone. Purchase your tickets here.
New Promotions at Tanuki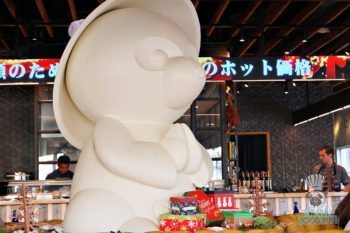 Sunday Brunch: Tanuki's new brunch à la carte menu features classics like Eggs Benedict, Avocado Toast, Caramel Miso Waffles and more – all priced between $9-12. Plus, enjoy bottomless Mimosas, Prosecco, Bellini, Sake and Sparkling Rosé for just $20-25. Brunch is available every Sunday from 11:30 a.m. to 3:00 p.m. Bottomless drinks available for up to two hours. Regular menu also available during this time.
Maki Madness Mondays: Maki Madness Mondays features $10 select maki from 5 p.m. to close. Highlights include their signature Truffled Yellowtail Roll (originally $18), Crispy Tom Yum (originally $16), Crunchy Tuna (originally $16), and Spicy Scallop (originally $16).
Happy Hour: Tanuki's new happy hour is available every day from 4 p.m. to 7 p.m. It features $5 sake and beer, $6 wine and well spirits, $8 cocktails, and $6-$8 bites. Sip on sake and sample on their new food items like the Cinderella Beef Puff Dim Sum, Charsiu Pork Ribs and Umami Chicken Wings.
Prohibition Wednesdays at Swizzle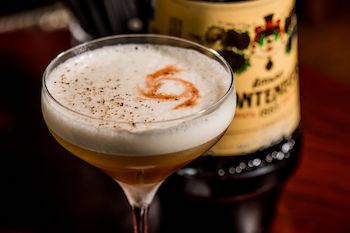 Swizzle Rum Bar & Drinkery is launching Prohibition Wednesdays on December 18, with a menu featuring unique spirits and forgotten cocktails. Spirit connoisseurs will be able to enjoy classic cocktails ranging from $9 to $11, made with rare spirits like Genever, Holland's native distillate comparable to gin; Singani, a Bolivian spirit; Rakija, the fiery fruit brandy popular in Eastern Europe; and Metaxa, a flavorful brandy-like spirit made in Greece.
Swizzle Rum Bar & Drinkery is an intimate and sophisticated craft cocktail bar with a selection of more than 150 rums, a New York City meets Miami vibe and drinks that appeal to both the casual consumer and the cocktail connoisseur. Created by the team behind Employees Only Miami, the Miami Beach hotspot has a menu with versatile cocktail list, with a large focus on classic and contemporary cocktails, as well as a mix of spirit forward cocktails and refreshing tropical drinks.