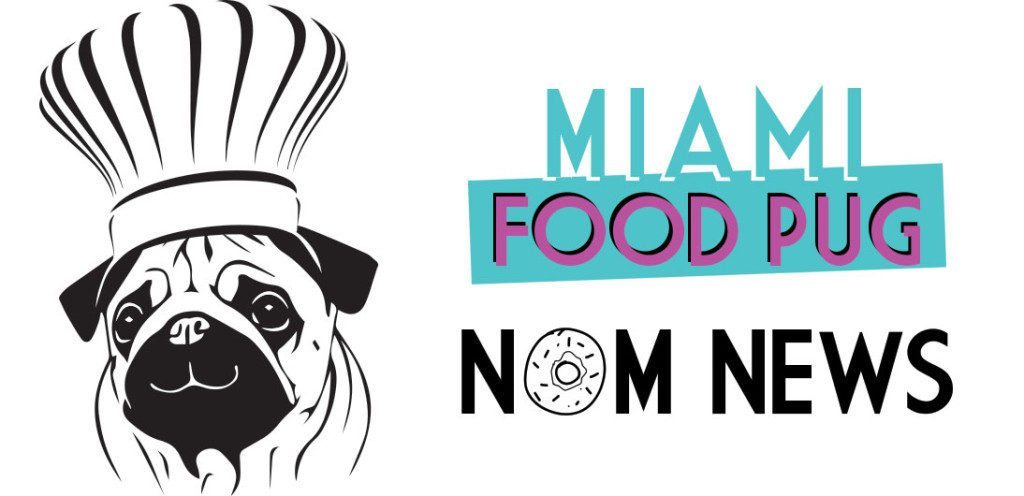 March 13, 2020
Each Friday, we compile South Florida food-related news and events that we couldn't fit on the site earlier in the week, as well as other local news that piques our interest. Want to be included in our next roundup? Shoot us an email at bark@miamifoodpug.com.
World Water Day at 1 Hotel
New Sunday Brunch at Luna Park
Now Open in Downtown: Poke OG
National Paella Day at Bulla
Bar Spanglish Launches Tiki Tuesdays
Negroni Bistro & Sushi Bar Opens in Midtown
Sunset Menu at Juvia
World Water Day at 1 Hotel
Starting at 6pm on World Water Day 2020, Sunday, March 22, join 1 Hotel South Beach as they team up with Surfrider Foundation – Miami Chapter with a beach clean-up to show the ocean some love. Post clean-up, enjoy a complimentary sip by Avua Cachaca or Coconut Cartel with DJ vibes the remainder of the night at Watr, 1 Hotel South Beach's rooftop restaurant. Tickets to participate cost $15 and can be purchased via Eventbrite.
The clean-up essentials and a specialty cocktail at Watr are included in the $15 participation fee and 100 % of all proceeds will go to Surfrider Foundation – Miami Chapter.
New Sunday Brunch at Luna Park
Luna Park, Brickell City Centre's sprawling Italian food hall, has officially launched Sunday brunch, dubbed as The Biggest Italian Brunch Party. Every Sunday from 11 a.m. – 3 p.m., Luna Park will feature a Grand Buffet on the food hall's second floor with a spread of signature brunch dishes from all onsite restaurants, including Antica Pizzeria, Breakfast In America, Macellaio RC, Puro's, and N.0 Osteria.
The Grand Buffet will offer a wide variety of sweet and savory options ranging from pancakes and Nutella to homemade pastas and Aperol Spritz, an omelette station, make your own pasta station, steak carpaccio, eggs benedict, crepes, pancakes, and more. The weekly brunch soiree will go above and beyond with Luna Park's signature entertainers, music, and face painters.
Luna Park's over-the-top brunch is available every Sunday from 11:00 a.m. to 3:00 p.m. for $50++. Guests have the option of upgrading their experience with bottomless drinks for an additional $20, varying from alcoholic to non alcoholic beverage options.
As an added bonus, Luna Park will offer complimentary parking for up to two hours at Brickell City Centre with parking validation provided.
Guests are encouraged to book their brunch experience in advance through Eventbrite HERE.
Photo credit: Dylan Rives
Now Open in Downtown: Poke OG
Poke OG is on a roll. Since opening inside Miami's original culinary market, 1-800-Lucky (December 2017) there has been a consistent line for their Hawaiian inspired delicacies and vegan friendly bowls. Due to high-demand, guests don't have to flock solely to Wynwood for their fix. Poke OG is opening their first brick and mortar in Downtown Miami Friday, March 6th. By end of month, the popular poke shop will have a third location in Fort Lauderdale's first food hall, Sistrunk Marketplace.
Mayer's passion for poke began during his time at Roy's lead by culinary pioneer and mentor Roy Yamaguchi. While being with Roy's for 14 years, he took time to develop his passion project and flew to Hawaii where he spent time in the kitchen alongside Yamaguchi. Executive Chef of Poke OG, Ryan Leto met Mayer while they were both at Roy's. Mayer describes Poke OG as the only poke concept with "Hawaiian roots and California soul." Quality plays a huge as fish like Scottish Salmon, Ruby Red Ahi-Tuna and wild-caught Japanese Hamachi are imported daily. The chef driven destination also works with local farmers using to use the best ingredients.
Guests can either build their own bowl or choose a signature creation including vegan and gluten-free options ($13). Health conscious eaters can also choose low-carb bases like zucchini noodles or baby greens. Menu highlights include:
Big Island OG: ah tuna, sweet onions, green onions, fried onions, cucumber and tossed in Hawaiian OG sauce, served over white rice
Rainbow OG: ahi tuna, yellowtail, salmon, green onions, sweet onions, cucumber, masago, Bubu Arare and mixed with dynamite aioli, served over white rice
Top Shelf OG: poached jumbo shrimp, edamame, cucumbers, green onions, sweet onions, Bubu Arare and prepared with truffle white soy vinaigrette, served over Furikake white rice
Pineapple OG: pineapple, edamame, sweet onions, green onions, cucumber, tossed in fire sauce and served over zucchini noodles
Truffle OG: tofu, cucumber, sweet onions, edamame, scallions, Bubu Arare, truffle white soy vinaigrette and served over white rice
Guests can pair their lunch or dinner with Hawaiian beer including Kona Brewing Company ($4), wine and Soto Sake. The fast-casual space is 1,200 square feet with 25 seats inside and 12 seats outside. Inside the design is simplistic and colorful showcasing blue tiles, white exposed brick and bright hues of yellow. Guests are encouraged to take a photo in front of their Instagram friendly wallpaper boasting bright pink Hawaiian flowers. Delivery will also be available on UberEats.
Hours of operation are Monday through Friday from 11AM – 10PM and 12PM – 10PM on Friday and Saturday.
National Paella Day at Bulla
Full of vibrant and wholesome flavors, Paella is the undisputed MVP of Spanish cuisine. The authentic dish, prepared with saffron rice, spices, seafood and more, is a staple at Bulla Gastrobar, bringing people together with each unique bite.
To celebrate National Paella Day on Friday, March 27, Bulla Gastrobar introduces a variety of paella dishes to the menu:
Paella de Vegetales ($20) – Portobello mushrooms, asparagus, carrots, artichoke confit, green peas, kale, sofrito rojo, saffron
Paella Mixta ($39) – Calamari, clams, shrimp, fish, chicken, sofrito de calamar, saffron
Paella de Pollo ($25) – Chicken, artichoke confit, portobello mushrooms, green peas, red sofrito, saffron
Paella de Mariscos ($39) – Calamari, prawns, clams, shrimp, sofrito, saffron
Paella de Cordero ($35) – Lamb chops, quail eggs, red sofrito, picada, crispy kale, walnut aioli
Paella Negra ($32) – Calamari, squid ink, grilled octopus, green peas, sofrito, picada, aioli
Clam Fideuá ($26) – Fideos, pork belly, calamari, clams, onions, aioli, fried basil
Bar Spanglish Launches Tiki Tuesdays
On Tuesday, March 17, Spanglish Craft Cocktail Bar + Kitchen, a Wynwood destination that combines equal parts alchemy, fun and artistry, is launching Tiki Tuesdays. Beginning at 7PM, the weekly series will feature specialty crafted tiki cocktails curated by the Cocktail Cartel, flare shows and live music.
In celebration of St. Patrick's Day, Spanglish is kicking off the event with their creative twist on an Irish tiki. The Gold Rush Irish tiki ($13), only available to guests on March 17, is a delicious combination of Irish Whiskey, Over Proof Rum, cream sherry, pineapple juice, lemon, orgeat and Angostura bitters.
Crowned the Art of Tiki Cocktail Throwdown & Overall Winner at SOBEWFF® 2020, the Cocktail Cartel has crafted a stellar lineup of concoctions served in tiki vessels, including the Me Love You Long Thai, a zesty mixture of Plantation 3 Stars, Plantation Over Proof, Thai falernum, a citrus blend and Caribbean blend; the Tropi & Tonic, a tropical blend of Fords Gin, Pernod Absinthe passion fruit, fresh lime juice, cinnamon bark reduction, Angostura bitters and Q tonic water; and the Cold Brew Piña Colada, an island-minded mixture featuring a rum blend, PX sherry, fresh pineapple, cold brew coffee, coconut cream, Angostura bitters and nutmeg. All cocktails are individually priced at $13.
Negroni Bistro & Sushi Bar Opens in Midtown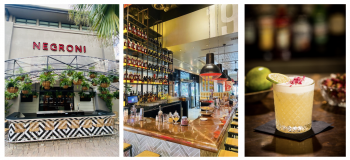 Negroni Bistro & Sushi Bar is pleased to announce the opening of its first U.S. location in Miami, Florida at The Shops at Midtown. With more than 15 locations in Buenos Aires, Rosario and Pinamar (Argentina), in Montevideo, and Punta del Este (Uruguay) and in Asuncion (Paraguay), Negroni offers a menu of diverse international comfort food ranging from Sushi & Ceviches to authentic Latin Cuisine in a vibrant, laid-back atmosphere.
Patrons can enjoy a diverse international selection of comfort food and libations, served during brunch, lunch, dinner and happy hour. The menu features savory selections such as the Negroni Truffle Burger crafted with Grass fed beef, mushrooms, avocado, truffle burrata and truffle aioli in a brioche bun and the Parrillada De Mar (Sea Grill) served with a selection of grilled seafood and fish on Japanese rice, sauteed vegetables, sweet chili and aioli sauce. A full sushi bar is also available serving refreshing ceviche, nigiri, sashimi and maki.
Those looking to enjoy a perfectly crafted cocktail can venture over to one of the two bars at Negroni Midtown. Highlights of the cocktail menu include three twists on the classic Negroni including Sbagliato shaken with Campari, Cinzano rosso, prosecco and orange or the Negroni Sour with Campari, Bulldog gin, Cinzano rosso, grapefruit cordial, lemon juice, aquafaba, angostura bitters. This new Midtown location also serves specialty Miami cocktails such as the Watermelon Paloma and Smoked Old Fashioned. A variety of Spritz cocktails, shaken up tonic libations plus a full selection of wine and beer are also available.
Negroni Midtown is located at 3201 Buena Vista Boulevard, Midtown Miami 33127.
Sunset Menu at Juvia
Juvia has brought back their famed Sunset Menu for locals to enjoy while overlooking unobstructed views of the Atlantic Ocean. Available everyday from 6:00 to 7:30 pm, the 3-course menu is paired with a complimentary glass of prosecco for only $45 dollars.