January 15, 2021
Each Friday, we compile South Florida food-related news and events that we couldn't fit on the site earlier in the week, as well as other local news that piques our interest. Want to be included in our next roundup? Shoot us an email at bark@miamifoodpug.com.
New Concepts Come to 1-800-LUCKY
Tijuana Flats Debuts Fajita Tacos
National Peking Duck Day at Komodo
CVI.CHE 105 Opens 4th Location
Coming Soon to Midtown: Salvaje
Tacocraft Debuts New Brunch
New Concepts Come to 1-800-LUCKY
James Beard nominee Chef Nicole Ponseca has brought her wildly popular, NYC restaurant Jeepney and a new concept, Tita Baby's to Miami. Both concepts are NOW OPEN inside Wynwood's Asian Food Hall, 1-800-Lucky.
After debuting two groundbreaking concepts in New York, the renowned restaurateur and author is ready to expand her Filipino empire. The Jeepney Miami Pop-up focuses on a curated menu featuring Filipino BBQ skewers ($9 chicken or pork), sizzling Sisig ($14), and Pancit noodles ($13).
Along with Jeepney BBQ, Ponseca will introduce a selection of Philippine pastries like Bibingka ($6), a traditional rice cake served in a cast iron skillet lined with banana leaves, Ensaymada ($3) a soft bread pastry lathered with a calamansi-sugar glaze and Halo Halo ($11), the famous shaved ice loved by Anthony Bourdain and written about extensively for its festive colors and use of ube ice cream.
Tijuana Flats Debuts Fajita Tacos
Tijuana Flats, the fast-casual Tex-Mex-For-All original, today announced an exciting start to 2021 with the launch of Fajita Tacos. Tijuana Flats is known for pushing the boundaries of bold flavors and this limited-time offering combines all the past parts of fajitas and takes them to the next level. Fajita Tacos are part fajita, part taco, and all awesome.
Guests can choose from grilled chicken or steak inside warm, flour tortillas, packed with sizzling fajita peppers and onions, tangy garlic lime sauce and fresh guajillo chile salsa. They are topped with cheddar jack cheese, crisp iceberg lettuce and house-made pico de gallo. Order Fajita Tacos at the restaurant, online at tijuanaflats.com, or through the Tijuana Flats Rewards app for $7.99. Upgrade to steak for $1 extra.
Fajita Tacos will be available in stores and online now through Sunday, March 7.
National Peking Duck Day at Komodo
The holiday season isn't over yet – National Peking Duck is coming up Monday, January 18, and this holiday is one you won't want to miss! Found in the heart of Brickell, Komodo has served Miami's best Peking Duck since the day it came to town.
Roasted to perfection in the famous "Duck Room" by the honorary "Duck Man," the peking duck is a dish that comes with a show. This grand dish is carved tableside and served with a sweet complementing hoisin sauce, wrapped with thinly sliced Chinese pancakes.
Loved by celebrities and locals alike, Komodo's Peking Duck is a Miami delicacy that is unmatched. If you're working on a story for National Peking Duck Day or where to find Miami's best peking duck, I would be more than happy to send further information.
CVI.CHE 105 Opens 4th Location
CVI.CHE 105, Miami's iconic Peruvian restaurant and flagship concept of CVI.CHE 105 restaurant group including Pollos & Jarras, Inti.Mo and Yuca 105, opened its fourth location at the newly renovated main entrance of Dadeland Mall.
Residents and visitors alike of areas such as Kendall, Pinecrest, South Miami, Sunset, among others, can now experience the famously celebrated Peruvian flavors that have made CVI.CHE 105 restaurants so highly visited and popular since 2008.
The new 5,500 square ft. space features a full liquor bar and both indoor and outdoor dining, offering menu staples including seafood options such as award-winning Ceviches, Tiraditos, and rolls, as well as traditional and fusion Peruvian appetizers and entrees such as Anticuchos, Lomo Saltado or Arroz Chaufa.
Located at the newly renovated main entrance, CVI.CHE 105 Dadeland Mall is perfectly situated amongst world-class retailers and restaurants set to open later this year. CVI.CHE 105 Dadeland Mall also features a colorful, yet opulent ambience, a symbolic representation of Peru's rich culture, designed by Peruvian interior designer Antoinette Emanuel and several other renowned artists.
Coming Soon to Midtown: Salvaje
Internationally renowned Japanese fusion restaurant, Salvaje, has made its way to Midtown – a bustling area in the center of Miami known for its industrial-chic art galleries, cutting-edge contemporary skyscrapers, and world-class shopping. With locations in Madrid, Barcelona, Marbella, Ibiza, Panamà, and Colombia, Salvaje's first U.S. location will open January 22ndon the rooftop of Hyde Midtown Miami and offer a high-quality gastronomic experience where every ingredient and detail count.
Acclaimed Executive Chef Fermin Azkue helms the kitchen at Salvaje with elements of the highest quality that are used to exhilarate your palate including Octopus from Galicia, Spain, Alaskan King Salmon, Japanese Tuna, grade-A Japanese Wagyu, and more. Salvaje's vision has been, and will continue to be, to use the best quality ingredients found nationally and internationally when preparing their dishes.
In addition to a seasonally changing sushi and omakase menu, some signature dishes include Grilled and Glazed Lamb Shank – lamb, teriyaki sauce, crispy wonton, brussel salsa Kimchi; Lobster Dumplings – lobster, lobster bisque base, crispy wonton, micro mint; and Wok Rice with Duck – truffle fried rice with roasted duck.
Salvaje's signature whimsical design highlights an expansive open-air environment that features a retractable roof crafted by internationally renowned design specialist Igancio Garcia Vinuesa.
The 170-seat rooftop garden oasis boasts bamboo daybeds to watch the sunset, creatively mismatched dining tables surrounded by adorned bookshelves and a sleek omakase sushi bar. Exterior highlights include four signature gold rhino heads, oversized Dr.Seuss like palms and a variety of illuminated light fixtures to create an intimate setting.
The restaurant is located at 101 NE 34th Street in Midtown Miami's trendy neighborhood and is open for dinner nightly. Hours of operation vary: Monday through Thursday 3pm-12pm; Friday and Saturday 3pm-1am and 3pm-12:00pm on Sunday.
Tacocraft Debuts New Brunch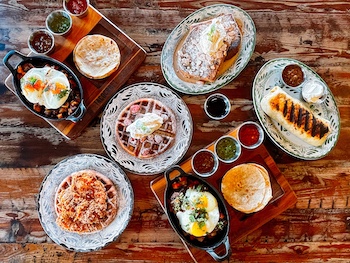 With the latest opening of Tacocraft in Victoria Park, the South Florida based restaurant group has decided to revamp their brunch menus at all locations (Fort Lauderdale, Lauderdale by the Sea and South Miami) for the new year. Available every Saturday and Sunday from 11am to 3pm, guests can sip on bottomless mimosas, sangrias and spritzers for only $18.
Also indulge in their new dishes, including the Chicken & Churros topped with Mike's Hot Honey and Tequila infused maple syrup; Skirt Steak & Eggs served with chimichurri, potato and pepper hash, with two eggs your way and corn tortillas; and Tres Leches French Toast made with brioche bread, tres leches milk, Cinnamon Toast Crunch, caramel and cinnamon whipped cream.