April 9, 2021
Each Friday, we compile South Florida food-related news and events that we couldn't fit on the site earlier in the week, as well as other local news that piques our interest. Want to be included in our next roundup? Shoot us an email at bark@miamifoodpug.com.
Sunday Brunch at Casa Isola
April Programming at The Doral Yard
Grilled Cheese Special at Loews Miami Beach Hotel
Lao New Year at Lil Laos
La Traila BBQ to Open Permanent Location
Sunday Brunch at Casa Isola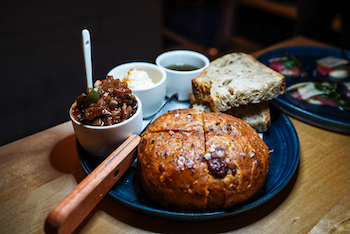 Chefs Jose Mendin and Santo Angello are now launching their much-anticipated Sunday Brunch at Sunset Harbour's newest eatery, Casa Isola. In addition to select items from the main menu, brunch fare includes: Tortellini Al Brodo – porcini broth and dumpling; Eggs Benedict – prosciutto bread, lettuce, tomato, and pancetta; Isola Meatball Salad with romaine lettuce, tomatoes, Italian long hot, onions, and ricotta; Veal Chop Parmigiana (serves two); Eggs In Purgatory – two eggs cooked in spicy tomato sauce served with toasted bread; Canoli French Toast – ricotta sweet cream and pistachios, with maple syrup; and Maria's Weekly Italian Inspired Pastries. Casa Isola is located at 1418 20th Street in Miami Beach. Open Sundays Noon-3pm.
Photo Credit: @Hot.Chefs
April Programming at The Doral Yard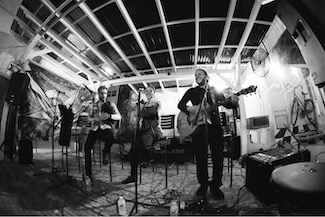 April at The Doral Yard brings a smorgasbord of live music, culture, fitness and wellness events the entire family can enjoy safely.
Kids make The Doral Yard their playground this month with events like Kids KardioYoga and Musical Adventures with Art Cortex where kids sample their DJing skills on Saturday, April 10.
On Wednesday, April 21, join Chef Eileen Andrade and bartender Jasmin Pacheco of Barbakoa by Finka, The Doral Yard's upcoming full-service restaurant, for Shake n' Make, a different kind of craft cocktail-making workshop where your talents will take center stage.
Families savor socially-distanced live music outdoors including performances by Celtic folk and Latin pop fusion band, Gaêlica, jazz by local gems Nikki Kidd, Jahzel and the Anna Palmerola Duo and world music sounds by Carlos Andrade, Ale Mor and Cortadito, to name a few. In addition, dance to DJs including DJ Xtreme of Tu 94.9 FM every other Sunday at The Doral Yard.
On Tuesday, April 27, join The Doral Yard's plant-based culinary vendor, della bowls, and Debris Free Oceans for a free online Earth Day Sustainable Cooking Class.
April also brings a new fitness series to The Doral Yard. Joining the longstanding Hatha Yoga with Dunia series on Tuesdays, now 305 Fitness with Glow Fitness offers Yard-goers weekend cardio sessions on alternating Saturdays and Sundays throughout the month. In addition, join us for Zumba at The Yard with Cat Medina on April 7.
Grilled Cheese Special at Loews Miami Beach Hotel
Executive Chef Frederic Delaire is offering up a super cheesy twist on the traditional Cuban sandwich with his Cubano Grilled Cheese. For this sandwich, chef takes the elements of a Cuban sandwich – roast pork, pickles, mayo and cheese – but amplifies the cheesiness by using mounds of gruyere and Swiss, and replacing the traditional Cuban bread with hearty brioche. The Cubano Grilled Cheese will be available Monday, April 12th at Bar Collins and comes with a side of fries for $19.
Lao New Year at Lil Laos
Chefs Sayarath and Chef Curtis of Lil Laos are excited to celebrate Lao New Year next Wednesday, April 14 and honor Sayarath's cultural traditions by offering a special Pi Mai Platter available for dine-in only at The Citadel in Little River from 7 pm – 9pm. Guests can order a platter and enjoy the viewing of Anthony Bourdain Parts Unknown featuring Laos on the big screen at The Citadel.
Beginning on April 14, Lao New Year is a week-long festival consisting of street food, dance, music, and pageants to ring in a blissful new year for the community. In Laos, traditional New Year meals usually consist of large shared platters of food with laab, grilled proteins (duck heads, chicken feet, ribs, chicken wings, ribeye steak, etc.), spicy condiments, fried noodles and bamboo shoot soup, followed by a wide selection of desserts called Nam Van.
Now able to create a Pi Mai Platter of her own through Lil Laos, Sayarath selected some of her favorite street snacks that she grew up eating for their guests to enjoy. Serving one person, the Lil Laos' Pi Mai Platter ($30) includes:
PING LUK SIIN (Grilled Beef Meatballs) – Ground beef marinated meatballs served with sweet chili sauce (served 2 small on each stick)
PIING GAI (Grilled chicken) – Grilled sweet & savory chicken skewers
LAO SPRING ROLL – Ground pork, clear noodles, shredded carrots
JAEW HET MAK KUA- charred mushroom & eggplant dipping sauce, fresh chilies, padaek, herbs, accompanied with steamed veggies
LAAP GAI – Ground chicken, rice powder, herbs, bean sprouts, dry chilies, lemongrass
TUM MAK HOONG – Green shredded papaya salad, fresh chilies, garlic, housemade padaek, shrimp paste, fermented crabs, side of sliced cabbage
PURPLE STICKY RICE
La Traila BBQ to Open Permanent Location
La Traila BBQ, Miami's genuine Texas-style craft barbecue pit spot, is set to open its first brick n' mortar location late-April 2021. Founded by Austin native and pit master Mel Rodriguez and Miami native/Buffalo Bills Wide Receiver Isaiah McKenzie, the hotly-anticipated BBQ hotspot will be located in Miami Lakes. The opening will signal La Traila brand's first permanent home to date; it has only existed as a "first come, first served" style pop-up, a holy grail-ish "must try" for local BBQ enthusiasts.
With 28 seats indoors and 32 seats outdoors, La Traila will have a cool fast casual feel. The team has hopes of building out the outdoor space over time to give it a true homestyle BBQ family atmosphere. Smoked to absolute perfection, BBQ lovers can expect items like Brisket Sundae with a mac and cheese base then layered with baked beans and cream corn then topped with smoked brisket, cotija cheese, crema and house sauce; platters and meat by the pound like Smoked Pulled Pork, Smoked Sausage, Pork Spare Ribs and Texas Style Brisket; and for some Miami and Texas fusion – Brisket y Queso Empanadas and Smoked Pork Rib Croquettes.
Sides will include cookout specials such as Mac n Cheese and Baked Beans. The team has plans to open for breakfast with items such as breakfast tacos, a nod to Mel's Mexican heritage. Beer and wine selections will be on offer. Takeout will also be available and catering options are offered upon request.