January 21, 2022
Each Friday, we compile South Florida food-related news and events that we couldn't fit on the site earlier in the week, as well as other local news that piques our interest. Want to be included in our next roundup? Shoot us an email at bark@miamifoodpug.com.
La Farandula Opens in Miami
New Desserts at Komodo
Coming Soon: The Sunset Club
New Vendors at Yellow Green Farmers Market
New Happenings at Leku
La Farandula Opens in Miami
Miami's fun-loving and rapidly expanding hospitality group, The Dirty Rabbit Group, just added an authentic eatery to its portfolio with the newly opened La Farandula Colombian Dream.
Drawing inspiration from their own Colombian roots, founders Jonathan Taborda and Andrés San Martín are bringing the bold flavors from back home to Miami's bustling city center on Biscayne Boulevard.
The restaurant features traditional dishes like Morcilla Crocante, a hearty Bandeja Paisa, and the seaside delicacy, Mojarra Frita, that pairs perfectly with the beloved Cerveza Aguila. Seasonal items, such as Buñuelos Con Natilla for the winter holidays, are also part of the mouth-watering meals.
Children will enjoy a curated menu of finger-friendly foods including Salchipapas and the same homemade flavors their parents grew up with dishes like the Ajiaco soup. The authentic menu was curated by Chef Nicolas Caicedo, a Colombian-born Miami local, who has worked in premier restaurants across Spain and New York City including Morimoto and Hudson Garden Grill before taking his place as Corporate Chef of The Dirty Rabbit Group.
The intimate restaurant was designed by partner Luis Gaviria and features a verdant 30-seat
terrace, natural wood elements, and an indoor dining room where walls are proudly papered
with the faces of Colombian cultural icons that embody the "de Colombia para el mundo"
mantra.
La Farandula Colombian Dream is open Monday through Sunday from 12 pm to 9 pm.
New Desserts at Komodo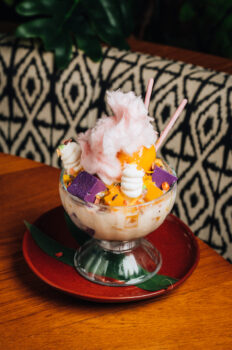 Brickell's Southeast Asian hotspot, Komodo, has introduced two new rich, over-the-top desserts made to satisfy your sweet tooth. Available Thursday, January 20, the Halo Halo ($24) is a dish as delicious as it is Instagrammable – made with a colorful assortment of Ube Flan, mango passion fruit gelee dressed atop fresh, banana ice cream.
Available next Tuesday, January 25, chocolate lovers can dive into the decadent Miso Chocolate Temptation ($17), made with light, creamy Dulce Mousse with Sobacha Ice Cream and caramelized nutty popcorn for a delicious blend of complementing flavors with contrasting textures.
Coming Soon: The Sunset Club
Last Call Hospitality Group, the guys that brought you Tipsy Flamingo, Redbar in Brickell, and Sweet Caroline Karaoke Bar, are thrilled to announce their expansion into Broward County with their newest concept, Sunset Club Rooftop Bar & Lounge. Opening to the public this February and located in the heart of Hollywood Beach, Sunset Club is a chic rooftop cocktail bar set atop the new Costa Hollywood Beach Resort.
Located at 777 N. Ocean Drive, Hollywood Beach, FL 33019, the sprawling open-air oasis features sweeping ocean views in the back with a front lounge area that rests directly in front of the Stranahan River making it the perfect place to view the jaw-dropping sun-kissed skyline.
The cocktail menu can best be described as what a tropical vacation would "taste" like. Each drink was designed to remind the guests of a refreshing tropical escape while highlighting fresh ingredients. Served with a twist or a kick like the "Hot Summer Tales" cocktail made with gin, lime, passion fruit, jalapeno and mint, the drinks are fun and refreshing.
The food menu, created by Chef Geancarlo Mayorga who specializes in global cuisine will feature hot and cold appetizers as well as full size entrees. The chef, drawing inspiration from the area as the venue is surrounded by water, will be mainly seafood focused.
Guests can expect dishes such as Hamachi Tiraditos, select sushi rolls, Grilled Octopus with lime cream foam, Corvina tacos, fresh oysters, even a giant seafood platter for large groups loaded with Argentinian prawns, tuna tataki, oysters, etc.
The hot entrees won't disappoint with dishes including a juicy 14oz ribeye steak, branzino and shrimp risotto to name a few.The Sunset Club Rooftop Bar & Lounge is open Sunday through Wednesday 11 AM to 7 PM, and Thursday through Saturday 11 AM to midnight.
New Vendors at Yellow Green Farmers Market
Yellow Green Farmers Market (YGFM), South Florida's one-of-a-kind destination for fresh fruit, vegetables, delicious food and drinks, leisure and retail, is excited to announce the welcome addition of new featured vendors. With new items such as Colombian coffee to Chinese-Venezuelan BBQ, the market consists of over 325 local, small businesses.
Featured new vendors include Puro Tinto Coffee (Colombian Coffee); Chile Limon Fusion (Mexican Peruvian fusion cuisine); My Hot Vegan (hummus and pita, vegan burritos, falafel and pita sandwiches); and Locos X Grill (Chinese-Venezuelan fusion wood-fired BBQ cuisine).
Open Saturdays and Sundays from 10AM to 7PM, the market offers patrons a relaxed space to meet with friends and family under blue skies or a starry night. After shopping small and supporting local, guests can kick-back in one of the new tiki huts on property to enjoy tunes from local bands while enjoying beverages from one of the on-site bars or go the healthy route with a specialty juice or hand-crafted smoothie. Also on offer, chair and table massages are available from Pro Massage.
New Happenings at Leku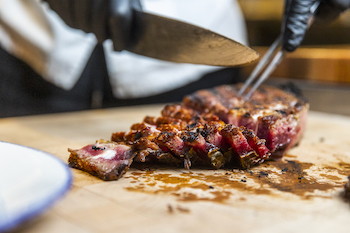 LEKU, the award-winning concept known for bringing the pleasures of eating in Spain's enchanting Côte Basque to Miami is thrilled to announce the grand unveiling of the first Josper outdoor double grill in South Florida, the same legendary grill used by the Spanish Basque Country's Michelin Starred and #3 on the World's 50 Best Restaurants list, Asador Etxebarri.
LEKU's all-day lunch and dinner menus served in a whimsical indoor and outdoor setting adorned with artistic masterpieces at every corner have been pleasing guests with fresh, full-flavored seasonal local ingredients and cooking methods based on tried and true techniques. As they enter their second year, Executive Chef Mikel Goikolea is elated to invite patrons to experience their newly expanded menu procured by the transformative power of the Josper's embers and flames guaranteed to grill morsels of meat, seafood and vegetables to pure perfection.
"The Grill's" hydraulic regulation system ensures a precise and smooth continuous movement of the grill at various heights allowing the grill master to have full control of the unique flavors of the finest charcoal including Basque and American wood chips such as White Quebracho, Red Quebracho, Tropical Hardwoods and Holm Oak.
As a result, this new and advanced cooking method staple will yield an unmatched balance of moisture and texture among note-worthy preparations of Chateaubriand for Two, Double Lamb Chops, Presa Iberica, Picanha (all market priced) served with LEKU's signature Piperade condiment sauce; whole local fish like Grouper and Snapper, seasonal Shellfish and Maine Lobster (all market priced) finished with touches of txakoli with garlic and olive oil to brighten up seafood grilling; as well as nutrient-rich farm-to-table vegetables and much more.
Guests can also anticipate new starter plates such as Trio of Croquetas with 5J Ham Chorizo and Cod Croquetas ($22); Crispy Fried Squid, Liquid Squid Ink Croqueta, Onion Toffee ($27); Duck Foie Gras Terrine dusted with corn nuts, Pedro Ximenes Marmalade ($29); Truffled Spanish Tortilla ($18); Confit of Leeks with Rosemary, Sage, Whole Grain Mustard and Crispy Leeks ($14); and Pickled Mussels in White Wine and Bay Leaves ($14).
Notable entrees include Roasted Guinea Hen with Citrus Sauce, Beluga Lentils and Pickled Onion and Apple ($36); Confit of Cod in its own Pil Pil ($34); as well as Roasted Duck Breast with Confit Carrots, Game Reduction and House-made Roasted Cabbage Kimchi ($38). For those seeking to end their meal on a sweet note, set your sights on the Chocolate Mousse Brownie with Black Olive Dust and Goat Milk Ice Cream ($15) or the palate pleasing Goxua, a traditional Basque Cake with Méringue and Caramelized Custard ($16).
Photo by @thebacyard