April 22, 2022
Each Friday, we compile South Florida food-related news and events that we couldn't fit on the site earlier in the week, as well as other local news that piques our interest. Want to be included in our next roundup? Shoot us an email at bark@miamifoodpug.com.
Coming Soon: The Gibson Room
New Brunch Menu at Phuc Yea
Cinco de Mayo at Corsair
Coming Soon: The Gibson Room
Two-time James Beard Award semi-finalist for "Best Chef: South," Chef/restaurateur Michael Beltran and his team at Ariete Hospitality Group (AHG) are giving Miami yet another hotspot to vibe, dine and imbibe. Known for their growing family of restaurants and bars including Ariete, Navé, Chug's and The Taurus in Coconut Grove and The ScapeGoat on Miami Beach, AHG is preparing to unveil its newest sensation.
This summer, local watering hole The Mighty on Coral Way will be reborn as The Gibson Room, a relaxed, neighborhood tavern with a robust live music schedule, vinyl night, inventive tavern fare and an elevated cocktail program. The vision, to deliver – in the neighborhood Beltran was born and raised – the ideal spot for locals to meet, mingle, grab a bite, listen to music and have a cocktail.
Among the flavor-forward dishes in the works are Hush Puppies served with a decadent guava foie butter; Crispy Duck served with scallion pancake and eel maple jus; Uni Popcorn; Grilled Oysters served with chile lime butter; and Crispy Pork Belly served with malta reduction and grilled fennel.
A revamped cocktail program spearheaded by AHG Beverage Director Tom Lasher-Walker is to be unveiled along with the new menu when The Gibson Room officially launches this summer. Joining the team to oversee operations as General Manager is Patrick Murdock, previously of The Mighty.
The Gibson Room will be located at 2224 Coral Way in Miami. While the food & beverage concept (and the space's design) for the tavern evolve, AHG will continue to operate it as The Mighty. Hours of operation are Wednesday – Saturday, 5PM to 3AM; and Sunday – Tuesday 5PM to 1AM. The kitchen is open Thursday – Saturday, 5PM to 1AM; and Sunday – Wednesday, 5PM to 11PM.
New Brunch Menu at Phuc Yea
Approaching its sixth year and widely considered a definitive "Miami restaurant" – a place local tastemakers frequent and savvy travelers "must try" while visiting the Magic City – Phuc Yea is the acclaimed, modern-Vietnamese restaurant from Chef Cesar Zapata and business partner/restaurateur Aniece Meinhold. With the return of their stellar Sancocho recipe and more otherworldly brunch offerings, a Sunday hangover should #FearThePhuc!
Variety is foundational and exploration is warranted at Hangover Brunch. For a blast from the past, Chef Cesar's timeless Sancocho Pho – Hickory smoked short rib, brisket, meatballs, corn, potatoes, yuca, plantain, rice noodles, herbage, lemongrass chili oil.
Crispy crunchy fried offerings are a plenty with Phuc Yea's Famous Fried Chicken – buttermilk marinated, Cajun-spiced chicken, lemongrass, sriracha aioli, chili honey, herbage, pickled daikon & carrot; Vietnamese-style Seafood Jalea – crispy fried local jumbo shrimp, soft shell crab, cod, calamar, yuca, herbage, lemongrass chili sate, and sriracha aioli; and Curried Crispy Tofu served with green curry, cilantro, coconut, daikon pineapple relish, and micro herbage.
Between bread options include a robust selection of Banh Mis done the Phuc Yea way – these classic Vietnamese sandwiches served on a short baguette split lengthwise and filled with a combination of savory and tangy ingredients.
Highlights include Breakfast Banh Mi made with scrambled eggs, Chinese sausage, scallions, herbage, lettuce, pickles, sriracha aioli and jalapeno; Fried Chicken Banh Mi with lemongrass fried chicken, herbage, lettuce, pickles, sriracha aioli, jalapeno; Salt 'n Peppa Soft Shell Crab Banh Mi with salt 'n peppa spiced jumbo soft shell crab, lemongrass, herbage, lettuce, pickles, sriracha aioli, jalapeno; and the Classic Roast Pork Banh Mi made with five spice-rubbed pork crisped to order, herbage, lettuce, pickles, sriracha aioli, and jalapeno.
Guests are encouraged to imbibe in Bottomless Mimosas & Cocktails for just $35 including Tropical Mimosa made with a bottle o' bubbles, passionfruit, guava and pineapple nectar, White/Rose/Red Wine, Red Wine Sangria, Bloody Marys, Bloody Marias, and shots of Cumbe Aguardiente.
Priced between $15-$25, the cocktail list is 16 drinks deep, broken down into four categories: High Bawlin', 'Tini state of Mind, Drink it Like You Mean it, and So Fresh 'n So Clean. New brunch pours include Say Gay – Montelobos mezcal, passionfruit, red bell, Thai bird chili, lime and dulce de leche; Pass the Diesel – Grey Goose, espresso hazelnut cordial, dulce de leche, Nespresso fortado; and Jade Goddess, a riff on a gin fizz made with Askur gin, blue lagoon bitters, radiate kombucha's "piña caliente," honey, ginger, mint, basil and egg white.
Cinco de Mayo at Corsair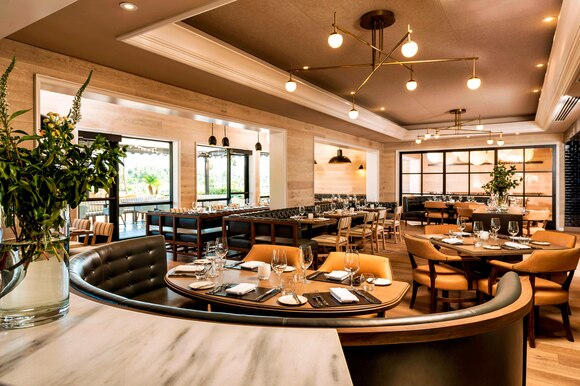 Celebrate Cinco de Mayo this year with Mexican-inspired cuisine and a four-course beer dinner at Crafted by Corsair at Corsair Kitchen & Bar on Thursday, May 5, 2022. This festive evening, part of JW Marriott Miami Turnberry Resort & Spa's monthly beer dinner series will feature brews from J.Wakefield Brewing.
The celebration begins with a Stush Berliner Weiss welcome cocktail followed by a four-course meal meticulously crafted by Executive Chef Gordon Maybury and Chef de Cuisine Derrick Connor. Each course is perfectly paired with signature brews from the Wynwood based brewery, renowned for its graffiti-covered walls and carefully-crafted creative beers that owner John Wakefield declares are "beyond the norm."
For the first course, guests can enjoy Florida Ceviche, a local Florida catch with lime, orange, pickled red onion, jalapeno, cilantro and yucca chips paired with Slammin Bones, a New England Style IPA. The feast continues with Street Tacos, which features Wagyu beef, charred onion and avocado, served with chipotle crema, mango pepper salsa and queso fresco on a white corn tortilla paired with Socarrot, a Japanese Rice Lager.
The third course continues with Chicken Roulade, with coconut curry, saffron rice, tricolor cauliflower and kale chips paired with El Jefe, a traditional German Hefeweizen. Dinner ends on a sweet note with a Napoleon, crispy pastry with vanilla ricotta cream, berry compote, chocolate sauce and raspberry coulis paired with That's No Moon, an Imperial stout.
The next scheduled dinner in the series will be on Thursday, June 2, 2022. Crafted by Corsair is held the first Thursday of each month; information for July and beyond to follow. Updated information can be found at www.jwturnberry.com.
Crafted by Corsair dinners begin at 7:30PM and are priced at $65 per person, excluding tax and gratuity. Seating is limited; reservations are required and can be made by calling (786) 279-6800. CORSAIR Kitchen + Bar is located in the JW Marriott Miami Turnberry Resort & Spa at 19999 W Country Club Drive in Aventura.