Delicious international cuisine has arrived to Downtown Miami in the form of Fooq's, a new restaurant from Owner David Foulquier. Fooq's, whose kitchen is led by the talented Chef Nicole Votano of Crumb on Parchment fame, has already met with great fanfare since opening its doors just last month.  We sat down with David after dinner to find out more about his new venture.
Housed in the former NeMesis Urban Bistro spot, Fooq's is a farm-to-table concept that serves up "feel-good food" in a cozy atmosphere – you feel as if you're eating in someone's home. In fact, hungry diners will find a number of homemade recipes on the menu drawing from David's Persian heritage (the Persian Pomegranate Chicken) and Nicole's Italian background (the Votano  Meatballs).
Opening the restaurant has been quite the journey for the duo. David first met Nicole at Crumb on Parchment, where she worked as executive chef at the time. "I was a huge fan of hers at Crumb," David said. "I'd been going there for about two years." When the opportunity to open a restaurant in MiMo presented itself, he jumped on it. There was one problem – he needed a chef ASAP. David asked Nicole to partner with him, and she did on one condition: The place must have a wood-burning oven.
Due to budgetary constraints, the wood-burning oven didn't happen and neither did that location. But another opportunity popped up when David could take over the NeMesis spot. This time, all the stars aligned. "I'm good friends with the owner of NeMesis, and I got their blessing to take over the location." David wanted a place where he and Nicole could touch every table, and NeMesis's size was perfect for this.
According to David, the concept that diners see before them now wasn't what was originally planned. The restaurant began to morph into its current iteration as more and more research went into the project; he and Nicole traveled extensively for inspiration upon partnering up. They went down the West Coast for two weeks trying different foods, wines and doing other field work.
One thing that really caught their attention was the emphasis on mixed cuisines; the places they encountered didn't settle on just one type of food, noted David. Patrons will definitely find a mix of appetizing dishes to choose from here at Fooq's, including bucatini, Persian pomegranate chicken and ceviche. Prior to digging into these delicious items, you'll be treated to a daily tartine. "We didn't want to offer regular bread service. Switching things up like this gives the chef the chance to be creative every day," David said.
Creativity can be found beyond the menu as well. The interior – whose décor includes upholstered banquette seating, floral patterns and fun artwork – adds to the feeling that you're in someone's "shabby chic" dwelling; the place's appearance was heavily inspired by Barcelona interior designer Lazaro Rosa-Violan.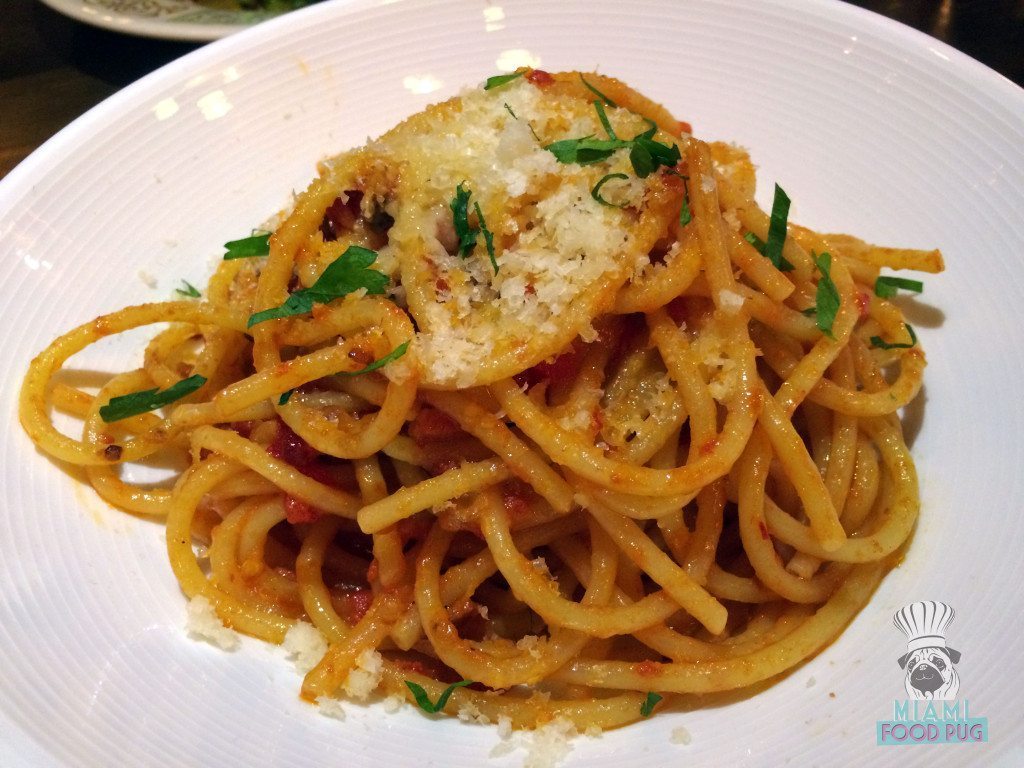 This creativity was what stood out to us the most during our experience at Fooq's. We were impressed not only by the food but also the ambiance (but mainly the food). We had enough food to feed a family of six during our visit. From the moment we bit into the tartine, we knew we were in for a unique and fun dining adventure.
Out of all the dishes we tried that evening – and there were many – what stood out to us the most were the Crack Head Shrimp, the Bucatini Amatriciana and the Lavendar Latte Panna Cotta. The royal red shrimp dish lives up to its name; you'll want another fix immediately after eating it. What really makes the Crack Head Shrimp addicting is the saffron orange broth, which is great all by itself (and great for dunking your tartine, too).
The bucatini was the star of the evening – hands down. This is the one dish you have to order during your visit. It almost ended our relationship (and this blog) because we were fighting over who'd get to eat more of it. Everything from the bucatini's smoked pancetta down to its chili flakes colored us impressed; all the ingredients worked together seamlessly to create our new favorite pasta dish in Miami. We can't praise Nicole enough for this dish.
Make sure you save room for dessert. The Lavender Latte Panna Cotta is unlike anything you've tried. The dessert was inspired by a lavender latte that Nicole discovered during the team's trek through the West Coast. "Nicole did not stop talking about this latte, and she knew she had to incorporate it into the menu somehow," David said. We're very glad she did: The brown butter shortbread crumble, orange blossom crème fraiche, roasted grapes and micro basil is a magical combination that basically ruined every other dessert we've had — ever.
If there's one piece of advice we can give you to ensure a memorable Fooq's experience, it's this: Be open minded. "We want to add a lot of original dishes to the menu, but we have to ease people into it," said David. "People in Miami tend to shy away from things they don't know." Don't make that mistake. Order something new — you'll be pleasantly surprised just like we were with the panna cotta.
Fooq's is located at 1035 North Miami Ave.  Call (786) 536-2749 or visit fooqsmiami.com for more information, including hours of operation.